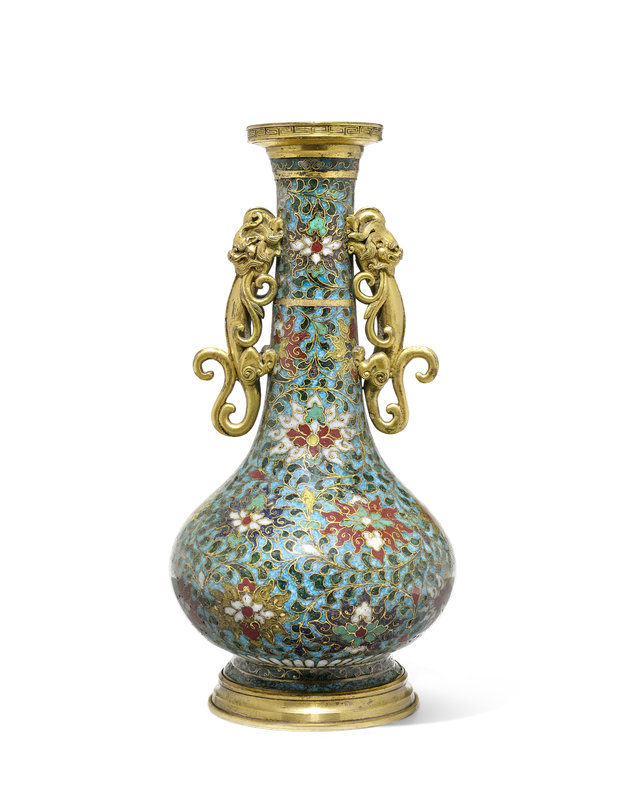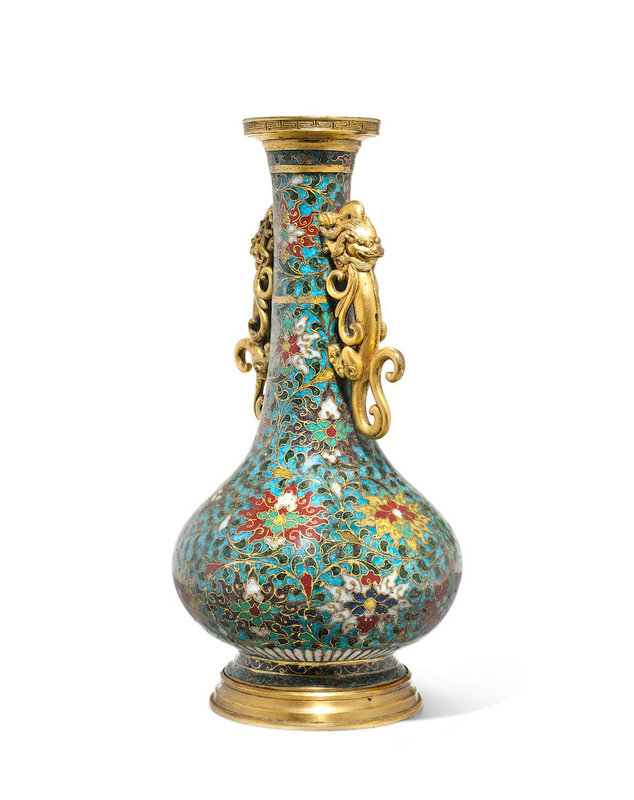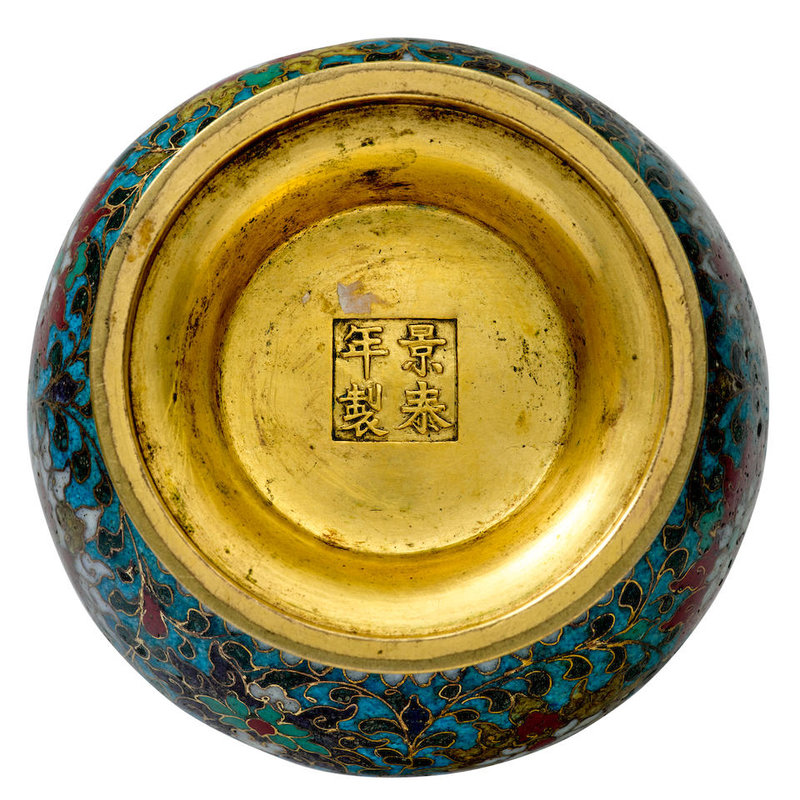 Lot 176. A cloisonné enamel and gilt bronze double-handled vase, Jingtai Mark, the vase 16th century, the mounts possibly 17th century; 10 1/2in (26.7cm) high. Estimate US$50,000 - US$80,000. Sold for US$ 31,562 . © Bonhams 2001-2021
The cloisonné decorated with gently meandering formal lotus scrolls on a turquoise blue ground around the entire body and neck, the mouth mounted in gilt bronze with a shallow cup-shaped rim with a thin band of key-pattern, the neck of the vase mounted with two high-relief mythical beast handles with bi-furcated tails rising vertically, the foot with a stepped gilt-bronze circular foot.
Property from the Asbjorn Lunde Foundation.
Provenance: Roger Keverne Ltd., London.
Note: The closest comparison with our vase appears to be an example from the Palace Museum illustrated by Yang Boda (ed.) The Complete Collection of Chinese of Chinese Gold and Silver, Glass Enamelware, Vol. 5, (Zhongguo jinyin boli falangqi quanji - 5 - falangqi), Beijing, 2002, p. 4 (text) and p. 10 (illustrations), no. 10. It too has animal-form handles with similar bifurcated tails. The cloisonné decoration itself is also in wide registers between gilt-metal bowstring bands on the body, neck and foot. It is dated to the early Qing dynasty.

Another vessel with the addition of metal mounts illustrated in the same publication, p. 58, no. 68, bears very similar lotus decoration with dark green leaves borne on gilt scrolling dividing large lotus flower-heads.

See also Sir Harry Garner, Chinese and Japanese Cloisonné Enamels, London, 1962, p. 75, pl. 43, for a bottle vase with additional gilt handles dated to the second half 16th Century; and Helmut Brinker & Albert Lutz, Chinese Cloisonné: The Pierre Uldry Collection, New York, Asia Society Galleries, 1989, no. 108, for another pear-shaped vase with differing cloisonné decoration but similar gilt-bronze animal form handles, and neck and foot mounts, and also bearing a Jingtai mark to the base which is dated to the second half of the 16th century.

For a cloisonné vessel, zhadou, (5 ¼ inches high) dated to the 16th century and with two applied gilt-bronze dragon handles, see Bonhams, London, 11 May 2021, lot 156. A larger vase of slightly later date but with lotus decoration on a turquoise ground, was sold at Bonhams, London, 13 May 2021, lot 13. Unlike our example it does not have the addition of gilt bronze handles, foot rim and neck extension. A related cloisonné enamel vase of similar shape, dated to the second half 16th century is illustrated in Enamel Ware in the Ming and Ch'ing Dynasties, Taipei, 1999, no. 8.
Bonhams. Chinese Ceramics, Works of Art and Paintings, New York, 20 Sep 2021