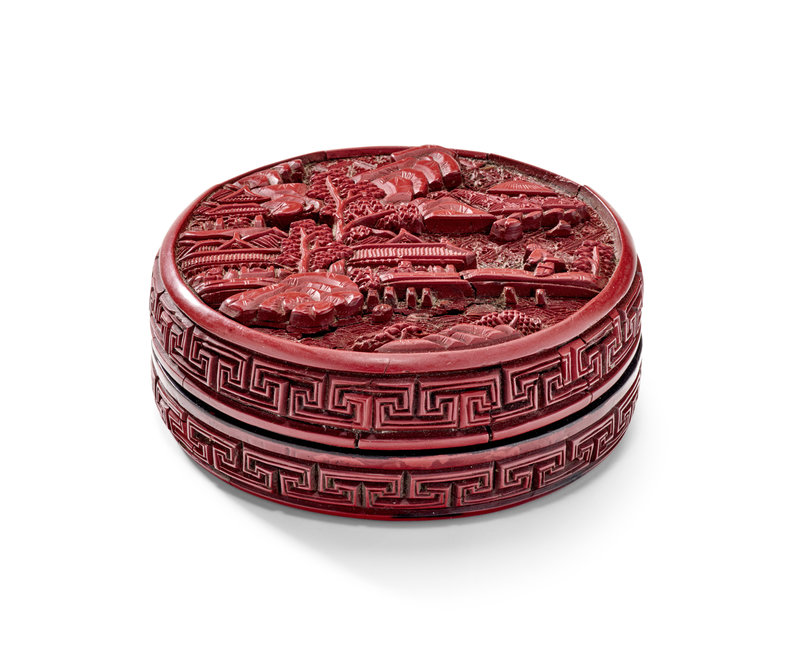 Lot 187. A cinnabar lacquer small cylindrical box and cover, Late Ming dynasty, 16th century; 3 1/4in (8.2cm) diameter, cloth wrap, Japanese wood box. Estimate US$ 2,500 - US$ 4,500. Sold for US$ 1,530. © Bonhams 2001-2021
The cylindrical cover very deeply carved in unusal high relief with a coastal or lakeside scene with a figure crossing a bridge to a group of buildings in which sit two further figures, all set amongst rocky outcrops and trees receeding to the distance with a small hut on a promontory, the slightly rounded vertical sides of the box and cover each with a single T-pattern band, the red lacquer contiuing over the rounded foot rim, the base and interiors black lacquered.
Note: See James C.Y. Watt and Barbara Brennan Ford, East Asian Lacquer, The Florence and Herbert Irving Collection, The Metropolitan Museum of Art, New York, 1991, p. 107, no. 42, for another late Ming dynasty box and cover which can be compared favorably in shape and technique and which has very similar key-pattern decoration on the sides.
Bonhams. Chinese Ceramics, Works of Art and Paintings, New York, 20 Sep 2021