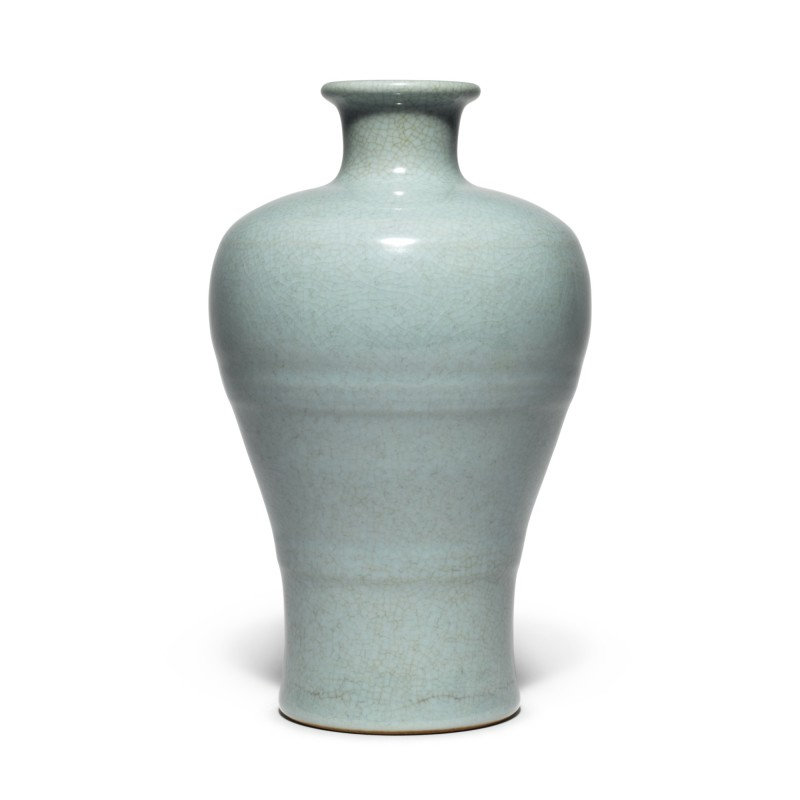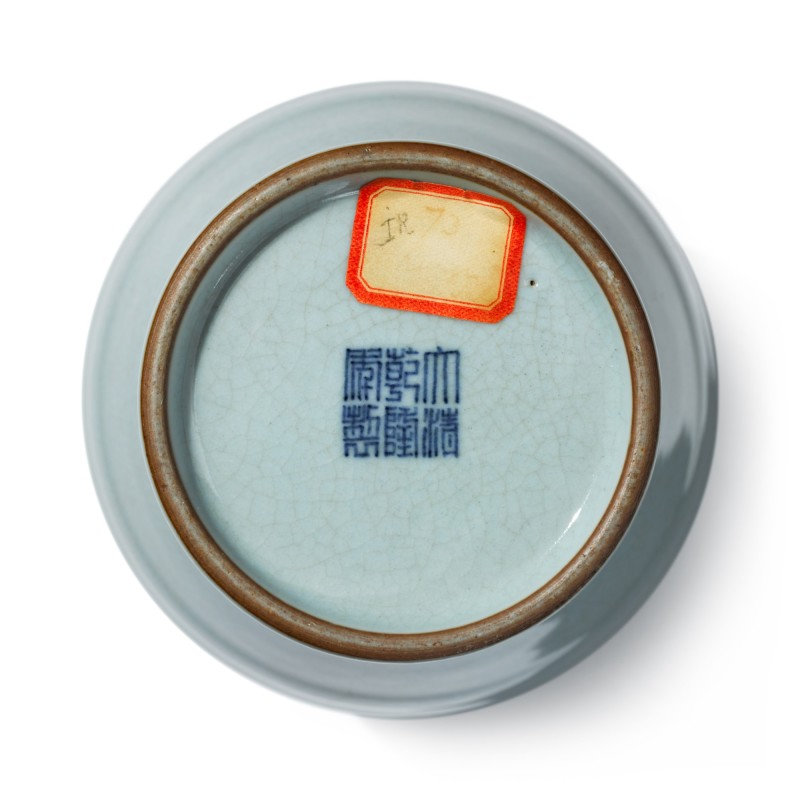 Lot 57. A rare Ru-type meiping, Seal mark and period of Qianlong (1736-1795). Height 9 in., 22.8 cm. Estimate 50,000 - 70,000 USD. Lot sold: 806,500 USD. © Sotheby's 2021
the voluminous rounded shoulders resting on a slightly flared base and sweeping into a waisted cylindrical neck and everted lipped rim, the body molded with three raised filets, all under a glossy dove-blue glaze suffused with fine and dense craquelure, the footring stained brown, the base with a six-character seal mark in underglaze blue.
Property from the Estate of Phyllis Rothschild Farley.
Provenance
:
Collection of Edward Runge (1847-1916)
.
American Art Association, New York, 7th March 1914, lot 73

.
Collection of Simon F. Rothschild (1861-1936).
Collection of Walter N. Rothschild (1892-1960), and thence by descent.
Note: The Qianlong Emperor (r. 1736-1795) is known for his love of antiquity, amassing a vast collection of art and artifacts. During his reign, earlier designs were revived and renewed, as exemplified by the present vase, which pays direct homage to the fabled Ru ware of the Northern Song dynasty. At the Qianlong court, glazes imitating the 'Five Classic Wares' of the Song dynasty—Jun, Ding, Guan, Ge and Ru—were applied over a range of carefully selected porcelain shapes.
Elegant in both form and design, the present vase is a fine example of the technical perfection achieved by craftsmen working at the 18th century Imperial kilns in Jingdezhen. Monochrome vessels required the highest level of skill and precision in every stage of their production, from the purity of the clay and precision of the potting to the evenness of the glaze and control of the firing. The slightest irregularity would result in the rejection and destruction of the piece, thus pushing the craftsmen to the limits of their abilities.
The form of this vase is called meiping or 'prunus vase'. Meiping first appeared in the Song period, when they served as wine containers. By the Qing dynasty, they were primarily used as flower vases or for display. On this vase, the molded fillets may allude to the raised ribs on earlier Song Imperial stonewares, such as a Guan bottle vase exhibited in Obtaining Refined Enjoyment: The Qianlong Emperor's Taste in Ceramics, National Palace Museum, Taipei, 2012, cat. no, 30. The raised fillets on such Song ceramics were in turn influenced by archaic bronze vessels, as seen on a Han dynasty bronze bottle vase in the collection of the Metropolitan Museum of Art, New York, acc. no. 2007.133. The use of this feature in Qing designs thus references multiple layers of classicism.
Qianlong period renditions of this particular shape, with its molded filets, are extremely rare. For an example of identical form but with a Ge-type glaze, compare one sold in our Hong Kong rooms, 3rd-4th May 1994, lot 111 (fig. 1). A Qianlong mark and period Ru-type meiping, lacking the molded filets, was included in the exhibition Monochrome Ceramics of Ming and Ch'ing Dynasties, Hong Kong Museum of Art, Hong Kong, 1977, cat. no. 118. Another was sold in our Hong Kong rooms, 20th November 1984, lot 484. Another similarly-shaped meiping with loop handles, compare one sold twice in the same rooms, 5th November 1977, lot 220, and again 24th May 1978, lot 205.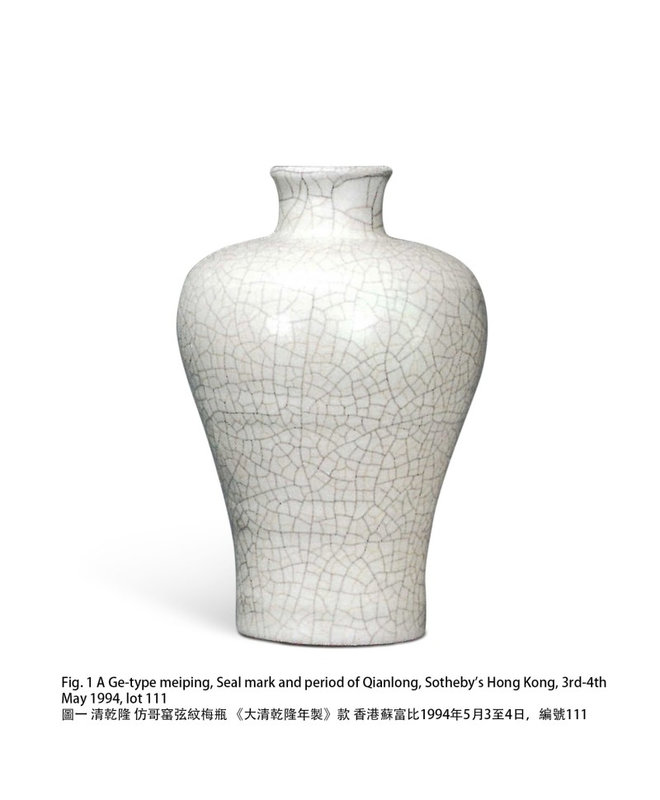 fig. 1. A Ge-type meiping, seal mark and period of Qianlong, Sotheby's Hong Kong, 3rd-4th may 1994, lot 111.
Sotheby's. Important Chinese Art, New York, 21 September 2021