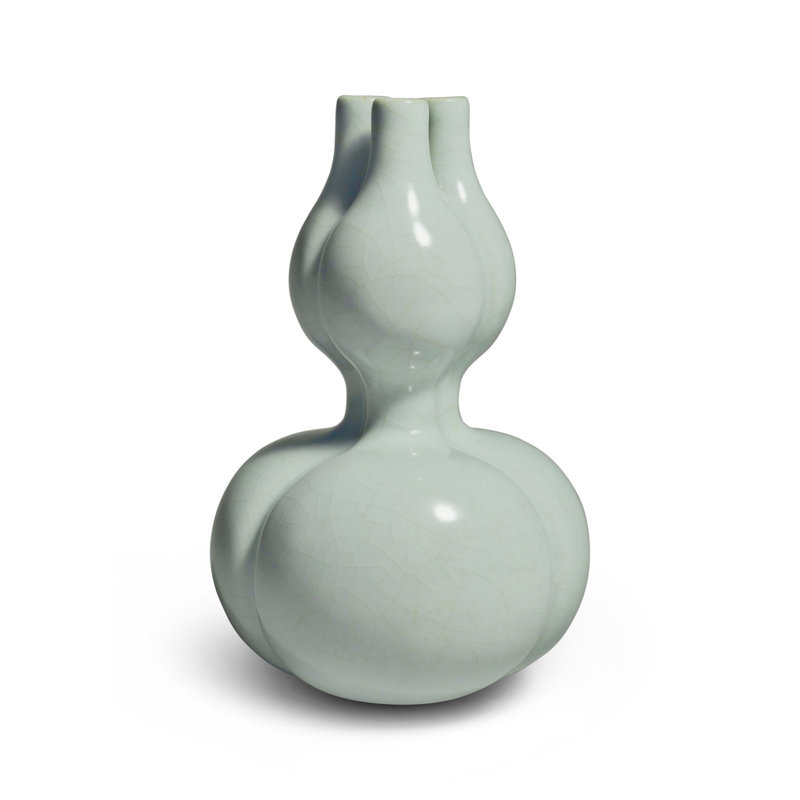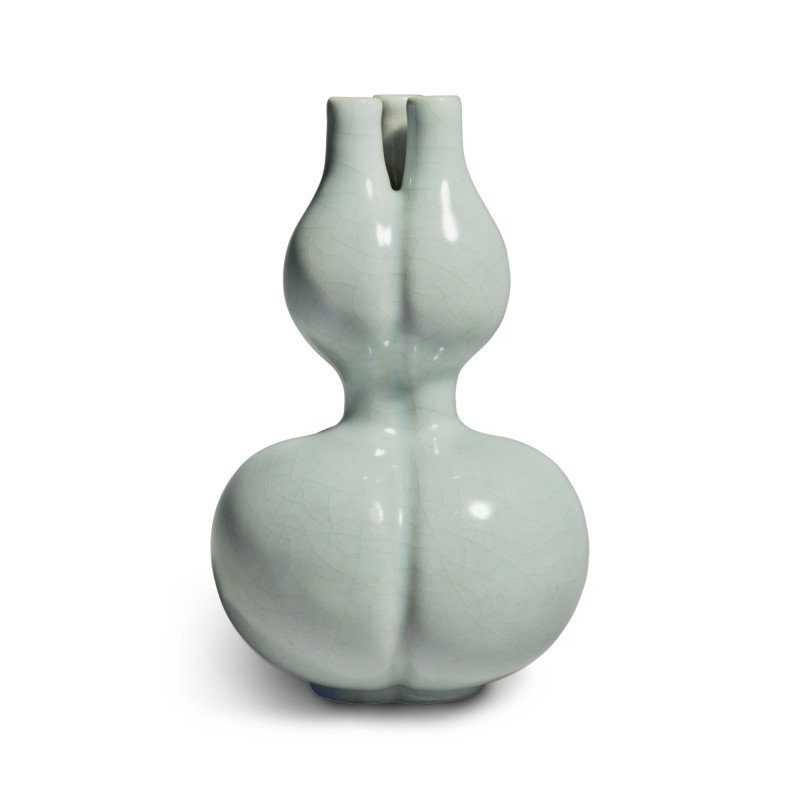 Lot 141. A fine Ru-type triple-neck double-gourd vase, Seal mark and period of Qianlong (1736-1795). Height 7⅞ in., 19.8 cm. Estimate: 80,000 - 120,000 USD. Lot sold: 441,000 USD. © Sotheby's 2021
formed in three lobes set over a low conforming foot, the globular trefoil lower bulb of generous proportions and constricting to a narrow waist before swelling again to form a slender trefoil upper bulb rising into three distinct spouts, each spout tapering toward the mouth, covered overall in a vitreous pale blue-green glaze suffused with craquelure, the foot rim dressed in dark brown, the base with a six-character seal mark in underglaze blue, fitted rosewood stand.
Property from the Liang Family Collection.
Provenance: Collection of Liang Dunyan (1857–1924), and thence by descent.
Note: The shape and color of the present vase are inspired by Song dynasty celadon-glazed wares. A deep admirer of antiquity, the Qianlong Emperor further developed the form and several examples of the present type have survived in public and private collections. Museum collections include one in the Palace Museum, Beijing (coll. no. 故00160462-6/48) illustrated in Geng Baochang, Ming Qing ciqi jianding [Appraisal of Ming and Qing Porcelain], Hong Kong, 1993, pl. 446; one in the collection of the Asian Art Museum, San Francisco (obj. no. B60P2292) illustrated in He Li, Chinese Ceramics. A New Standard Guide, London, 1996, pl. 521; and one in the Baur Collection, Geneva published in John Ayers, Chinese Ceramics in the Baur Collection, vol. III, Geneva, 1972, pl. A337.
Examples sold at auction include two sold in our London rooms, 26th April 1966, lot 163 and 164; and a third sold in the same rooms, 27th November 1973, lot 358. Several further vases of this type have sold in our Hong Kong rooms, including: a Ru-type vase sold 30th April 1996, lot 395; a Guan-type example from the Meiyintang Collection sold 7th June 2011, lot 34; a Ru-type vase sold 8th April 2013, lot 3033; and another sold 5th October 2016, lot 3646.
Liang Dunyan (1857–1924) was a native of Guangdong province, who was partially educated in the United States through his participation in the Chinese Educational Mission. The Mission, which operated from 1872 to 1881, sent 120 Chinese youths to live with American families and study in New England secondary schools, and subsequently study in American universities, with the aim that graduates would return to China and contribute to China's modernization and 'Self-Strengthening' efforts. As part of that pioneering program, Liang entered Hartford Public High School in Connecticut in 1874 and went on to graduate from Yale University (class of 1882). Following his return to China, Liang served in numerous important roles as a politician, diplomat, and advocate for education starting in the late Qing dynasty. Among his distinguished positions were his tenure as President of Beiyang University in Tianjin (1904-07), China's Minister to the U.S.(stationed in Washington, D.C.) (1907), and the President of the Board of Foreign Affairs (1908-11). His prime accomplishment was negotiating with the U.S. Minister to China, William Rockhill, in 1908-09, to finalize the U.S.-Sino scheme to utilize the excess Boxer Indemnity funds in the creation of a Boxer Indemnity Scholarship. Since 1909, the Scholarship has sponsored thousands of Chinese students to study in U.S. preparatory schools and universities. During the Republic period, Liang served as the Minister of Communications (1914-16) and as the Minister of Foreign Affairs (1917).
Sotheby's. Important Chinese Art, New York, 21 September 2021