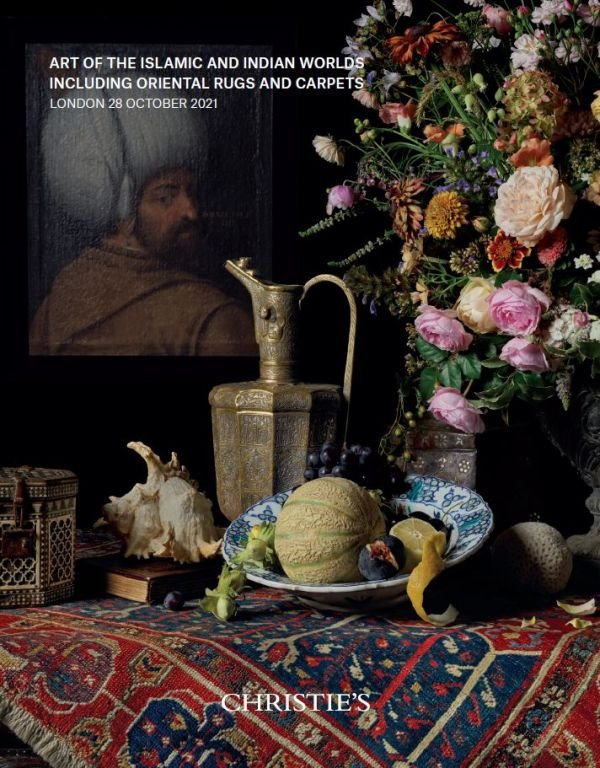 LONDON.- Christie's forthcoming auction, Art of the Islamic and Indian Worlds including Oriental Rugs and Carpets on 28 October displays a rich selection of rare objects, paintings, manuscripts and carpets from across the Middle East, India and Europe. The sale draws upon a fascinating Classical Ottoman narrative that illustrates the artistic repertoire at its most exuberant. This is led by six remarkably preserved Venetian portraits of Ottoman Sultans from a previously unknown series LINK, and two paintings from the circle of Jean-Baptiste Vanmour of Ottoman subjects.

This same narrative continues in The Deeg Collection of Oriental carpets, which was formed over four decades from the 1960's and is being offered for the first time at auction. Inspired by his travels through the Middle East and Turkey, Paul Deeg's love of colour, form and design, of Anatolian rugs and fragments in particular, runs as a thread through the collection.

The sale further encompasses a series of works that highlight the reciprocal influences between the arts of Europe and the Middle East such as an intricately engraved Veneto Saracenic bucket, an extremely rare Almohad or Nasrid Andalucian brass vase, and bone-inlaid pyxis. These are offered alongside a selection of early Iranian metalwork led by an early 13th century silver-inlaid ewer.

Other carpet highlights from various owners include two 17th century 'Lotto' rugs, a small medallion Ushak and a highly unusual 17th century Ottoman kilim. Amongst the fine Qajar Persian weavings is a striking green-ground Heriz carpet and a lustrous cerulean-blue silk Heriz prayer rug of exceptional quality.

Highlights of the sale: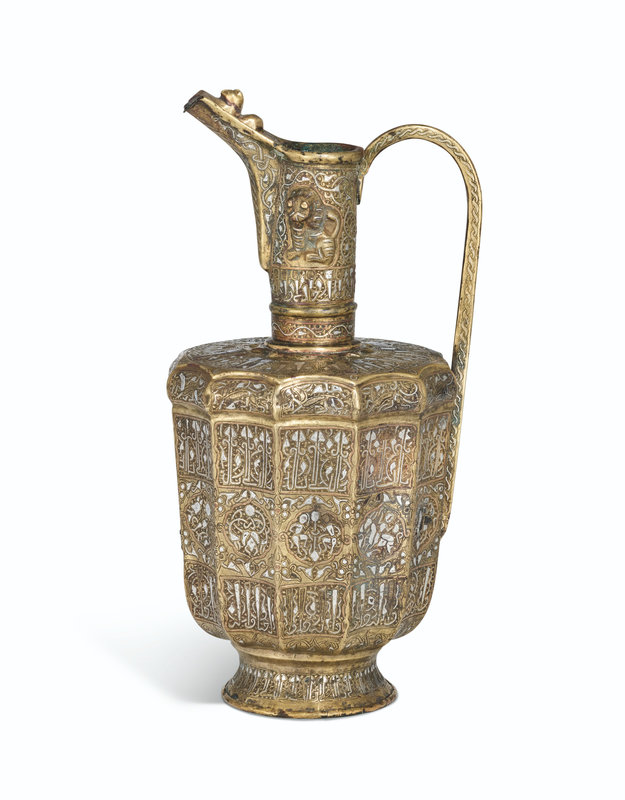 Lot 7. An important silver and copper inlaid brass ewer probably Khorasan, North East Iran, circa 1200-1220; 13 7/8in. (35.3cm.) high. Estimate £300,000-500,000 | US$420,000-690,000 | €350,000-580,000. Price Realised £375,000 © Christie's Images Ltd 2021.
On short splayed foot with a stylised k.ufic inscription, the faceted drum-shaped body decorated with two bands of stylised kufic and naskh surrounding a band of roundels depicting the signs of the zodiac, the shoulder decorated with a band of chasing hares beneath a further inscription in stylised naskh with human head terminals, the narrow neck with similar inscriptions and scrolls, each side with a pronounced tiger boss and one further to the spout, a small loss to the body, majority of silver inlay remaining.
Provenance: Private Collection (by repute) since 1956, thence by descent.
Note: This ewer with its slightly widening cylindrical body, flat shoulder, cylindrical neck and sloping covered trough spout is a well known type, most of the examples of which can be attributed to Khorasan and the surrounding region. Many of this simple form have been excavated, including at Herat (Ute Franke and Martina Müller Wiener (eds), Ancient Herat 3, Herat through time, Berlin, 2016, nos.M101-M106, pp.132-133). What is probably the earliest dated example is in the museum in Tiflis, signed by Mahmud b. Muhammad al-Harawi and dated AH 577/1181 AD (Georgian National Museum, S. Janashia Museum of Georgia, inv.no.135). What is more, the relatively recent reading of the verse inscription, made for the recent Court and Cosmos exhibition at the Metropolitan Museum of Art, notes that it includes the line "This water vessel was made in Herat". The form of this ewer, with its slightly less attenuated body, evenly shallowly rounded ribs and slightly shorter neck and spout, could point to a slightly earlier version of the design than most. The most elaborate of the entire group are three examples, in the British Museum (inv.no.1848,0805.2), the Metropolitan Museum (inv.no.44.15), and the Galerie Estense, Modena (inv.no.6921) which add prominent addorsed repoussé harpies around the shoulder and at times elsewhere, each of which is also inlaid, an extraordinary demonstration of metalworking technique. They are generally dated to the end of the 12th and early 13th century, and attributed to Herat, Khorasan and/or Afghanistan.

The vast majority of these ewers have bodies that are surrounded by vertical ribs. The present ewer, with its vertical flutes, is one of a rarer group, whose influence appeared much more obviously in Western Iran and further west as the taste for inlaid metalwork spread in that direction. The most elaborate comparable example to our ewer is one in the Louvre Museum, Paris (inv.no.OA 5548), lacking its handle, but otherwise very similar in form and also in decorative arrangement to ours. An example that is remarkably close to the Paris one, but retaining its handle, has been acquired by the Louvre Abu Dhabi (inv.no.2013.053). There is also a spectacular fragmentary ewer with similar band of decoration but much denser arranged and with the addition of inlaid harpies where others have repoussé versions in the al-Sabah Collection (LNS 907 M).

All the examples cited thus far, with the exception of the Tiflis ewer, have as their main band of decoration a central band of pictorial roundels depicting the signs of the zodiac, flanked by spiralling vine terminating in palmettes or occasionally animal heads. Those without the paired addorsed harpies contain this central band between two bands of inscription. The shoulder then has a band of inscription with human-headed hastae. All these elements are found on the present ewer.

There are two features in which this ewer differs from the majority of those thus far cited. The first is that the inscriptions are not fully legible here. Four panels of the lower inscription are clearly the beginnings of a classic benedictory inscription al-'izz wa al-iqbal wa al-dawla wa al-sa'd[a] at which point it reaches the handle. Thereafter there are forms which could be al-baqa and al-'ina[ya] but these are repeated, while the upper inscription repeats the same formula in each panel. The form of the inscription is very reminiscent, especially in the use of knotted tall stems on semi-illiterate inscription, of the ewer in the Cleveland Museum of Art (inv.no.1945.27). Of all those cited thus far that is probably the closest in design and execution to the present example, with winged running animals around the shoulder panels, and with the lower inscription more legible than the upper. The Kuwait fragmentary example already noted also shows indications of the same loops half way up the hastae, although the execution of the calligraphy is more literate than here or in Cleveland.

The other feature found here and also on the early ewers, apart from the early Tiflis example, is the use of copper inlay as a narrow fillet around the silver inlaid panels of pictorial or inscribed decoration. This is a well-known feature from other Khorasan vessels but seems to have been discarded in most of the Zodiac ewers in favour of the use of more silver. The use of copper inlay might suggest a slightly earlier date than the all-silver examples, but then the concave vertical flutes could indicate a slightly later date, as the style moves west, appearing for example in a ewer in the Victoria and Albert Museum, attributed to Western Iran circa 1220-40 (inv.381-1897). Its form is almost identical to the present ewer, although the spout is more vertical. Two further much simpler and very incomplete zodiac inlaid Iranian ewers are one sold at Sotheby's 22 April 2015, lot 9, and one at the Metropolitan Museum of Art, (inv.no.91.1.530), each were dated to the first half of the 13th century.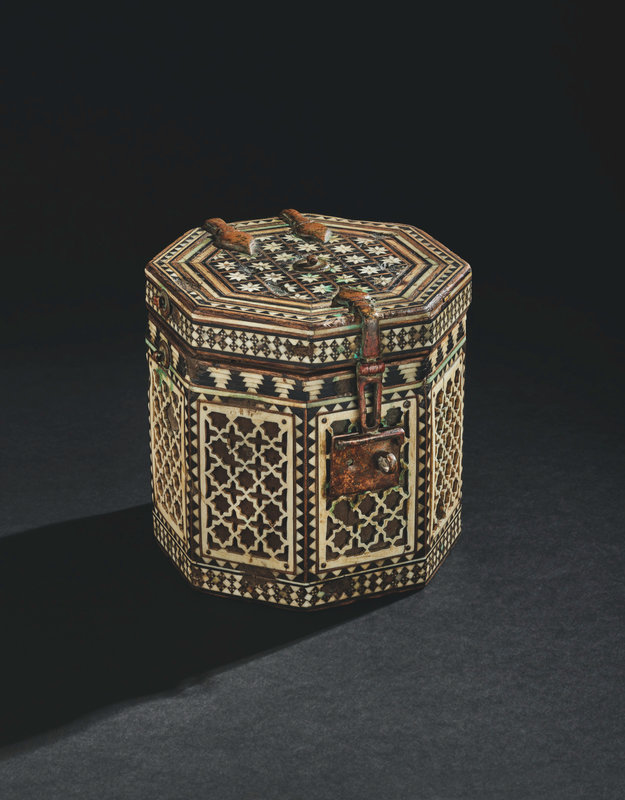 Lot 16. A Nasrid or Almohad bone-inlaid pyxis, Spain, 12th-13th century; 5in. (12.8cm.) high; 5in. (12.8cm) diam. Estimate £300,000-500,000 | US$420,000-690,000 | €350,000-580,000. Unsold. © Christie's Images Ltd 2021.
The surface of the octagonal body decorated with openwork plaques with a cross-and-star lattice, reciprocal triangular borders and micro mosaic merlons of natural and stained bone above, the lid similarly decorated with star-motifs, the base with an interlacing star, with copper hinges, lock, and suspension loops to the lid and each side, small losses to inlay.
Provenance: London Art Market by 1972.
Note
:
This octagonal pyxis belongs to a small group which have generally been attributed to Nasrid al-Andalus (1230-1492 AD). It is decorated in a particularly intricate technique of micromosaic known as
taracea
(which derives from
tarsi'
, the Arabic word for incrustation) in which tiny geometric tesserae of different-coloured woods and ivory or bone (both in its natural colour or stained) were assembled to create kaleidoscopic patterns. They were principally overlaid rather than inlaid. Where the mosaic is lacking on our box we can see that it was stuck directly to the surface of the wood with each tiny element being individually applied, in a technique characteristic of the work of the early Nasrid period. This differs from the
tarsia
technique used in Italy in the mid-14th century, and indeed also Spain but more commonly into the 16th century where blocks were formed from rods of different materials joined longitudinally and then sliced to produce tiles that were applied to the surface of an object (Rosser-Owen, 2010).
The occasional use of stained bone in a teal shade creates a wonderfully polychromatic effect, which recalls the Nasrid tile work at the Alhambra - see for instance a mosaic tile panel from the Mexuar, 14th century, published in Jerrilyn D. Dodds, Al-Andalus,
The Art of Islamic Spain
, New York, 1992, pp.374-75.
A number of related boxes, similar to ours are known. The most recent auction example sold in these Room, 28 October 2020, lot 20. However, the closest example to this pyxis, which in all likelihood originated from the same workshop in al-Andalus, was sold at Sotheby's, 10 June 2020, lot 87. Like ours that box had carved open-work panels on the sides and geometric interlace inlaid on their undersides. The others of that group include:
1. Instiuto de Valencia de Don Juan, Madrid, purchased in Burgos, inv.no.4867 ( Ángel Galán y Galindo,
Marfiles Medievales del Islam
, Cordoba, 2005, vol.II, pp.151-52, cat.07051)
2. The David Collection, Copenhagen, inv.no.2017
3. Whereabouts unknown, formerly in the collection of Miquel y Badía, Barcelona (Galá,
op. cit.,
p.153, cat.07052)
4. León, Private Collection (Noelia Silva Santa-Cruz,
Between Woodwork and Ivory-Carving: A Probable Nasrid Inkwell (Dawat) and other Medieval Inlaid Objects
, Codex Aquilarensis, 2015.
In his catalogue entry for the Sotheby's pyxis, Julian Raby convincingly re-attributes this group (including the Alhambra Museum box), from the 14th/15th century as they are traditionally catalogued, to the 12th/13th century. The reasons for the earlier dating include firstly the presence of the evident evolution of the boxes in terms of form, decoration and technique. Secondly, there are external comparanda for the
taracea
work in a sequence of minbars in Morocco that range in date from the mid-12th to the mid-14th century. Third is the carbon date test that accompanied the Sotheby's pyxis (giving a date of 970-1032 AD with 95% confidence). His argument however is more heavily based on the apparent vacuum in production between the 12th century and the later Nasrid period. The technique of
taracea
was used in decoration throughout Spain and North Africa, appearing in the
minbar
of the Great Mosque of Cordoba on its enlargement under al-Hakim II in the 10th century. Caliphal marquetry workshops then continued to execute court commissions under the Almoravids and the Almohads and contributed to the splendour of the
minbars
produced for the Kutubiyya Mosque in Marrakesh, 1125-30 AD and the Qarawiyyin Mosque in Fez, AH 538/1144 AD (both made on the order of the Almoravid Sultan 'Ali bin Yusuf bin Tashufin (r.1106-43)) amongst others (Jerrilyn D. Dodds, Al-Andalus,
The Art of Islamic Spain
, New York, 1992, p.373). This indicates that Andalusi craftsmen were producing this type of work in the early 12th century and that they were exporting their craft to Morocco.
The use of these pyxes is unknown. Similar metal containers are generally thought to have been used as inkwells (see for example one in the David Collection, inv.no.16/2016) and a number of ivory examples, attributed either to Mamluk Egypt or Spain, for aromatics (see the David Collection, inv.no.25/1999). Whatever the contents, the meticulous and refined workmanship would suggest that the contents were valuable and deserving of the intricate beautiful presentation seen here.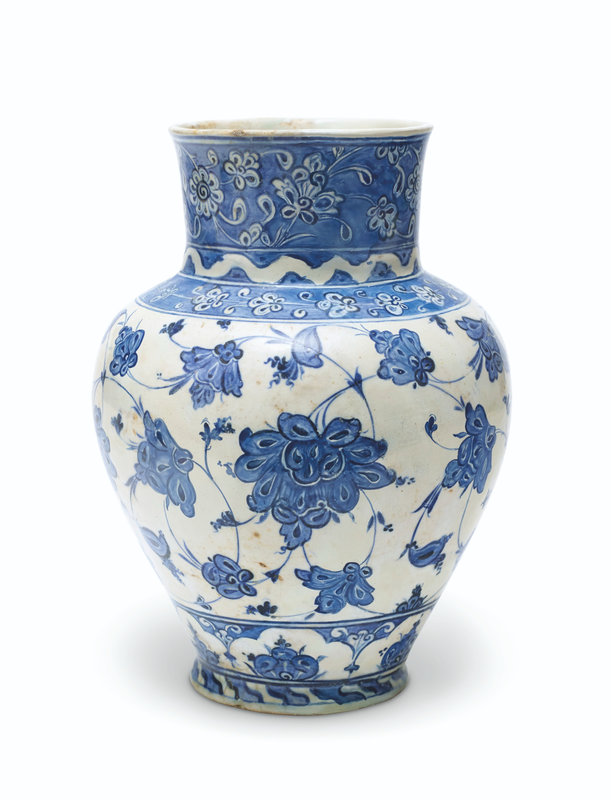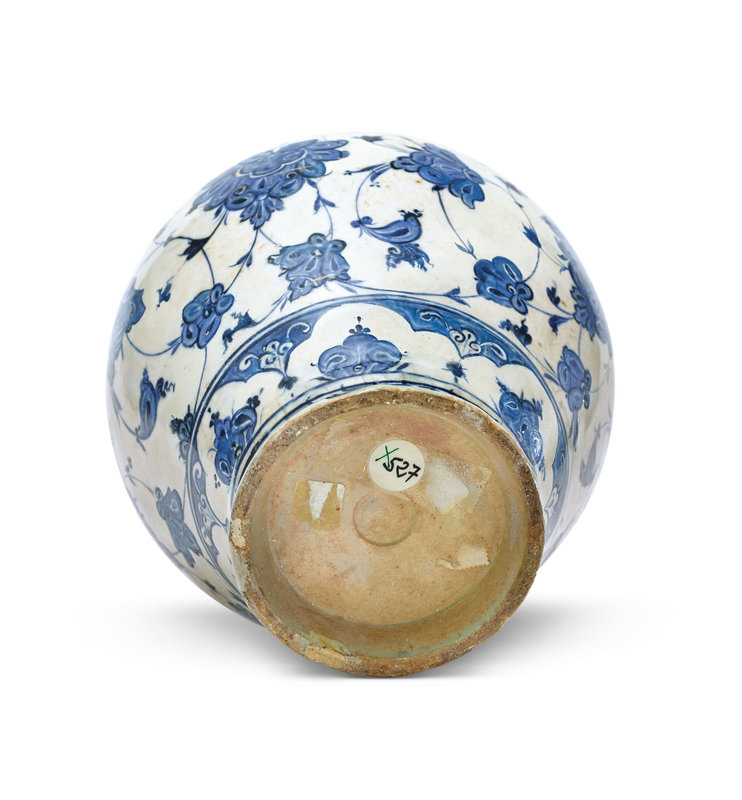 Lot 16. A rare Baba Nakkaş Iznik blue and white jar, Ottoman Turkey, circa 1520; 10 ¼in. (25.8cm.) high. Estimate £100,000-150,000 | US$140,000-210,000 | €120,000-180,000. Price realised GBP 93,750. © Christie's Images Ltd 2021.
The white ground decorated in shades of blue with a band of meandering tendrils issuing complex floral terminals, a lobed band below, a meandering floral tendril on blue ground above, a similar band around the mouth, areas of restoration.
Provenance: Purchased by present owner in 1980.
Note: This spectacular Iznik jar belongs a group probably produced in the second decade of the 16th century, under the reign of Selim I (r.1512-20). It is decorated in a style that owes much to the so-called Baba Nakkas' style with its rumi-hayati motifs that developed from the Abraham of Kutahya style. Here, as on other examples of similar period, the motifs have altered slightly such that they have an inflated quality which slightly obscures the spiraling movement of the stems.
A very similar jar in the Los Angeles County Museum of Art is attributed by Atasoy and Raby to circa 1520 (inv.no.M.85.237.80; Nurhan Atasoy and Julian Raby, Iznik, the Pottery of Ottoman Turkey, London, 1989, pp.106-7, cat.127). Not only does it share a very similar main register, with fleshy hayati flowerheads on white ground, but the band above with the vine of flowerheads reserved against cobalt-blue ground is also closely related. Both of these features can also be found on the exterior of a basin in the V&A, attributed to the workshop of the 'Master of the Knots', circa 1510-20 (inv.no.7409-1860; Atasoy and Raby, op. cit., pp.98-99, no.112) and a group of mosque lamps made for the tomb of Sultan Beyazid (see lot 101) all attributed by Atasoy and Raby to the 'Master of the Lotuses' and datable to 1512.
Jars of this type were likely used as storage containers. A miniature in a copy of the Baharistan of Jami produced in Istanbul between 1595-1603 illustrates a fruit seller's shop. On the counter are a number of jars, some with lids and/or handles, others without, very similar to ours (Atasoy and Raby, op. cit., p.47). The earliest known example, squatter than ours, copies a Chinese shape and dates from the end of the 15th century (V&A, inv.no.C.57-1952).
Interestingly, the influence of the Baba Nakkas phase was felt well into the second half of the 16th century, and mostly in jars, where potters produced vessels of similar form to that seen here retaining elements of the style although in debased form. See for example a jar, attributed to circa 1560, in the Capodimonte Museum in Naples (inv.no.118; Atasoy and Raby, op. cit., no.521).
Lot 174. A Silk Heriz Prayer Rug, North West Persia, Third Quarter 19th Century; 6ft.1in. x 4ft.7in. (186cm. x 145cm.). Estimate £10,000-15,000 | US$14,000-21,000 | €12,000-18,000. Price Realised £16,250 © Christie's Images Ltd 2021.
Overall excellent condition.
Provenance: Anon sale, to benefit a charitable foundation, Sotheby's London, 1 November 2016, lot 86.
Note: The knot count is approximately 9V x 9H per cm. sq.

The execution and quality of this silk Persian prayer rug is exceptional. The silk has a wonderful lustre that is difficult to appreciate from a photograph, as is the suppleness of its handle and the depth and clarity of colour in the dyes. The cerulean-blue field is particularly attractive and is seen on a related silk rug prayer rug with similarly slender vertical columns with decorative capitals, flame-like palmettes and flourishing arabeques within the mihrab, which sold in these Rooms, 16 April 2007, lot 65. Both examples were clearly woven in an accomplished workshop where the master weaver drew upon the vocabulary of earlier Safavid carpets, as seen in the palmette and angular floral spray border of the present lot which was originally introduced in earlier 17th century Kirman 'Vase' carpets, see the Comtesse de Behague Kirman 'Vase' carpet, sold Christie's London, 15 April 2010, lot 100.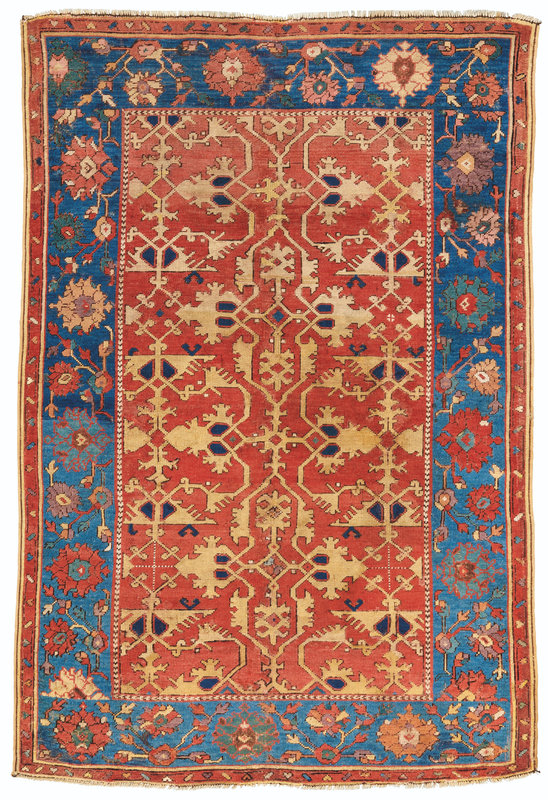 Lot 192. A 'Lotto' Rug, Probably Ushak, West Anatolia, Late 16th-Early 17th Century; 5ft.8in. x 4ft. (177cm. x 123cm.). Estimate £25,000-35,000 | US$35,000-48,000 | €30,000-41,000. Price Realised £40,000 © Christie's Images Ltd 2021.
Of 'Anatolian' field design, scattered restoration, corroded black, selvages replaced.
Provenance: Sold on behalf of a charitable foundation, Sotheby's, 11 November 2016, lot 20.
Literature: Eberhart Herrmann, Seltene Orientteppiche V, Munich, 1983, cat. no.2, pp.10-11.
Note: It is extremely rare to find the ragged palmette and vine border design set upon an indigo ground within the known group of 'Lotto' rugs. Perhaps the closest comparable is a late 16th century 'Lotto' rug found in the Black Church in Brasov which has a similar blue border but with a more symmetrical arrangement of palmettes that are not dissimilar to a fleur-de-lis, Stefano Ionescu, Ottoman Rugs in Transylvania, Naples, 2005, CAT. 16, p.90. Both Ionescu and Herrmann, suggest that this border design and its unsual colouring is an indication that the carpet was woven earlier than most. A closely related border, both in the execution of the drawing and palette, appears on a Star Ushak carpet gifted to the Metropolitan Museum of Art, New York from the collection of James F. Ballard (acc.no.22.100.110). A stylised version of one executed on a fragmentary Ushak carpet sold in these Rooms in Rugs and Carpets: Battilossi Tappeti d'Antiquariato, 11 February 1998, lot 90, and two further border fragments appear in the present sale as part of the Deeg Collection, lots 125 and 127. For a fuller discussion on the 'Lotto' group please see lot 189 in the present sale.
Lot 129. A double-niche medallion Ushak rug, West Anatolia, Late 16th century; 5ft.4in. x 3ft.3in. (167cm. x 102cm.). Estimate £35,000-55,000 | US$49,000-76,000 | €41,000-64,000. Unsold. © Christie's Images Ltd 2021.
Even low wear, partially rewoven borders, scattered small repairs.
Provenance: Purchased Galerie Reinisch, Graz, 1985.
Literature: HALI, no.28, 1985, p.7.
Note: A relatively high number of 'small medallion' Ushak rugs have survived from the 16th century; Kurt Erdmann in 1957 knew of over 100 (Kurt Erdmann, The History of the Early Turkish Carpet, London, 1977). Yet within the group there are considerable differences. All the different elements are variable; the medallion, the spandrels, the border and the guard stripes, although some versions tend to be found combined with particular versions of other motifs.
The present rug represents the second type of double-niche Ushak rug with a cloudband border. An example with a similar border design on a vivacious yellow ground, bears the same arabesque spandrels and red field as our rug, as well as the inclusion of what appears to be a hanging banner or standard, much like those seen in religious and military processions (see Moshe Tabibnia, Milestones in the History of Carpets, Milan 2006, pp.110-111, pl.9). The inclusion of such hanging motifs is a cause of some debate and they are found in variations on other carpets of this type, with some suggesting they represent the lamp found in the mihrab of a mosque, while others suggest that they are amulets, used to alter the 'perfection' of the carpet and to ward off the evil eye (W.B. Denny, The Classical Tradition in Anatolian Carpets, Washington, D.C., 2002, p.83.). Amulets were also commonly found in mosques and served the same purpose.
Another 'small medallion' with a cloudband border is in the Keir Collection, but with added elements in the longer field and with plain striped guard stripes (Friedrich Spuhler, Islamic Carpets and Textiles in the Keir Collection, London, 1978, no.24, p.52 and col.pl.p.54). Other similar examples are published in the Textile Museum (L. Mackie, The Splendour of Turkish Weaving, Washington, 1973, no.36, p.36), the McMullan Collection, with central blue medallion (Joseph V. McMullan, Islamic Carpets, New York, 1965, no.83, pp.262-3), the Metropolitan Museum (M.S. Dimand and J. Mailey, Oriental Rugs in the Metropolitan Museum of Art, New York, 1973, no.81, p.224), the Ballard Collection (James F. Ballard, Catalogue of Oriental Rugs in the Collection of James F. Ballard, St. Louis, 1924, no.71), and with Herrmann (Eberhart Herrmann, Seltene Orientteppiche X, Munich, 1988, no.5, pp.22-23). The Textile and Metropolitan Museum examples, together with the Ballard rug, share the yellow quatrefoil medallion seen in this rug. Another of the group sold in Christie's London, 23 April 2013, lot 49.
What sets this particular rug apart from all of the aforementioned rugs in the 'cloudband' group is the way in which the weaver has attempted to execute full corner resolutions within the border. Rather than the usual abrupt severence of the motif at the point where it is required to turn, here the weaver has successfully positioned the cloudband at each corner on the diagonal so that each of the extended arms forms an 'L' shape that gracefully continues the design around the border without interruption. This is a rarely seen feature on Ottoman Anatolian rugs of this period.
Lot 179. An impressive Kashmir Durbar carpet, North India, Late 19th century; 11ft.3in. x 24ft.4in. (344cm. x 741cm.). Estimate £25,000-35,000 | US$35,000-48,000 | €30,000-41,000. Price Realised £87,500 © Christie's Images Ltd 2021.
Finely woven on the horizontal, full pile throughout, localised, minor reweaves, the 'STATE DINING ROOM' embroidered on the reverse of two corners and the letter 'H' to the reverse of another.
Note: The knot count measures approx. 7V x 8H per cm. sq.

The weaving tradition of these extraordinary large carpets lies in the earlier Mughal court carpet production. Thought to date from the reign of the Mughal Emperor Akbar (r.1556-1605) it had continued through the reign of his son Jahangir (r.1605-27) and that of his grandson, Shah Jahan (r.1628-58). The court workshops were commissioned to produce large Durbar, or 'Audience' carpets which were displayed longitudinally before the throne in the palaces of the Emperor. Until around 1630 designs were based upon earlier Persian models but after this point artists were encouraged to develop a greater 'Indian' style.

We know of a number of fragments in the Philadelphia Museum of Art (The Joseph Lees William Memorial Collection: 55-65-34) and the Victoria and Albert Museum, London with the same pattern of angular leafy vine and flowerheads as the present carpet, that were once part of an impressively large late 17th century Mughal Lahore carpet of lattice design that had reputedly been woven for the Chihil Sutun Palace, Isfahan, (see Charles Grant Ellis, Oriental Carpets in the Philadelphia Museum of Art, Philadelphia, 1988, No.64, pp.228-235). Chihil Sutun, constructed in 1647, had been a pleasure pavilion built by Shah 'Abbas II (r.1642-66) in the midst of a large park but which had to be rebuilt in 1706 following a major fire. That any fragments remain at all of that carpet is quite remarkable but others have surfaced in the Benguiat sale of 1925, the auction of Alphonse Khan in 1927 and in the S. Haim collection in Istanbul (K. Erdmann, Seven Hundred Years of Oriental Carpets, London 1970, p.179, fig.224).

By the mid-19th century there was a heightened demand from the new mercantile classes in Victorian England and by 1890 the taste had become so fashionable that Queen Victoria instructed John Lockwood Kipling, father of the poet Rudyard Kipling, to build a State Durbar room at Osborne House. Decorated by the master carver, Bhai Ram Singh, the Durbar room was laid with a room-sized Agra carpet. An Agra of even larger propotions was presented to Queen Victoria as a gift when she became Empress of India for the Waterloo Chamber at Windsor Castle. While the present carpet was not part of the decoration of Osborne House or Windsor Castle, we can assume that it had been commissioned for a similarly impressive setting according to the repeated embroidered lettering on the underside, 'The State Dining Room'.

For a fuller discussion of Mughal carpets see Daniel Walker, Flowers Underfoot, Indian Carpets of the Mughal Era, The Metropolitan Museum of Art, New York, 1997, chapter 4.