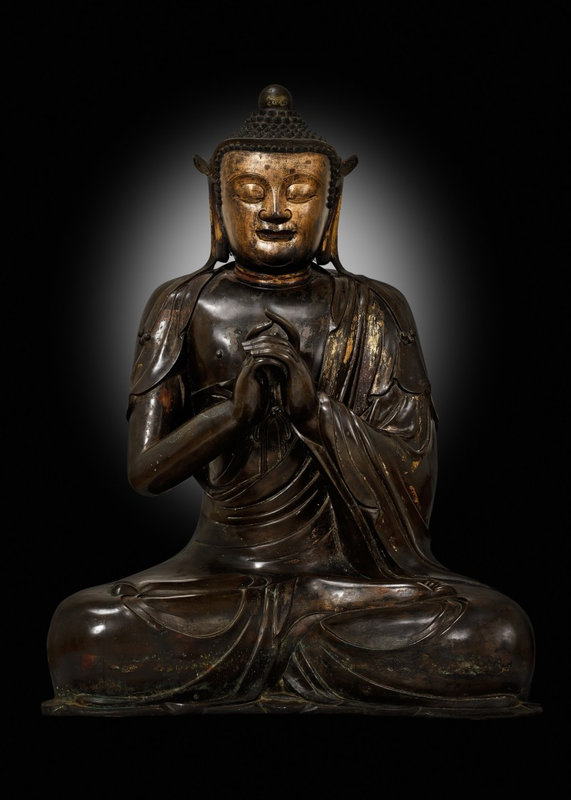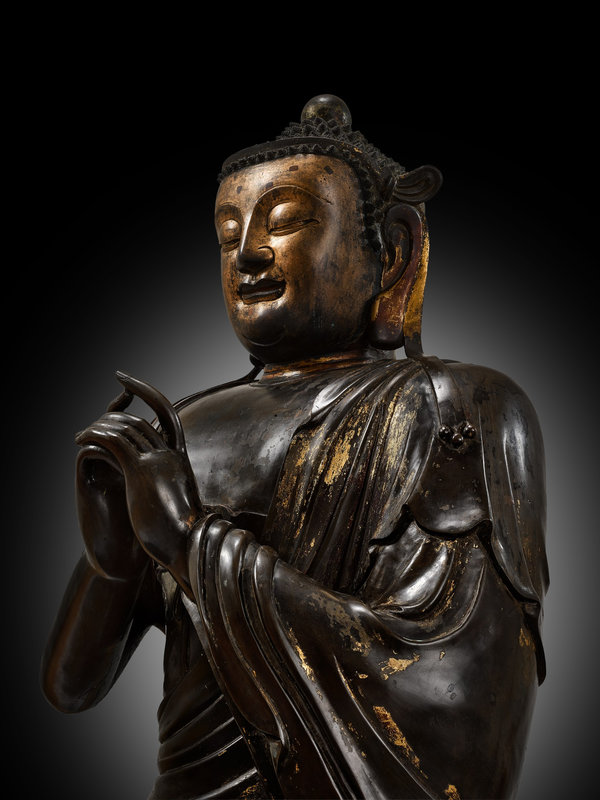 Lot 3651. A magnificent and extremely rare large gilt-lacquered bronze figure of Vairocana, Ming dynasty, 15th - 16th century; 85 by 72 by h. 122 cm. Lot sold: 18,325,000 HKD (Estimate: 15,000,000 - 20,000,000). © 2021 Sotheby's
impressively cast and rendered seated in dhyanasana with the hands held in uttarabodhi mudra before the chest, portrayed clad in loose robes draping over the shoulders and exposing the chest and dhoti tied around the waist, depicted with a meditative countenance flanked by a pair of pendulous earlobes and tabs trailing down the shoulders, all beneath a tall ushnisha, traces of gilt-lacquer.
Provenance: Vallin
Galleries, Connecticut, mid-1990s.
Christie's New York, 15th September 2011, lot 1367
.
Note: The current sculpture of Vairocana is of exceptional size, among the largest bronze Buddhist sculptures created in the early to mid-Ming dynasty. The power of its presence, with its mighty solidly cast body seated perfectly balanced with hands held in uttarabodhi mudra, still resonates today. When it was originally created for an important temple, it would have struck awe into the minds of devotees.
Vairocana is considered a celestial or primordial Buddha and represents the dharma body of the historical Buddha. Vairocana is also seen as the embodiment of the Buddhist concept of sunyata, emptiness, and is one of the Five Dhyani Buddhas, which represent the five qualities of the Buddha. In this respect, Vairocana represents the Buddha's all-encompassing wisdom. This concept is represented by the uttrabodhimudra displayed by the present figure. This gesture represents supreme enlightenment and together with the vajramudra and dharmachakramudra is one that is specifically associated with Vairocana.
The present figure of Vairocana is one of the larger ones still extant. Timothy Brook, The Confusions of Pleasure: Commerce and Culture in Ming China, Berkeley, 1999, pp. 155-156, notes that during the Ming dynasty bronze Buddha statues were often seized by the authorities and melted down for weapons and coinage. A larger bronze figure of Vairocana dating to the 16th-17th century, reportedly found in Shijiazhuang, Hebei, is currently in the collection of the Royal Ontario Museum (accession no. 921.31.30), from the George Crofts Collection, donated by D.A. Dunlap. At 271cm including lotus base, it is of greater size, but comparison of the two faces clearly shows that the current sculpture is earlier in date, its facial features and robes less sharply defined, with a greater freedom of style in the articulation of its expression.
Other smaller Ming dynasty gilt-bronze figures of Vairocana were sold in these rooms, 25th April 2004, lot 333, and 8th April 2011, lot 3048. Two other related figures were sold at Christie's Hong Kong, 1st June 2011, lot 3770, and Christie's New York, 15th September 2011, lot 1383.
Sotheby's. Important Chinese Art including Imperial Jades from the De An Tang Collection, Hong Kong, 13 October 2021