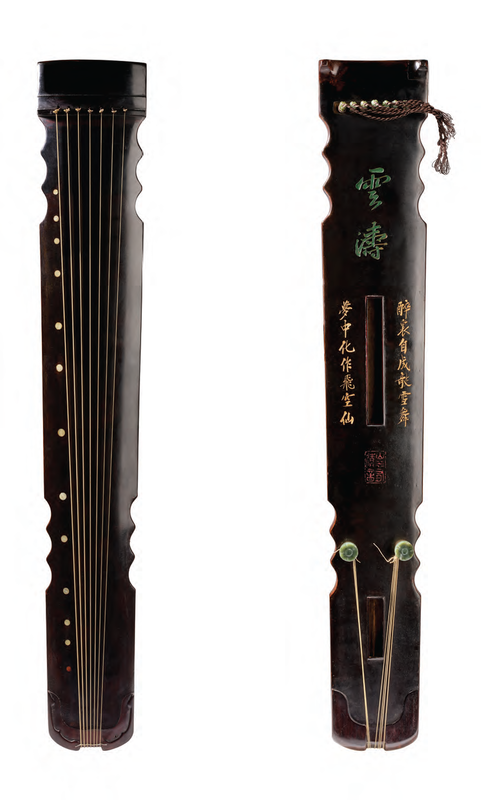 Lot 46. A lianzhu-style 'Yuntao' lacquered qin, Qing Dynasty (1644-1911); Overall 125cm (49 1/4in), shoulder 19cm (7 1/2in) wide, tail 15.8cm (6 1/4in) wide. Sold for HK$1,752,500 (Estimate HKD200,000 - 500,000 / US$26,000 - 64,000). © Bonhams 2001-2021
The body gently tapered from the head to the tail with a multiple-recessed shoulder and waist, the underside with seven spinach jade tuning pegs and two spinach jade circular goose-feet supporting the body, the top inlaid vertically with thirteen mother-of-pearl studs (hui), and ended with zitan protector to the tail, the name of the qin is incised above the 'Dragon Pool', Yuntao, flanked by a poetic inscription followed by a seal, Shan shui you qing yin. Underneath the 'Dragon Pool' aperture to the right is inscribed, guanxu gengying zhongdong zhihui putishe jielian shaomushi, 'Jielian of Puti Temple in the late winter of the year of Gengyin of Guanxu Emperor's Reign (1890)', and to the left, zhonghua mingguo jihainian mengqiu tusun songqiao shiyishanren gaizhuo, 'modified by the disciple of [Jielian], Songqiao, in the early autumn of the year of Yihai of the Republic of China (1935)', the lacquered surface with a network of fine ice-crackles, carrying case.
Provenance: Monk Jielian (1853-1933) (inscription)
Monk Songqiao (active first half of 20th century) (inscription)
Xiling Yinshe, 13 December 2014, lot 2811
Yanqinzhai Collection, Hong Kong.
Note: The inscription underneath the 'Dragon Pool' indicates the name of the previous owner of the current qin, Monk Jielian (1853-1933) of the Puti Temple in Rugao, Jiangsu province. Monk Jielian, known by his courtesy name as Guo Jian is a descendant of the prolific and respected poet from Dongtai county in Jiangsu province, Xu Shukui (1703-1763). He leaned the playing of the qin from Monk Mucun (?-1890), an renowned qin master of the Guangling School.

Monk Songqiao (active first half of 20th century), a disciple of Monk Jielian and later the abbot of the Puti Temple is well known for his effort in preserving the manuscripts and cultural heritage of the Puti Temple by establishing the China History Museum of Buddhism in 1926, which was destroyed during in the Sino-Japanese War in 1938.
Bonhams. Chinese Art Online: Arts from the Scholar's Studio Including the Yanqinzhai Collection, Hong Kong, 4 - 19 October 2021