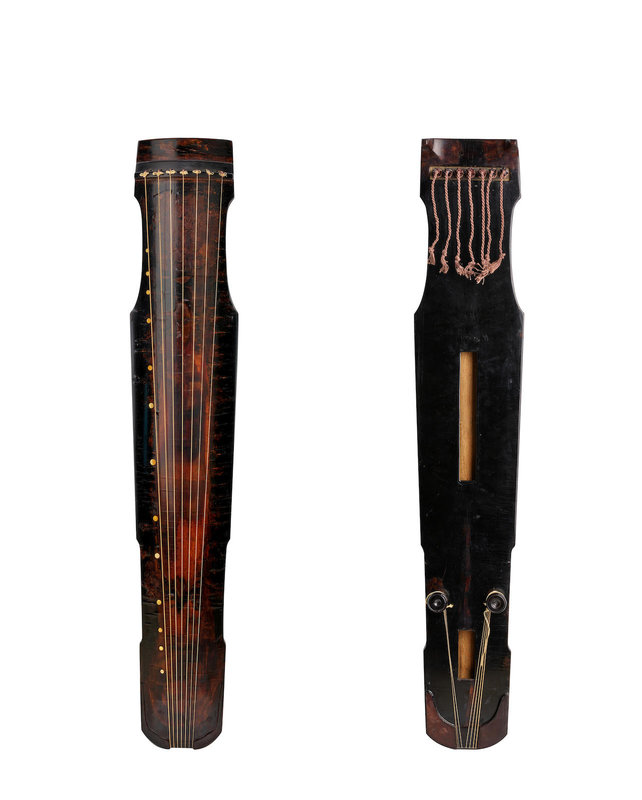 Lot 29. A rare Imperial Confucius-style lacquered qin, Ming Dynasty (1368-1644); Overall 102cm (40in) long, shoulder 18cm (7in) wide, tail 13.5cm (5 1/4in) wide. Sold for HK$1,065,000 (Estimate HKD200,000 - 300,000 / US$26,000 - 39,000). © Bonhams 2001-2021
The slightly domed body with two waisted section on both sides, lacquered black, the surface finely cracked into shefu (snake's belly) lines, the top with thirteen mother-of-pearl-inlaid studs (hui), seven strings threaded through tasseled hardwood pegs (zhen) running over the top and tied to either of yanzu (foot pegs) on the back, with two rectanglular openings, bag.
Provenance: The Yanqinzhai Collection, Hong Kong.
Note: According to the Daming huidian, 'Collected Statutes of the Ming Dynasty', a five-volume collection of regulations and procedures of the Ming dynasty, lacquered qin of a smaller size with a length of the strings at around 93 cm such as the present lot, was made for the ceremonial performance of court music known as the Zhonghe Shaoyue during the Ming and Qing dynasties.

For lacquered qin of similar smaller sizes made for court music, see a black lacquered qin, 126cm long, Ming dynasty, currently in the Kong Family Mansion, Shandong, illustrated in zhongguo yinyue wenwu daxi: Shandong, Shijiazhuang, 2001, p.182, pl.1.10.8a. Compare also a lacquered qin, Xuande mark and of the period, 117.4cm long, illustrated by G. Yong, Yizhang guqin de yanjiu 'The Study of a Ming Dynasty Zeitler', Changchun, 2016; see also Imperial cinnabar lacquered wutong wood qin, Qianlong, 101cm long, which was sold at Sotheby's Hong Kong, 5 October 2016, lot 3605.
Bonhams. Chinese Art Online: Arts from the Scholar's Studio Including the Yanqinzhai Collection, Hong Kong, 4 - 19 October 2021