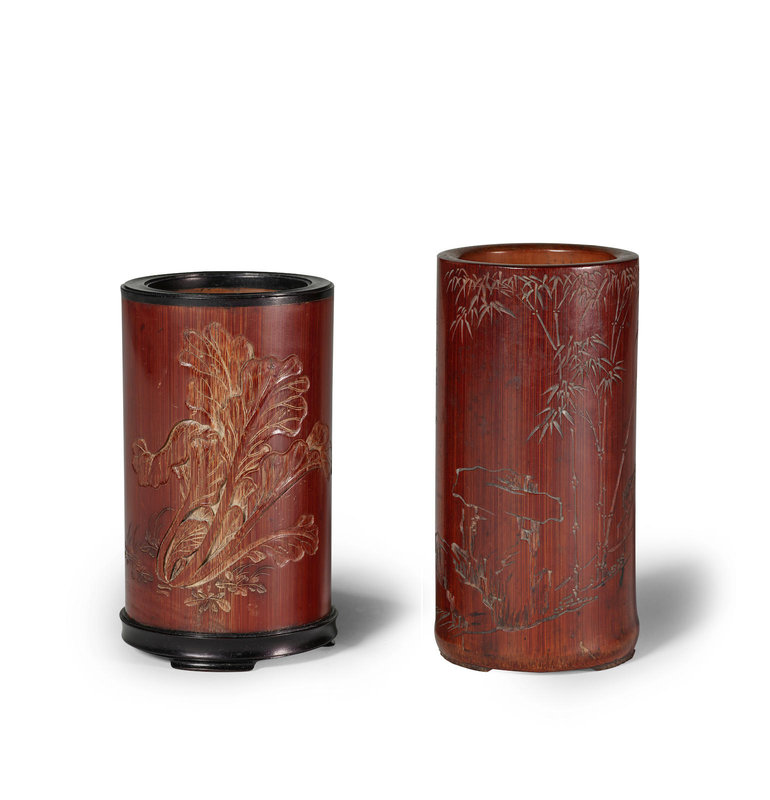 Lot 75. Two inscribed bamboo brushpots, 19th century, signed Zhiyan and Zhishan; 14cm (1/2in) high. Sold for HK$277,500 (Estimate HKD20,000 - 30,000 / US$2,600 - 3,900). © Bonhams 2001-2021
Of cylindrical form, the mouth and foot rim mounted with hardwood, the body carved with a cabbage and inscribed by Zhishan in the spring of the year of Jihai, 13cm (5 1/8in) high; of cylindrical form, the body incised with rocks and bamboos and inscription by Zhiyan.
Provenance: Acquired from China Curios Centre, Hong Kong, 1990s (by repute)(Zhishan mark)
Acquired from state-owned antique shop, 1990s (by repute)(Zhiyan mark)
The Yanqinzhai Collection, Hong Kong.
Bonhams. Chinese Art Online: Arts from the Scholar's Studio Including the Yanqinzhai Collection, Hong Kong, 4 - 19 October 2021