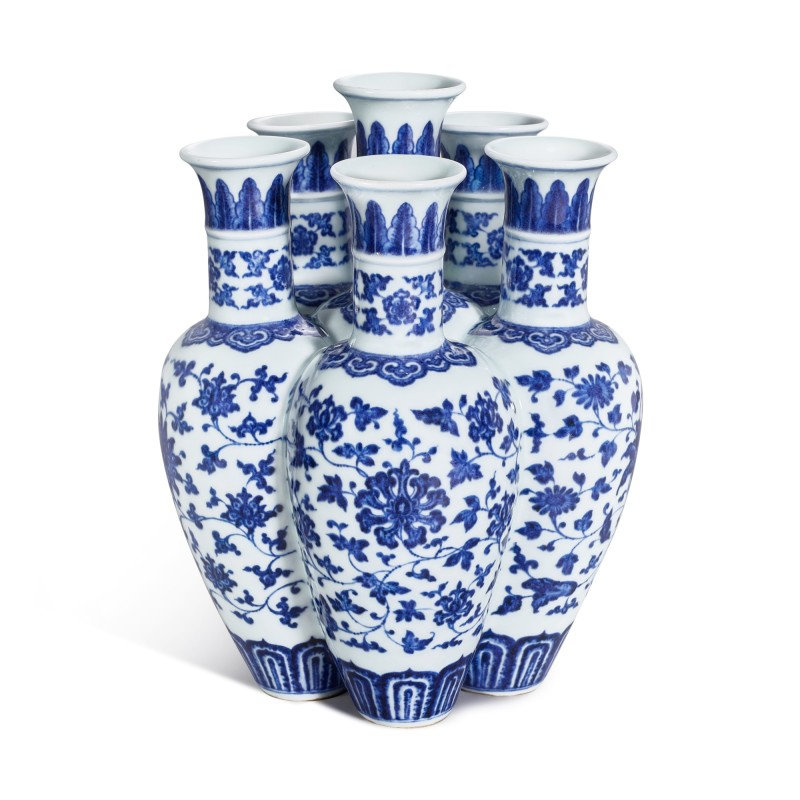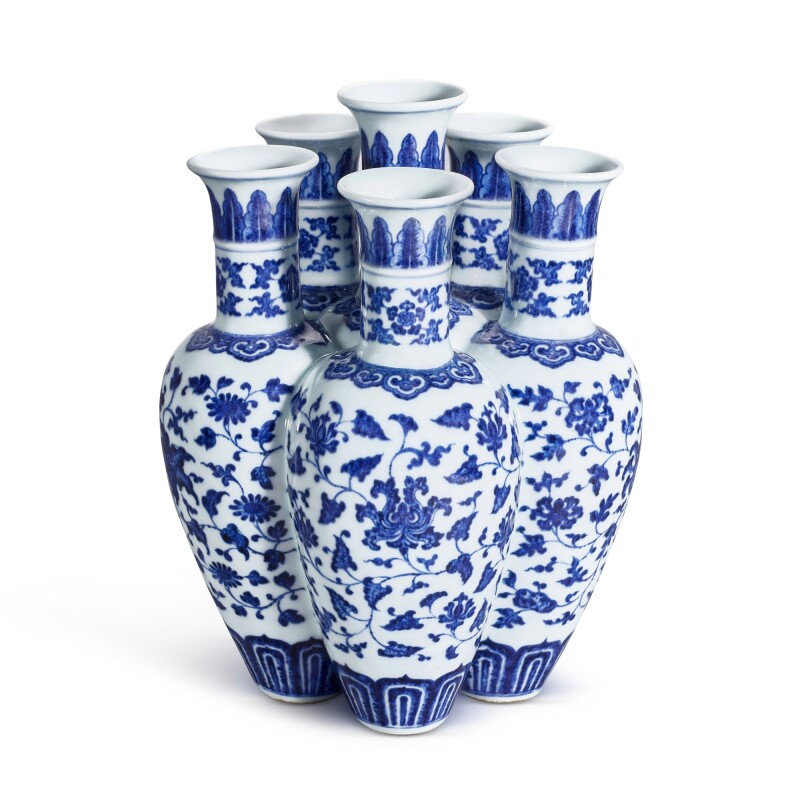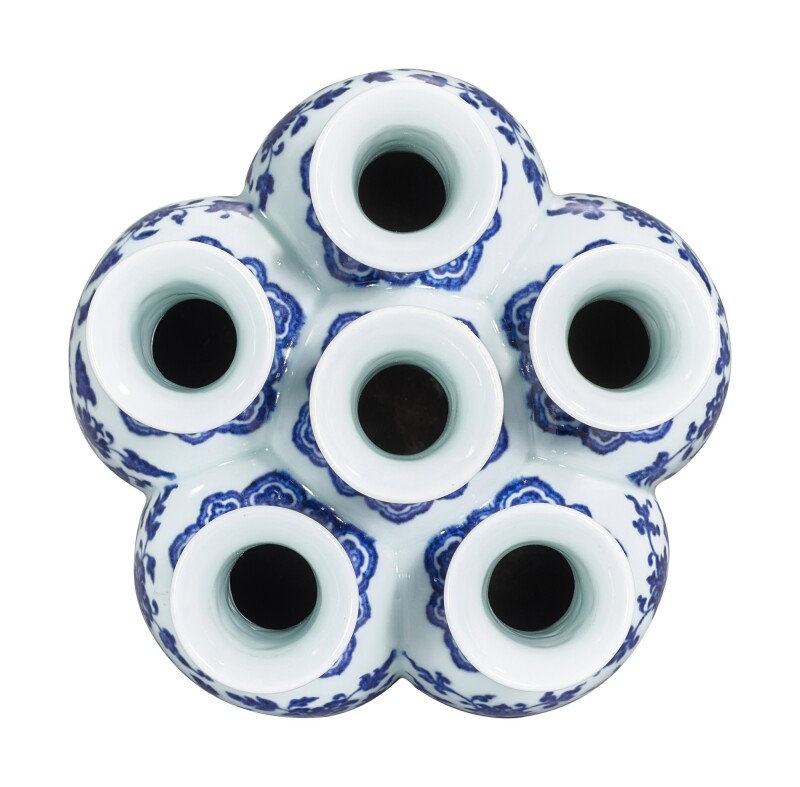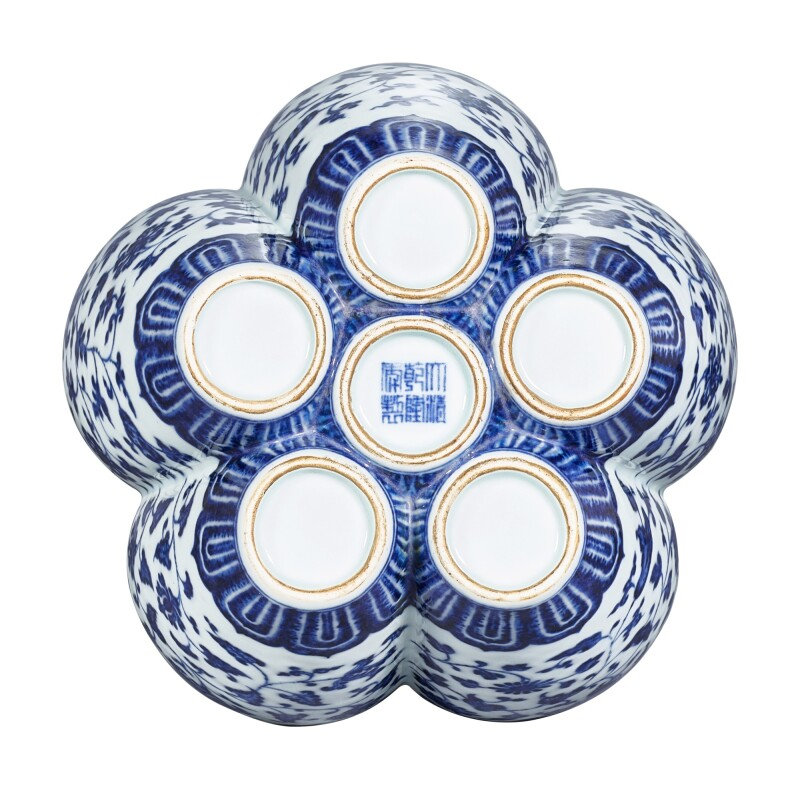 Lot 15. An extremely rare blue and white 'lotus' conjoined vase, Seal mark and period of Qianlong (1736-1795); 24 cm. Lot sold: 3,402,000 HKD (Estimate: 1,200,000 - 1,800,000 HKD). © Sotheby's 2021
superbly constructed with six amphora-shaped vases cut to be joined together to form a single vessel, each vessel with a tall cylindrical neck encircled with a raised band and surmounted by a wide flaring rim, the lobed exterior superbly painted with five large lotus blooms borne on undulating leafy scrolls issuing smaller blossoms, below ruyi and lappet borders encircling each neck, the base of the central larger vase inscribed with a six-character seal mark, Japanese wood box.
Provenance: Christie's Hong Kong, 1st May 2000, lot 694.
Note: Highly sophisticated in its conjoined form and sensitively painted with intricate patterns, the present vase is a very rare and superb example of the technical development achieved by potters during the Qianlong period. Assembled from six individual vases, with a slightly larger one protruding in the centre, all cut so as to be joined together to form a single vessel, this vase is a tour-de-force of Jingdezhen's imperial kilns. Only three closely related vases of slightly smaller dimension are known: one lacking the fine details rendered on the present piece, preserved in the Palace Museum, Beijing (accession no. Gu-152940), illustrated in Kangxi, Yongzheng, Qianlong: Qing Porcelain from the Palace Museum Collection, Hong Kong, 1989, p. 334, pl. 5; another with a four-character seal mark of Qianlong, previously sold in our Paris rooms, 13th June 2012, lot 69, now in the Songzhutang Collection, illustrated in Encompassing Precious Beauty: The Songzhutang Collection of Imperial Chinese Ceramics, Hong Kong, 2016, pl. 71; and a further vase, with the base mark effaced, in the Huaihaitang Collection, included in the exhibition Ethereal Elegance. Porcelain Vases of the Imperial Qing. The Huaihaitang Collection, Art Museum, The Chinese University of Hong Kong, 2008, cat. no. 109.
Most vases of this form appear to have been covered with monochrome glazes. See, for example, four tea-dust glazed vases preserved in the National Palace Museum, Taipei (accession nos Zhong-Ci-2901, Zhong-Ci-2902, Zhong-Ci-2903 and Zhong-Ci-2904; fig. 1), one of them included in the Special Exhibition of K'ang-Hsi, Yung-Cheng and Ch'ien-Lung Porcelain Ware from the Ch'ing Dynasty in the National Palace Museum, Taipei, 1986, cat. no. 96; a smaller, sky-blue glazed vase in the Tianminlou Collection, illustrated in Treasures in the Royalty: The Official Kiln Porcelain of the Chinese Qing Dynasty, Shanghai, 2003, p. 326; and a celadon-glazed vase sold in our New York rooms, 21st March 2018, lot 534.
fig. 1. A teadust-glazed conjoined vase, Seal mark and period of Qianlong, H. 24.2 cm, National Palace Museum, Taipei
Sotheby's. The Three Emperors: Imperial Porcelain of the Kangxi, Yongzheng and Qianlong reigns from the Yidetang Collection, Hong Kong, 12 October 2021