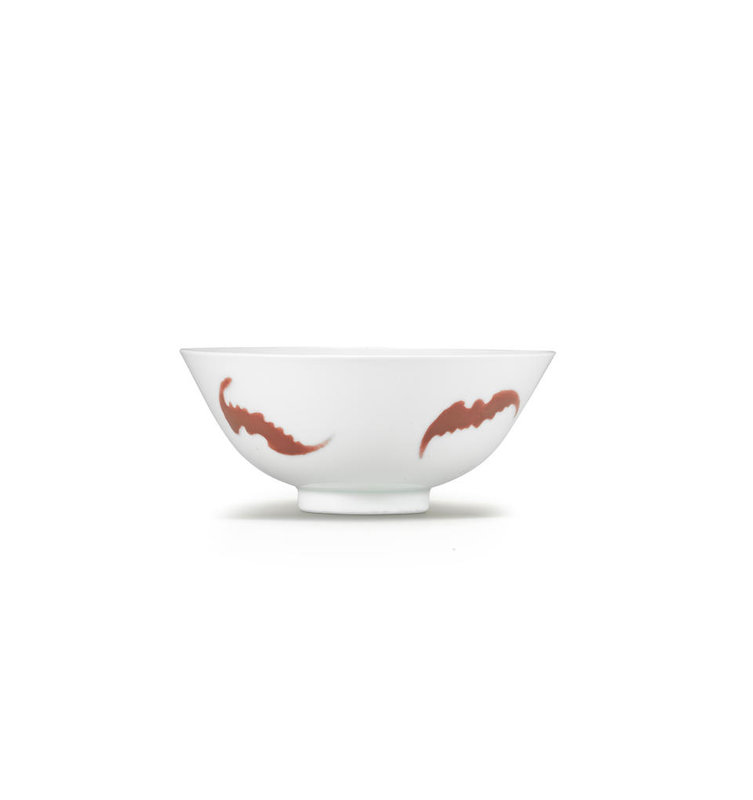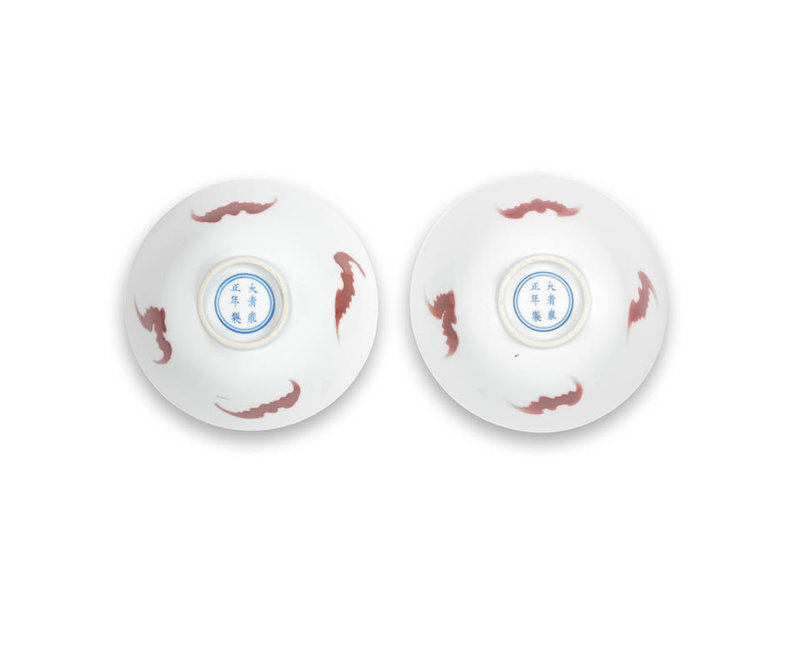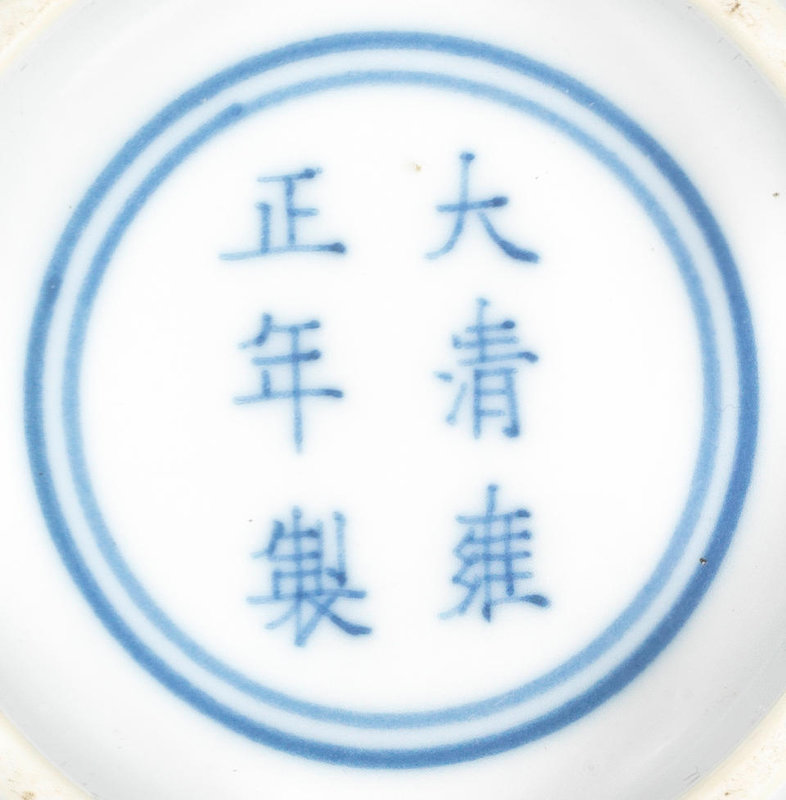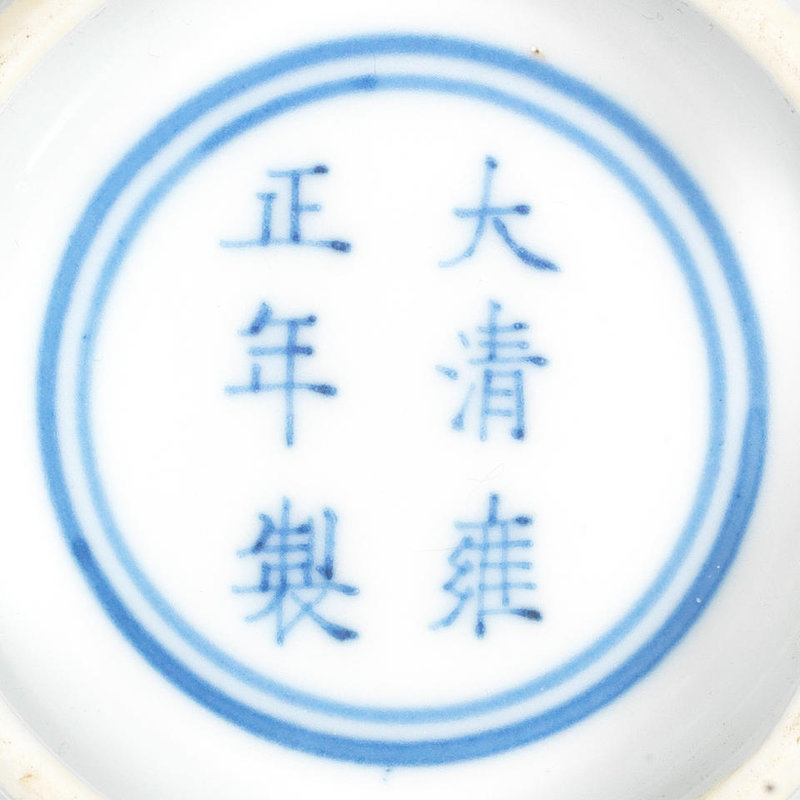 Lot 296. A rare pair of copper-red-decorated 'five bats' bowls, Yongzheng six-character marks and of the period (1723-1735). Each 15.5cm (6 1/8in) diam. Sold for £ 150,250 (€ 175,720). (Estimate £ 120,000 - £150,000). © Bonhams 2001-2021
Each finely potted with deep curving sides rising from a straight foot to a gently flared rim, the exterior painted with four bats swooping and soaring in copper-red silhouettes, the intensity of the red subtly shifting from deep crimson to a pale pinkish-gray at the wing tips, all on a white ground, the interiors each with a further bat in flight.
Provenance: Sotheby's New York, 12 September 2018, lot 142
A UK private collection.
Note: The five bats, wufu, are a homophone for the 'Five Blessings', which are long life, wealth, health, love of virtue and a good end to one's life. The pattern was one of the designs on porcelain supplied to the Court listed in 1729 by Tang Ying, director of the Imperial porcelain factory active during the Yongzheng and Qianlong reigns, and translated by S.Bushell in Oriental Ceramic Art, London, 1981, p.198.

Designs created through red-glaze silhouettes originated however in the early Ming dynasty and are best known from the Xuande period, but the technique had already been developed during the preceding Yongle reign, when silhouettes of animals and fish were used in combination with underglaze-blue designs; for an example excavated from the late Yongle stratum of the Ming Imperial kiln site, see Imperial Porcelain of the Yongle and Xuande Periods Excavated from the Site of the Ming Imperial Factory at Jingdezhen, Hong Kong, 1989, no.38, and see also a Xuande period example recovered from the Xuande stratum of the Ming Imperial kiln site at Jingdezhen and included in Xuande Imperial Porcelain Excavated at Jingdezhen, Taipei, 1998, nos.101-102.

Notoriously difficult to achieve, copper-red glazes had been largely abandoned at Jingdezhen since the early Ming dynasty and were revived during the Kangxi reign. Research by Peter Lam and other leading scholars indicates that the inspiration to start using again the celebrated but technically challenging pigment occurred during the early years of the Kangxi period under the direction of Zang Yingxuan, who was sent to Jingdezhen in 1681 to oversee the rebuilding of the kilns and serve as Imperial supervisor. It was in these early years of the Qing dynasty that a series of copper-red mythical beasts appeared, their abstracted rich red forms boldly contrasting with a white porcelain body covered with a pale blue-tinged transparent glaze.

By the Yongzheng period, the technique had been perfected and achieved its finest form of expression with the crimson-red-glaze silhouettes of fish, pomegranates and most rare of all, bats, appearing on bowls, stem bowls and dishes, and bearing Imperial reign marks. This silhouette technique, which makes use of the copper-red glaze, possibly sandwiched between layers of clear glaze, is different from the more common method of painting designs in copper-red pigment directly onto the body before the glaze is applied. The present technique, if successfully handled, results in intensely red designs which do not allow for the rendering of detail and are best suited for silhouettes.

A very similar bowl with five bats, Yongzheng six-character mark and of the period, is illustrated in The Official Kiln Porcelain of the Chinese Qing Dynasty, Shanghai, 2003, p.116. A similar pair, in the Malcolm McDonald Collection, Oriental Museum, Durham University is illustrated by Ireneus László Legeza, A Descriptive and Illustrated Catalogue of the Malcolm McDonald Collection of Chinese Ceramics in the Gulbenkian Museum of Oriental Art and Archaeology School of Oriental Studies University of Durham, London, 1972, pl.LXXVIII, nos.218-219. Another similar example is illustrated by B.Gyllensvärd, Chinese Ceramics in the Carl Kempe Collection, Stockholm, 1964, pl.788.

Compare with a similar underglaze copper-red-decorated 'bats' bowl, Yongzheng six-character mark and of the period, which was sold at Christie's Hong Kong, 1 June 2011, lot 3527.
Bonhams. Fine Chinese Art: Including Imperial and Court Textiles Curated by Linda Wrigglesworth, London, 2 november 2021