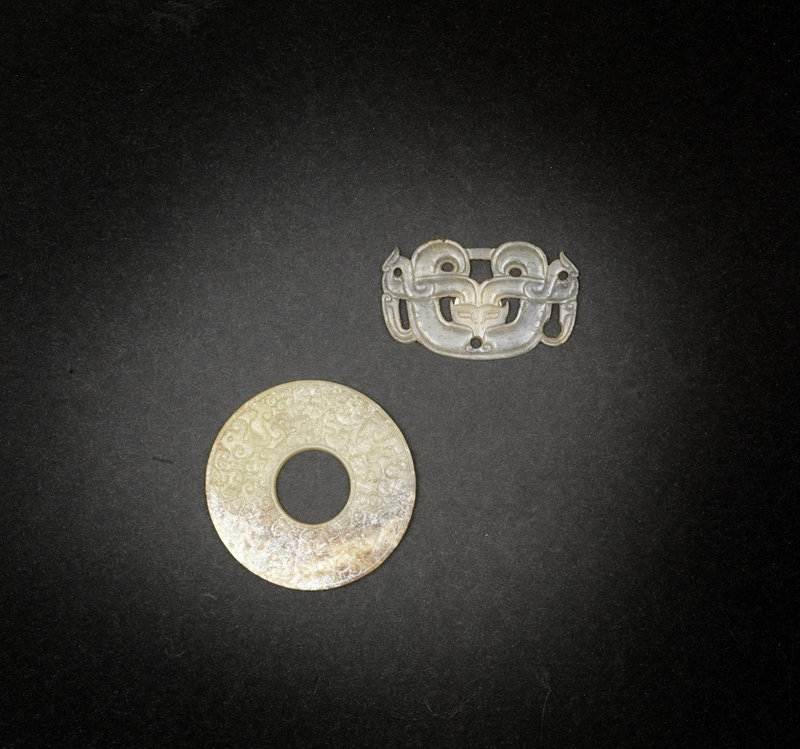 Lot 203. A yellow jade bi-disc and a mythical-beast plaque, Zhou-Han Dynasty; 1/4in) diam.; the plaque, 5.5cm (2 1/8in) wide. Sold for £ 75,250 (€ 88,006). (Estimate £ 3,000 - £5,000). © Bonhams 2001-2021
The disc carved in shallow relief with archaic motifs of C-scrolls, the stone of pale yellow tone with russet and cream-white calcified patches; the plaque finely pierced and carved as a taotie mask, the stone of translucent grey tone with dark speckles.
Provenance: C. T. Loo, New York, 1950 (the plaque)
Mrs Gret Hasler (1895-1971), Winterthur, Switzerland, and thence by descent.
Exhibited and Illustrated:: C.T.Loo, Catalogue, New York, 1950, pl.56, no.4 (the plaque)

A trip to New York, Chicago and Washington in 1937 was the starting point for Mrs Gret Hasler's interest in Chinese art. This she continued until the Second World War by acquiring objects from dealers in Paris, Sweden and New York.
Note: Compare the mythical beast plaque to a related jade ornament with design of a dragon with one head and two bodies, Warring States period, from the Qing Court Collection, illustrated in The Complete Collection of Treasures of the Palace Museum: Jadeware (I), Hong Kong, 1995, p.193, no.161.

A related green jade 'dragon and phoenix' pendant, Warring States period, was sold at Bonhams Hong Kong, 30 May 2017, lot 38.
Bonhams. Fine Chinese Art: Including Imperial and Court Textiles Curated by Linda Wrigglesworth, London, 2 november 2021