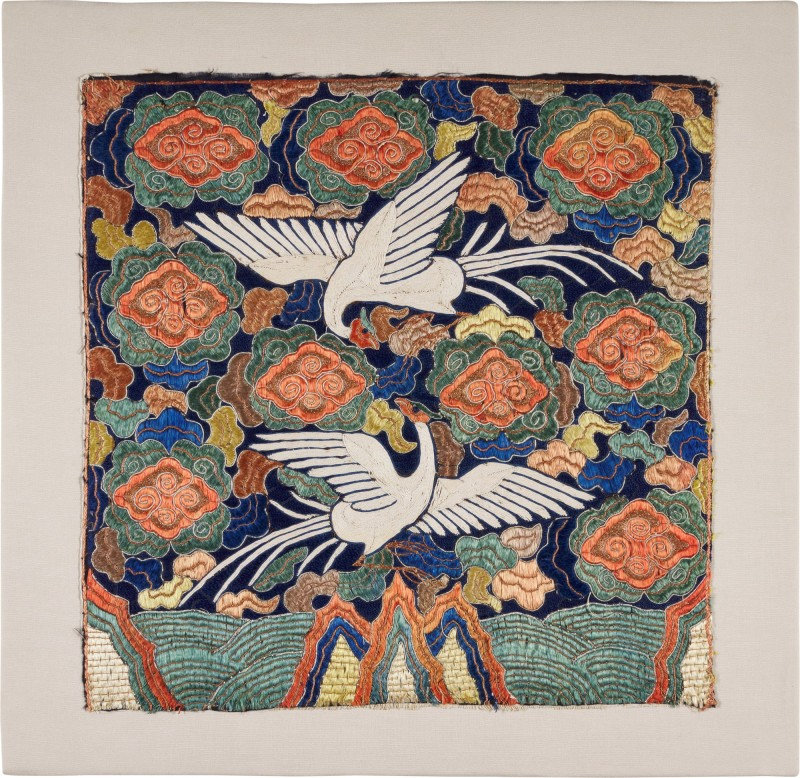 Lot 318. A rare fifth-rank civil official's 'double silver pheasant' rank badge, buzi, Ming dynasty, 17th century; 39 by 38.5 cm, 15⅜ by 15⅛ in. Lot sold: 32,760 GBP (Estimate: 15,000 - 20,000 GBP). (C) 2021 Sotheby's
colourfully embroidered with a pair of confronted silver pheasants, the lower one standing on prism-like rocks issuing from rolling waves embroidered in silk floss using long stitches and couched threads, all amidst five-coloured ruyi clouds, all on a ground of dark blue silk.
Provenance: Corsini Collection, Florence.
Literature:John E.Vollmer, Silk for Thrones and Altars, Chinese Costumes and Textiles from the Liao through the Qing dynasty, Myrna Myers, 2003, Paris, no. 11.
Jean-Paul Desroches, Two Americans in Paris: A Quest for Asian Art, 2016, Paris, no. 355.
Exhibited: From the Land of Asia, Pointe-à-Callière Museum, Montréal, 17th November 2016 - 19th March 2017.
From the Land of Asia, Kimbell Art Museum, Texas, 4th March – 19th August 2018.
Note: This striking badge probably belongs to a large group comprising of over thirty similar silk badges, mainly representing lions, silver pheasants and egrets, once sewn into a large hanging or canopy in Palazzo Corsini, Florence, possibly made in Tibet.
A similar embroidered silk 'double silver pheasants' badge, 16th/17th century, is illustrated by J.Vollmer, Silks For Thrones and Altars: Chinese Costumes and Textiles from the Liao Through the Qing Dynasty, Paris, 2003, no.11 and 12.
Sotheby's. Two Americans in Paris, The Collection of Sam and Myrna Myers, London, 4 November 2021