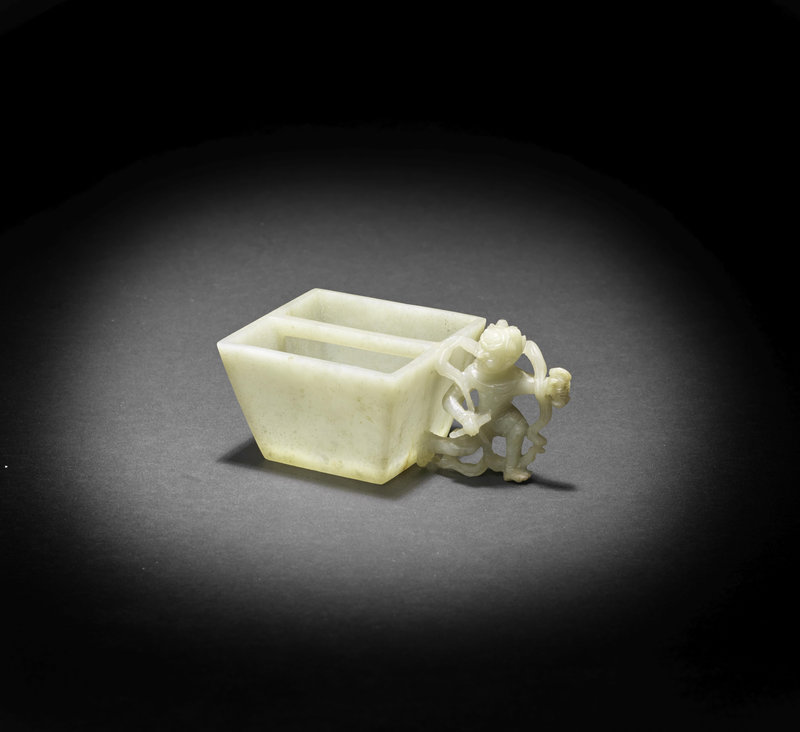 Lot 232. A pale green jade 'north star' brush washer, 16th-17th century; 10.5cm (4 1/8in) long.. Sold for £ 22,750 (€ 27,106) (Est: £1,500 - £2,000). © Bonhams 2001-2021
Of tapering square form, carved in openwork relief to one side with Kuixing, the Star Lord, forming the handle of the dipper, a scarf billowing about his body, the tapering square vessel divided by a central strap, the stone of pale green tone with faint mottled grey inclusions, set on a recessed square base.
Note: Kuixing (魁星), sometimes known as Great Kui the Star Lord is the God of Examinations, and an associate of the God of Literature, Wenchang. Kuixing literally means 'Chief Stars' however, and refers to the four stars in the first section of the Northern Dipper (北斗). The present lot, therefore, cleverly forms a rebus for the North Star.
Bonhams. Fine Chinese Art: Including Imperial and Court Textiles Curated by Linda Wrigglesworth, London, 2 november 2021