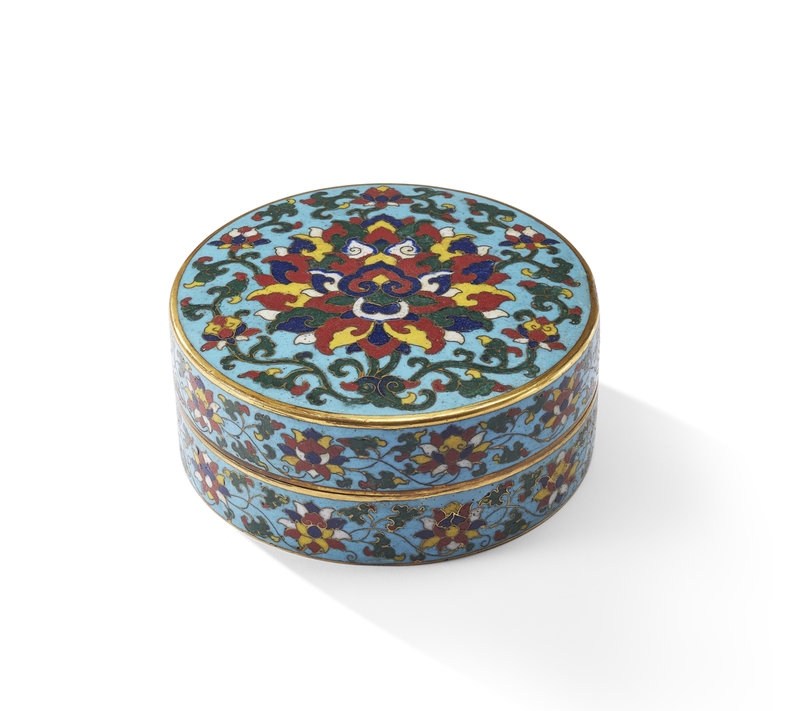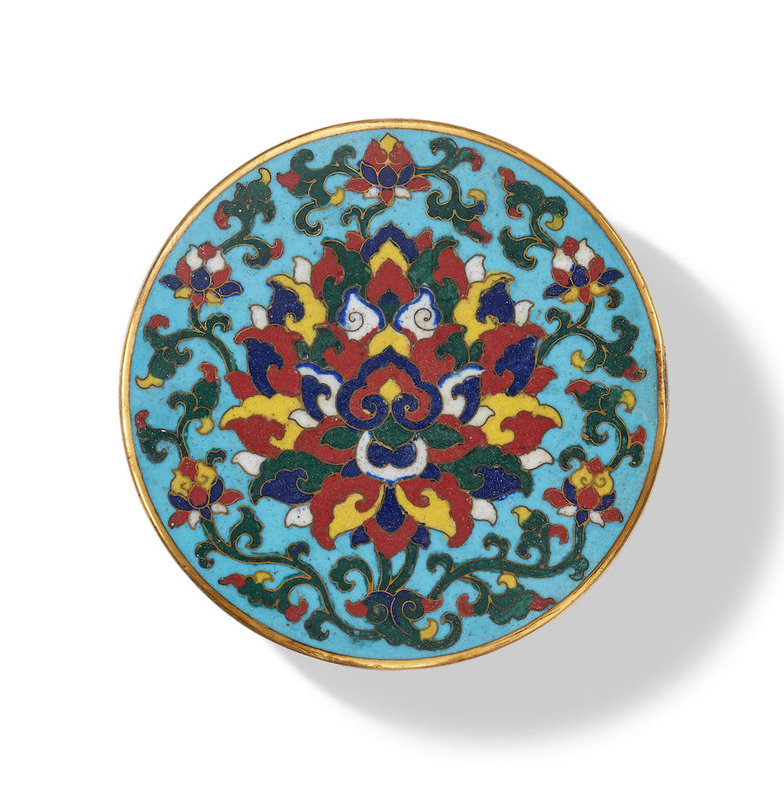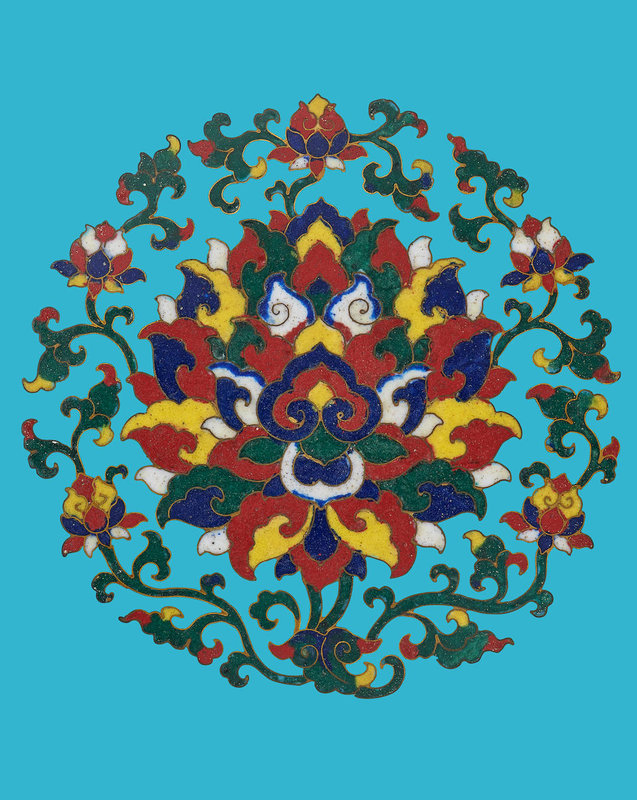 Lot 9. An exceptionally rare cloisonné enamel and gilt-bronze box and cover, Jingtai incised six-character marks, first half 15th century; 11.8cm (4 1/2in) diam. Estimate HK$ 2,500,000 - 3,500,000 (€ 280,000 - 400,000). Sold for HK$ 3,127,500 (€ 355,373). © Bonhams 2001-2021
Of circular form, the box exquisitely enamelled in vivid red, sapphire, yellow, white and green on a turquoise ground, the cover decorated with a large Indian lotus bloom with stylised ruyi-shaped petals around a smaller-lotus scroll, the sides of the cover and body with a scroll formed by ten smaller lotus blossoms borne on an undulating vine forming a scroll, the gilt cover interior and base both incised with a six-character mark reading daming jingtai nianzhi.
Note: Introduced into China in the 14th century during the Yuan dynasty, cloisonné enamel wares are widely considered to have reached artistic maturity during the first half of the 15th century, where the production was strictly regulated by the Yuyongjian, a division of the Imperial Household. The present lot is an exceptionally rare example of this early period, bearing two incised Imperial Jingtai reign marks, demonstrating the bold palette and decorative elements which were inherited from earlier examples dating to the Xuande period.

Compare with a very similar box but of smaller size (8.4cm diam.), first half 15th century, formerly in the collection of Sir Harry Garner and now in the Pierre Uldry Collection, illustrated by H.Brinker and A.Lutz, Chinesisches Cloisonné: Die Sammlung Pierre Uldry, Zurich, 1984. pls.12 and 12a. The Uldry box is inscribed on the base with two characters reading zhengzhai (House of Zheng) which may be a house name. Compare also a box and cover decorated with a similar lotus blossom but with a slightly different palette, Xuande period, in the George Walter Vincent Smith Art Museum, illustrated by B.Quette, ed., Cloisonné: Chinese Enamels from the Yuan, Ming, and Qing Dynasties, New York, 2011, p.37, fig.3.12. See also a closely related cloisonné enamel circular box and cover, Xuande period, which was sold at Christie's Hong Kong, 28 November 2012, lot 2130.
Image after H.Brinker and A.Lutz, Chinesisches Cloisonné: Die Sammlung Pierre Uldry, Zurich, 1984. pl.12.
Image courtesy of the George Walter Vincent Smith Art Museum, Springfield.
It has been suggested that cloisonné enamel Jingtai reign-marked wares of the quality of the present box and cover, which stylistically relate to Xuande-period wares, are in fact of the Xuande period but with later incised marks - a phenomenon which can be seen in early Ming lacquerwares. However, the delicately incised Jingtai six-character marks on the present lot are similar to the mark on a circular cloisonné enamel box and cover, dated as Jingtai mark and of the period, in the National Palace Museum, Taipei, illustrated in Enamel Ware in the Ming and Ch'ing Dynasty, Taipei, 1999, no.1.

The present box and cover, as well as the Uldry one, are both unusually decorated with a ruyi within the centre of the main lotus blossom on the cover. This rare and unusual feature indicates both were made in the same workshop.
Bonhams. Color / IMPACT Cloisonné Enamel in the Ming and early Qing Dynasty, Hong Kong, 2 Dec 2021