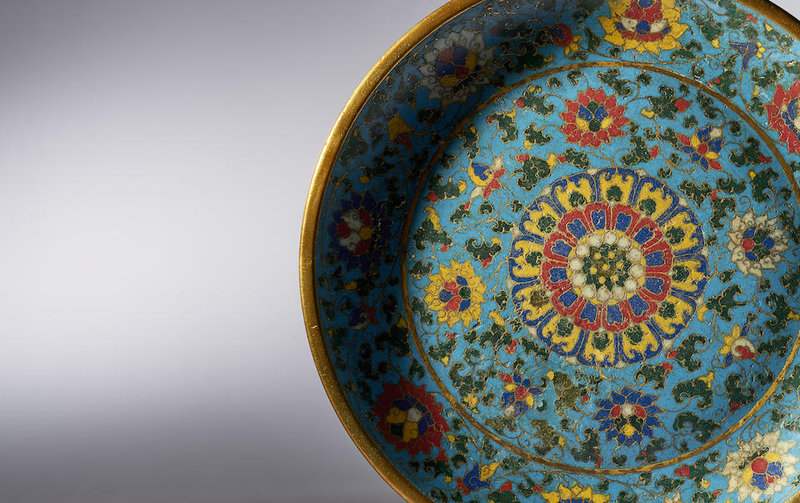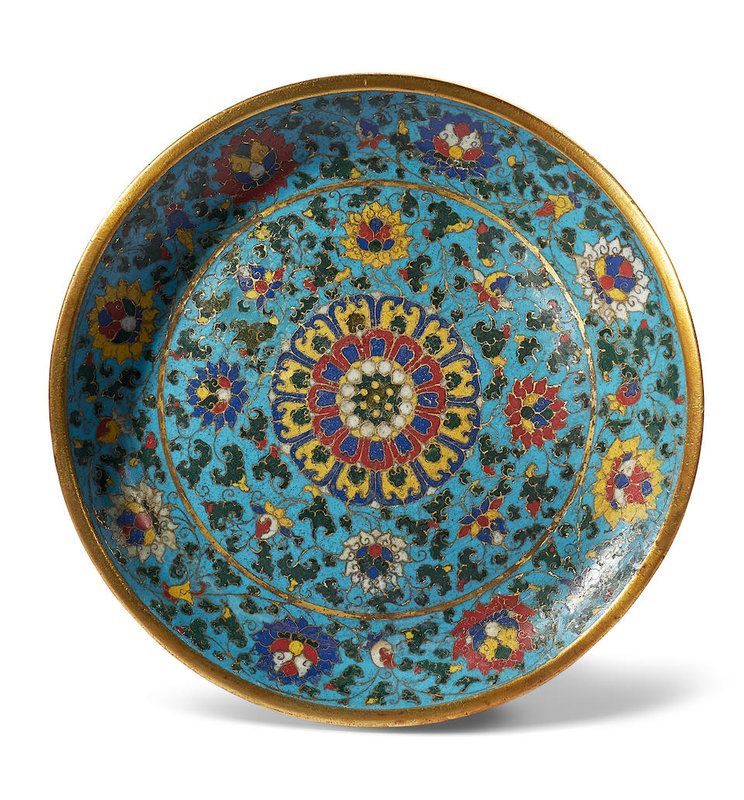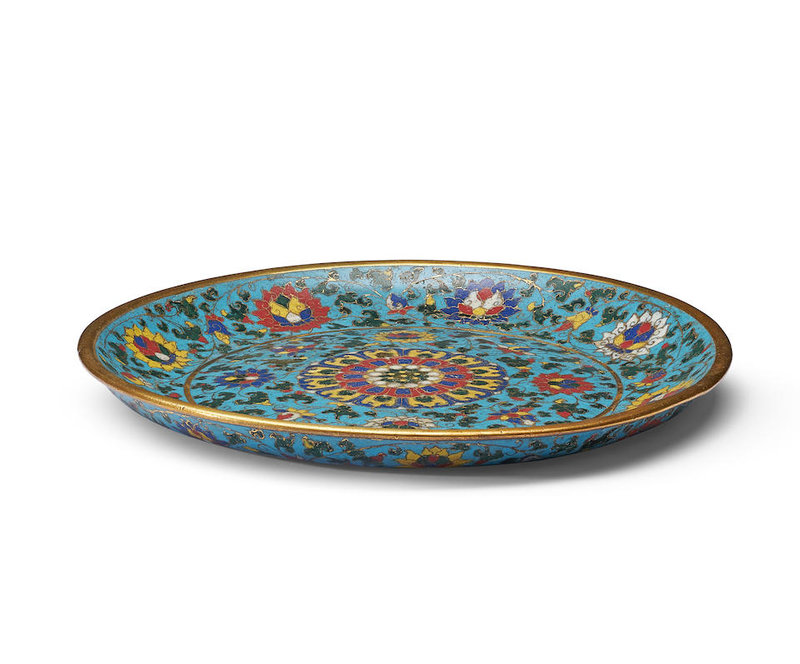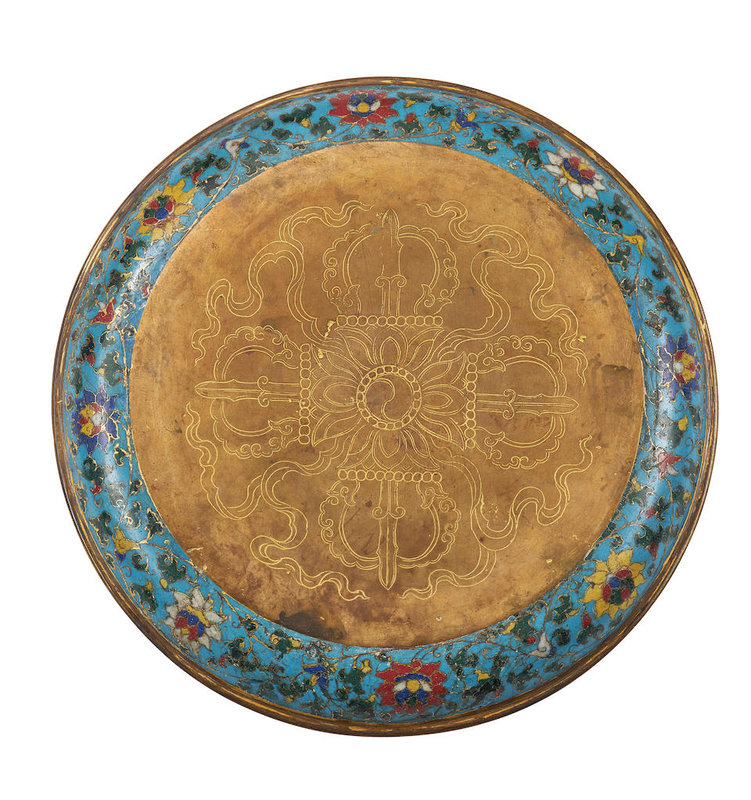 Lot 28. A rare cloisonné enamel 'lotus and double-vajra' dish, Early Ming Dynasty; 26cm (10 1/4in) diam. Estimate HK$ 1,500,000 - 1,800,000 (€ 170,000 - 200,000). Sold for HK$ 1,752,500 (€ 199,134). © Bonhams 2001-2021
The robustly cast bronze body brightly enamelled with a central medallion of a seeded pod encircled by two rows of radiating lotus lappets, enclosed by four smaller lotus flowers each borne on a leafy scroll alternating four flower buds, bound within a gold border, the cavetto further decorated with large multi-coloured lotus blooms borne on a continuous foliate scroll, the decoration repeated on the exterior, all reserved on a turquoise ground, the gilt base finely incised with a double vajra flanked by ribbons
Note: The enamel decoration on the present lot is exceptional for the high quality of its execution of multi-coloured depiction of the leafy scrolls, simulating painting. The classic design of the lotus-seed pod as the central medallion appears to be a popular motif found in several examples dating to the Xuande period. See a cloisonné enamel disc, and a cloisonné enamel circular box and cover, Xuande marks and period, both with a similar design of the lotus-seed pod, illustrated by H.Garner, Chinese and Japanese Cloisonné Enamels, London, 1962, pls.10 and 11.

See a closely related cloisonné dish of the same size (26cm diam.) and a nearly identical design, also with a double-vajra incised to the underside, dated first half of 15th century, in the Pierre Uldry collection, which is illustrated by H.Brinker and A.Lutz in the Chinesisches Cloisonné: Die Sammlung Pierre Uldry, Zurich, 1984. pl.14.

A similar double-vajra can be found on the base of two cloisonné enamel zun vases both with Jingtai reign marks, one in the Asian Art Museum, San Francisco (acc.no.: B60P288), and another in the Palace Museum, Beijing, which is illustrated in Zhongguo jinyin boli falangqi quanji: 5: falangqi vol.1, Hebei, 2001, no.51. Although there has been speculation in the past that some Jingtai marked cloisonné wares are in fact of the Xuande period but with later incised marks, a connection is suggested between the appearance of the double-vajra symbol and the Jingtai mark, as the Jingtai emperor was known to have been a passionate supporter of Tibetan Buddhism.

See also a related smaller cloisonne 'lotus' dish, Jingtai mark and period, but with a very similar design, which was sold at Sotheby's Hong Kong, 2 April 2018, lot 3406.
Bonhams. Color / IMPACT Cloisonné Enamel in the Ming and early Qing Dynasty, Hong Kong, 2 Dec 2021