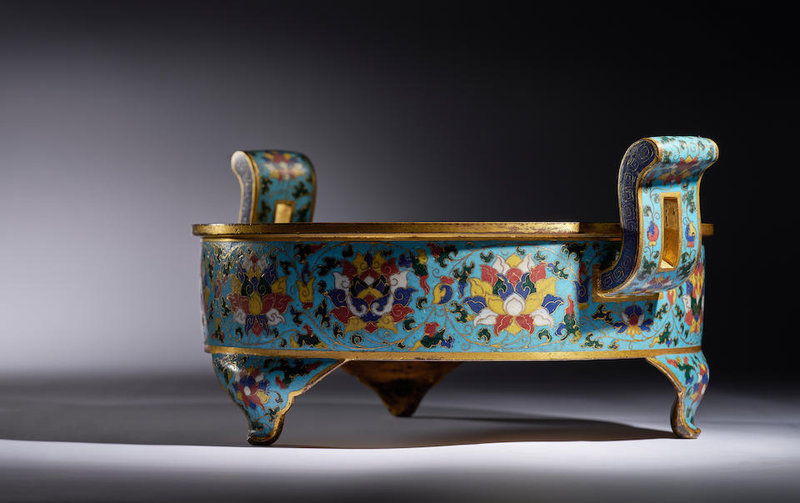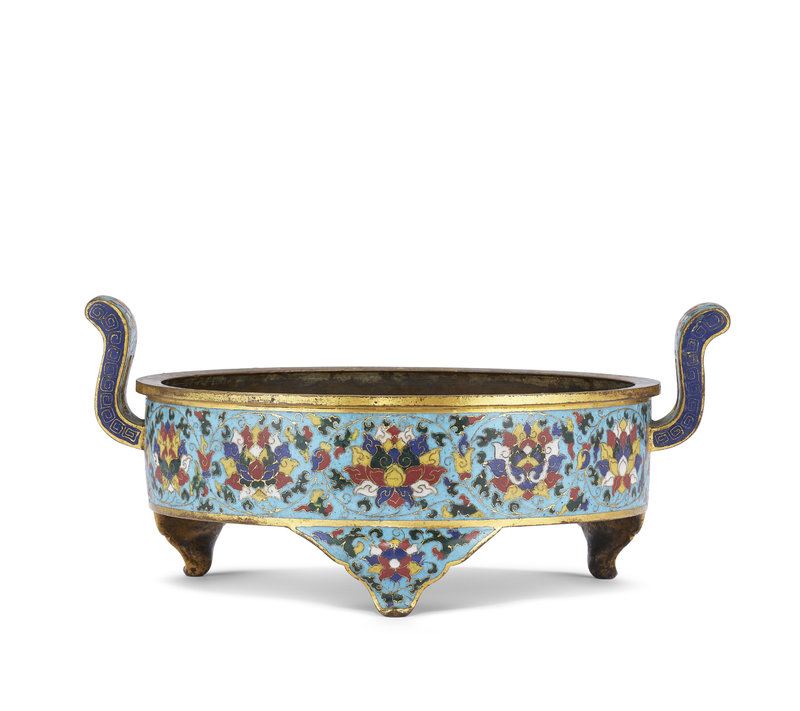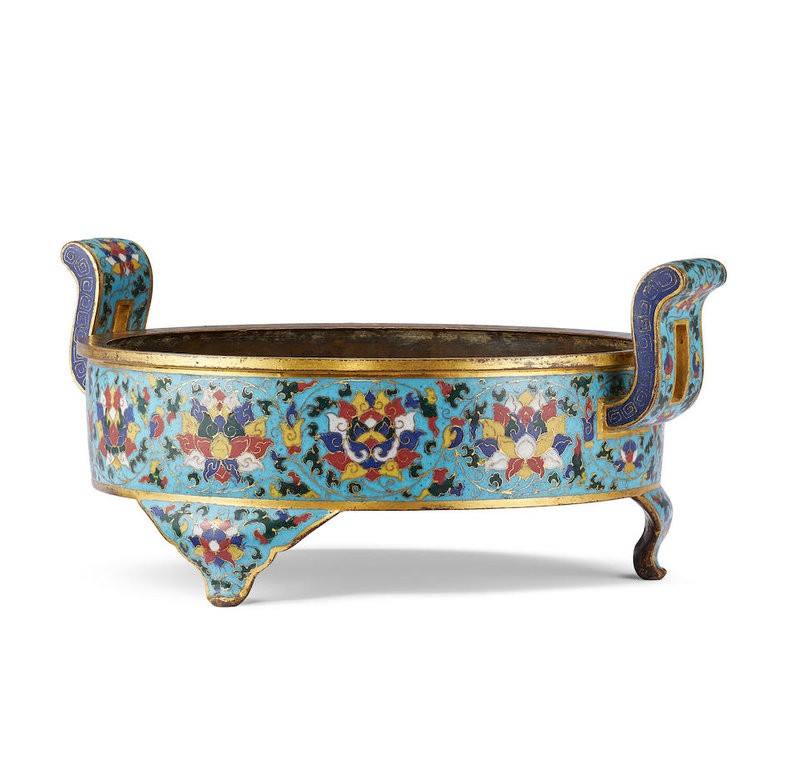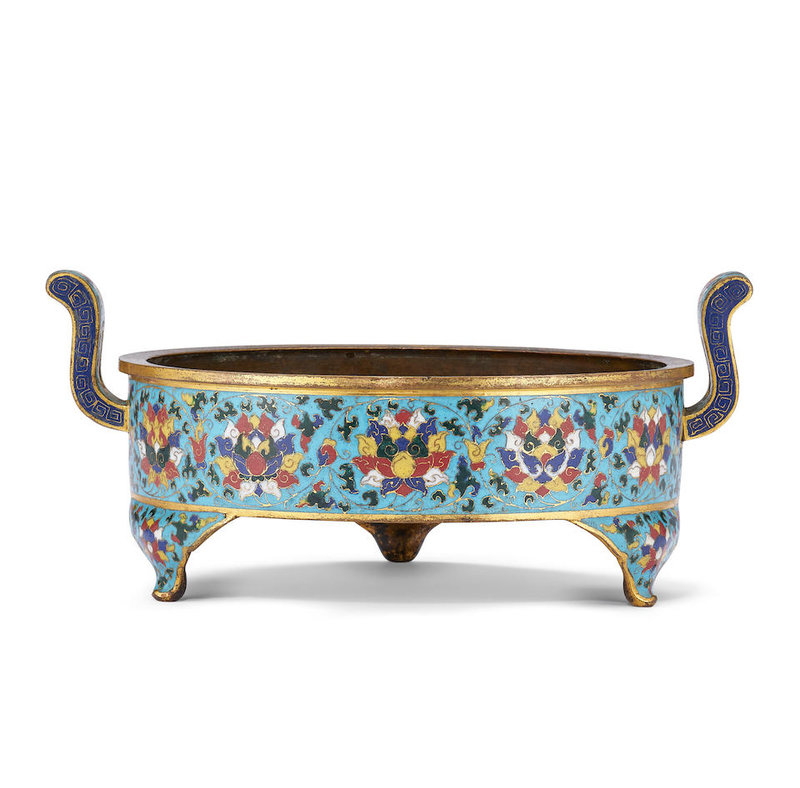 Lot 4. A very rare cloisonné enamel tripod incense burner, chaoguanlu 15th century; 32.8cm (12 7/8in) wide. Estimate HK$ 1,500,000 - 1,800,000 (€ 170,000 - 200,000). Sold for HK$ 3,502,500 (€ 397,984). © Bonhams 2001-2021
The cylindrical body sturdily cast in circular form, raised on three ruyi-shaped feet to an everted rim, flanked by a pair of upright scroll handles, brightly enamelled around the external sides with a scrolling multi-coloured lotus band against a turquoise ground, the base and the rim gilt.
Note: The present incense burner is remarkable for its large size which is unusual for early Ming cloisonné enamel wares. Its robust form and crispy decoration, achieved by the artisans via the use of primary colours and simple, regulated composition, are characteristic of the finest cloisonné enamel wares produced in the 15th century.

The scrolling lotus design has been inspired by Tibetan Buddhist motifs which gained much popularity amongst the Imperial court from as early as the Yongle period. The swooping C-shaped leafy branches and large lotus blooms closely resemble decorations found on contemporary blue and white ware, indicating a close relationship between porcelain production and cloisonné wares made for the Imperial court.

A closely related incense burner in the Palace Museum, Beijing, together with a similar tripod incense burner, but flanked with a pair of gilt-bronze handles cast in the form of dragons and with a cover, Hongwu/Yongle period, are illustrated in Zhongguo jinyin boli falangqi quanji: 5: falangqi vol.1, Hebei, 2001, nos.19 and 20. See also a third similar incense burner with original handles such as the present lot at the Bristol City Art Gallery (acc.no.N8195).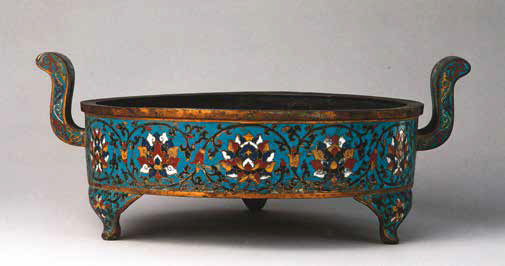 A cloisonné enamel tripod incense burner, Hongwu-Yongle period (1368-1424), Palace Museum, Beijing. Image courtesy of the Palace Museum, Beijing


See also an incense burner of this type, but with later added gilt-metal handles in the form of stylised birds, in the Musée des Arts Decoratifs, Paris, illustrated by B.Quette, ed., Cloisonné: Chinese Enamels from the Yuan, Ming and Qing Dynasties, New York, 2011, no.22.

Compare also a similar cloisonné enamel tripod incense burner, Xuande period, from the collection of Juan Jose Amezaga, which was sold at Christie's Hong Kong, 2 December 2015, lot 3106. See also a large cloisonné enamel 'lotus' tripod censer, 15th-16th century, which was sold at Christie's London, 3 November 2020, lot 79.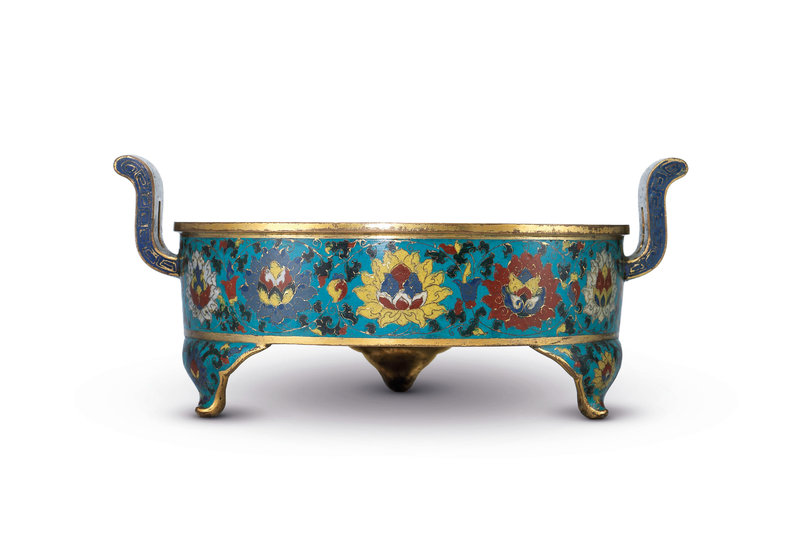 An important and rare cloisonné enamel tripod incense burner, Xuande period (1426-1435), 13 in. (33.2 cm.) wide, from the collection of Juan Jose Amezaga, sold for HKD 1,720,000 at Christie's Hong Kong, 2 December 2015, lot 3106. © Christie's Images Ltd 2015

Bonhams. Color / IMPACT Cloisonné Enamel in the Ming and early Qing Dynasty, Hong Kong, 2 Dec 2021