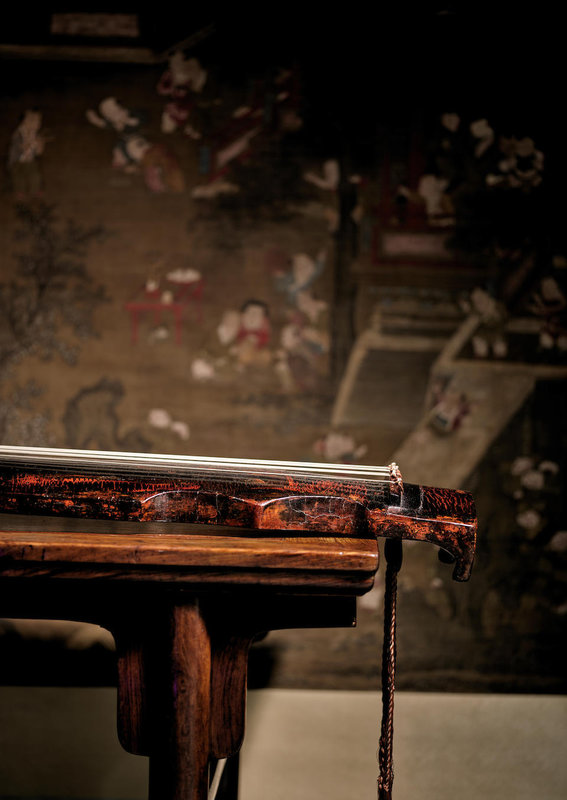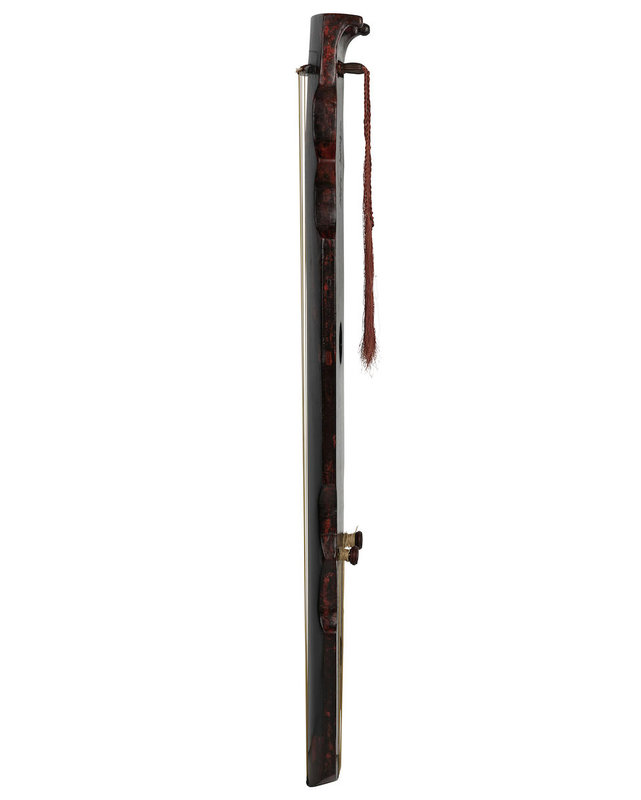 Lot 79. A very important lacquered Fengshi-style 'Jingtao' qin, 10th century or earlier. Overall 121.6cm(47 1/2in)long;shoulder 20.8cm (8 1/4in) wide;tail 15cm (6in) wide. Estimate HK$ 5,000,000 - 8,000,000 (€ 560,000 - 900,000). © Bonhams 2001-2021
The body gently tapered from the head to the tail with a multiple-recessed shoulder and waist, supported by two hardwood goose-feet (yanzu), the underside with seven hardwood tuning pegs (zhen), the top inlaid vertically with thirteen yellow medal studs (hui), and terminated with hardwood string supporter (longyin), the name of this qin inscribed above the rounded 'dragon pool' (longchi), Jingtao (Stormy Wave) and signed by Huang Tingjian (1045-1105), a long inscription incised underneath the rounded 'phoenix pool' by Li Zizhao (1856-1938) dated corresponding to 1919, the lacquered surface with a network of fine snake-belly crackles and ice crackles, bag and box.
Provenance: Li Zizhao (1856-1938) Collection
Hu Ruosi (1916-2004) Collection.
Published and illustrated: W.J.Chu ed., Nanhu fengyun: Hu Ruosi huaji (The Oeuvre of Hu Ruosi's Work), Shanghai, 2006, p.220
J.Xu ed., Zhongguo guqin minjian diancang (Chinese Guqin in Private Collections), Beijing, 2013, no.91
Appreciation, Xi'an, 2016, issue 12, p.106.
Note: The inscription could be translated as 'Mr Li Zizhao acquired this antique qin in Shanghai, in September of the year of Jiwei (1919), Yi Daoren from Sichuan restored this qin and inscribed [this].'

Li Zizhao (1856-1938) was the most respected qin musician during the 1920s and 1930s. A Sichuan native and former Daoist monk, he spent his early life in the House of Prince Ding in the late Qing Dynasty, where he served as a professional musician and teacher after he secularized from the Daoist temple. He moved to Shanghai and was employed by the tycoon Zhou Qingyun (1866-1934), who was known for his collection of books and qin instruments in the 1910s, where the Prince House had been in decline since the collapse of the Qing Dynasty.

Li quickly attracted the attention of the qin circle in Shanghai and Suzhou, and was acknowledged by the local practitioner and patrons as the top qin musician among his contemporaries. His name was listed in first place in the Qinren zhengfanglu (List of Qin Practitioners) which was published in 1937.

This qin is probably one of the only two known instruments he owned and played often. Another qin of his, given by Zhou Qingyun, was called Pili (Thunderbolt), a late Qing piece. Thus this 'Jingtao' qin probably was his only antique instrument.

The complex network of crackle through the lacquer of this qin can rarely be found on qins later than the Song Dynasty. Compare with the lianzhu-style 'Feiquan' qin, Tang Dynasty, in the Palace Museum, Beijing, which is illustrated by M.Z. Zheng in the Guqin in the Collection of the Palace Museum, Beijing, 2010, pl.4; Compare also with two lianzhu-style 'Kumu longyin' qins, Tang Dynasty, one in the Chinese National Academy of Art and another in the Freer Gallery of Art and Arthur M. Sackler Gallery, which are illustrated by Y.Z. Yuan in the Dragon's Roar: Chinese Literati Musical Instruments in the Freer and Sackler Collection, Washington, 2020, pp. 64 and 77.
Bonhams.Elegant Gatherings.The Social Art of Chinese Scholars, Hong Kong, 2 Dec 2021