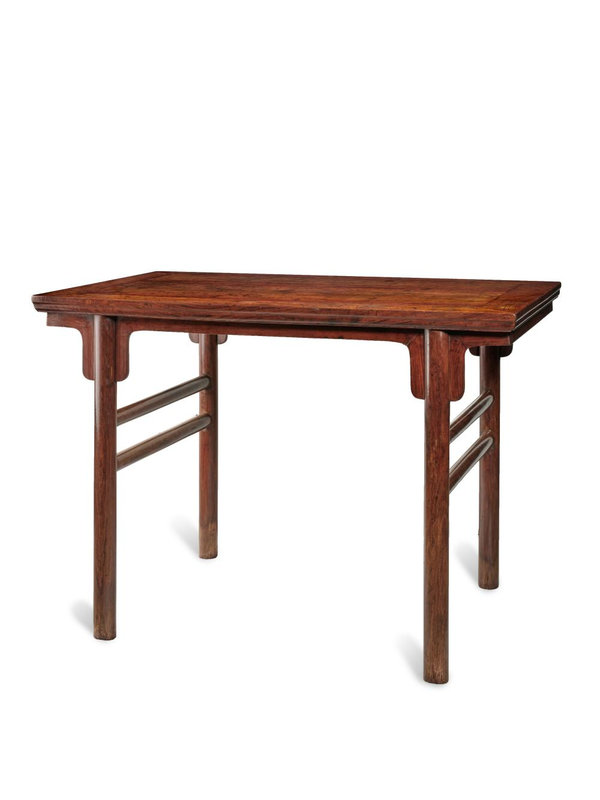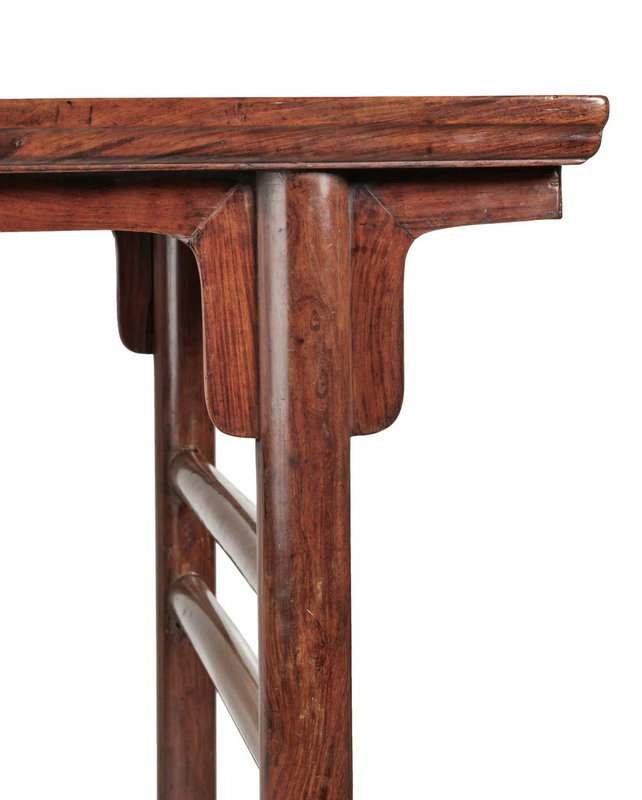 Lot 221. A fine and rare huanghuali recessed-leg painting table, Hua'an, 17th century; 122.5cm (48 1/4in) wide x 73.5cm (29in) deep x 85cm (33 1/2in) high. Estimate HK$ 1,500,000 - 2,000,000 (€ 170,000 - 230,000). Sold for HK$ 2,252,500 (€ 255,948). © Bonhams 2001-2021
The two-panel top set within the wide rectangular frame, above plain aprons and spandrels moulded with beaded, thumb-grooved edge, the whole supported on slightly splayed legs of rounded section and joined by pairs of similar stretchers.
Provenance: Dynasty Gallery Ltd., Connecticut
Mr David W. Reierson, Florida, acquired from the above in 1989.
Note: The recessed-leg table is among the best-known and recognisable forms found in classical Chinese furniture construction. The simple yet elegant lines of the design make it the best epitome of scholars' fondness for unassuming and functional furniture.

The particular use of thick, substantial sections of huanghuali for the top, frame, aprons and legs, and the fine grain and the rich honey-colour tone of the timber, show that it would have been made for a high-rank official or a wealthy literati family.

The basic proportions were adaptable to make large and smaller tables, benches and stools. This iconic Ming design is referred to in the 'Classic of Lu Ban' Lu Ban Jing, a carpentry manual dating to the early Ming dynasty, as a 'Character One Table' due to its similarity in profile to the single horizontal stroke of the Chinese character for the number 'one'; see C.Clunas, Chinese Furniture, London, 1988, p.47 Large tables are often inaccurately labelled as painting tables. However, to be considered a practical painting table, such as the present lot, which measures 73.5cm (29 in) deep, the surface must be broad enough to accommodate a large painting and the stationerY associated with painting and calligraphy, such as ink cakes, ink stones, ink holders, water pots, brush rests and washers.

For a similar but narrower (121.9 x 40cm deep) huanghuali recessed-leg table, 17th century, see Wang Shixiang, Mingshi jiaju yanjiu, Beijing, 2007, pl.yi-81. See also another wider but narrower huanghuali painting table (180 x 54cm), 17th century, in the Victoria and Albert Museum, illustrated by C.Clunas, Chinese Furniture, London, 1988, p.46. fig.28. See also a very similar pair of huanghuali painting tables (120 x 73cm), Ming dynasty, illustrated by G. W. Bruce, Ming Furniture Through My Eyes, Beijing, 2016, p.57.
Bonhams. Fine Chinese Works of Art, Hong Kong, 2 Dec 2021