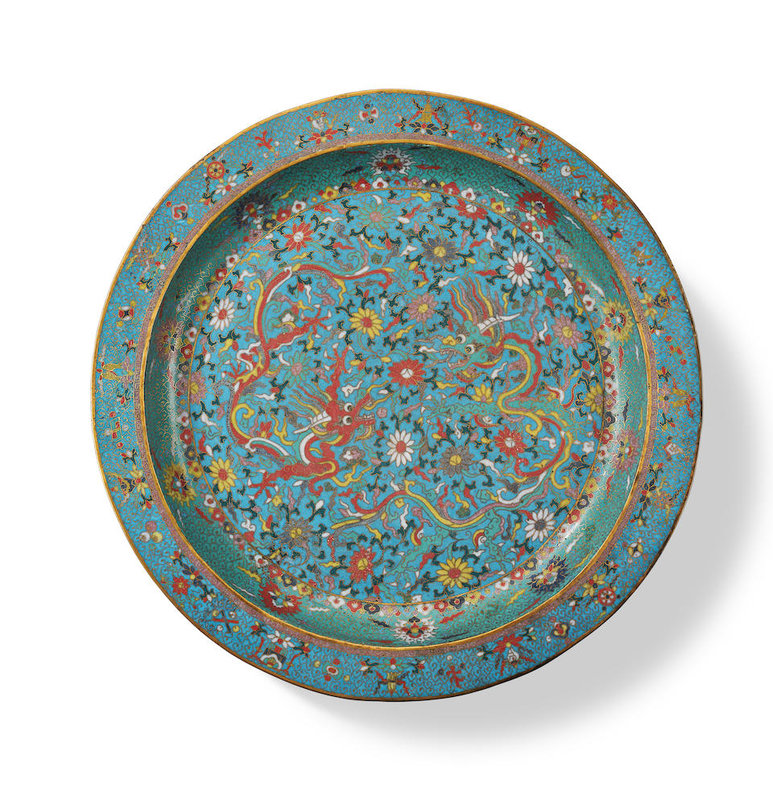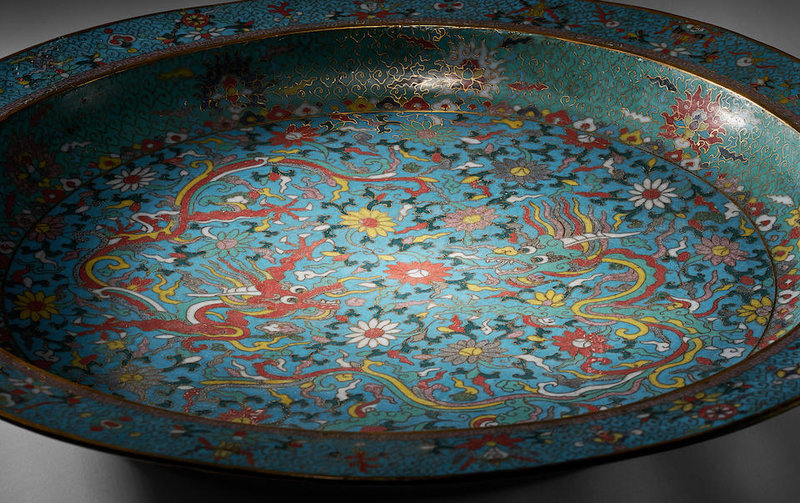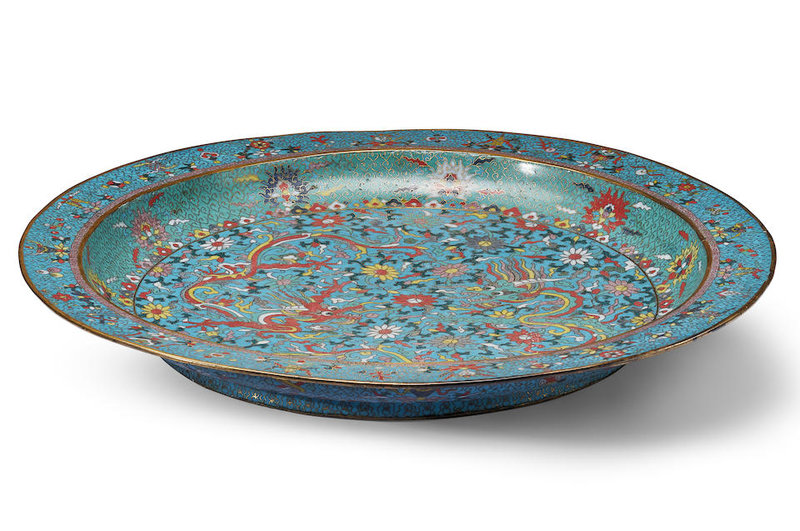 Lot 20. An exceptionally large and very rare Imperial cloisonné enamel dish, Wanli enamelled six-character mark and of the period (1573-1620); 57cm (22 3/8in) diam. Sold for HK$ 5,752,500 (€ 653,648) (Estimate HKD3,500,000 - HKD4,500,000). © Bonhams 2001-2021
The interior brightly and boldly decorated in multi-coloured enamels with two five-clawed dragons confronted within a field of scattered flower sprigs, encircled by a ruyi-head band and multi-coloured lotus scrolls with attendant buds blanketing the cavetto, the everted rim with Buddhist emblems and babao, repeated further on the exterior, the base enamelled in red with a six-character reign mark reserved on a large greenish-turquoise rectangle within key-fret and ruyi borders surrounded by scattered multi-coloured clouds, all on a bluish-turquoise ground.
Provenance: Sotheby's London, 21 July 1969, lot 91
Cornelius Ruxton Love Jr. (1904-1971) and Audrey B. Love (1903-2003), New York
Christie's New York, The C. Ruxton and Audrey B. Love Collection, 20 October 2004, lot 612.
Audrey B. Love, a philanthropist and patron of the arts, was the daughter of Edith Guggenheim and Admiral Louis Josephthal. C. Ruxton Love Jr. was a partner with the Stock Exchange firm of Josephtal & Co. Both were well known art collectors and their collection of Napoleonic art was exhibited in the Metropolitan Museum of Art in 1978 and their Georgian silver collection was exhibited in the Victoria and Albert Museum in 2002. Audrey Love was a founding member of the Lowe Art Museum of the University of Miami.
Note: This impressive dish belongs to a small and important group of cloisonné enamel wares bearing prominent enamelled Wanli marks within a rectangle and encircled by ruyi heads. As noted by Sir Harry Garner, they are of outstanding documentary importance as the only pieces with contemporary marks of sixteenth-century emperors that can be accepted without question as belonging to the period of the mark, see H.Garner, Chinese and Japanese Cloisonné Enamels, London, 1962, pp.76-77.
Wanli mark and period dishes of this size decorated with dragons are extremely rare, with only three other related examples which appear to have been published, including a large cloisonné enamel 'dragon' dish (51cm diam.) with a foliate rim in the Qing Court Collection, illustrated in The Complete Collection of Treasures of the Palace Museum: Metal-bodied Enamel Ware, Hong Kong, 2002, no.47; another slightly smaller (50cm diam.) dish in the British Museum, London, illustrated by H.Garner ibid., pl.F (acc.no.1885,1227.79); and the third example of smaller size (48cm diam.) in the National Palace Museum, Taipei, illustrated in Enamel Ware in the Ming and Ch'ing Dynasty, Taipei, 1999, no.11.
A further Wanli mark and period cloisonné enamel foliate-rim dish also decorated with two dragons (49.6cm diam.) was sold at Christie's Hong Kong, 30 May 2005, lot 1267.
Bonhams. Color / IMPACT Cloisonné Enamel in the Ming and early Qing Dynasty, Hong Kong, 2 Dec 2021