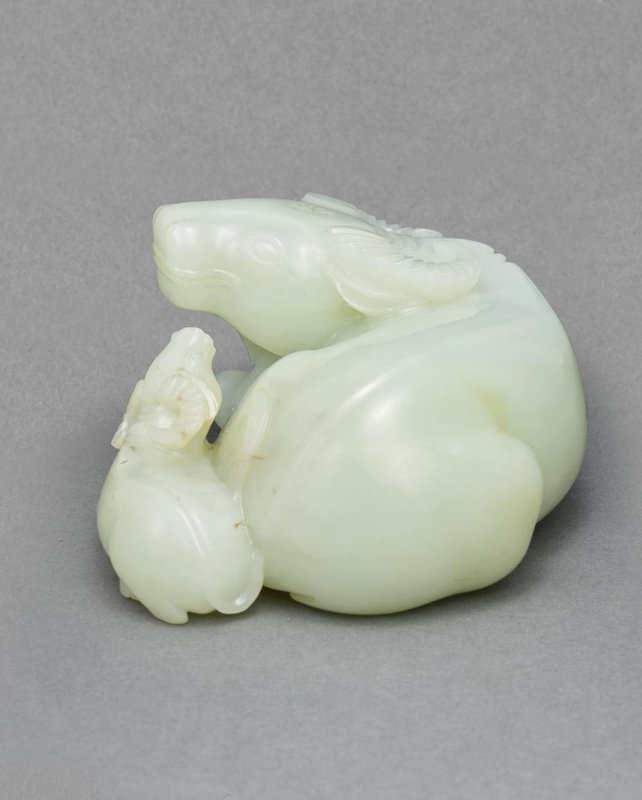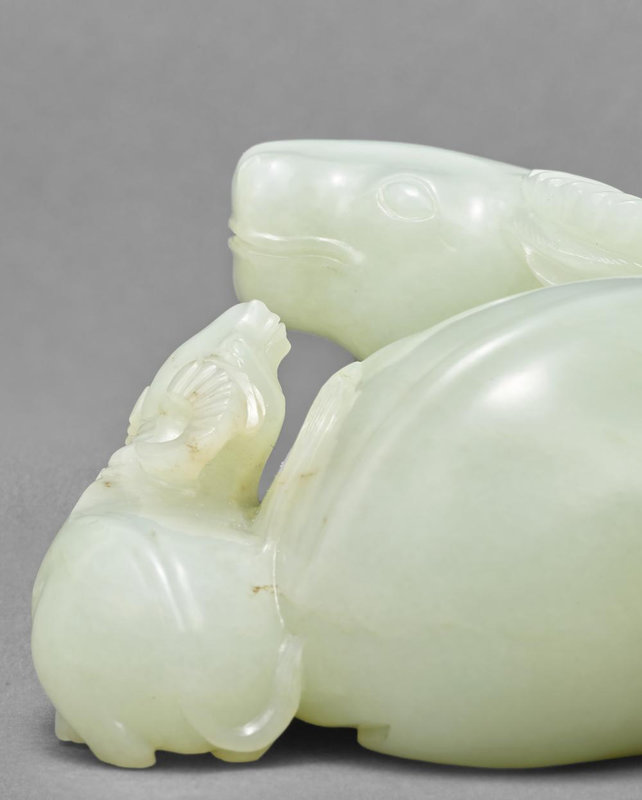 Lot 221. A superb pale green jade 'buffalo and young' group, 18th century; 12.5cm (4 7/8in) wide. Sold for HK$ 852,500 (€ 96,868) (Estimate HK$ 700,000 - 900,000). © Bonhams 2001-2021
Exquisitely carved in the round as a large water buffalo lying placidly on its stomach with four legs bent underneath and the head turned to the left towards a smaller buffalo, the gracefully curved horns flanking the flat forehead incised with a whorl of hair, the neck skilfully detailed with an undulating dewlap, the ear edges and the tail finely detailed with hair markings, the smaller buffalo with its head raised playfully facing the larger buffalo, the smoothly-polished stone of even greenish-white tone with speckled inclusions.
Note: Skilfully carved from a single pebble of semi-translucent and evenly toned jade, this buffalo group represents superb craftsmanship in the simple and elegant form, yet playfully rendered with a younger buffalo and detailed in its naturalistic contours, the ribbed horns, undulating dewlap and well-detailed legs.

The present theme depicting a buffalo with its young is extremely rare, as boy and buffalo groups are more common as Qing dynasty jade carvings, see an example of white jade 'boy and buffalo' group in the Qing Court Collection, illustrated in the Compendium of Collections in the Palace Museum, Jade 9 Qing Dynasty, Beijing, 2011, no.135. Another example with the boy standing beside a recumbent buffalo, 18th century, in the Metropolitan Museum of Art, New York, is illustrated in A Passion for Jade: The Heber Bishop Collection, New York, 2015, no.20.

Another similar example in the Beijing Art Museum, with a boy holding a flute, his hand on the horn of the water buffalo, is illustrated in Gems of Beijing Cultural Relics Series, Jades, Beijing, 2002, p.190, no.221. See also a white jade buffalo and boy, Qianlong, from the collection of Anthony K.W. Cheung, illustrated in Virtuous Treasures, Chinese Jade for the Scholars Table, Hong Kong, 2007, pp.170-171, no.96.

Early jade carvings are closer in form and function to the imaginary protectors carved in stone, which may reflect jade's traditional association with Immortality and spiritual power. It is not until the Song period that jade became more generally used as a material for sculpting the creatures of daily life, and jade's use was not restricted to assisting in the afterlife. Such jade carvings tend to have softer, more appealing and realistic features, and often a sense of playfulness such as in the present lot.

As a familiar beast of the fields, the water buffalo underpinned rice production and the rural economy. As such it is emblematic of agriculture and springtime and represents strength, endurance, dedication to hard work, prosperity and tranquillity. It is also used in artistic representations, particularly in Chinese paintings, to evoke a bucolic, idealised existence in the countryside. This, in turn, feeds into a more mythical or spiritual side to the buffalo, recalling both Buddhist and Daoist concerns with simplicity and retreat, and the founder of Daoism, the philosopher Laozi, who departed from the borders of the known world on a buffalo.
Bonhams. Fine Chinese Works of Art, Hong Kong, 2 Dec 2021