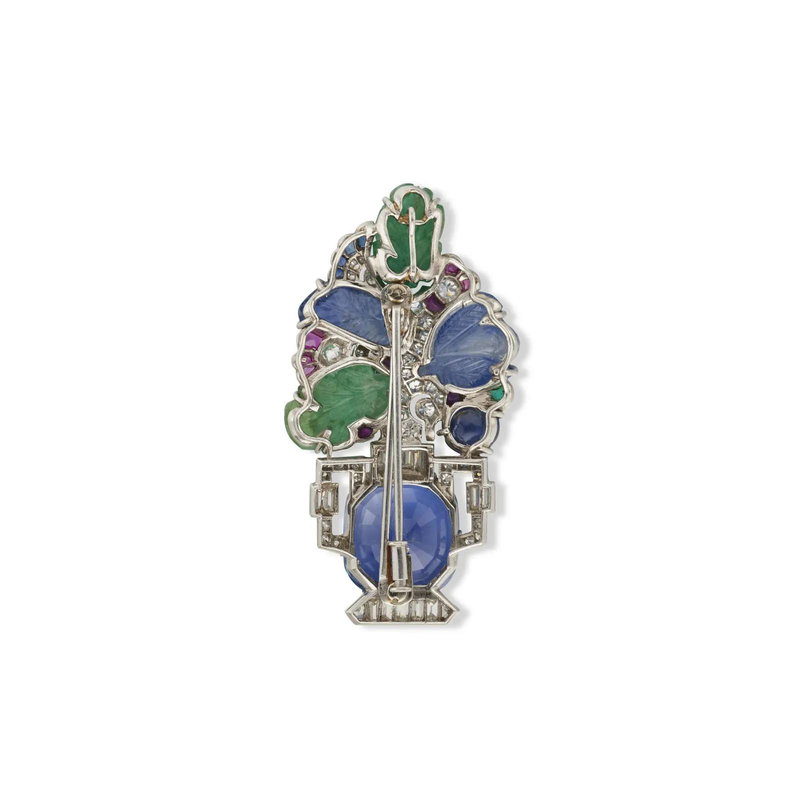 Lot 63. Mauboussin broche 'Giardinetto' Art déco. Estimate €10,000-€15,000. © Christie's 2021
METAL: platinum (950) (customs mark)
DIAMONDS: circular-cut, single-cut, kite-shaped and baguette-cut diamonds of approximate weight of 1.5-2.5 carats
SAPPHIRES: square-shaped cushion-cut sapphire of 22.37 carats and engraved, carved, fancy sapphires
EMERALDS: engraved, carved and fancy-shaped emeralds of approximate weight of 11.5-14.5 carats
RUBIES: fancy-shaped cabochon rubies of approximate weight of 0.9-1.5 carats
CERTIFICATE: Mauboussin certificate of authenticity, by Marguerite de Cerval, 2021: brooch recorded in Mauboussin order books on 02/01/1929
DATE: 1929
MARKS: numbered

SIZE/DIMENSIONS: 5.8 x 3.2 cm
GROSS WEIGHT: 29.71 grams.
Note: Essential jewellery theme, interpreted and reinterpreted by a number of designers (Cartier, Mauboussin, Van. Cleef & Arpels, etc.), "Giardinetti" jewellery, "Little Gardens" in Italian, appeared at the end of the 17th century. This naturalist vein, allowing the jeweller to give free rein to his imagination with regard to the different mixtures of colour, was to be very successful until the beginning of the 20th century.

This brooch combines the straight lines of the Art Deco movement in its vase with the fashion for engraved precious stones, the tutti frutti; in its bouquet.

For these jewels, both content and container are important: the colourful floral compositions do not put the baskets and other vases in the background. Such as this "Giardinetto" brooch, eyes will also be catched by the baluster-shaped vase, inspired by ancient Greece, whose body is made of a beautiful sapphire. Because of the resulting visual imbalance, brooches of this type, in which the vase occupies half the composition, are quite rare.
Christie's. Joaillerie Paris, 30 Nov - 14 Dec 2021