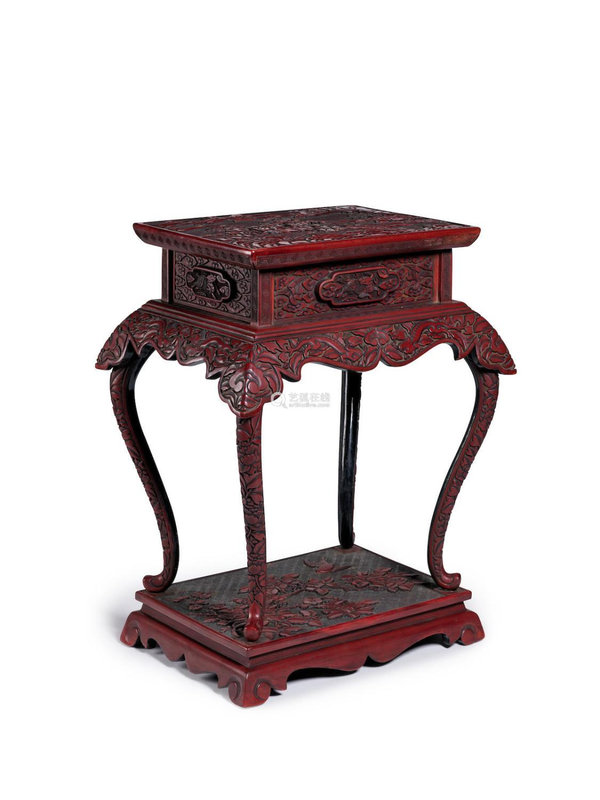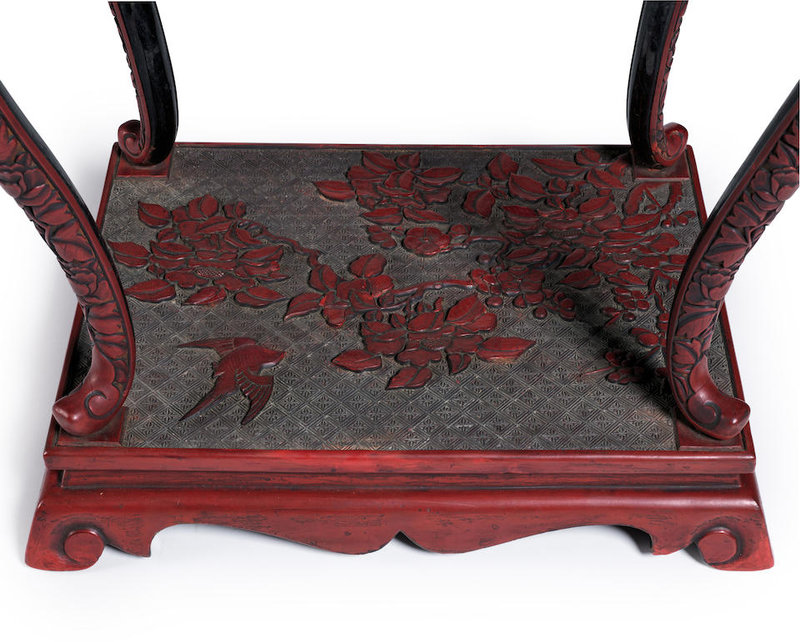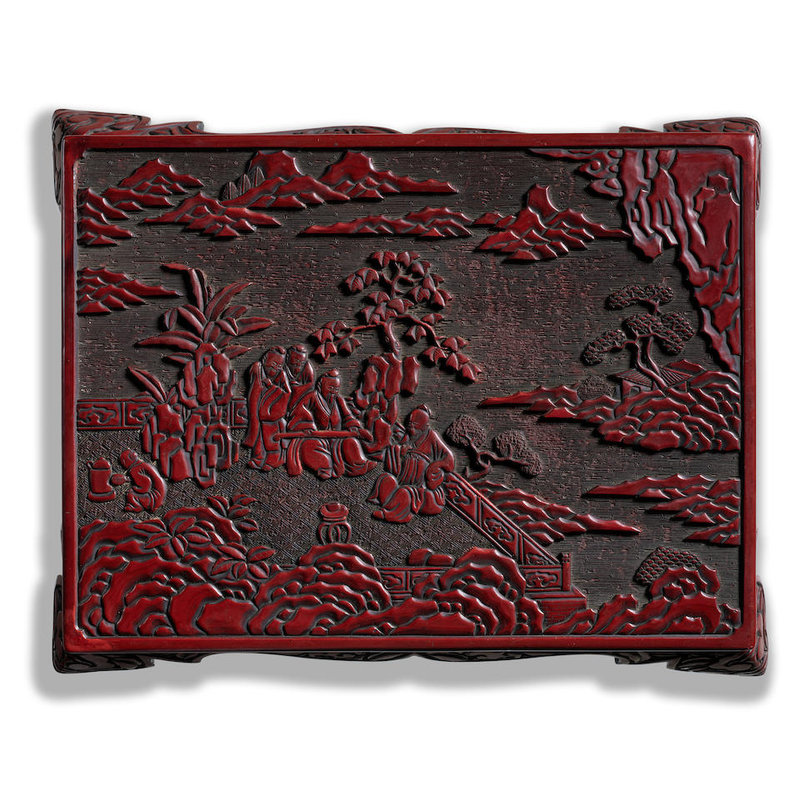 Lot 80. A cinnabar lacquer carved 'sages' high-waisted stand, 16th century; 54.3cm (21 3/8in) high. Sold for HK$ 940,000 (€ 106,917) (Estimate HK$ 600,000-800,000). © Bonhams 2001-2021
The rectangular top exquisitely carved with a sage playing qin on his lap and surrounded by three sages, rocks and trees on a fenced viewing platform against a finely carved wan-character (卍)-diaper ground, the platform set in a mountainous landscape and on a geometric-diaper ground, and supported by a high waist carved with a qilin in a high-relief cartouche against a cloud-ground on each side, the spreading apron decorated two chi dragons with chasing a lingzhi fungus amidst clouds on a yellow ground, joined by four elegant cabriole legs carved with peonies rising from a waisted stand, the top of the stand carved with a bird flying towards to a branch of prunus blossom and camellia on a floral-diaper ground, all carved through thick cinnabar-red lacquer, the base and interior lacquered in black and inscribed with the character Huang each on the base and four joints between leg and waist, box.
Provenance: The Ōtani Family of Nishi Honganji Temple, Kyoto, before 1913
An important Asian collection.
Published and illsutrated: Nishi Honganji Ōtanike mikuraki (Catalogue of the Collection of Ōtani Family of Nishi Honganji Temple), Kyoto, 1913, pl.226.
Note: Gentlemen playing qin during gatherings has a long history in China. Seven sages of the bamboo grove, a group of Chinese scholars, writers, and musicians of the 3rd century, probably the most well-known scholar's group, often gathered to play qin and compose poems, which became a popular scene in various decorations during the time when they were still alive and long afterwards. See the ink rubbing off the bricks excavated in Nanjing, Eastern Jin Dynasty((317-420), which is illustrated by P. Ebrey, A.Walthall and J.Palais in the East Asia: A Cultural, Social, and Political History, Boston, 2006.
The scene of 'scholars gathering' was a popular motif on lacquer particularly since the 14th century. Compare the scene and carvings with a cinnabar lacquer box in the Palace Museum, Beijing, Yongle period, which is illustrated in The Complete Collection of Treasures of the Palace Museum: Lacquer Wares of the Yuan and Ming Dynasties, Hong Kong, 2006, p.38, pl.24. Compare the flowers and bird with a cinnabar lacquer dish in the Palace Museum, Beijing, Mid Ming Dynasty in the Zhongguo qiqi quanji (Lacquer Treasures from China), Huzhou, 1995, vol.5, pl59, pl.58.
This type of stand with curved legs at such height was specifically used as an incense table, to display incense vessels such as incense burners and vases. Compare with a related cinnabar lacquer incense stand in the Minneapolis Institute of Art, 15th century, which has similar height, legs and design of carving, acc. no.80.89.
Bonhams. Elegant Gatherings. The Social Art of Chinese Scholars, Hong Kong, 2 Dec 2021