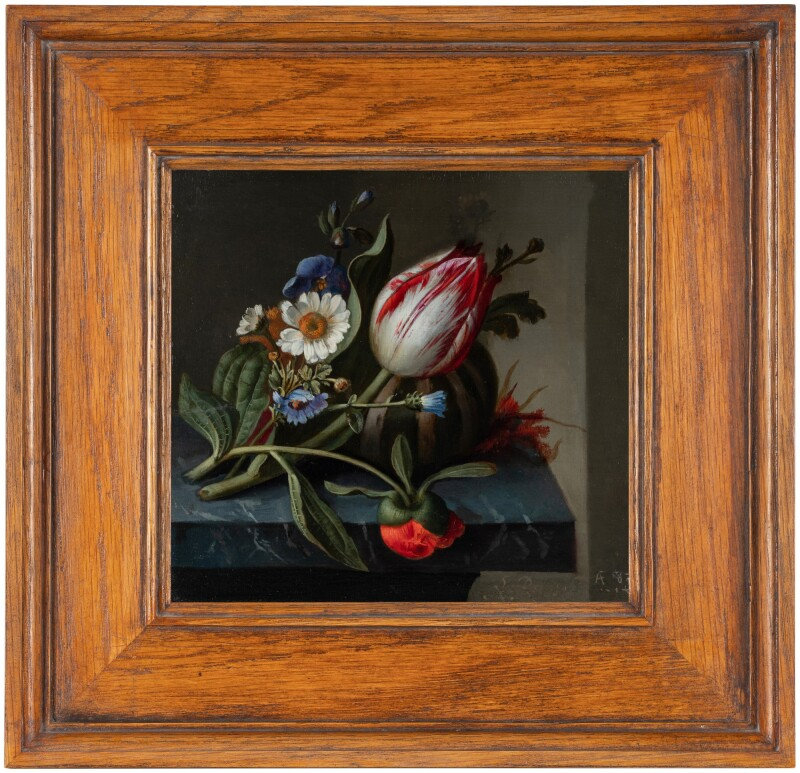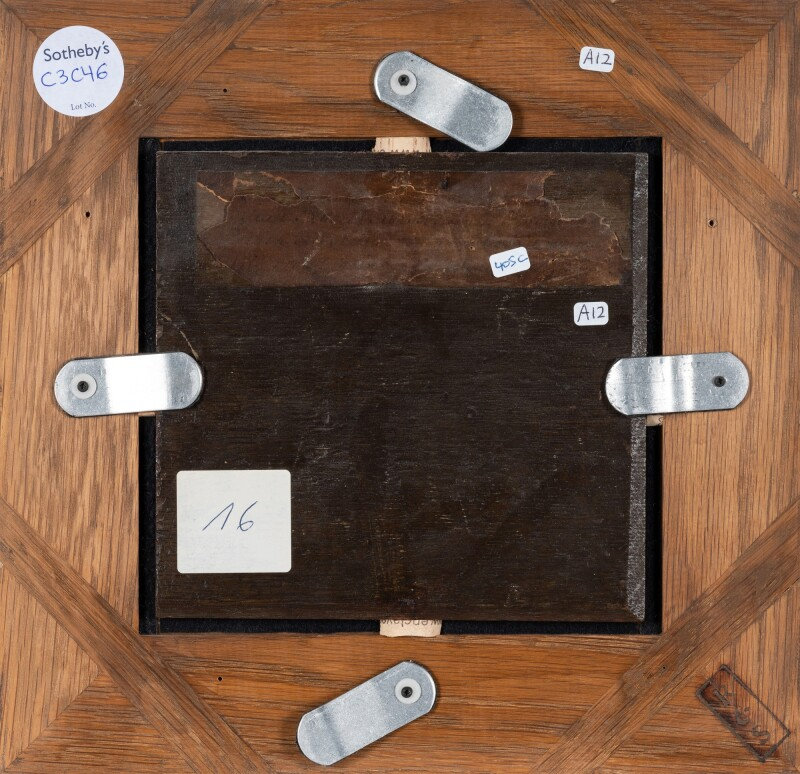 Lot 13. Rachel Ruysch (The Hague 1664 - 1750 Amsterdam), Still life of a tulip and other flowers with a melon upon a ledge, signed, inscribed and dated lower right: R. Ruysch Æ 83/ 1748, oil on oak panel, 16 x 17.5 cm. 6¼ x 6⅞ in. Lot sold: 390,100 GBP (Estimate: 100,000 - 150,000 GBP). (C) 2021 Sotheby's
Property from the Collection formed by the late Mr and Mrs Barge-Dreesmann.
Provenance: Private European collection;
With David Koetser Gallery, Zürich;
Where acquired on 14 March 1992 by Mr and Mrs Barge-Dreesmann, Brasschaat;
Thence by descent to the present owners.
Exhibited: Zürich, David Koetser Gallery, Fine Old Master Paintings. The Dutch, Flemish and Italian Schools, November 1991–93, no. 3.
Note: This delightful miniature bouquet is one of Rachel Ruysch's very last paintings. It was painted in 1748 when she was eighty three years old, and was for many years the latest work known by her hand. It was painted some sixty seven years after her earliest known work, which dates from 1681, and is testament to the remarkable longevity of her career as a painter. Ruysch herself clearly took great pride in the fact that she was still actively painting at such an advanced age, and inscribed most of the paintings from the last decade of her life with her age as well as the date. As the inscriptions on other works from this period indicate, her inscription should be read as showing that the picture was painted 'in her 83rd year', which is to say after her 83rd birthday in June 1747, and must date from between then and the following June. Although Ruysch's output had slowed after 1720, to judge from the number of surviving pictures her last decade was a quite productive period.
Like the present panel, these late works were all painted on a small scale. Paintings from the same period include a similar Bunch of flowers upon a stone ledge inscribed and dated AE 83/ 1747, last recorded with David Koetser in New York,1 as well as a pair of upright still-lifes of Flowers in glass vases upon marble ledges signed in the same manner, once in the collection of Willem V, Prince of Orange Nassau in The Hague and today in the Palais des Beaux-Arts in Lille.2 The inclusion of a melon in the present work is unusual, but recurs in a slightly earlier and very comparable canvas of 1745, formerly with David Koetser in Zurich (fig. 1).3 In design both this and the present painting recall the small bouquets that Ruysch painted in the 1690s and which reflect the influence of her teacher Willem van Aelst (1627–1683). Good examples are that in the Fitzwilliam Museum, Cambridge,4 and another dated 1690, sold London, Sotheby's, 10 April 2013, lot 42.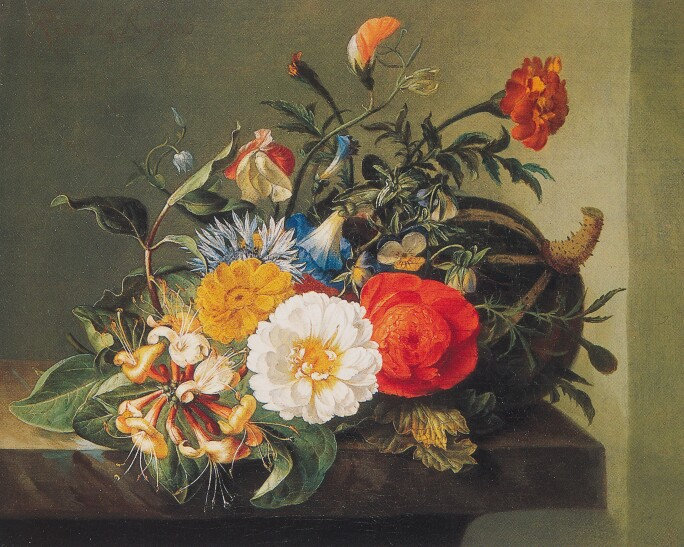 Fig. 1 Rachel Ruysch, Still-life of flowers with a melon upon a ledge, 1745. oil on canvas, 21.3 x 26.7 cm. Formerly with David Koetser, Zurich.
The present work, however, has changed their dark backgrounds and spot-lit effects for an altogether brighter and clearer tonality, which reflects the differing tastes of the eighteenth century. Ruysch's delicacy of touch and attention to detail remains undimmed. Her use of panel here for a support seems to have been unusual among these late works, but is found again in what now seems to be her last known work, a slightly larger panel of a Still-life of flowers in a vase on a marble ledge in a niche, which is also dated 1748 but inscribed with her age as 84 and thus postdates the present still life.5
This painting will be included in the forthcoming catalogue and monograph on the works of Rachel Ruysch by Dr Marianne Berardi, currently in preparation.
1 Canvas, 15.5 x 20.2 cm.
2 Inv. nos P1052. Canvas 29.5 x 24 cm. M.H. Grant, Rachel Ruysch, Leigh-on-Sea 1956, p. 43, nos 197 and 198.
3 Canvas, 21.3 x 26.7 cm., inscribed and dated Rachel AE. 81 Ruysch/ 1745.
4 Inv. no PD38-1975. Canvas 31.2 x 27.4 cm. Grant 1956, p. 42, no. 195.
5 Panel, 29.5 x 24 cm., signed and dated: Rachel Ruysch 1748/ A84.
Sotheby's. Old Masters Evening Sale, London, 8 December 2021