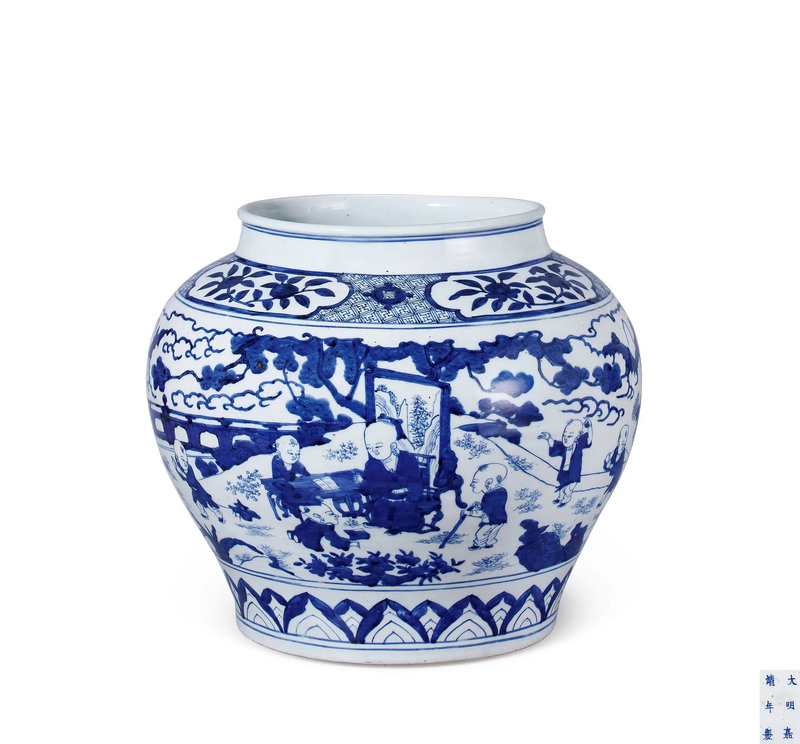 Lot 3583. A Blue And White 'Children At Play' Jar, Mark And Period Of Jiajing (1522-1566). H 34.5cm. Sold for HKD 11,760,000/USD 1,507,692 (Estimate HKD 6,800,000 - 9,800,000/871,795 - 1,256,410). © Poly Auction Hong Kong Limited
This large jar is superbly painted in vivid underglaze-blue of violet tone around the baluster body, with a continuous scene of sixteen boys engaged in various leisurely pursuits including a boy impersonating a school master seated before a screen painting with a boy seated at a table before him reading a book. Another crawls towards a book and a third boy holds a staff, flanked on one side by a boy pulling at a toy and another boy holding a large lotus leaf above the head of his companion riding a hobby-horse. Further another boy holds a cane and on the other side a boy raises his hand. In the further distance a boy rides in a cart towed by another and with a companion holding a fan and another holding a potted plant, with three further boys gathered around a table looking intensely at probably fighting crickets. All of them are playing in a fenced terraced garden amidst plantain, pine trees and grass, depicted between the shoulders with cartouches enclosing fruit and floral sprays reserved on a diaper ground, and a border of overlapping lotus-petal panels above the foot.
Provenance: 1. Collection of Henry M. Knight (1903-1971)
2. The Meiyintang Collection.
Exhibition: Oosterse Schatten: 4000 Jaar Aziatische Kunst, Rijksmuseum, Amsterdam, 1954, no.369.
Literature: 1. Regina Krahl, Chinese Ceramics from the Meiyintang Collection, vol. 4(1), London, 1994-2010, pp.178-181, no.1695
2. Eskenazi, A Dealer's Hand: The Chinese Art World Through the Eyes of Giuseppe Eskenazi, London, p.325, pl.369.
Note: The auspicious design of boys represents the theme of welcoming sons. The design also relates to the 'hundred boys' decoration, symbolizing the sons of the founder of the Zhou Dynasty, Zhou Wenwang, who was blessed with ninety-nine sons from his twenty-four wives and adopted an orphaned boy to accomplish the even one-hundred. Perhaps boys at play represent the blessing for abundance of male descendants ensuring the continuation of the family line and performance of filial duties, a wish which would have been further amplified for the continuation of the Ming Dynasty.
This jar is extremely rare, although other extant examples can be found in important museums. Compare a jar illustrated in The Complete Collection of Treasures of the Palace Museum: Blue and White Porcelain with Underglaze Red (II), Hong Kong, 2000, Catalogue, no.101 (with a cover); for another from the British Museum and previously from the Mrs Alfred Clark Collection, see J.Harrison-Hall, Catalogue of Late Yuan and Ming Ceramics in the British Museum, London, 2001, Catalogue, no.9:50 (with a cover); for another covered jar see also Chinese Porcelain - The S.C.Ko Tianminlou Collection (II), Hong Kong, Catalogue no.35.
Another covered jar from the Capital Museum, Beijing, was excavated in 1980 from the Zhaoyang district, Beijing, Wenwu, 1982:9, pl.8:2. Similar examples without covers from important collections are illustrated in Chinese Ceramics in the Idemitsu Collection, Tokyo, 1987, Catalogue, no.191, and in the Museum of Decorative Art, Copenhagen, illustrated by D.Lion-Goldschmidt in Ming Porcelain, London, 1978, pl.124.
Poly Auction. A Romance Among Blooming Roses: The Meiyintang Collection of Three Dynasties Imperial Ceramics, Hong Kong, 2 December 2021