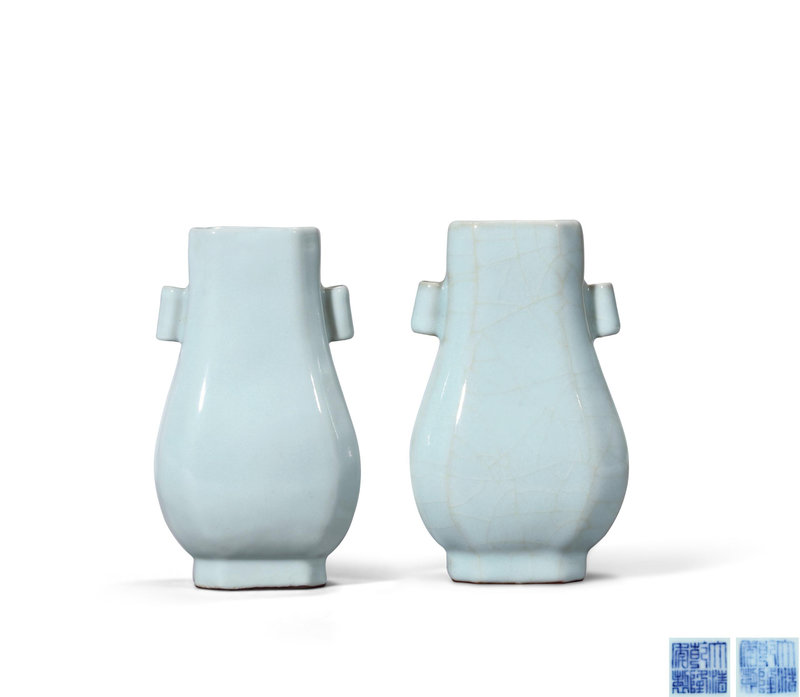 Lot 3564. A Pair Of Small Guan-Type Vases, Seal Marks And Period Of Qianlong (1736-1795). H 33.5cm. Sold for HKD 2,040,000/USD 261,538 (Estimate HKD 800,000 - 1,200,000/USD 102,564 - 153,846). © Poly Auction Hong Kong Limited
The well-potted pear-shaped vase rises from the flaring foot towards the everted rim, and is decorated by a pair of lug-handles. The vase is covered allover in a lustrous pale bluish-green glaze suffused with a fine, clear crackle in imitation the style of Ru-ware as an expression of nostalgia while inscribed with an imperial reign mark
.
Provenance: The Meiyintang Collection.
Literature: Regina Krahl, Chinese Ceramics from the Meiyintang Collection, vol. 2, London, 1994-2010, 216, no.874.
Note: Guan-type vases were first found in the Song dynasty. In the Qing dynasty, Guan-type vases developed into various forms including round-shapes, square-shapes, and an array of different sizes. Two popular styles of this pear-shaped vase were found, one with a taller height of 30 – 40 cm resembling the shape of a peach, and the other one with a height of 14 cm. This pair of small Guan-type Vases are the smaller style and are suitable for carrying around.
Further information and images could be found in Obtaining Refined Enjoyment: The Qianlong Emperor's Taste In Ceramics, p.188, 189, images 85 and 86.
Poly Auction. A Romance Among Blooming Roses: The Meiyintang Collection of Three Dynasties Imperial Ceramics, Hong Kong, 2 December 2021.