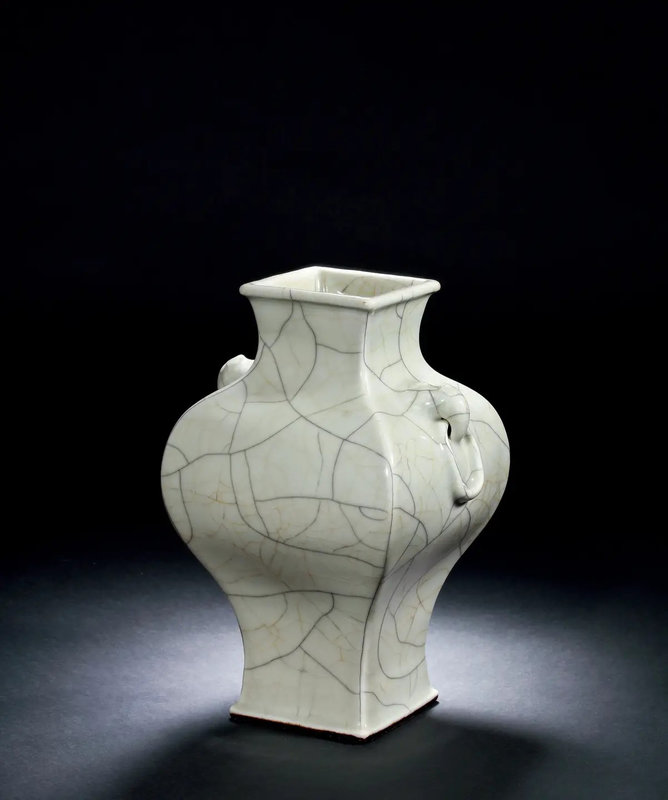 Lot 3593. A Guan-Type Vase, Qianlong Period (1736-1795). H 29.4cm. Sold for HKD 312,000/USD 40,000 (Estimate HKD 100,000 - 150,000/USD 12,821 - 19,231). © Poly Auction Hong Kong Limited
This square vase is in an archaistic Fanghu form, the high-shouldered body with curved sides supported on a splayed foot, rising to a slightly waisted neck and everted rim, flanked by a pair of moulded loop handles hanging from the mouth of beasts. The foot is specially covered by dark brown protection layer while the body is covered overall in a thick greyish-white glaze suffused with a subtle dark irregular crackle in the imitation of Guan ware of Song Dynasty.
Provenance: The Meiyitang Collection.
Poly Auction. A Romance Among Blooming Roses: The Meiyintang Collection of Three Dynasties Imperial Ceramics, Hong Kong, 2 December 2021