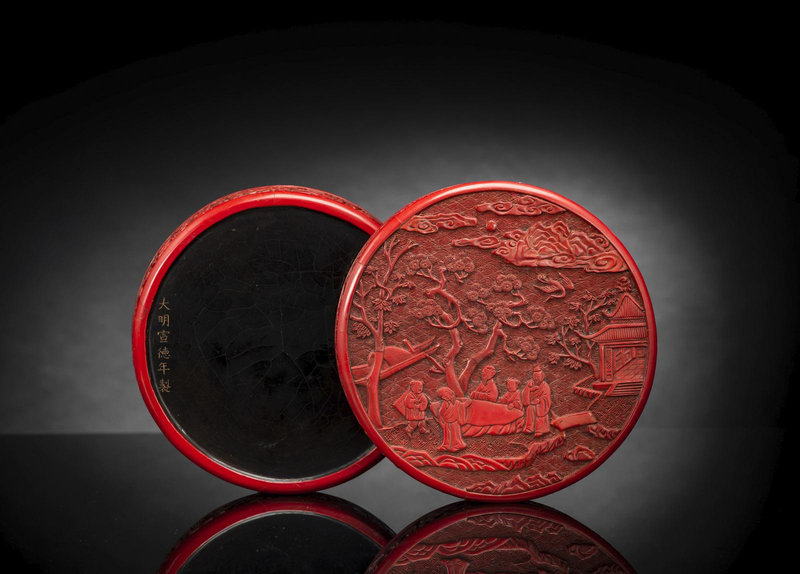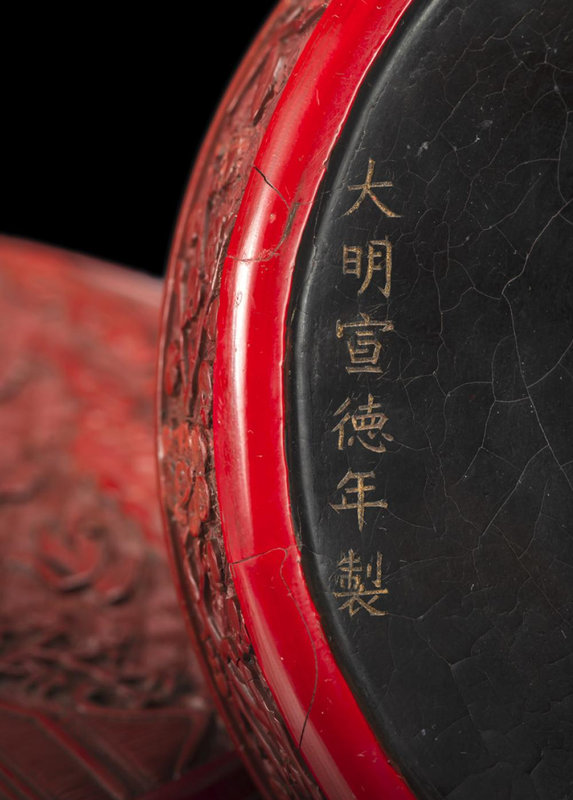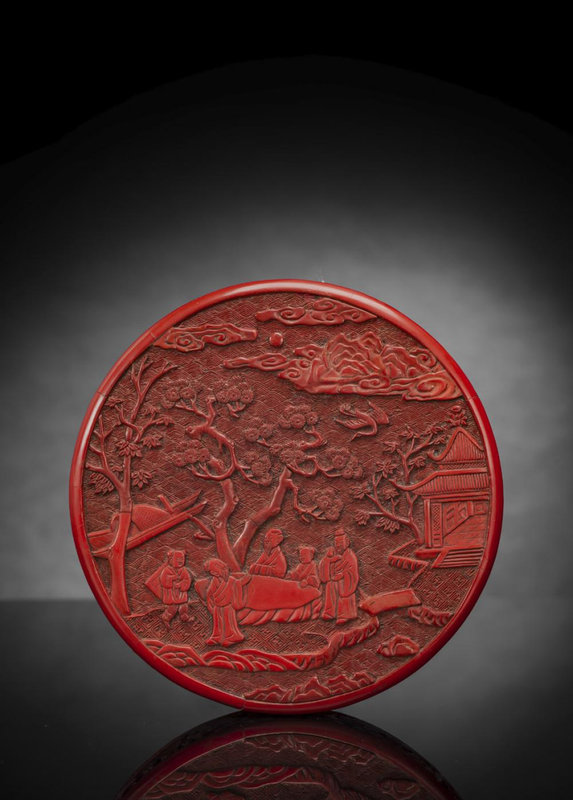 Lot 278. A rare carved circular cinnabar lacquer box and cover, inscised and gilt-filled Xuande six-character mark, probably Yongle period (1403-1424). D. 14,3 cm. Sold: €45,000 (Est: €20,000 - €30,000). © 2021 Nagel Auctions
The flat circular cover crisply carved through deep layers of cinnabar lacquer with a scene depicting three scholars and two page boys on a balustrade terrace by the side of a lake, with a crane in flight above, the scene framed by rockwork and pine trees, with rocky islands and ruyi-shaped clouds in the background, all reserved on various diaper grounds corresponding to the terrace, water and air, the sides deeply carved with composite floral scrolls, including lotus, chrysanthemum, prunus, camellia, magnolia, hibiscus and peony, all wreathed in their lush foliage contained within two thick plain borders, the box similarly carved with matching flower scrolls, the interior and the base lacquered in black-brownish lacquer.
Provenance: Old European private collection, assembled prior 1990.
Note: A similarly carved box, in the Freer Gallery of Art, Washington D.C., is illustrated in Derek Clifford, Chinese Carved Lacquer, London, 1992, pl. 33; another was included in the exhibition Selection of Masterpieces from Ringen Art Museum, Ringen Art Museum, Okoyama, 1990, cat. no. 167; Compare also boxes of this type with Yongle marks and of the period; one in the Palace Museum, Beijing, illustrated in The Complete Collection of Treasures of the Palace Museum, op. cit., pl. 41, together with another bearing a Qianlong inscription, pl. 37; a third included in the exhibition East Asian Lacquer. The Florence and Herbert Irving Collection, The Metropolitan Museum of Art, New York, 1991, cat. no. 27.
Nagel Auctions. Asian Art, December 7, 2021