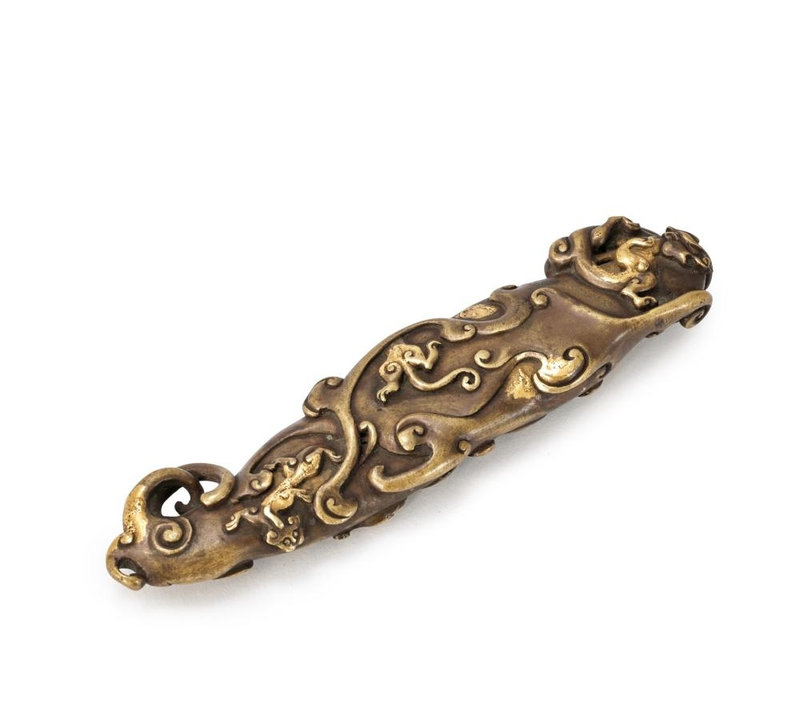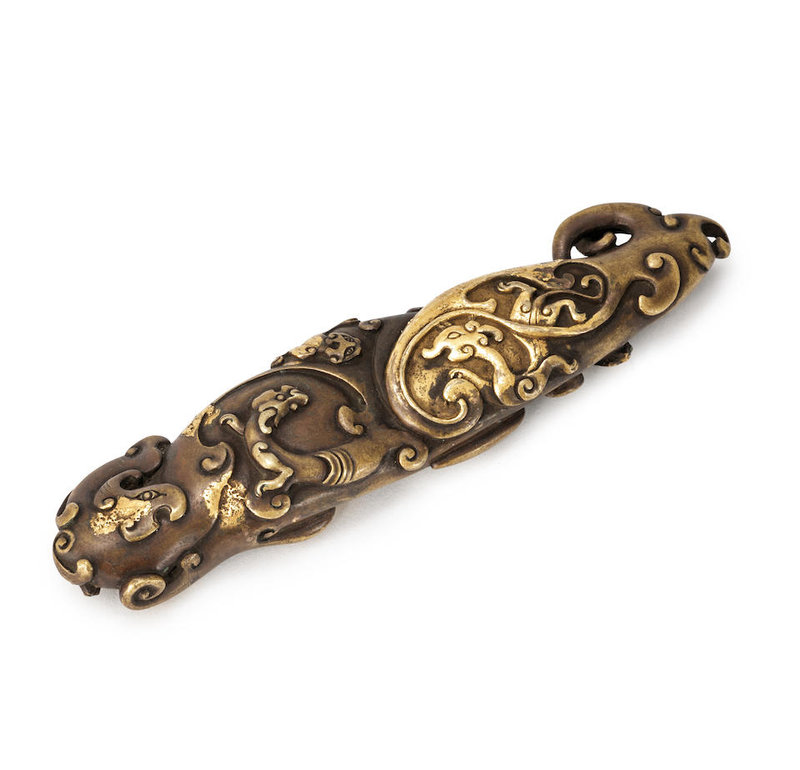 Lot 211. A rare Imperial gold-splashed bronze 'chilong' scroll weight, Qianlong four-character mark and of the period (1736-1795); 12cm (4 3/4in) long. Sold for HK$ 315,000 (€ 35,638) (Est: HKD200,000 - HKD300,000). © Bonhams 2001-2021
Well cast a chi-phoenix with five smaller chi-dragons climbing on her body, the surface with liberal slashes of gold, the bronze patinated to a rich golden-brown colour, the surface with liberal splashes of gold, near the phoenix tail incised with four-character mark reading Qianlong nianzhi.
Provenance: Robert de Semallé (1849-1936), France.
Robert de Semallé (1849-1936) served in the French Embassy in Beijing as a secretary after a competitive examination. During his time in Beijing from 1880 to 1884, he collected numerous Chinese works of art and wrote a book entitled Four Years in Peking in which he recounted his missions in southern China and Vietnam.
Note: This rare scroll-weight based on its relatively small size and the flat body was probably part of a set of desk accessories that were made for travelling and carried in a stationery box or duobao he (treasure box). Compare with the small cloisonné enamel scroll-weights in a purple lacquer stationery box, Qianlong, in the Palace Museum, Beijing, which is illustrated in The Complete Collection of Treasures of the Palace Museum: Small Refined Articles of the Study, Shanghai, 2009, pl.6.
Bonhams. Fine Chinese Works of Art,Hong Kong, 2 Dec 2021