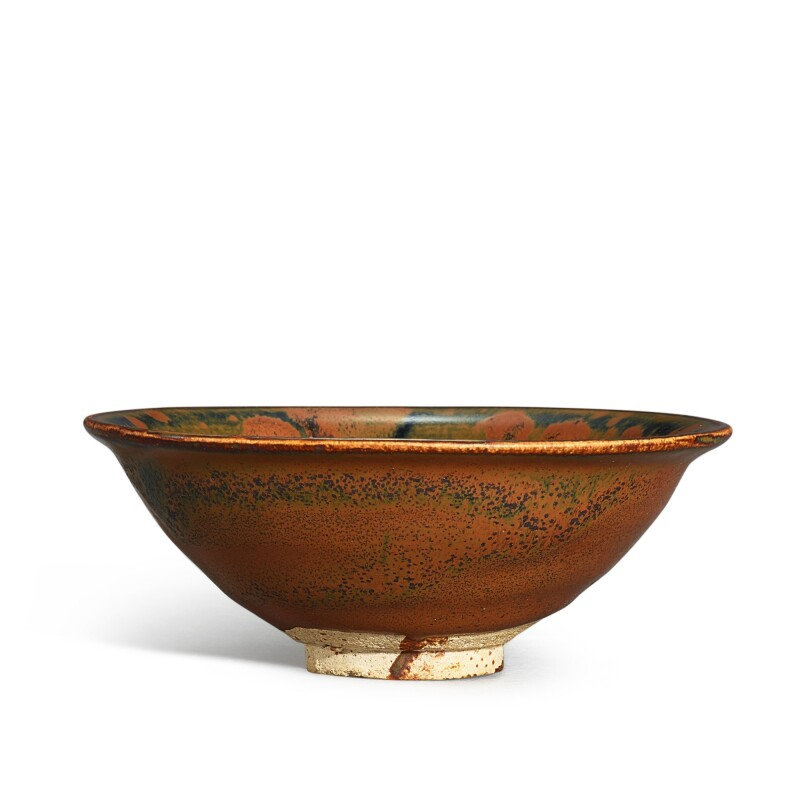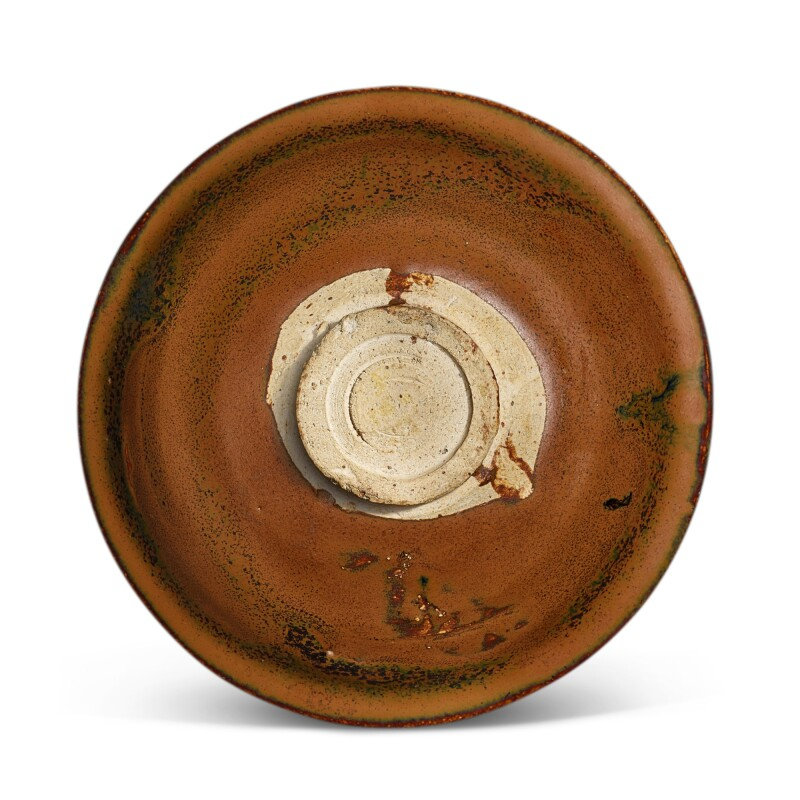 Lot 5015. A superb Henan russet-splashed blacked-glazed 'partridge feather' temmoku bowl, Northern Song dynasty (960-1127); 12.1 cm. Lot sold: 403,200 HKD (Estimate: 150,000 - 200,000 HKD). © Sotheby's 2021
Provenance: Collection of Stephen Junkunc III.
An American private collection.
Christie's New York, 21st September 1995, lot 180.
Collection of Mr and Mrs James E. Breece III
Christie's New York, 18th September 2003, lot 251.
Collection of Peter Scheinman (1932-2017), New York.
Note: This bowl is remarkable for its captivating pattern of irregular russet splashes on the interior, which creates a striking contrast to the lustrous dark brown glaze. Known as zhegu ban, or 'partridge feathers', this pattern evolved from the experimental nature of Song dynasty kilns as they competed in producing wares for the thriving tea market. Bowls covered in a lustrous dark-brown glaze heightened the aesthetic experience of drinking tea, which at the time was energetically whisked to produce a rich white froth. The present bowl is a particularly fine example of its type, as it features small and evenly applied flecks, suggesting it was made in the Northern Song period. Stonewares coated in rich dark glazes began to be produced in large numbers in the Tang period (618-907), with the finest examples made at kilns near the Yellow River. The monochromatic glazes soon led the way to painted or splashed designs, which were achieved by either splashing or applying with a brush an iron-oxide slip over the glaze. In the kiln, the gravity would pull the slip downwards creating irregular splashes or streaks. Not only were these wares particularly suitable for drinking whisked tea, the serendipitous nature of their glaze must have captivated the imagination of Song literati.
The mesmerising 'partridge-feather' glaze was produced at many kilns in both northern and southern China, attesting to its popularity. Most examples were made at kilns that produced Cizhou wares, such as the Guantai kilns in Hebei province, the Qinlongsi and Dangyangyu kilns in Henan province. Bowls of similar form, recovered at Guantai, Ci county, are illustrated in The Cizhou Kiln Site at Guantai, Beijing, 1997, col. pl. 29, figs 1 and 3, pl. 65, fig. 1; and a larger bowl from Dangyangyu, the glaze similarly covering also the interior of the foot, is published in Series of China's Ancient Porcelain Kiln Sites. Dangyangyu Kiln of China, Beijing, 2011, pl. 56.
Sotheby's. Echoes of Fragrance – Evolution of Tea Culture from the Tang to the Qing Dynasties, Hong Kong, 16 December 2021