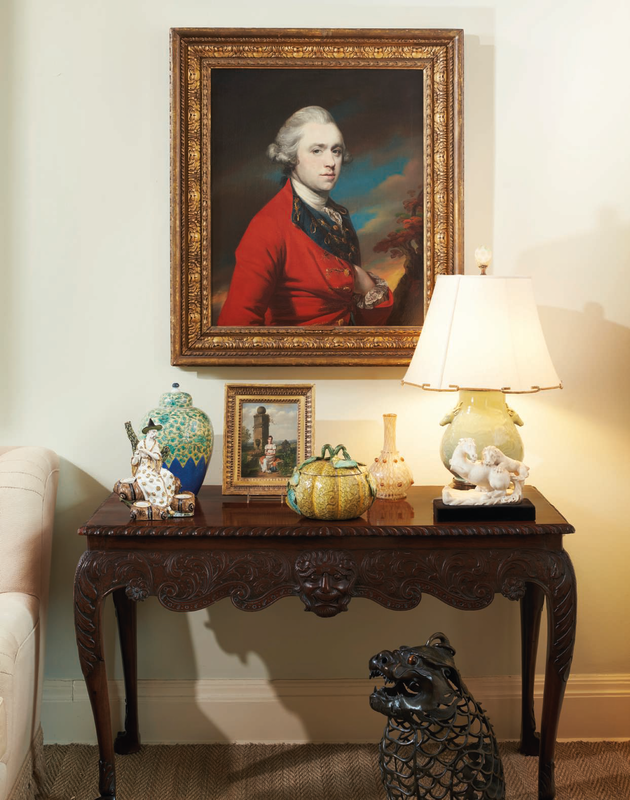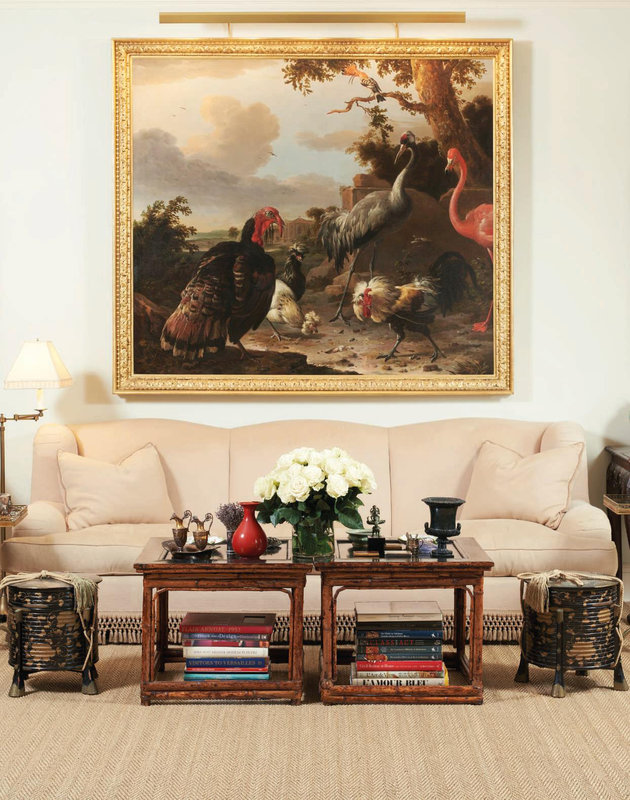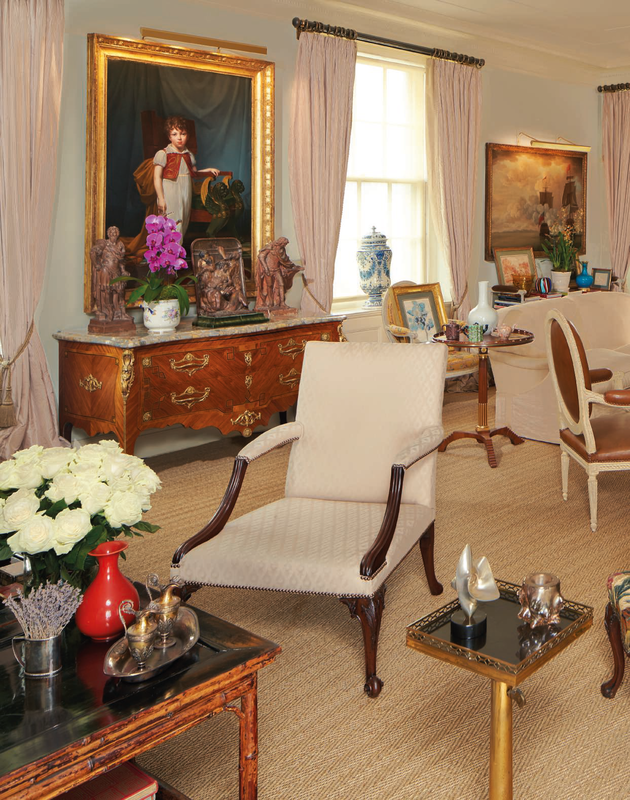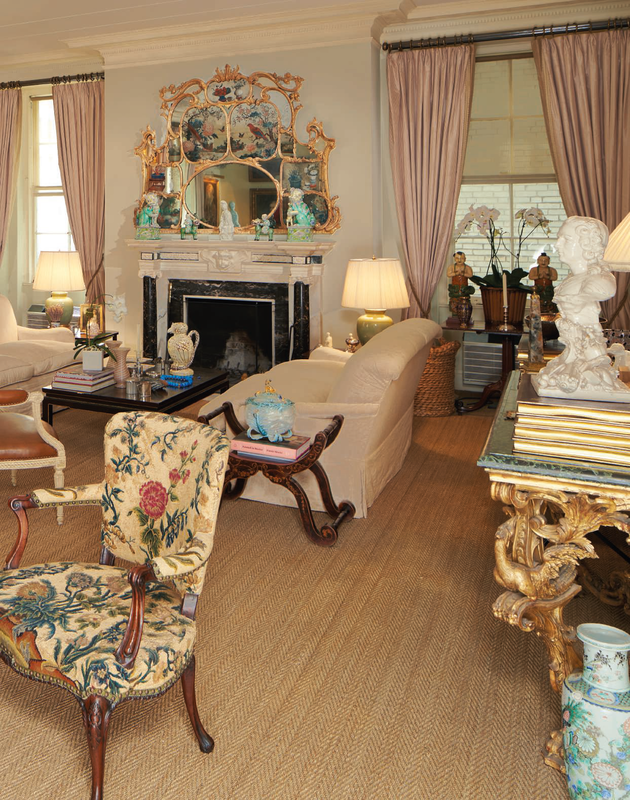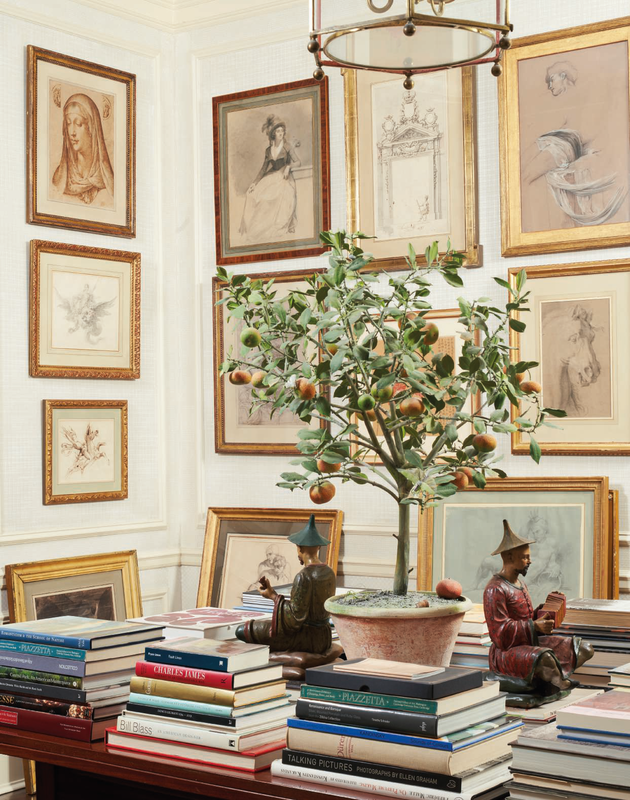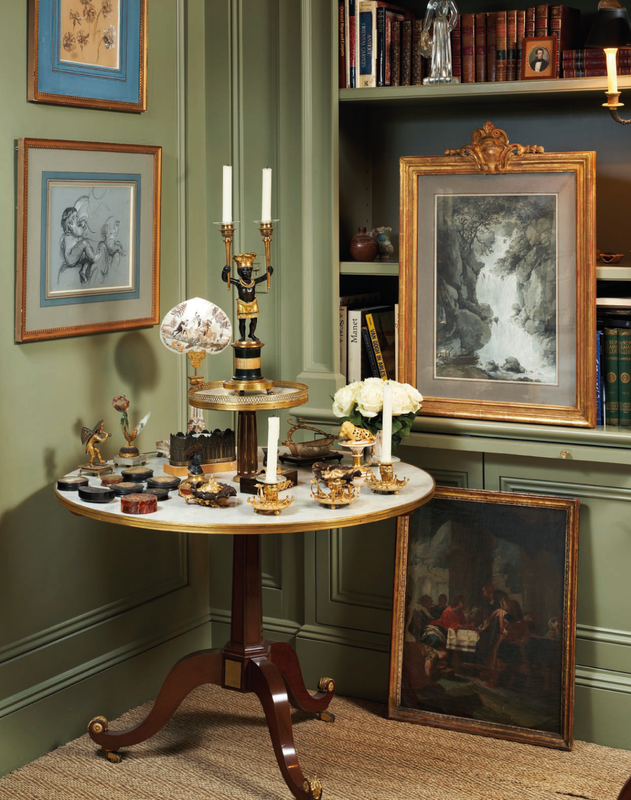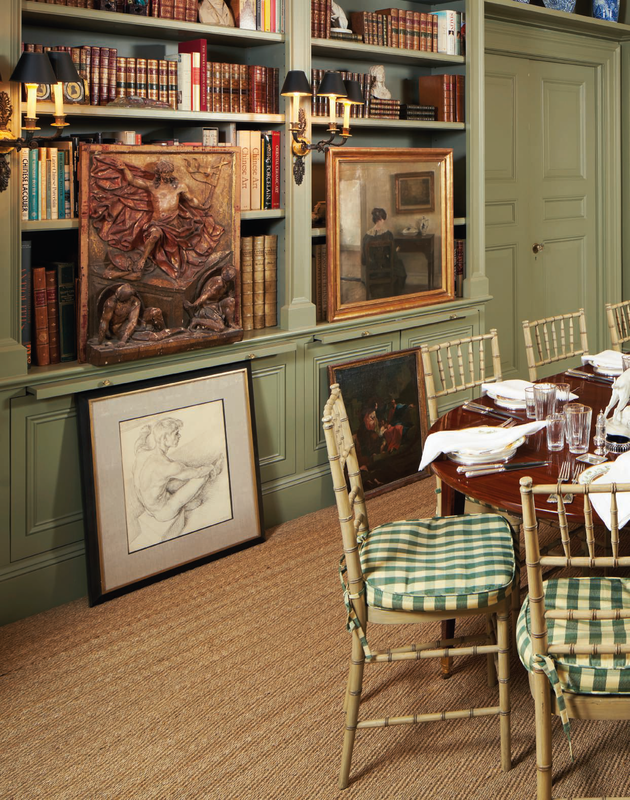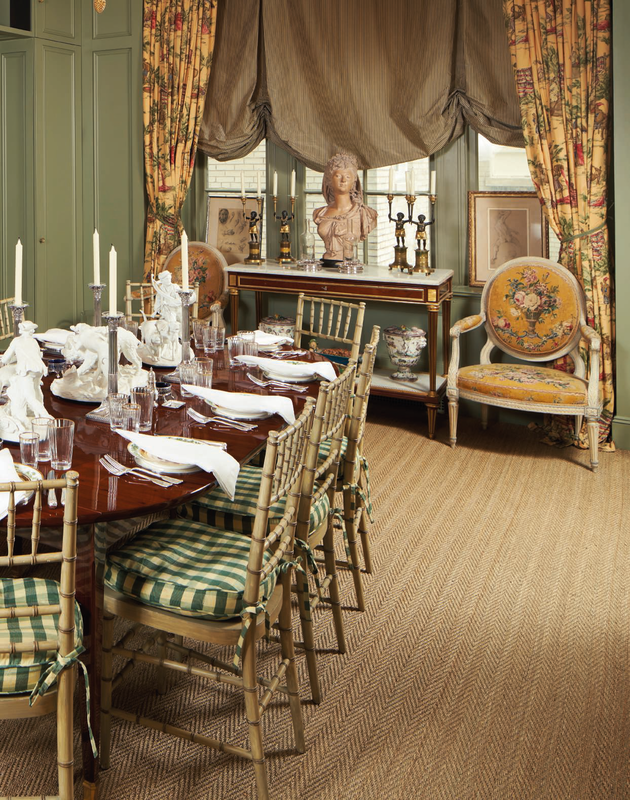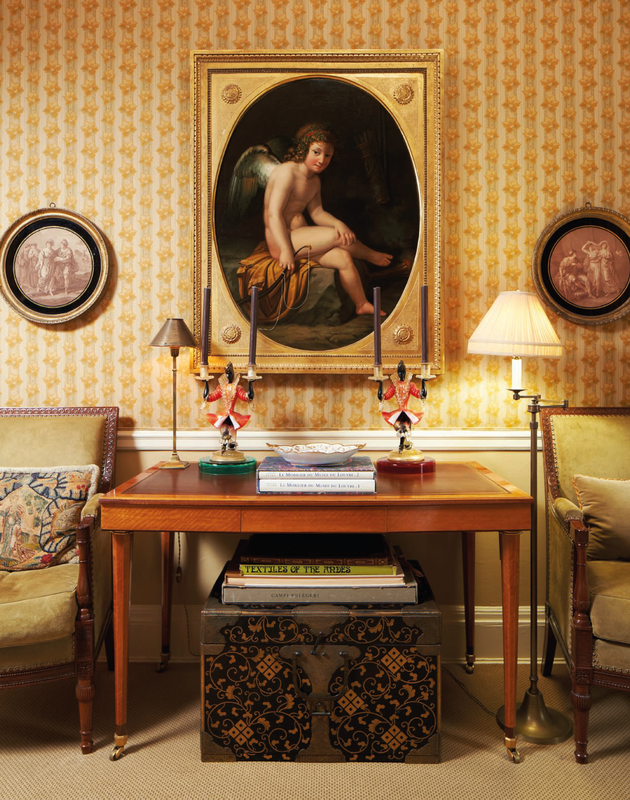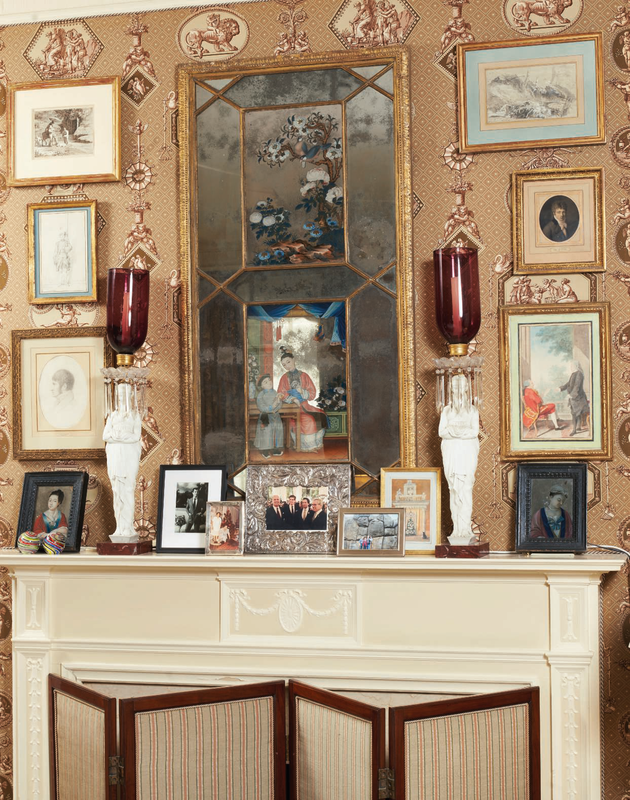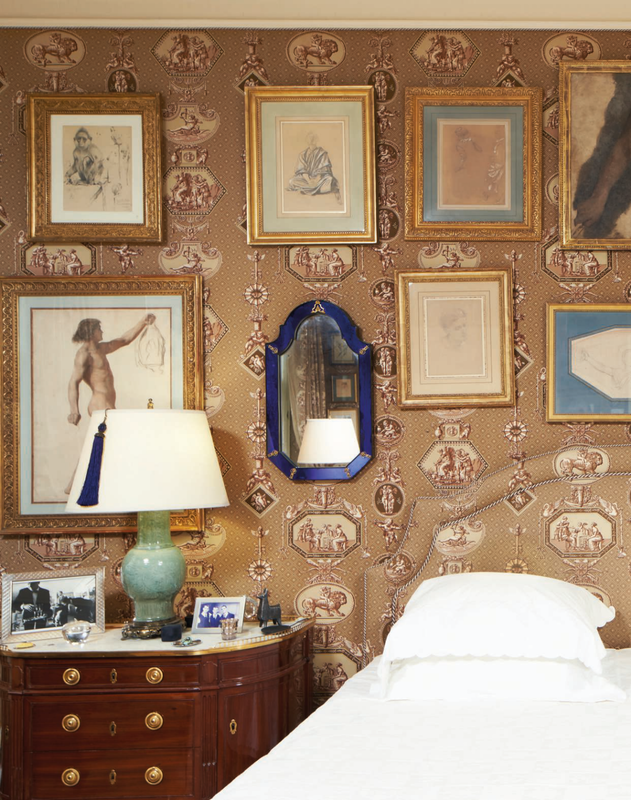 © Christie's Images Ltd 2022.
NEW YORK, NY.- Christie's will present The Collection of Pierre Durand on January 27, a live sale featuring the fine and decorative arts of the late philanthropist and collector who co-founded The Chinese Porcelain Company. The auction is comprised of 243 lots from the contents of Pierre Durand's New York apartment on Fifth Avenue, which artistically combined walls of gallery-hung Old Master Drawings with contemporary glass by Yoichi Ohira, and contrasted Chinese paintings by Liu Dan with fine French and English decorative arts. Other highlights include important Old Master paintings, Chinese works of art and Chinese export porcelain, as well as entertaining porcelain and silver. Viewing is open to the public by appointment beginning January 22 at Christie's Rockefeller Center Galleries.
Margaret Gristina, Senior Specialist, Chinese Works of Art, Christie's, remarks: "The Collection of Pierre Durand offers a glimpse into the gracious home of a true collector. From Old Master paintings to French furniture to contemporary Venetian glass, Pierre was a discerning connoisseur of beautiful objects that caught his fancy and he filled his rooms with a witty and diverse feast of objects to delight the eye. Pierre also avidly pursued the history of each piece he collected and was particularly fond of doing research and uncovering hidden treasures."

The auction is highlighted by major works such as a large scale Melchior d'Hondecoeter painting (estimate: $250,000-350,000) and a stunning George II over-mantel mirror (estimate: $100,000-200,000), which were fixed anchors in Durand's home throughout the years. Works on paper in the collection range from Old Master drawings by Pierre-Joseph Redouté, François Le Moyne and Bartolomeo Passarotti to contemporary Chinese inks by Liu Dan and Lee Chun-Yi.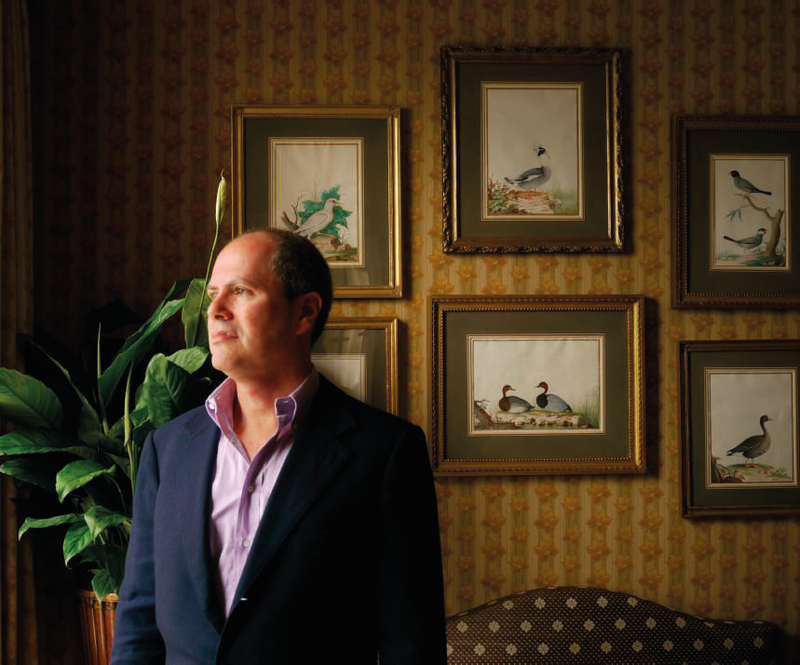 Pierre Durand ©Jeff Hirsch/New York Social Diary
PIERRE DURAND

Pierre Durand was born in Lima, to an Italian mother and a Peruvian father of French descent. First trained as a banker, Pierre met his partner Khalil Rizk at Cornell University in the early 80s, and together they founded The Chinese Porcelain Company in 1984. On a philanthropic note, Pierre was elected to the board of Venetian Heritage in 2002 and served as both treasurer and president over the subsequent years, sharing his expertise in business and his passion for art and architecture to help preserve the treasures of the city he loved. He also served on the boards of the Master Drawings Association Inc. at the Morgan Library, and the American Friends of the London Philharmonic Orchestra.
SELECT HIGHLIGHTS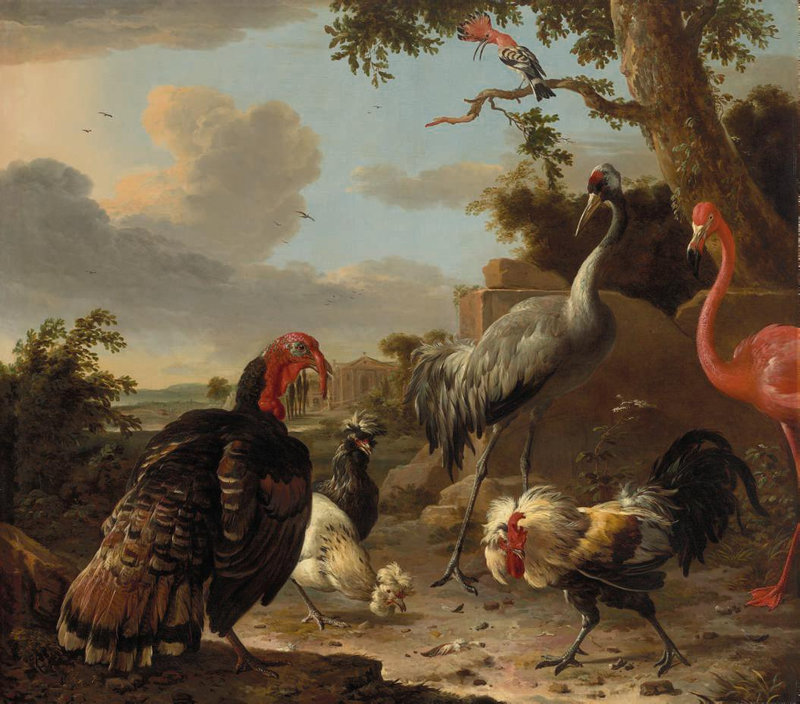 Lot 47. Melchior d'Hondecoeter (Utrecht 1636-1695 Amsterdam), A sarus crane, a flamingo, a wild bronze turkey cock, two Paduan fowl, a silver birchen game cockerel, and a hoopoe in a landscape, signed and dated 'MD hondecoeter. / 1675' (center right), oil on canvas 61 7⁄8 x 69 7⁄8 in. (157.2 x 177.5 cm.). Estimate $250,000-350,000. © Christie's Images Ltd 2022.
Provenance: Anonymous sale; Christie's, London, 10 December 1993, lot 296, where acquired by Covent Garden Gallery, acting on behalf of the present owner.
Note: Melchior d'Hondecoeter was the leading bird painter during the Dutch Golden Age, a fact which earned him the moniker the 'Raphael of bird painters' in the nineteenth century. The present painting is a particularly fine, large-scale example of his work in which exotic birds feature in the foreground of a courtyard or lush garden setting, at times – as here – including a classical structure in the background. Hondecoeter's visual vocabulary developed in the studios of his father, Gijsbert Gillisz. de Hondecoeter, and his uncle, Jan Baptist Weenix, but Melchior's works are equally informed by the those of the Antwerp artist Frans Snyders.
Such paintings were avidly acquired by Amsterdam's patrician elite, who frequently installed them within the spacious interiors of their country estates, some of which contained actual menageries on their grounds. Though common to modern viewers, Hondecoeter has selected what would have been rarely encountered species to the seventeenth-century viewer – a wild turkey and American flamingo (indicated by the pink and white bill with pronounced black tip) from the Americas; a sarus crane, which is indigenous to the Indian subcontinent and Southeast Asia; and an African hoopoe. Taken together with the local European fowl at center, the represented birds originated in each of the four known continents in the seventeenth century and signaled the extent of the Republic's global reach.
Hondecoeter developed his large-scale paintings through ad vivum drawings and oil sketches of birds captured in various poses which were often repurposed in multiple compositions. An identical hoopoe reappears in several other works, including the Birds on a balustrade of circa 1680 (Rijksmuseum, Amsterdam) and another painting sold Christie's, New York, 29 January 1999, lot 179. Similarly, the same flamingo features again in a painting dated 1679 at Dyrham Park, South Gloucestershire.
Lot 69. A George II giltwood overmantel mirror inset with Chinese export reverse mirror paintings, circa 1760; 58 in. (147.5 cm.) high, 73 in. (185.5 cm.) wide. Estimate USD 100,000 - USD 200,000. © Christie's Images Ltd 2022.
The shaped plates within a gilt foliate scroll frame, the outer panels decorated with scenes of landscapes, colorfully plumed birds, flora and fauna.
Literature: M. Harris and Sons, A Catalogue and Index of Old Furniture and Works of Decorative Art From Late Sixteenth Century - Early Nineteenth Century, Pt. II, London, 1938, p. 194, pl. XIII 4.
The Chinese Porcelain Company, Chinese Glass Paintings & Export Porcelain, New York, 8 October - 9 November, 1996, p. 26, no. 9.
Exhibited: The Chinese Porcelain Company, Chinese Glass Paintings & Export Porcelain, New York, 8 October - 9 November, 1996.
Note: This monumental mirror is remarkable not only for its unusually large scale but equally for its elaborate scene painting within a beautifully drawn giltwood frame. The frame follows the designs of London's pre-eminent cabinet-makers such as John Linnell or Thomas Chippendale. The pairing of reverse painted mirror glass with flat glass represents the ingenuity and collaboration between Chinese and British artists of the mid-18th century.
THE ART OF CHINESE MIRROR PAINTING
The practice of painting on mirrors developed in China after 1715 when the Jesuit missionary Father Castiglione arrived in Beijing. He found favor with the Emperors Yongzheng and Qianlong and was entrusted with the decoration of the Imperial Garden in Beijing. He learned to paint in oil on glass, a technique that was already practiced in Europe but which was unknown in China in 1715. Chinese artists, already expert in painting and calligraphy, took up the practice, tracing the outlines of their designs on the back of the plate and, using a special steel implement, scraping away the mirror backing to reveal glass that could then be painted. Glass paintings were made almost entirely for export, fueled by the mania in Europe for all things Chinese. Although glass vessels had long been made in China, the production of flat glass was not accomplished until the 19th century. Even in the Imperial glass workshops, set up in Beijing in 1696 under the supervision of the Bavarian Jesuit Kilian Stumpf, window glass or mirrored glass was not successfully produced. As a result, from the middle of the 18th century onwards, when reverse glass painting was already popular in Europe, sheets of both clear and mirrored glass were sent to Canton from Europe. They most often depicted bucolic landscapes, frequently with sumptuously dressed Chinese figures at leisurely pursuits. Once in Europe the best were often placed in elaborate giltwood Chippendale or Chinoiserie frames.
Related examples of overmantel mirrors incorporating Chinese mirror paintings include one sold Christie's, New York, 21 January 1999, lot 557 ($85,000) attributed to William and John Linnell and dated from 1755. For another example that features similarly beautiful reverse-painted panels dated from 1765 and previously in the collection of the Hon. Mrs. George Keppel see Christie's, New York, 18-19 April 2012, lot 57 ($290,500) and subsequently sold Christie's, London, 7 July 2016, lot 322 (£194,500).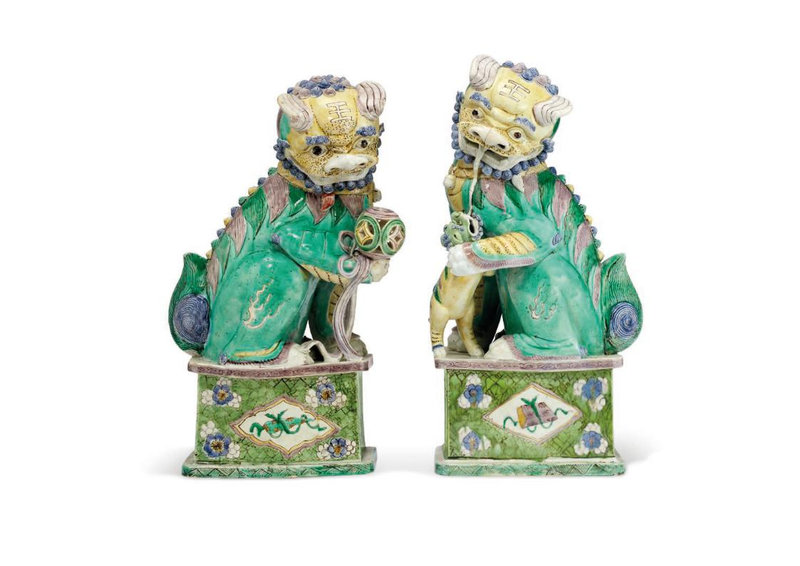 Lot 72. A pair of Chinese porcelain famille verte large Buddhist lions, Kangxi period (1662-1722); 17 1⁄4 in. (43.7 cm.) high. Estimate $10,000-15,000. © Christie's Images Ltd 2022.
Each seated with heads turned and mouths open in a ferocious stare, one with a cub clambering up towards its chest, the other with a brocade ball in its paw, each atop a rectangular base painted with blue prunus and auspicious objects on a background of green 'cracked ice'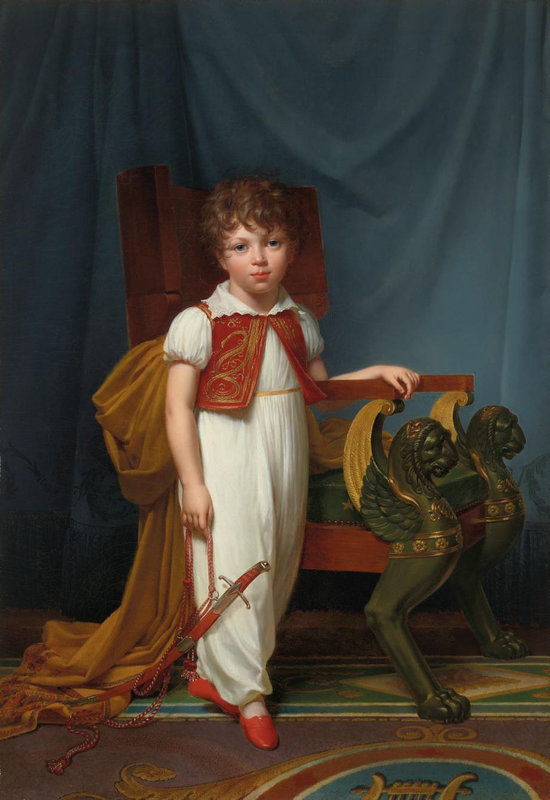 Lot 179. Louis-André-Gabriel Bouchet (Paris 1759-1842), Portrait of Eugene Isabey (1803-1886), full-length, with a sword, oil on canvas 55 x 38 1⁄4 in. (149.7 x 97.2 cm.). Estimate $120,000-180,000. © Christie's Images Ltd 2022.
Provenance: Anonymous sale; Courtier, de Nicolay, and Oger-Dumont, Paris, 17 June 1994, lot 71, where acquired by the present owner.
Exhibited: Paris, Salon, 1810, no. 107.
Note: Louis-André-Gabriel Bouchet was an aspiring history painter in the 1780s and '90s and one of Jacques Louis David's many pupils. In 1797, he was awarded the prestigious Premier Grand Prix de Rome with his Death of Cato the Younger (École des Beaux-Arts, Paris). It launched him on a successful career as a history painter who regularly exhibited at the Paris Salons until 1819. While his contributions to the Salons included Homer Reciting his Poetry (Musée des Beaux-Arts, Angers), Innocence Yielding to Seduction (Compiègne) and Mentor and Telemachus (Musée des Beaux-Arts, Grenoble), his most accomplished works and prestigious commissions were increasingly portraits. In 1807, Bouchet was commissioned to paint Napoleon in Imperial Dress (Versailles) as a pendant to Robert Lefevre's portrait of the Empress Josephine, and later Louis XVIII in Coronation Robes (Musée Granet, Aix-en-Provence).
Bouchet met Jean-Baptiste Isabey (1767-1855) in the 1780s during their apprenticeship in David's studio, where they were fellow pupils, and the two remained lifelong friends. Although trained as a history painter, scarcely any paintings by Isabey are known and he never exhibited any in the Salons, instead building a successful career as a miniaturist, draftsman and lithographer. Tall, handsome, charming and socially connected, Isabey was part of an exclusive intellectual and social milieu and included among his friends Chateaubriand, Madame de Staël and Madame Recamier. Married in 1791, Isabey fathered four children; surviving letters from his fellow artists Jean-Antoine Gros and François Gérard suggest that the activities of Isabey and his young family were a source of lively interest among his tight-knit circle of friends.
Bouchet exhibited individual, full-length portraits of all four of Isabey's children at the Paris Salon of 1810, which remained with Isabey's descendants until they were dispersed at auction in France in 1994. The portraits depict Isabey's eldest daughter, Alexandrine (1791-1871), who as a four-year-old was famously included in a magnificent full-length double portrait of 1795 (today in the Louvre) by François Gérard, in which she is depicted tenderly holding her father's hand; his eldest son, Hector (1797-1814); and the present portraits of his younger children Lucie (b. 1795) and Eugène (1803-1886).
Lucie, whose portrait is signed by the artist, 'Bouchet f[ecit]', on the lower left, was the future Madame Collon. Bouchet presents her as a playful (and perhaps naughty) teenager, running through a garden while carrying off a bird's nest that she protects inside her upturned bonnet, its tiny inhabitants chirping eagerly. Bouchet's vivid depiction of her lively, bright expression and billowing white muslin dress endow the image with both a youthful energy and graceful monumentality.
As befitting a well-bred young boy of the Napoleonic era, seven-year-old Eugène Isabey displays a self-possessed dignity beyond his years. Stylishly dressed, in emulation of Mamluk warriors who came to Paris with Napoleon after the Egyptian Campaign of 1798, Eugène wears a gold-brocaded red vest and red leather slippers and holds an elegantly tooled, red-enameled sword in his right hand; his left hand rests nonchalantly on the arm of a magnificent, Empire-style armchair supported by elaborately carved griffons with lion's heads. Bouchet's handling of the various textures of fabrics, wood, and metalwork displays a masterly command of his medium.
Eugène Louis-Gabriel Isabey (1803-1886) would grow up to achieve a degree of fame and artistic success that exceeded even that of his celebrated father. After training with his father and copying the Old Masters in the Louvre, he set up a studio with the landscapist Xavier Leprince at Honfleur. Striking out on his own the following year, he began exhibiting landscapes at the Salon in 1824. In 1830, Eugène travelled to Algiers at the invitation of the Royal Navy to paint scenes of its naval campaign. Soon thereafter he was appointed a court painter to Louis-Philippe and was awarded the Légion d'Honneur in 1832. Highly revered throughout Europe during a long career, Isabey painted landscapes, genre scenes and historical subjects, but was best-known as a master of seascapes, marine paintings and dramatic shipwrecks, in both oils and watercolor, and in his later years numbered Johan Barthold Jongkind and Eugène Boudin among his distinguished students.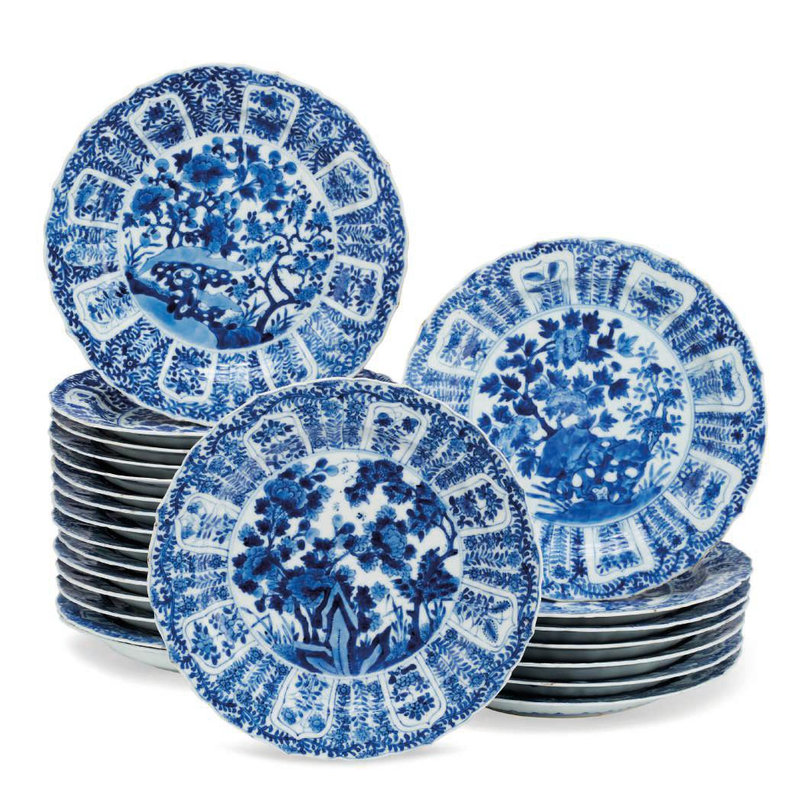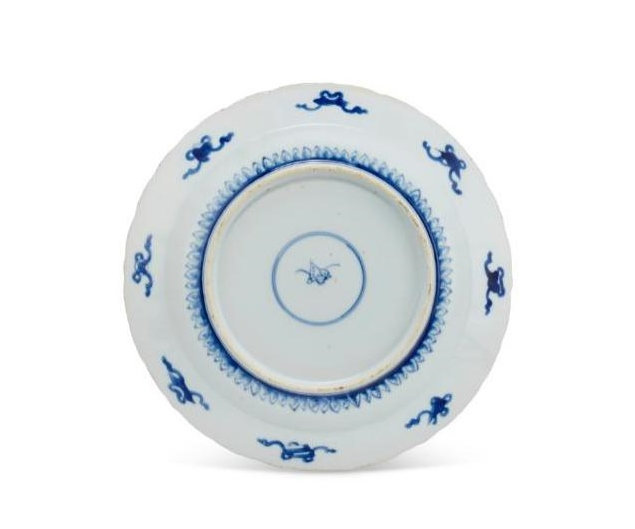 Lot 135. A set of twenty-three Chinese porcelain blue and white molded plates, Kangxi period (1662-1722); 9 5⁄8 in. (24.4 cm.) diameter. Estimate $6,000-8,000. © Christie's Images Ltd 2022.
Each center decorated with various flowering branches in rocky outcrops, the molded rims with panels enclosing various flowers, the underside of the rim and center with auspicious symbols, the underside with underglaze blue double circles.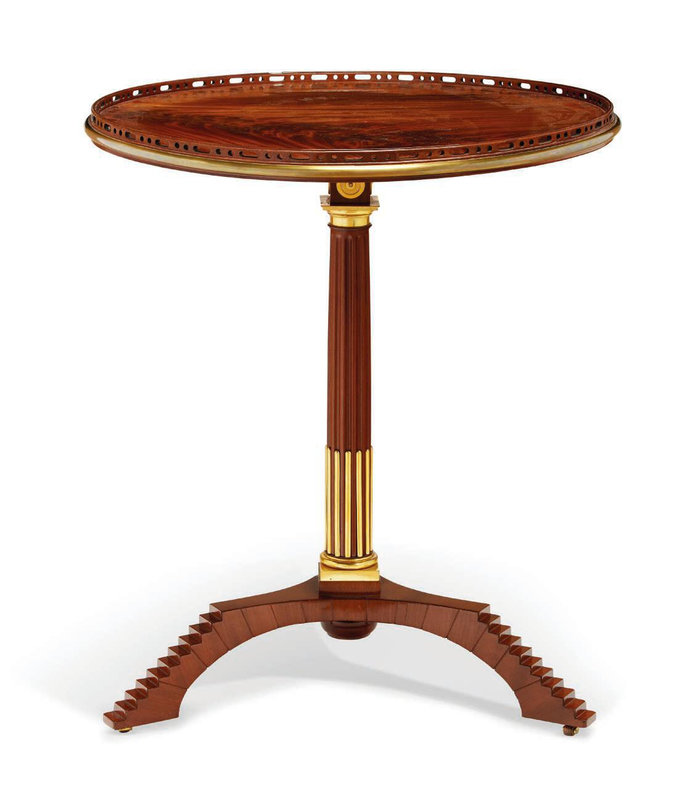 Lot 81. A German ormolu-mounted mahogany guéridon by David Roentgen, circa 1785; 30 in. (76 cm.) high, 25 1⁄2 in. (65 cm.) wide. Estimate $30,000-50,000. © Christie's Images Ltd 2022.
The circular rotating tilt-top with pierced wooden frieze and ormolu band, supported on fluted column raised on stepped tripartite base, stamped ROENTGEN to underside of stem, the stamp possibly later applied.
Provenance: Anonymous sale; Poulain le Fur, Hôtel des Ventes du Palais, Palais des Congrès, Paris, 22 June 2000, lot 88 (FF 580.000).
Lot 110. Pierre-Joseph Redouté (Saint-Hubert 1759-1840 Paris), The branch of a plum-tree bearing fruit with a wasp; black chalk, watercolor and bodycolor on vellum, 13 x 10 1⁄4 in. (33 x 25.7 cm). Estimate $60,000-80,000. © Christie's Images Ltd 2022.
Provenance: Jean-Joseph Espercieux (1757-1840), Paris; bequeathed by him to
Caroline Gasnier, Paris; by inheritance to her sister
Marie-Françoise Dey, née Gasnier (died 1878), Paris; bequeathed by her to her adoptive daughter
Lucie-Marie Damour, née Cucily-Gasnier, Paris (according to an inscription on the back of the frame signed by her husband, the artist Charles Damour).
Amédée Damour, Paris; to his niece
Jeanne Riondel (according to an inscription on the back of the frame).
Anonymous sale; Christie's, New York, 28 January 1999, lot 169.
Note: A handwritten note attached to the back of the frame, signed by the pupil of Jean-Auguste-Dominique Ingres, Charles Damour (1813-1901?), and dated 25 January 1879, documents the noteworthy provenance of this beautiful sheet, starting with the sculptor Jean-Joseph Espercieux. He may have received it as a gift from Redouté himself for having sculpted in plaster the painter's bust for the Salon of 1802. The lovingly rendered branch could have been taken from a plum tree at Malmaison, where Redouté had been working for Joséphine de Beauharnais creating the illustrations for Jardin de la Malmaison, published in 1803-1804.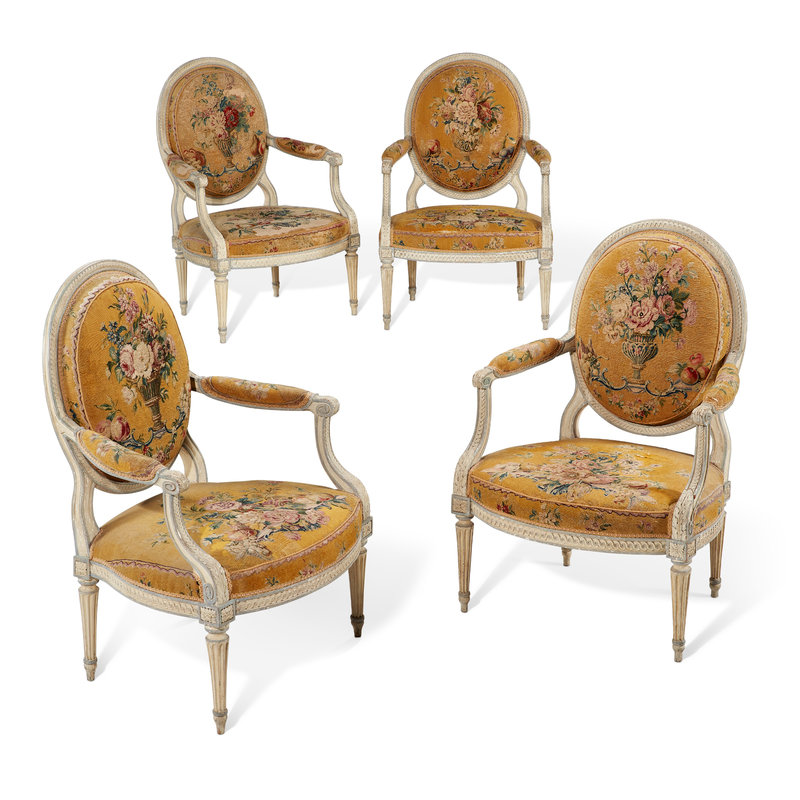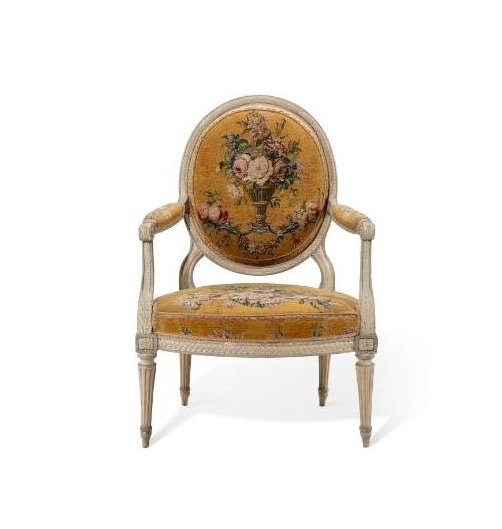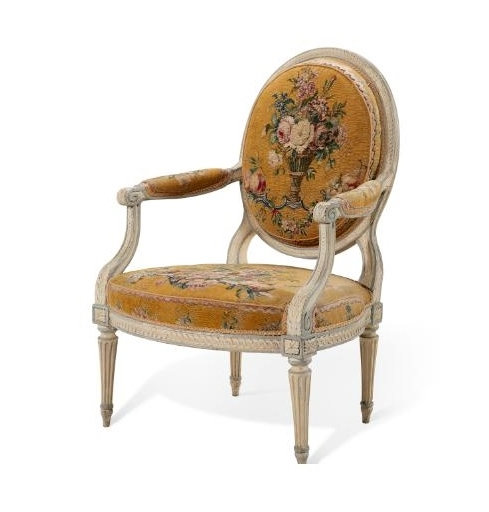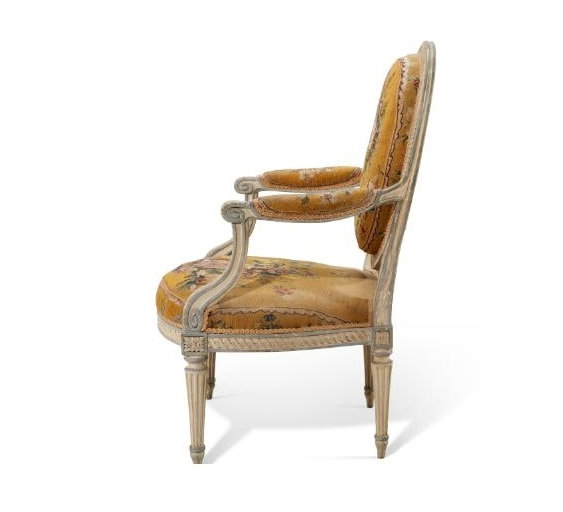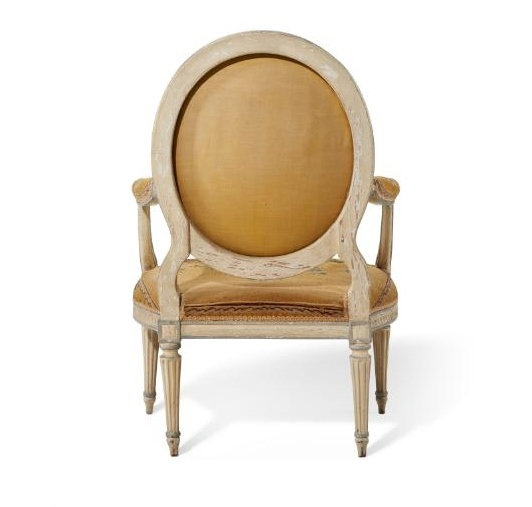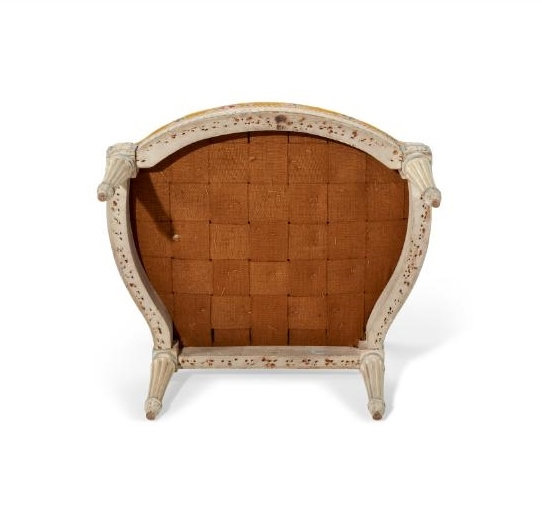 Lot 136. A set of four Louis XVI cream and grey-painted fauteuils by Jean-Baptiste Sené, circa 1775. Estimate $12,000-18,000. © Christie's Images Ltd 2022.
The oval padded back, seat and arms upholstered in Beauvais tapestry, all with the inventory marks of the Château d'Eu, three stamped JB SENE.
Provenance: Jean-Jacques-Régis Cambacérès, Hôtel de Cambacérès,
Purchased together with the furniture by the Dowager Duchesse d'Orléans,
By descent, to her son King Louis-Philippe who moved the fauteuils to the Château d'Eu during the Restauration period.
Anonymous sale; Galerie Charpentier, Paris, 7-8 December 1954, lot 205, offered with six other armchairs and a canapé.
Anonymous sale; Sotheby's, New York, 22 May 1993, lot 282.
Literature: Musée Rodin, Le Faubourg Saint Germain, la rue Saint-Dominique, Paris, December 1984, p. 175, no. 292.
Note: Jean-Baptiste Sené, maitre in 1769.
Jean-Jacques-Régis Cambacérès (1753-1824) was named archchancellor of the Empire by Napoleon, and is most notably recognized as one of the authors for the Napoleonic Code, which served as the basis for much of French civil law. In 1800, he moved into the sumptuous Hôtel d'Elbeuf on the old rue Saint-Nicaise, and furnished his residence with treasures from the former Garde-Meuble de la Couronne and from revolutionary seizures. In 1808, he was bequeathed the Hôtel Molé by Napoleon, otherwise known as the Hôtel de Cambacérès. On February 10, 1816 the residence was purchased by Louise-Marie-Adélaïde de Bourbon-Penthièvre, the Duchesse d'Orléans. According to the terms of the sale contract, she became the owner of the building and the entirety of the furnishings on the ground floor of the hôtel for 580,000 francs. Upon her death in 1821, her son, the future King Louis-Philippe, inherited the property and moved the contents of the Hôtel de Cambacérès to the Château d'Eu. It is during this time that Louis-Philippe began to renovate and refurbish the the château, and when the present lot is recorded as being in the collection. Located in the Bresle valley between Normandy and Picardy, the Château d'Eu was reconstructed in 1578 by Henri le Balafri, duc de Guise. It was the home of the ducs de Maine before ownership by the Orléans. During the French Revolution, the château was seized and most of its furnishings either sold or destroyed, and was restituted to the duchesse d'Orléans in 1814. Under his reign, the château served as the summer residence of King Louis-Philippe.
Lot 36. Liu Dan (B. 1953), Taihu Rock. Scroll, mounted and framed, ink on paper, 15 x 16 1⁄8 in. (38 x 41 cm.). Inscribed and signed, with one seal of the artist. Dated first month, wuyin year (1998). Estimate $70,000-90,000. © Christie's Images Ltd 2022.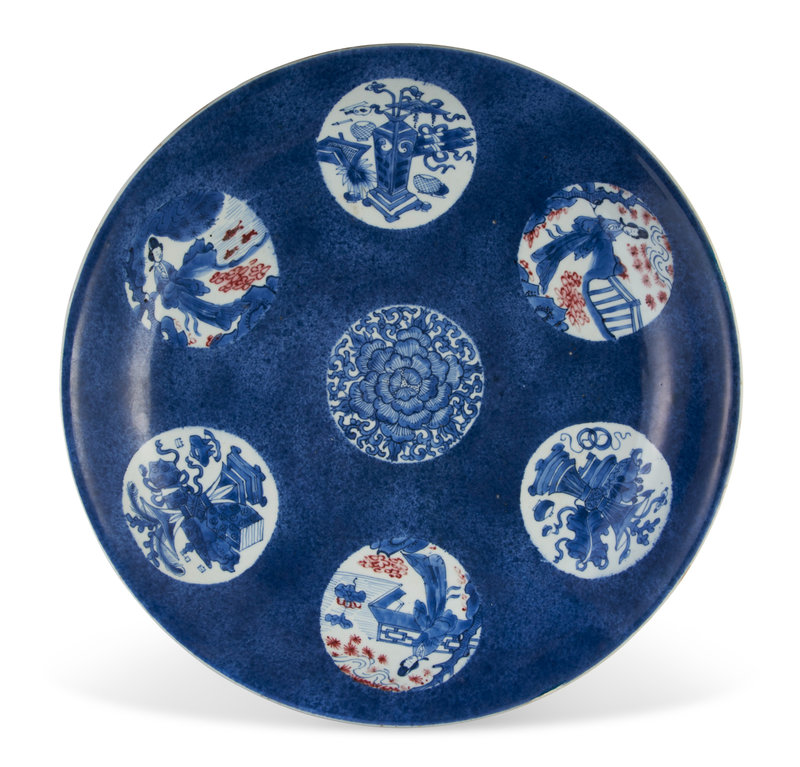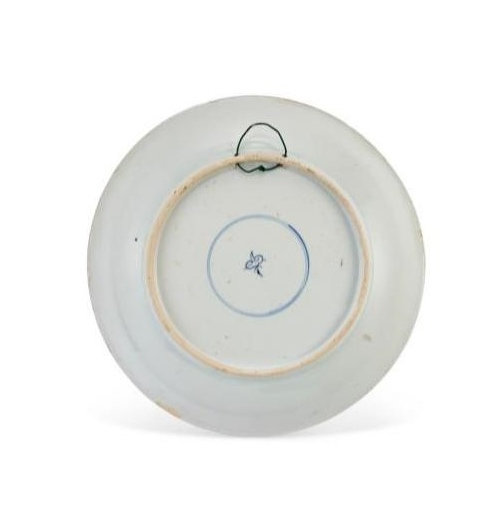 Lot 20. A Chinese porcelain powder-blue large dish, Kangxi period (1662-1722), 14 1⁄2 in. (36.9 cm.) diameter. Estimate $4,000-6,000. © Christie's Images Ltd 2022.
Decorated with alternating circular medallions enclosing either ladies in fenced pavilions highlighted in iron-red or scholar's objects, the center with a peony in bloom, the reverse with underglaze blue double circle enclosing a lingzhi.