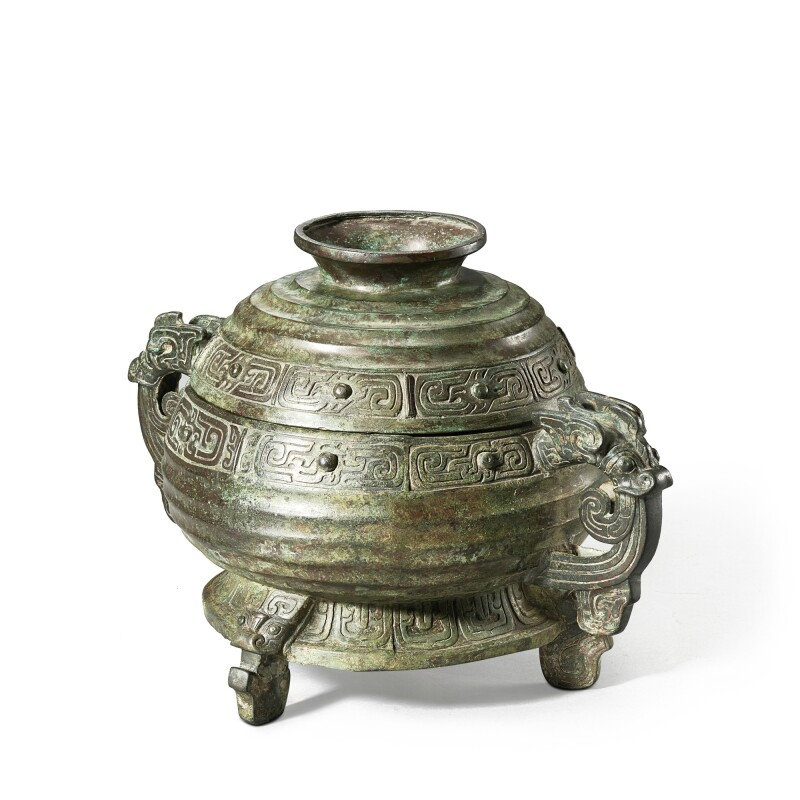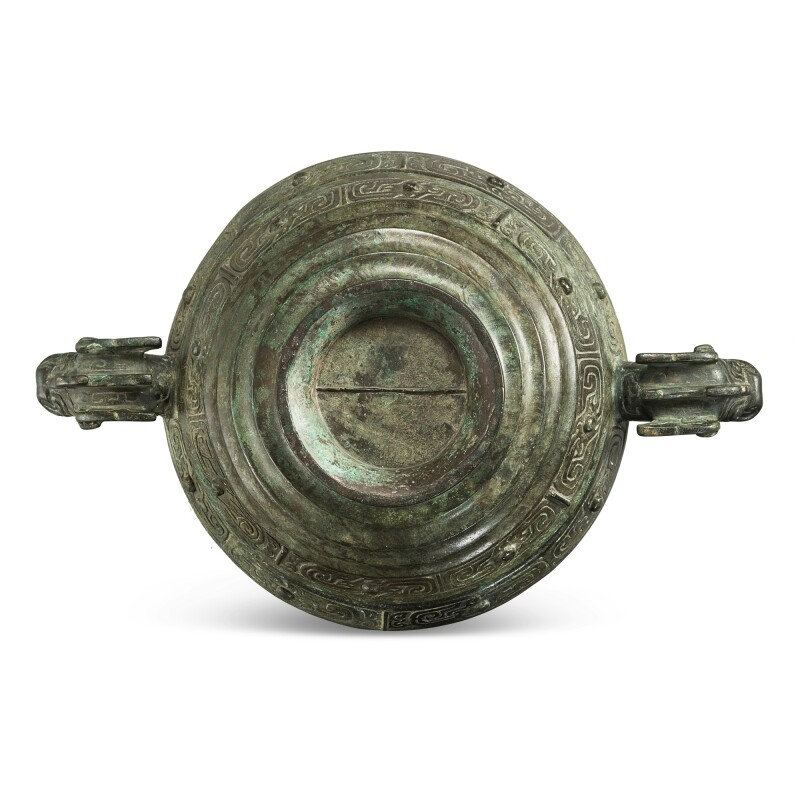 Lot 815. A large archaic bronze ritual food vessel and cover, gui, Western Zhou dynasty (1050-771 BC); w. 38cm. Lot sold: 693,000 HKD (Estimate: 500,000-700,000 HKD). © Sotheby's.
Provenance: Hartman Rare Art, New York.
Note: Elevated on three legs and decorated with horizontal grooves, this vessel represents one of the archetypal examples of gui produced during the late Western Zhou period (c. 1046-771 BC). Among the gui with comparable motifs, however, the present lot is distinguished by the shape of the spiral horns on its handles and the paw feet. Inscriptions found on vessels of this type identify them as food containers used for sacrificial purposes.
Closely related examples can be found in important public collections, including two larger vessels, both with inscriptions but one without a cover, in the Palace Museum, Beijing (acc. nos 新 155097 and 新 142973), illustrated in Bronzes in the Palace Museum, Beijing, 1999, pls 191 and 193; and a smaller one, possibly unearthed in Shaanxi province, in the Los Angeles County Museum of Art, Los Angeles (acc. no. M.89.136.12a-b). Compare also two other gui, both with a coiled dragon medallion at the center of the cover and an inscription on the interior, one sold in our London rooms, 15th April 1980, lot 12, the other in these rooms, 12th June 1984, lot 55.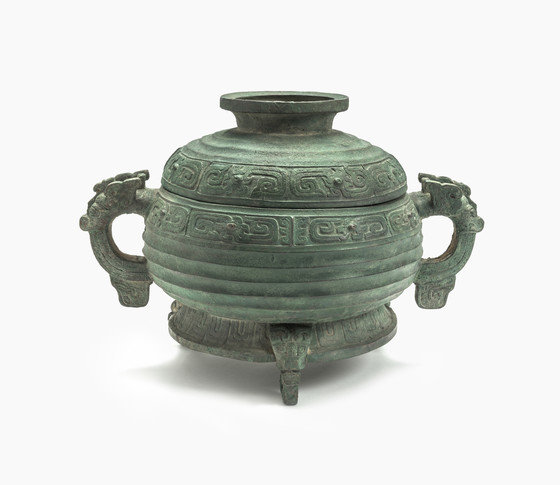 Lidded Ritual Grain Server (Gui) with Double Spirals, China, probably unearthed at Shaanxi Province, Yongshou County, Middle Western Zhou dynasty, about 950-850 B.C. Cast bronze. Lid: 3 3/4 x 8 in. (9.5 x 20.3 cm); Body: 7 1/2 x 10 1/2 in. (19.1 x 26.7 cm). The Claire Behar Bequest given in honor of George Kuwayama (M.89.136.12a-b), Los Angeles County Museum of Art. © Museum Associates 2022
Another closely related Western Zhou dynasty gui and cover sold in our New York rooms, 21st September 2021, lot 33.
An archaic bronze ritual food vessel and cover (Gui), Western Zhou dynasty. Width 13½ in., 34.2 cm. Estimate: 80,000 - 120,000 USD. Lot sold: 151,200 USD at Sotheby's New York, 21st September 2021, lot 33. © Sotheby's 2021
Cf. my post: An archaic bronze ritual food vessel and cover (Gui), Western Zhou dynasty
Sotheby's. Chinese Art Online: A Private Asian Collection, Hong Kong, 3 December 2021