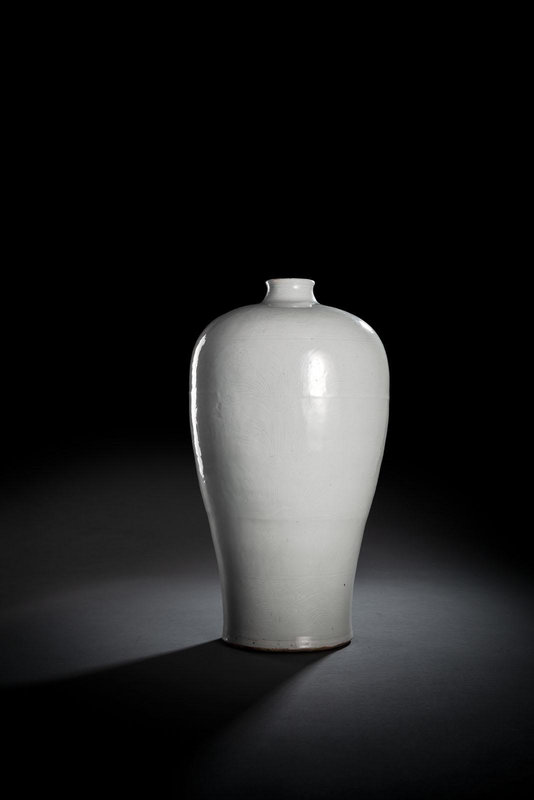 Lot 797. A rare tianbai-glazed meiping, Ming dynasty, possibly Jingtai period (1450-1456). H. 43,5 cm. Sold: €36,000 (Est: €40,000 - €60,000). © 2021 Nagel Auctions
The vase is elegantly potted with high rounded shoulders supported on a gently flaring foot encircling the recessed base. It is finely incised on the body. The stand is unglazed.
Provenance: European private collection, acquired by repute with the French Antique market in the mid 1950's and kept in the same family in Cannes until recent times,
Note: The tianbai glaze has virtually none of the bluish or greenish tinge, which was seen on the earlier qingbai and Shufu glazes made at Jingdezhen in the Song and Yuan dynasties. It was made almost entirely from glaze stone with little or no glaze ash. The glaze was lower in calcium oxide than earlier white glazes, and was higher in potassium oxide. The body of tianbai wares had a higher proportion of aluminium oxide than previous Jingdezhen porcelains and required a higher firing temperature. The result of these changes in composition and firing was a whiter body covered with a purer white glaze than had previously been achieved. The texture of the glaze was also different to that of previous Jingdezhen white wares. The glaze had a silky, unctuous texture, with none of the glassiness seen on qingbai wares. The glaze contained many tiny bubbles, densely distributed in the glaze, which scattered the light as it passed through, imparting an almost jade-like quality. The tiny bubbles which burst on the surface of the glaze also created tiny pin-prick holes, and gave the surface its subtle, characteristic, 'orange-peel' effect.
Nagel Auction. Fine Asian Art Stuttgart - Part II, Stuttgart, 24 June 2021