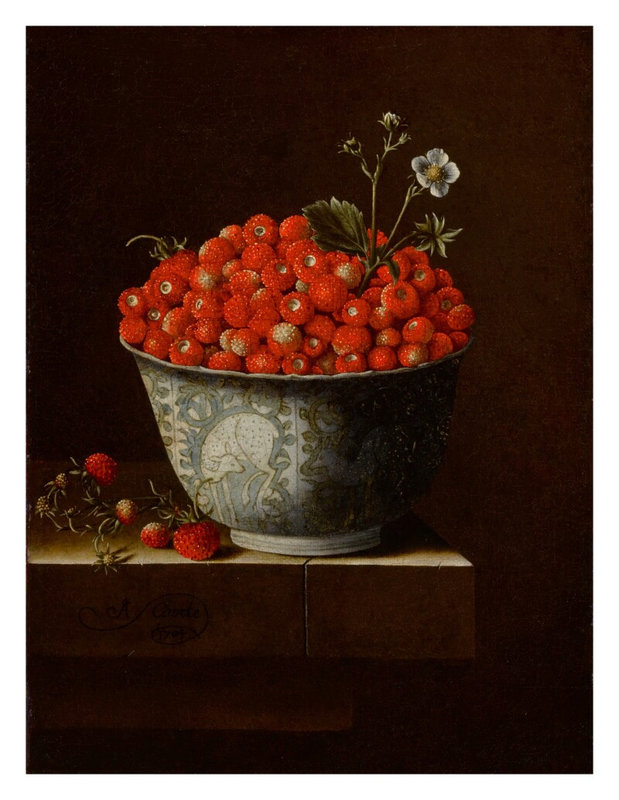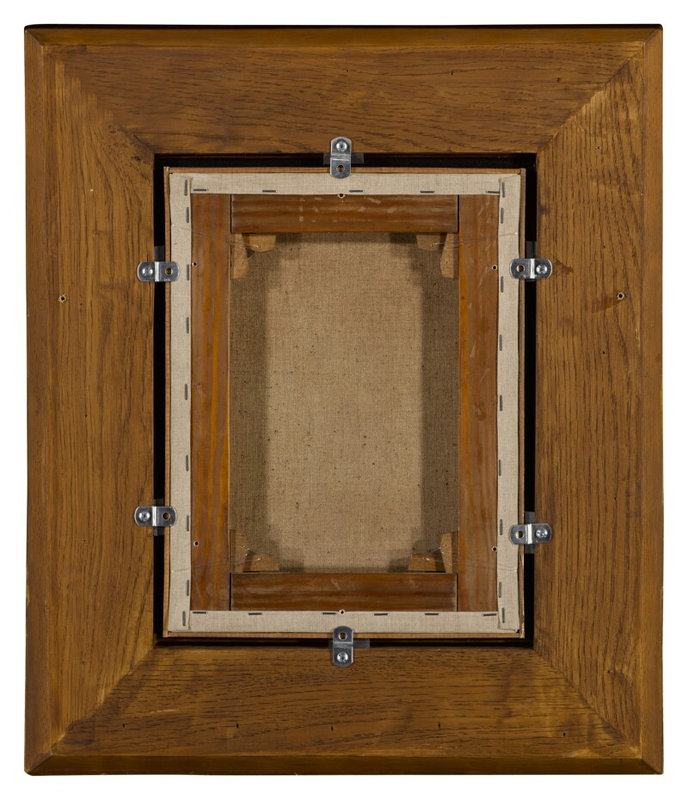 Lot 37. Adriaen Coorte (Middelburg (?) 1660 (?) - after 1707), Still life of fraises-de-bois in a Wanli bowl upon a stone ledge, signed and dated on the stone ledge lower left: A Coorte/1704, oil on canvas, canvas: 11 3/4 by 8 7/8 in.; 30 by 22.6 cm., framed: 19 5/8 by 16 3/4 in.; 50 by 42.5 cm. Estimate: 1,500,000 - 2,000,000 USD. © Sotheby's
Property of a Private Collector, New York.
Provenance: Possibly Auguste Coster, Antwerp/Brussels;
Possibly his posthumous sale, Brussels, Joseph Fievez, 4 – 6 April 1907, lot 68 ('Coorbe [sic] (A.) Fraises. Signé: A. Coorbe 1704. Haut., 0.28 Larg., 0.22. T[oile].');
Private collection, France, for much of the 20th century;
From whom acquired by Bob Haboldt, Paris, 2005;
Exhibited at the Florence Biennale;
There acquired by the present collector, 2005.
Literature: Possibly L.J. Bol, Adriaen Coorte: A Unique Late Seventeenth Dutch Still-Life Painter, Assen 1977, p. 57, cat. no. 63;
Q. Buvelot, The still lifes of Adriaen Coorte (active c. 1683-1707) With oeuvre catalogue, The Hague 2008, pp. 42, 114, cat. no. 55, reproduced p. 6 frontispiece, p. 58, fig. 55;
B. Haboldt, Singular vision: Haboldt & Co.'s old master paintings and drawings since 1983, Amsterdam, New York, and Paris 2012, p. 129, reproduced.
Exhibited: The Hague, Mauritshuis, Ode To Coorte, The still lifes of Adriaen Coorte, 23 February - 8 June 2008, no. 55.
Note: Coorte's deceptively simple still lifes depicting fruit, nuts, vegetables and shells, set against a plain dark background, are enormously appealing to the modern eye. Having fallen into obscurity in the eighteenth and nineteenth centuries, Coorte's work was only first fully published in 1952-53 by Laurens J. Bol. That publication and Bol's subsequent exhibition of twenty-one of Coorte's paintings at the Dordrechts Museum in 1958 brought the artist back into the public's consciousness and secured his reputation as one of the most distinctive and original Dutch still life painters.
The details of Coorte's life are largely unknown; even the years of his birth and death remain a mystery, though he is thought to have been a native of Middelburg in Zeeland. Dated paintings by the artist range from the years 1683-1705. His earliest works feature birds in landscapes and are so close in style to the works of Melchior d'Hondecoeter (1636-1695) that it has led to strong speculation that Coorte worked with him in Amsterdam.1 Bol's research revealed that between 1700 and 1900, most works by Coorte were to be found in collections in Middelburg and its vicinity leading to the conclusion that this is where the artist spent the greater part of his career.2 In addition, in a written record from the yearbooks for 1695-96 of the painters Guild of Saint Luke in Middelburg, it is noted that an artist referred to as "Coorde" was fined for selling paintings in that city without being a guild member. By that date, Coorte had been an active painter for at least thirteen years and it is curious that he would not have been a member of the painter's guild. From this, some scholars have deduced that, perhaps, Coorte was a gentleman painter or amateur.3 Certainly, in his mature style, he does not show the marked influence of other artists, and the restraint and simplicity of his compositions is at odds with the more opulent still life paintings that were the prevailing fashion of the time.
Today, Coorte's known oeuvre consists of about sixty-four paintings. Many of his compositions, like the present one, depict natural objects set on a stone ledge against a dark background. One of his favorite subjects was wild strawberries (fragaria vesca) which he included in no less than eighteen paintings. Sometimes they were combined with other fruits and vegetables, such as gooseberries and asparagus. In other paintings, as here, they are the central focus, most often depicted in a small earthenware bowl and, more infrequently, in a blue and white Wan-Li porcelain bowl. Only three paintings, including the present one, depict strawberries contained in these precious imported porcelain objects. All of these date from 1704, and in each example the porcelain bowl is decorated with intricate deer motifs, making them among the rarest of Coorte's compositions. Of the three extant pictures of this specific type, one is in the Los Angeles County Museum of Art, and the other is in the Ivor Foundation.4 The third and last remaining example is the present canvas.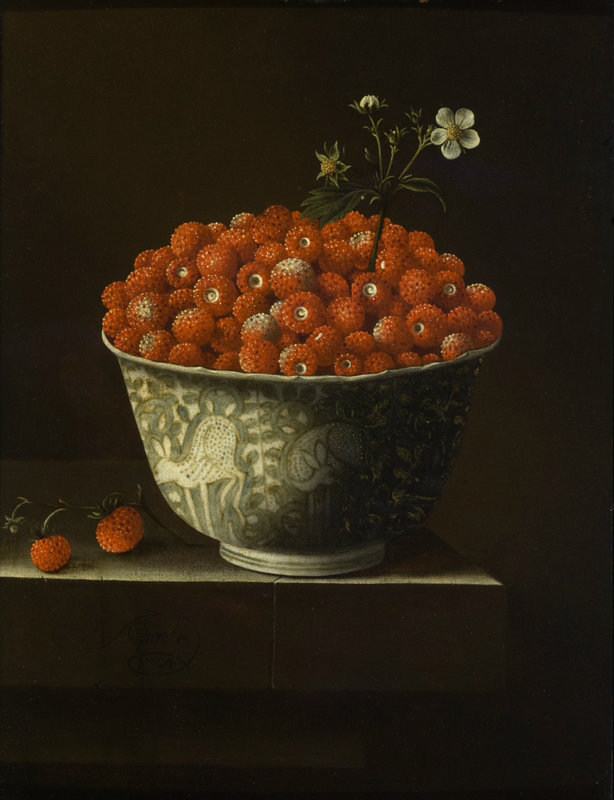 Adriaen Coorte (Holland, Middelburg (?), active 1683-1707), Wild Strawberries in a Wan Li Bowl, 1704. Oil on paper, mounted on wood. Panel: 11 5/8 x 8 7/8 in. (29.53 x 22.54 cm); Framed: 18 3/4 x 16 x 2 in. (47.63 x 40.64 x 5.08 cm). Gift of Mr. and Mrs. Edward William Carter (M.2009.106.5), Los Angeles County Museum of Art.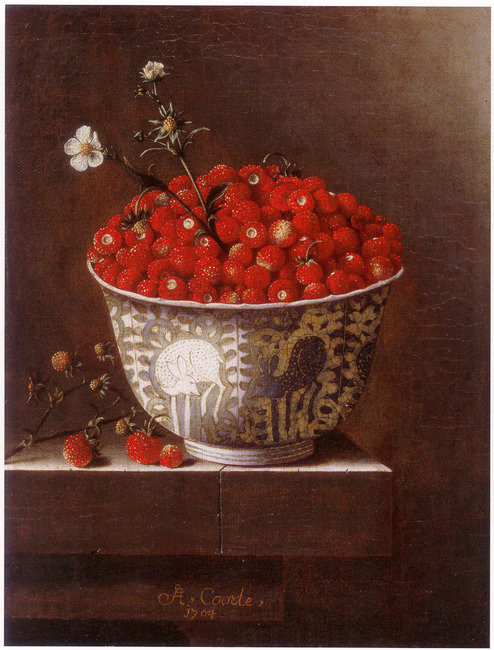 Adriaen Coorte, Still life with strawberries in a Wan-Li bowl, signed and dated lower center : A, Coorte , / 1704. Oil on canvas,29.5 x 22.8 cm, Ivor Foundation, New York City
Here, the vibrant red of the tiny berries is varied with greenish yellow patches on some of the fruit, and their stippled texture has been meticulously rendered. A single white blossom sprig juts vertically out of the bowl, a compositional device which Coorte employed in other works of this type. A small cluster of berries with their stems still attached casually rest on the stone ledge just to the left of the Wan-Li bowl. The rich red hues of the berries are juxtaposed by the cooler tones of the porcelain bowl, which itself is carefully and minutely drawn with linear deer designs. The composition is intensely focused and intimate, a feeling made all the more visceral by the hallmark starkness of the blank background, and the soft, diffuse light which washes over the scene with effortless elegance.
1. Buvelot 2008, cat. nos. 2 and 3, both signed and dated 1683, in the collection of Fondation Aetas Aurea and Ashmolean Museum, Oxford respectively.
2. Buvelot 2008, p. 18 and Bol 1977 pp. 4-5 and 31.
3. Buvelot 2008, p. 18.
4. Buvelot 2008, cat. nos. 53 and 54.
Sotheby's. Master Paintings & Sculpture Part I, New York, 27 January 2022