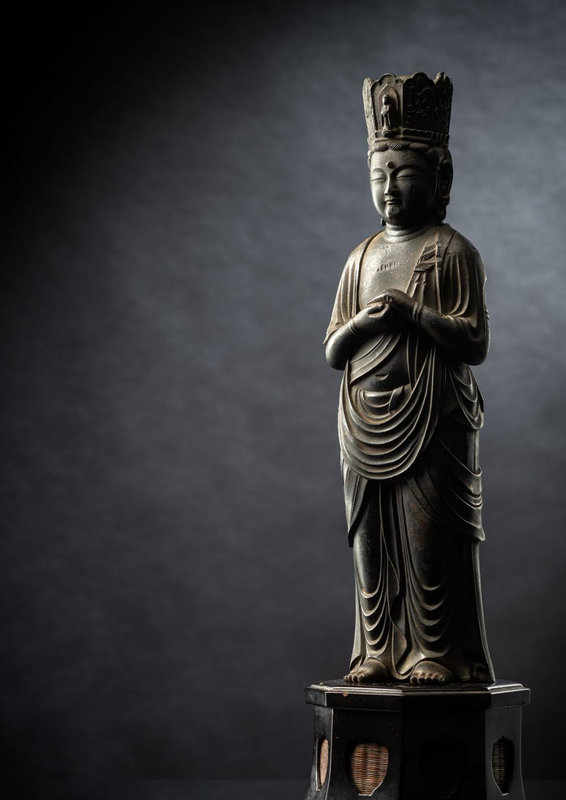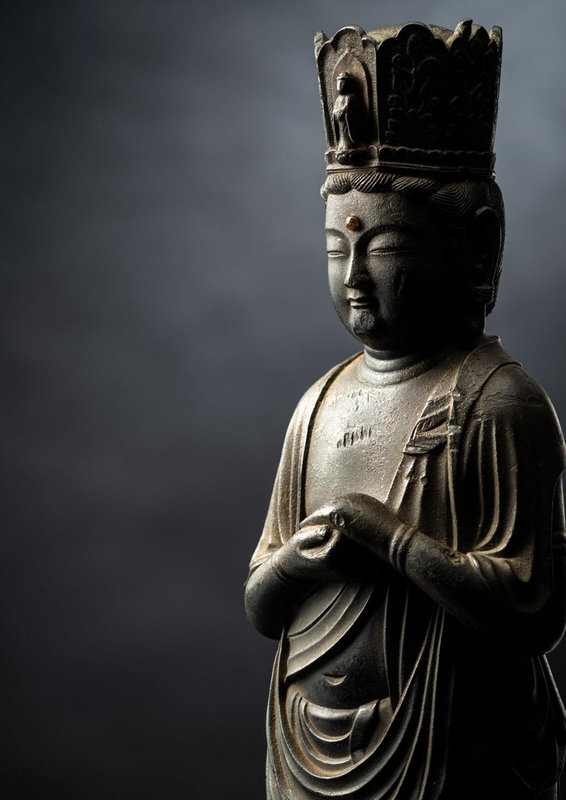 Lot 566. A rare bronze figure of Kannon Bosatsu (Bodhisattva) in Zenkôji-style, Japan, Kamakura period, 13th-14th century. H. 34,3 cm. Sold: €88,000 (Est: €40,000 - €60,000). © 2021 Nagel Auctions
The hands held in front of the navel, the left hand covering the right hand, the head adorned by a six-leaved crown with a central Amida Nyorai figure, the hexagonal base of lacquered wood, probably 19th century.
Provenance: German private collection, purchased from Gregg Bake London.
An OxfordTL-Analysis N118j66 is consistend with the dating of this lot.
Note: This Kannon Bosatsu belongs to a group of images modelled after the original Amida triad including two attendant Bosatsu kept at Zenkôji temple in Nagano prefecture.
The original triad was designated as hibutsu (hidden Buddha) and withheld from public view from the year 654 onward.
In the Kamakura period, a replica of this triad was made as an alternative devotional image. However, this version also became a hibutsu and is only unveiled once every seven years for viewing.
During the Kamakura and Muromachi periods numerous Zenkoji-style Amida triads were produced in bronze. By ritual sanctification, they were thought to be just as efficacious and salvific as the original.
Generally, the central Amida Nyorai figure is approximately 45 cm high and the two attendant Bosatsu measure approximately 30 cm. They are cast in one piece. The various 'replica' figures differ in style, details and pedestal.
Besides the archaistic six-leaved crown, the position of the hands of the two Bosatsu are specific to the Zenkôji-style. The hands which are held almost horizontally, straight or cusped in front of the chest, can be associated with the buppatsu-in, a mudra found with Shaka Nyorai sculptures.
Kannon Bosatsu and Seishi Bosatsu can be identified only by their emblems in the central leaf of the crown, a small Amida for the Kannon and a ewer for the Seishi. Many of these Kamakura period Amida triads in Zenkôji-style bear an inscription and/or date, usually on the back of the main image. The figures stylistically most comparable to the current Kannon Bosatsu are those Bosatsu included in a bronze triad of the Engakuji temple in Kamakura, Kanagawa prefecture. They are dated to the year 1271 and are enveloped by a single aureole (ikkô sanzon kôhai). The two pegs at the back of the present figure probably served to affix the figure to such an aureole.
For examples of Amida triads in Zenkôji-style see: Tokubetsu ten Kamakura jidai chôkoku, Tokyo koruritsu hakubutsukan, Tokyo 1975, nos. 101-105; Victor Harris and Ken Matsushima, Kamakura. The Renaissance of Japanese Sculpture 1185-1333, British Museum, London 1991, no. 38 (triad owned by Seikoji, Chiba; dated 1300) and Asia Society Museum, ed., Kamakura. Realism and Spirituality in the Sculpture of Japan, New Heaven/London 2016, p. 128-129, no. 37 (triad in the John C. Weber Collection).
Nagel Auction. Fine Asian Art Stuttgart - Part II, Stuttgart, 24 June 2021