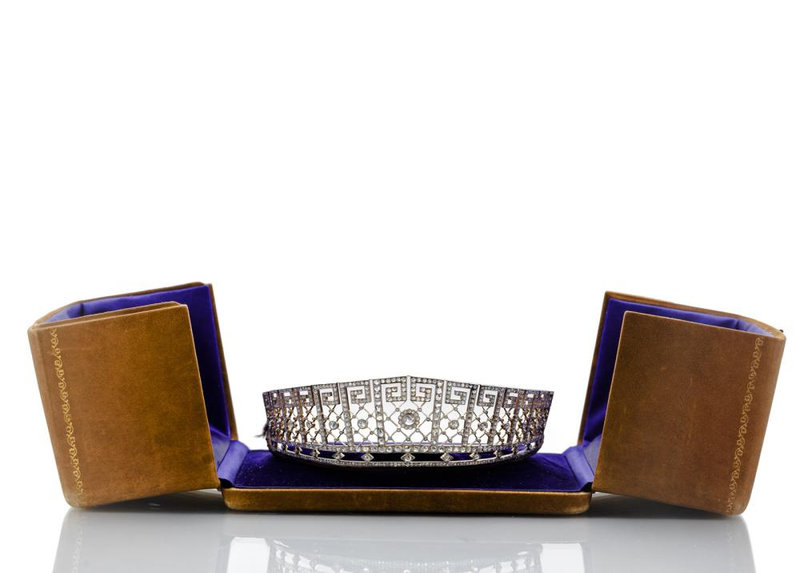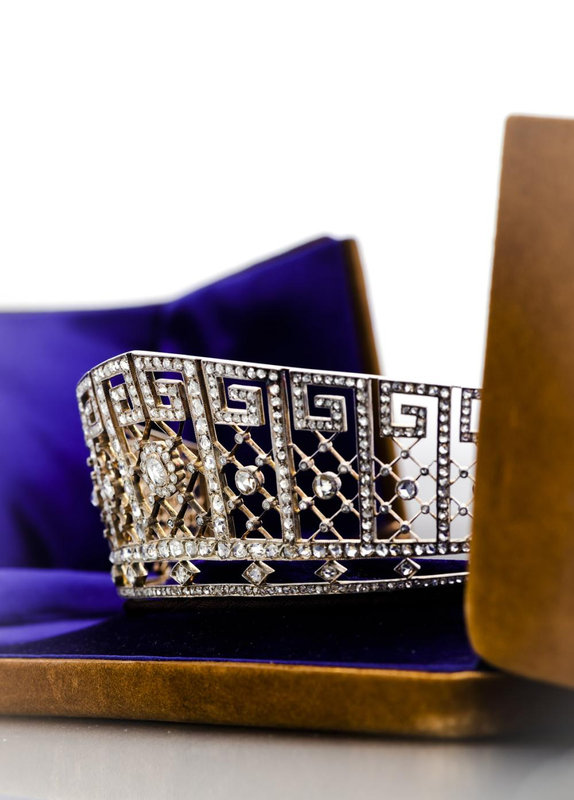 Lot 2085. An exceptional diamond set tiara, probably Great Britain, circa 1900 . Sold: €47,000 (Est: €6,000 - €10,000). © 2021 Nagel Auctions
5,3 x 15 cm 12kt yellow gold and silver (tested). Openwork in lozenge and meander shapes and set with 752 briolette and rose cut diamonds (total approx. 17.7 ct.). Approx. 75.3 g. With original case.
Provenance: From the Estate of the jewellery expert Dr. Carl Ludwig Fuchs.
Note: The diadem experienced its greatest heyday in the period of classicism from around 1800. As an important and stylish accessory, it went perfectly with the antique fashion. In ancient Greece, the diadema was used to denote any armband swung around the head, but especially the armband of the athletic winner and the priest. Later the term was reserved solely for the royal armband, which was supposedly invented by Dionysus. The diadem has been part of the emperor's regalia since Constantine. It only belongs to the ruling Augustus and Augusta. Even in classicism, the piece of jewelry was only worn by high-ranking (female) princely personalities. This can be seen in the portraits of the European rulers as well as the variety of its design options. Queen Luise of Prussia preferred "simple" models, preferably in the form of a Greek temple gable. Empress Josephine, on the other hand, owned a large collection of magnificent tiara richly set with diamonds. In the course of the 19th century, after the stately privileges ceased to exist, the piece of jewelery gained importance as a fashion accessory for festive hairdressing. The bride still likes to wear it to the wedding today.
Nagel Auction. Fine Arts, Antiques & Jewellery - Part I, 15 December 2021