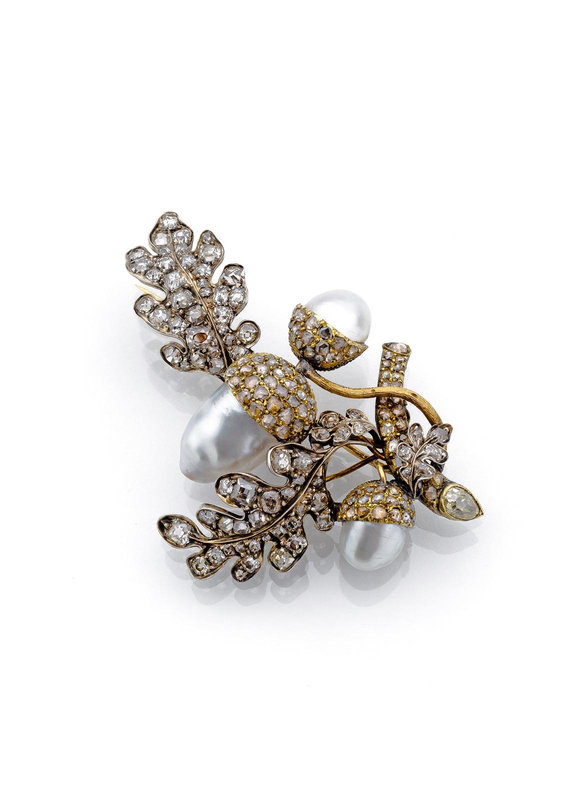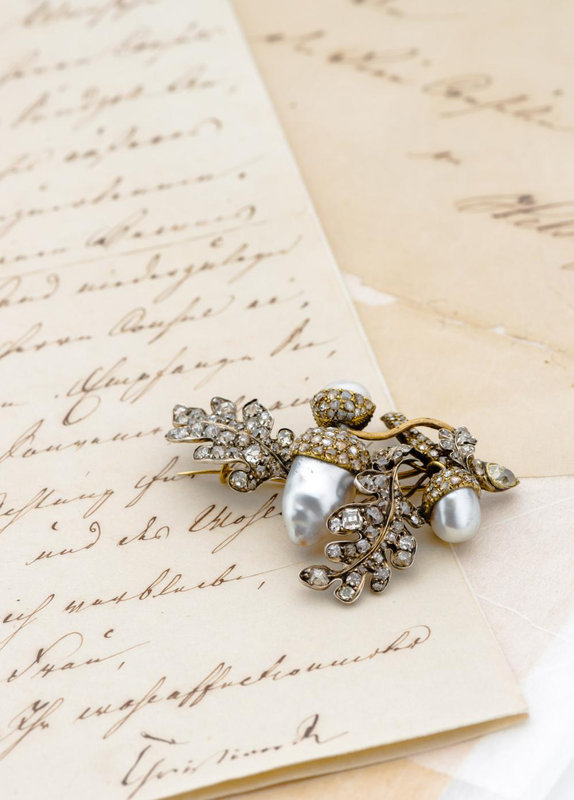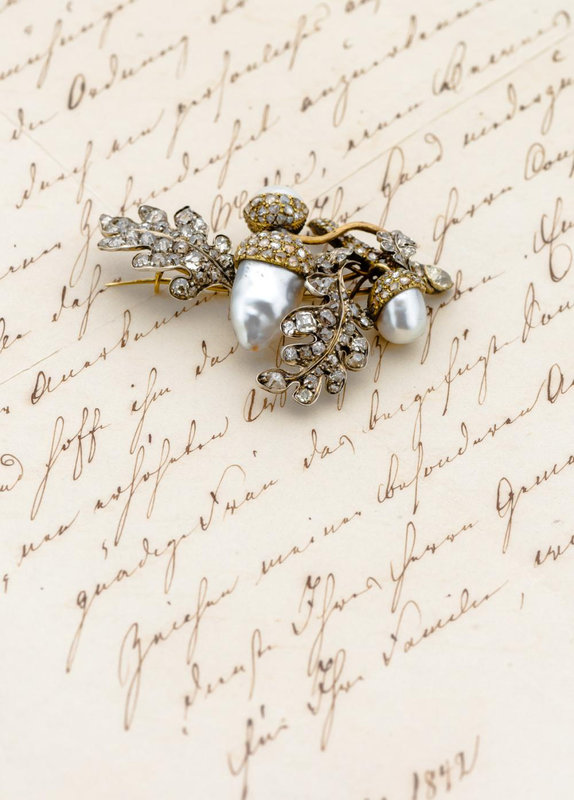 Lot 2080. Natural pearl and diamond brooch, Denmark, ca. 1842, present from King Christian VIII of Denmark to Mrs. Consulin Macgregor in Helsingoe. Sold: €22,000 (Est: €8,000 - €10=2,000). © 2021 Nagel Auctions
6,7 x 4,9 cm 750 yellow gold and silver (tested). 3 baroque natural pearls, large pearl 19x13x11 mm, medium pearl 13x10x9 mm, small pearl 12x10x11 mm. Approx. 164 diamonds in different old European cut shapes together approx. 9.5 ct. 29.6 g. Naturalistic representation of an oak branch with 3 acorns.
Expert opinion on the pearls Elisabeth Strack, Gemmological Institute Hamburg, No. 81958, Hamburg, June 29th, 2017.
Provenance: Gift of King Christian VIII of Denmark to the wife of the British consul Francis C. Mac Gregor in Helsingoer in 1842. Family owned by inheritance until 2012, then private collection in Berlin.
Note: The original letter from King Christian VIII to the consul Mac Gregor shows that the brooch presented as a souvenir was a kind of bribe to the British consul Mac Gregor. The reason for this is the Sundzoll mentioned in the letter. The sound tariff had been levied in Helsingoer since 1429, and was aimed at all non-Danish ships. These customs revenues were extremely important to Denmark as they were one of the country's largest sources of income. The high levies of this sound tariff always caused great resentment among all seafaring nations. There have been repeated efforts to lower this customs revenue or to bring it to a standstill. In 1841 England, Sweden and Russia signed new treaties with Denmark, which included further recognition of the sound tariff (albeit with reduced rates in some cases). In 1842, under international pressure, the Sundzoll was reduced to 1 percent of the value of the goods for all nations. In 1857 it was finally abolished entirely. The events and negotiations in 1841 and 1842, in which the British consul was probably significantly involved, seem to be directly related to the royal present to the consul.
Nagel Auction. Fine Arts, Antiques & Jewellery - Part I, 15 December 2021