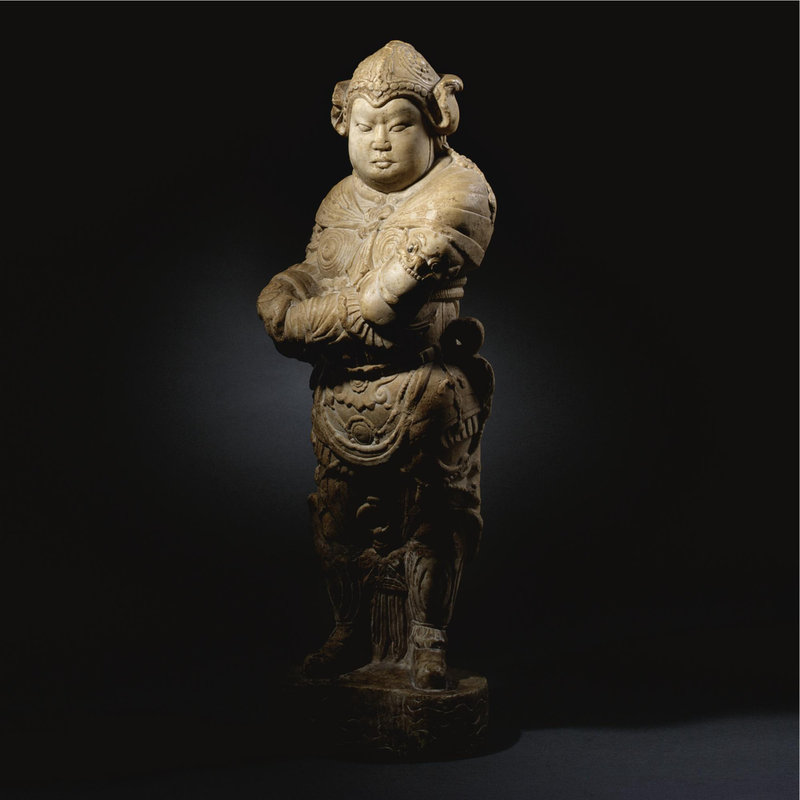 Lot 29. A rare white marble figure of a lokapala, Tang dynasty, 8th century; 51.5cm., 20 1/8 in. Sold 96,000 GBP (Estimate 80,000 - 100,000 GBP). © Sotheby's.
the guardian finely carved standing, his body slightly twisted to the right with both hands resting atop his sword (now missing), dressed in full armour with large circular breastplates and a bow-tied cape around his shoulder falling over flowing sleeves emerging from dragon-head epaulets, all above an apron over a fringed battle skirt and tunic sweeping majestically out to his right side, his rotund face with large eyes, broad nose and a bow-string mouth framed by a tight-fitting tri-lobed helmet tied with a cord beneath his chin, the stone patinated to a warm ivory tone.
Provenance: From the collection of a former Ambassador to China, thence by descent.
Note: Marble figures of the Tang dynasty are extremely rare and only a very small number of examples can be found in museum and private collections. The majority of Tang figures are earthenware, while marble was possibly reserved for special religious statues. Traces of the original gilding and painted colour are still visible confirming the lavish decoration of sculptures of this type.
See a comparable pair of marble guardian figures, excavated at Xi'an, Shaanxi province, included in the exhibition China. Dawn of a Golden Age 200-750 A.D., the Metropolitan Museum of Art, New York, 2004, cat.no. 231. See also two figures of hunters also carved of white marble, recovered from the tomb of Yang Sixu who was buried in A.D. 740 in Dengjiapocun near Xi'an, and today preserved in the Museum of Chinese History, Beijing, illustrated in Zhongguo meishu quanji. Diaosu bian, vol. 4, Beijing, 1988, pls. 142 and 143, together with a much larger marble guardian figure lacking its head and one arm, in the Shaanxi Provincial Museum, pl. 86.
Lokapala or Heavenly Guardians were protectors of the four directions who reside on Mount Sumeru in Buddhist cosmology. In Buddhist temples they were placed at the four corners of the altar to protect Buddha. They were sculpted as formidable warriors wearing a military garb, standing in a threatening pose with a fierce facial expression to rouse fear in their adversaries.
Sotheby's. Fine Chinese Ceramics & Works Of Art, London, 15 May 2007