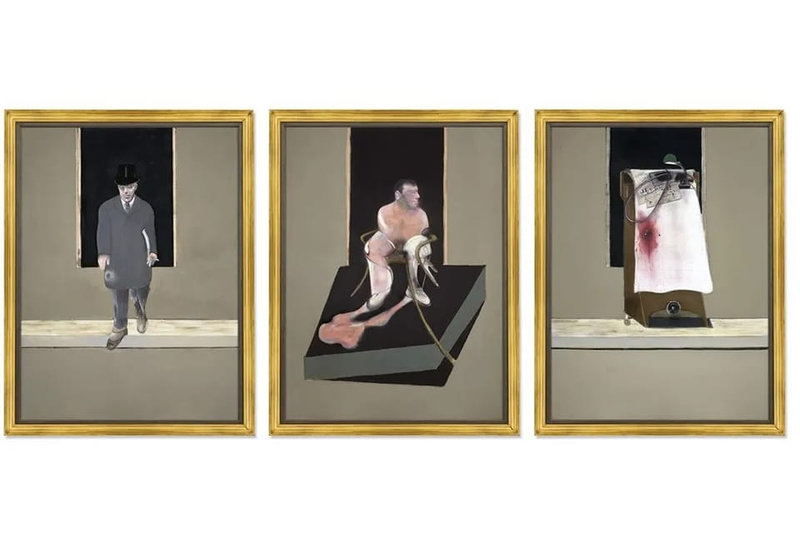 Francis Bacon (1909-1992), Triptych 1986-7. Signed, titled and dated (on the reverse). Oil, pastel, aerosol paint and dry transfer lettering on canvas, each: 78 x 58in. (198 x 147.5cm) Executed in 1986-1987. © Christie's Images Ltd 2022.
LONDON.- Francis Bacon's Triptych 1986-7 (estimate: £35,000,000-55,000,000) will be offered at auction for the first time in Christie's 20th / 21st Century: London Evening Sale, a key auction within the 20/21 Shanghai to London sale series, which will take place on 1 March 2022. An extraordinary meditation on the passage of time, and a rhapsody on the solitude of the human condition, Triptych 1986-7 stands among Bacon's last great paintings. Across three monumental canvases, his most rare and celebrated format, he entwines imagery drawn from the annals of twentieth-century history with a poignant, retrospective view of his own life and art. Originally unveiled in New York in 1987 at Marlborough Gallery, Christie's will exhibit the work at Rockefeller Center from 10 to 15 February 2022.
The suited figure in the left-hand panel is based on a press clipping of the US President Woodrow Wilson, stepping forward as he was leaving the Treaty of Versailles negotiations in 1919; the right-hand panel was inspired by a photograph of Leon Trotsky's study taken after his assassination in 1940. In the centre sits a figure resembling Bacon's then-partner John Edwards, his pose reminiscent of the artist's beloved George Dyer in the haunting eulogy Triptych August 1972 (Tate, London). Widely exhibited throughout its lifetime, Triptych 1986-7 was most recently seen in the Centre Georges Pompidou's acclaimed exhibition 'Bacon en Toutes Lettres' (2019-20).
Katharine Arnold, Head of Post-War and Contemporary Art, Christie's Europe: "Francis Bacon is unmistakably one of the greatest painters of the 20th century. He captured everything it is to be human, unafraid to elevate rapturous love or bring to the fore the deep anguish of grief. His ability to translate the full gambit of our emotions is perfectly encapsulated in this masterpiece, Triptych 1986-7. The rare, large-scale triptych format offered Bacon the opportunity to trace his life back through the historic events of the 20th century, instilling the canvases with his lived experiences, his triumphs and his traumas. Christie's is thrilled to present the painting as a leading highlight of our London Evening Sale. Created at the same time as Lucian Freud's magnificent Girl with Closed Eyes, the two paintings will offer collectors the opportunity to acquire works that have been treasured in separate private collections. Both paintings have been widely exhibited, testament to their stature within the oeuvres of Bacon and Freud respectively. The quality and power of such masterpieces are sure to appeal to our global collector base."