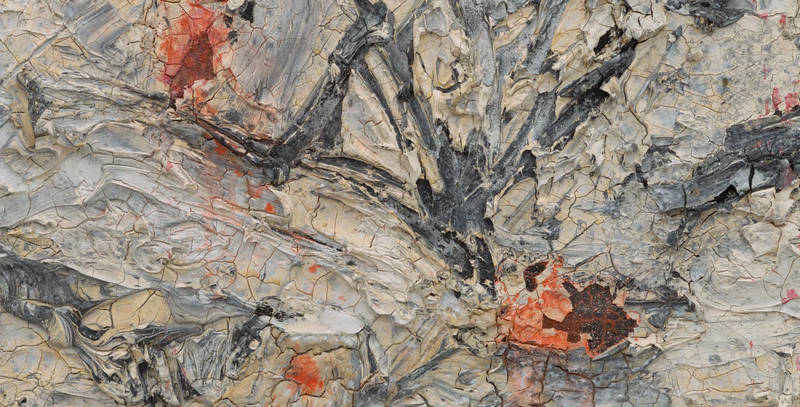 Lot 152. Anselm Kiefer (b. 1945), Wundtau regnet, signed L. Fontana, oil, emulsion, acrylic, coal and lead on canvas, in two parts, 380 by 380 cm. 149⅝ by 149⅝ in. Executed in 2011. Lot sold: 693,000 GBP (Estimate: 600,000 - 800,000 GBP). © Christie's 2022
Property from a Private European Collection.
Provenance: Galerie Thaddaeus Ropac,
Salzburg
Acquired from the above by the present owner in 2011
Exhibited: Salzburg, Galerie Thaddaeus Ropac, Anselm Kiefer: Alkahest, July – September 2011, p. 59 and 61, illustrated in colour
Berlin, Me Collectors Room, MOVING ENERGIES – 10 years me Collectors Room Berlin, February – May 2020
Note: Executed in 2011, Wundtau regnet presents an intellectually complex, viscerally charged, and visually stunning composition in which Anselm Kiefer's unusual working materials coalesce to produce a painterly and symbolic blend of mythology, history, and language, presenting at once a distillation of the essential conceptual aims and visual gestures of the artist's oeuvre. Rendered in Kiefer's characteristic grand scale and contemplative tones, the present work emanates the artist's idiosyncratic sense of esoteric lyricism.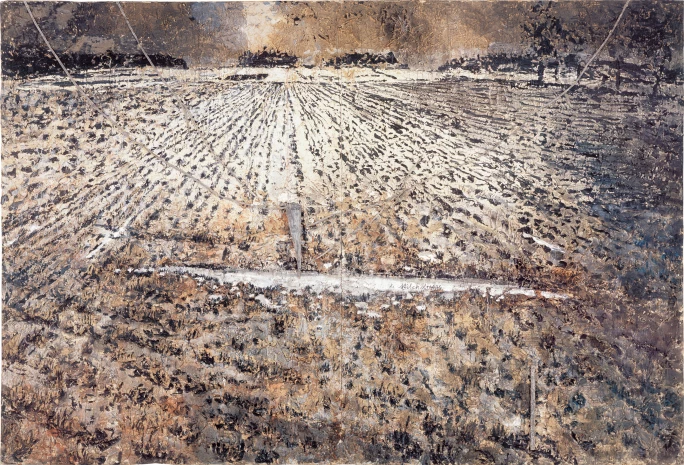 Anselm Kiefer, Die Milchstrasse, 1985-87, Albright-Knox Art Gallery, Buffalo. Image: © Albright Knox Art Gallery/Art Resource, Ny/Scala, Florence. Artwork: © Anselm Kiefer 2022
Suffused with a multiplicity of associations, Wundtau regnet displays Kiefer's aesthetic forged from the evisceration of the past and symptomatic of the psychological affliction of warfare. Through the transformation of quotidian constituents into something of extreme metaphorical significance, the German artist emphasizes the transformative potential of matter to become an object of intensely evocative power. Entirely immersing the viewer in its desolate, unearthly landscape, the present work is part of a grouping of large-scale canvases, sculptures and small paintings, that are all related to the processes of alchemy and alkahest. The Alkahest works focus on the mountains as a place of translocation, transformation and dissolution of matter:
"The term Alkahest signifies that there is a solution which can dilute any substance. This idea comes from the alchemists. Dilution is of course something very important for me. I often lay pictures on the floor and pour water over them, or pour on water that has paint dissolved in it. So I'm exposing them to dilution… Water has to do with erosion. Whole mountains, and sediments that have accumulated over millions of years, are carried down to the sea by water. Water contributes to the cycle. Rock that looks as though it will last for ever is dissolved, crushed to sand and mud." Anselm Kiefer quoted on: Salzburg, Thaddaeus Ropac, Alkahest, 2011, Press Release (online)
Referencing Nordic mythology, the narrative basis for Wundtau regnet comes from the song of the Valkyries. In the poem Darraðarljóð, from which the title of the present work Wundtau regnet is taken, the Valkyrie, a seeress foretelling the fate of men upon the battlefield, appears to prophesize the outcome of the next day's battle from a loom she is weaving by stating "Blood rains from the cloudy web". The icy winter landscape, with the wide plain lying at the bottom of a majestic chain of snow-capped mountains, thus becomes a battlefield, a theatre of death, upon which bloody holes engorge. Kiefer's distinctly poetic understanding of composition and visual rhythm is evident in Wundtau regnet, creating a bleak landscape rendered with a terrestrial impasto coalescing to produce a both physical and symbolic blend of mythology, history and language.
Born in the German state of Baden-Württemberg in 1945, Kiefer was raised in a Catholic family and spent his youth playing in the ruins left in the wake of World War II. This visual and psychological landscape would prove to be highly influential to the artist. As his practice developed Kiefer began to use myth and religion as lenses through which to examine the legacy of Nazism and the Second World War, seeing in both a dialectics of control. He saw German soil as marked by its history, and his paintings often constitute an attempt to render tangible that indelible stain.
Wundtau regnet typifies Kiefer's unique ability to create vibrantly abstract yet simultaneously representative surfaces, building up great vistas with areas of indefinite tonal forms and varied textures. Rich layers of paint, coal, led and other earthly materials that reference the subject of the painting introduce a sculptural element to Kiefer's work. The resulting encrusted, impasto surface fluctuates between opaque abstraction and lucid vision, a mutated memory. The effect is immersive, all-encompassing and a highly emotional experience for the viewer. Through the symbolic weight of the ploughed landscape, Wundtau regnet engages with a great German tradition, championed by his fellow countryman, the nineteenth-century Romantic painter Caspar David Friedrich, of foregrounding an emotional response to the natural world. In tandem with the impressive scale of the work, Kiefer toys with the idea of the sublime, a key tenet of German Romanticism. Kiefer's apparent battle scenes offer the viewer a spiritual contemplation of the landscape as a potent reflection of the conditions of man. This work exudes a sense of stillness and silence that intoxicates the viewer with a sharp sense of melancholy. Kiefer's ability to transform a painting's material reality into an object of substantial metaphorical significance lies at the heart of the artist's invention.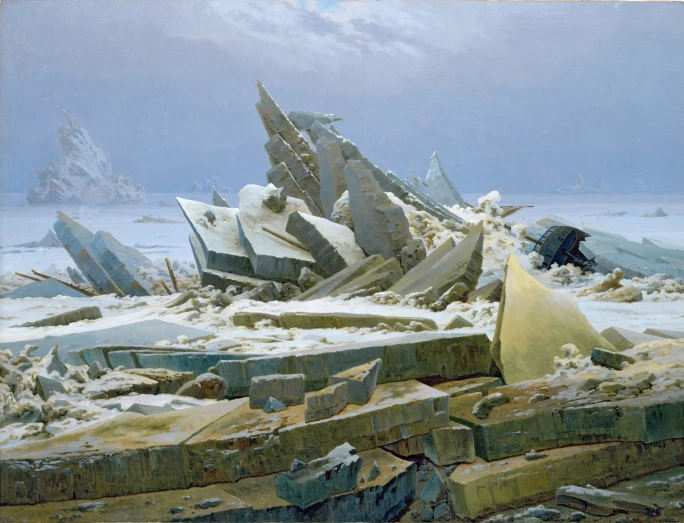 Caspar David Friedrich, the Polar Sea, 1824, Hamburger Kunsthalle, Hamburg. Image: © Bridgeman Images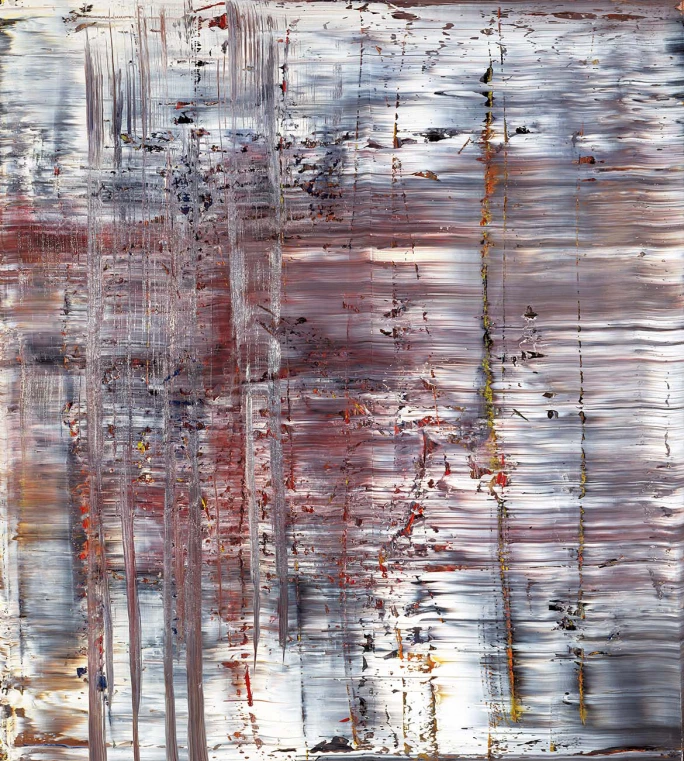 Gerhard Richter, Abstraktes Bild, 1990, Staatliche Kunstsamlungen, Dresden. Image/Artwork: © Gerhard Richter 2022 (0032)
"[For Kiefer, the land is a] metaphysical place where the artist attempts to understand complex ideas and themes and then integrate them into his physical surrounding. This place is the mind itself, at once malleable and steadfast, a filter through which concepts are pondered, invented, buried or transformed. Secret rites are performed there, and history is reordered; all is possible." Mark Rosenthal quoted in: Exh. Cat., Chicago, Art Institute And Philadelphia, Anselm Kiefer, 1987, p. 22.
Kiefer's oeuvre essentially explores the human condition, through an emotive use of material and medium. Shifting between the sacred and the profane, the celestial and the ruinous, the beautiful and the barbaric, Wundtau regnet is exemplary of Kiefer's mastery in weaving the disparate threads of personal biography, materiality, collective cultural psyche, myth, poetry, and prose, together in his work that has earned him a position as one of the most important artists of his generation.
Christie's. Modern & Contemporary Evening Auction, London, 2 March 2022