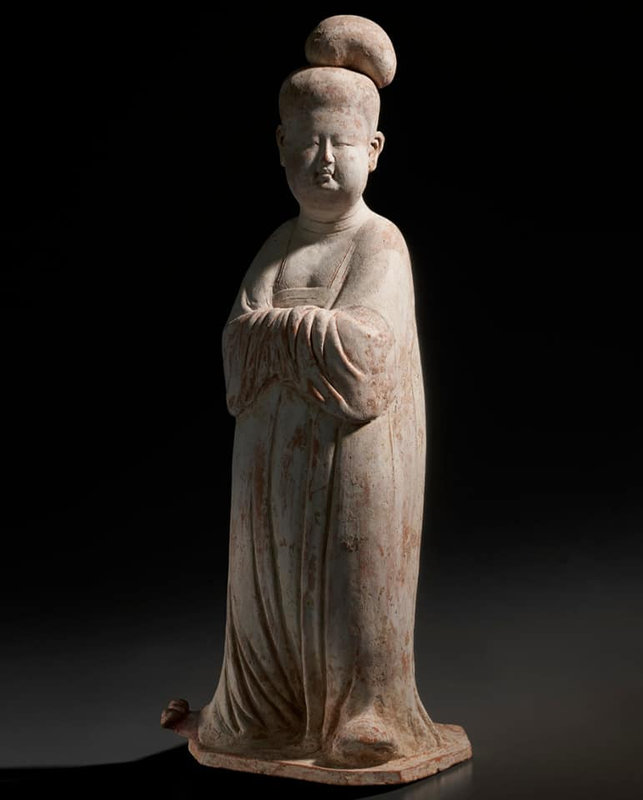 Lot 1061. A large painted pottery figure of a court lady, Tang dynasty (AD 618-907); 21 1⁄4 in. (54.5 cm.) high. Estimate USD 50,000 – USD 70,000. Price realised USD 75,600. © Christie's 2022
The lady is shown standing on a short base with the arms folded across the chest and concealed by the long sleeves of her robe, which falls in heavy folds to the base to reveal the right foot dressed in a flower-tipped slipper.
Provenance: Galaxie Art (B. K. Wong), Hong Kong, 25 November 1990.
Note: This elegant figure, beautifully modeled with carefully incised lines that suggest the folds of the garment, is a particularly large and charming example of the court ladies that became fashionable in the second half of the Tang dynasty. The reign of Emperor Ming Huang seems to have heralded the growth in popularity of a more generous female form and the adoption of less structured, flowing robes. This change in style has traditionally been attributed to the influence of the emperor's adored concubine Yang Guifei, who was reported to have had a rather voluptuous figure. Yang Guifei was held partly responsible for the circumstances that led to the An Lushan rebellion of AD 756, and she was executed by the accompanying troops as she and the Emperor fled to Sichuan. The Emperor's grief at her loss was immortalized in one of China's best- known literary works, The Song of Eternal Regret. However, excavated figures suggest that this fashion was already coming to prominence by the time that Yang Guifei won the emperor's admiration.

The figures of this type usually hold their hands in front of them, in order to provide a more graceful arrangement of their sleeves. Some have their hands completely hidden, as can be seen in the present court lady and three other figures from the Schloss Collection. See J. Baker, Seeking Immortality - Chinese Tomb Sculpture from the Schloss Collection, Bowers Museum of Cultural Art, Santa Ana, 1996, p. 34, no. 17.

Compare two similarly modeled painted pottery court ladies sold at Christie's New York, 2 June 1989, lot 136 and 16 September 1998, lot 343, and a third example, shown holding a dog, 21 March 2002, lot 100.

The result of Oxford thermoluminescence test no. C122a27 is consistent with the dating of this lot.
Christie's. Important Chinese Ceramics and Works of Art, New York, 25 march 2022