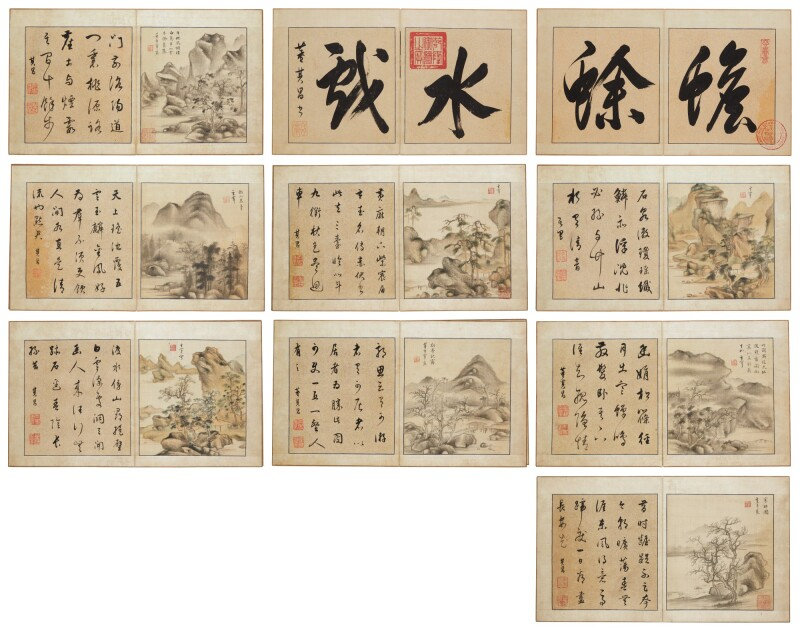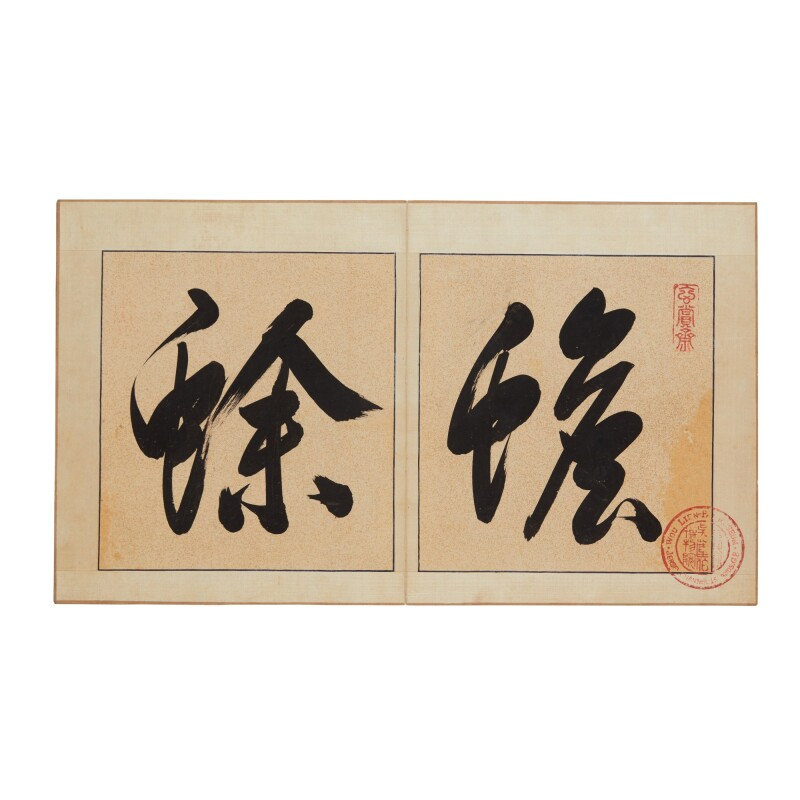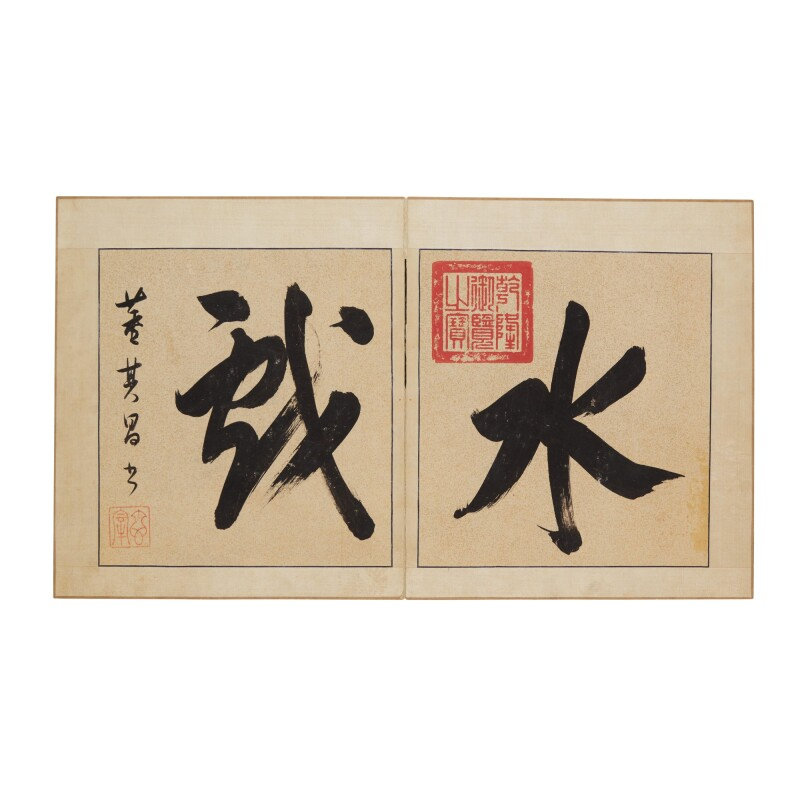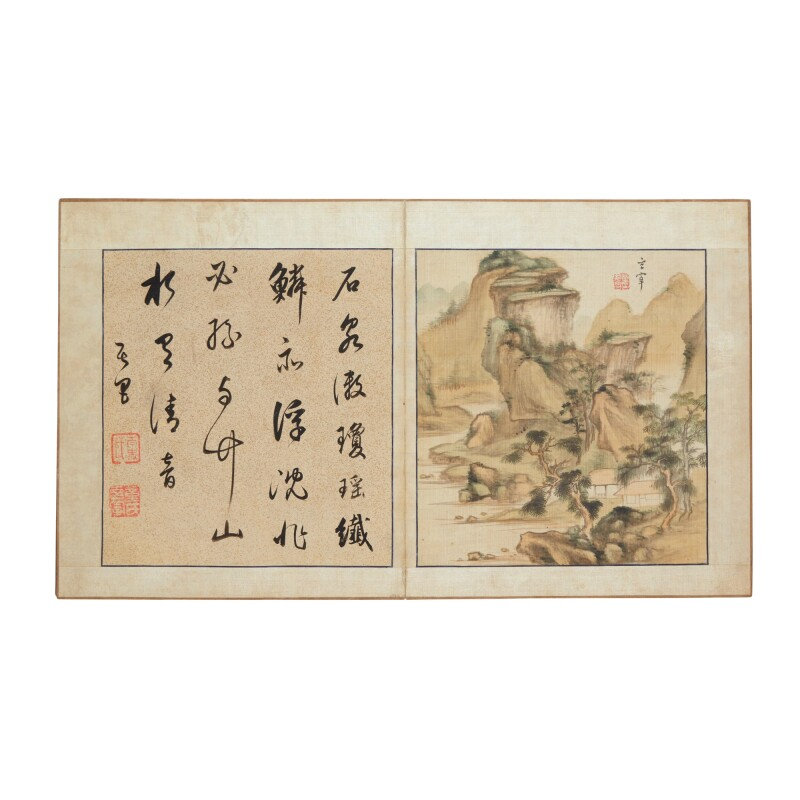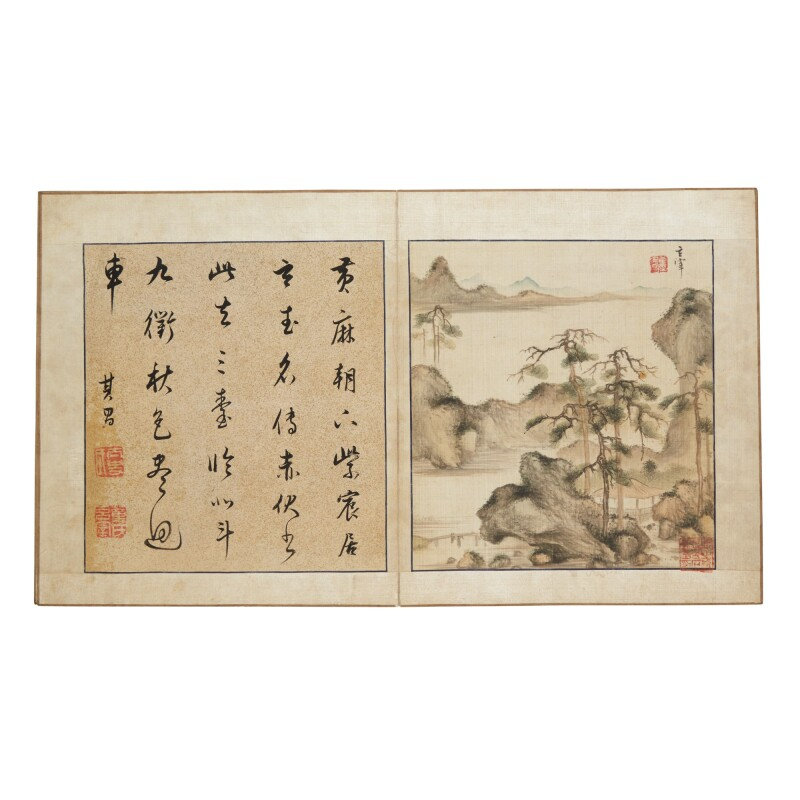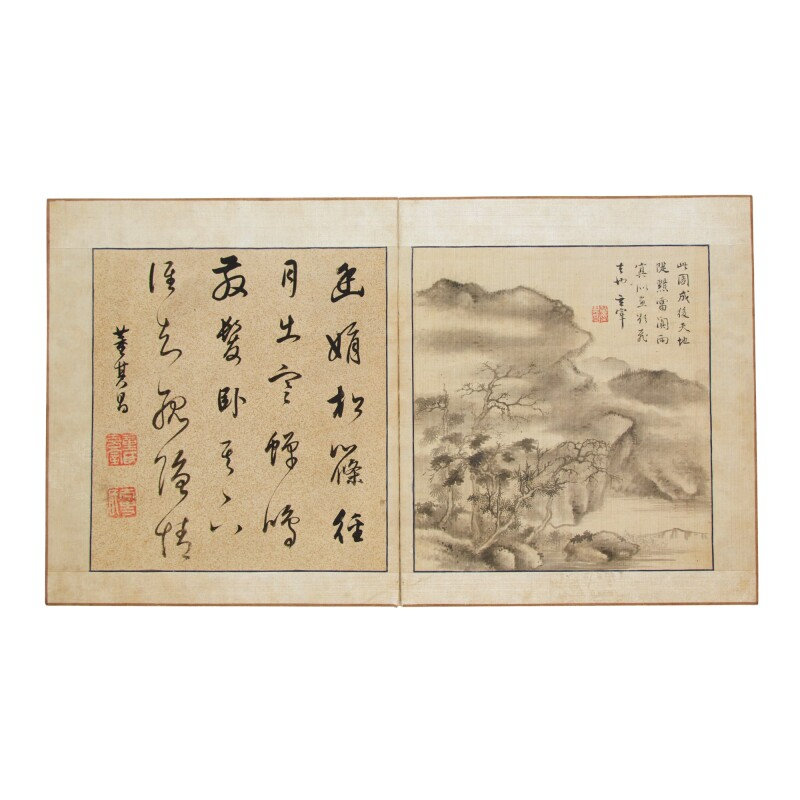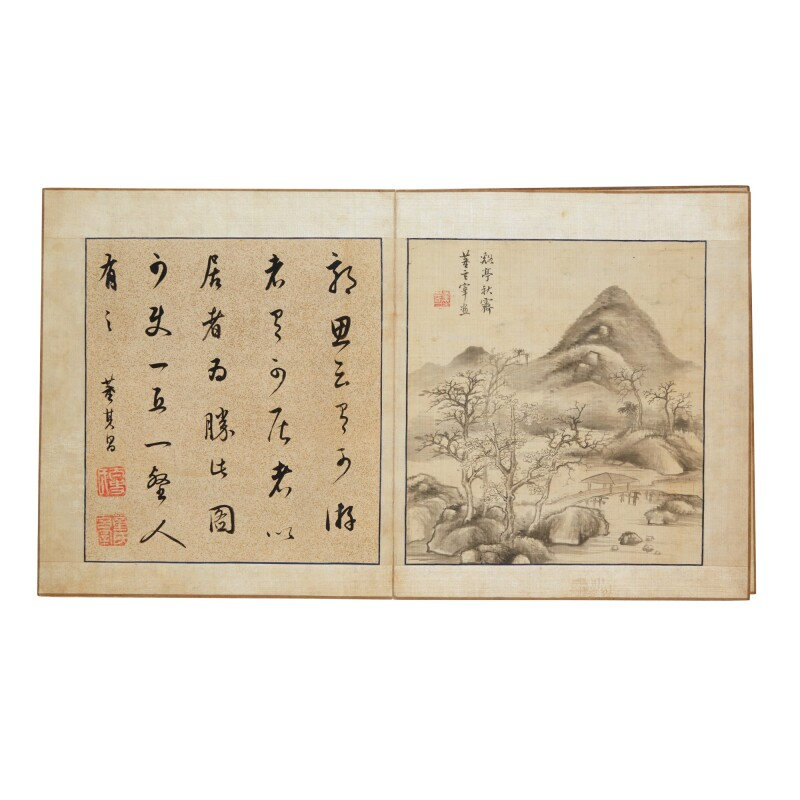 Lot 62. Attributed to Dong Qichang (1555-1636), Calligraphy and landscape, ink on gold-flecked paper (calligraphy), ink and color on silk (painting), album of eight leaves, ink on paper (calligraphy), ink and color on silk (painting), album of eight leaves. Height 9⅝ in., 24.4 cm; Width 8⅞ in., 22.6 cm. Estimate: 200,000 - 300,000 USD. Lot sold: 69,300 USD. © Sothebys.
Provenance: Collection of Wou Kiuan (1910-1997).
Wou Lien-Pai Museum,

1970-present, coll. no. 224

.
Note: Dong Qichang was a native of Huating (present-day Shanghai), who came from a poor but scholarly family and displayed a precocious intellect as a child, passing the prefectural civil service exam at the age of twelve. This allowed him a to receive good education that prepared him for a career in the Ming government bureaucracy. He eventually held a position within the Ministry of Rites, but his fame is based on his artistic achievements.
Dong Qichang was the most influential painter, calligrapher, and theorist of the late Ming dynasty. Dong was a disciplined calligrapher who mastered the writing styles of earlier masters through a systematic approach of studying and copying the works of Jin and Tang period models. In painting, he followed the lineage that began with the 10th century landscape painters Dong Yuan and Juran and continued through the Four Masters of the Yuan, Huang Gongwang, Wu Zhen, Ni Zan, and Wang Meng. In his painting practice, even more so than for his calligraphy, emulating the old masters did not mean merely copying the superficial aspects of their styles, but rather involved thoroughly absorbing, through copy and study, the essential elements and spirit of each artist's work, and transforming their best qualities into a personal vision. Dong's paintings display an aesthetic that avoids outward displays of beauty, preferring instead an awkwardness and depth of feeling that is often anti-decorative. In this sense, Dong Qichang was the quintessential wenren, or 'literati painter,' who painted for enjoyment and self-cultivation.
His theory of the Northern and Southern Schools of painting (analogous to Schools of Buddhism, not geographic divisions), which emphasized a preference for an intuitive, natural approach to painting, rather than a stilted, mechanical approach, dominated Chinese art history throughout the Qing dynasty and into the modern period. Remarkably, Dong Qichang was equally venerated by later painters associated with both the Orthodox School, such as the Four Wangs, and the Individualists, such as Shitao and Bada Shanren.
Dong Qichang frequently created albums such as this one, pairing landscape paintings with calligraphy. Sometimes the paintings and calligraphy are brushed on different surfaces—in this case the paintings are on silk, and the calligraphies on gold-flecked paper. Dong enjoyed painting and writing on different types of paper and silk presumably because each type of surface offered a different technical challenge and created a varied tactile experience
Sotheby's. A Journey Through China's History. The Dr Wou Kiuan Collection Part 1, New York, 22 March 2022