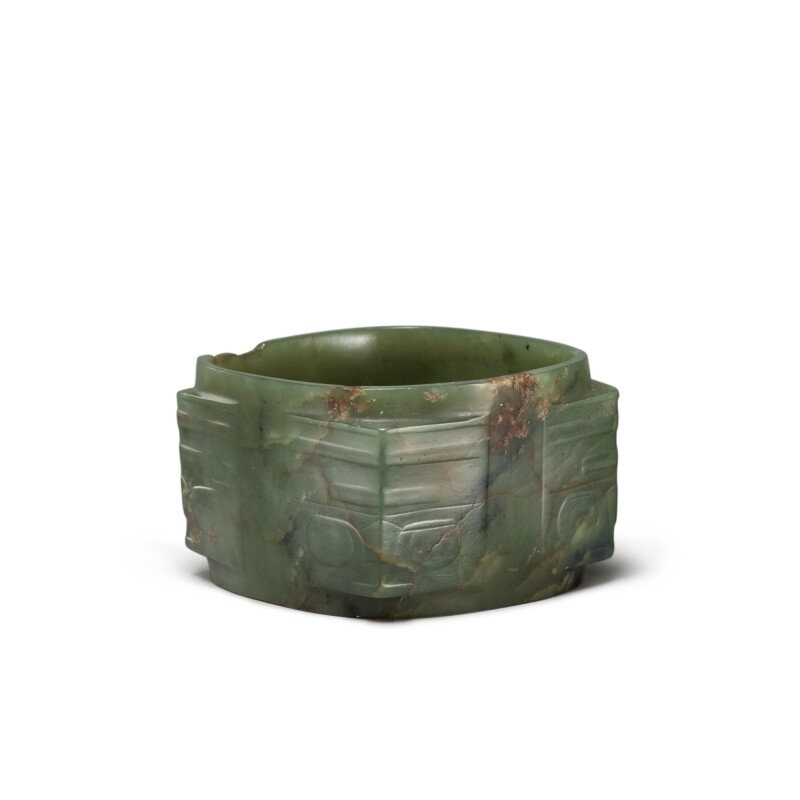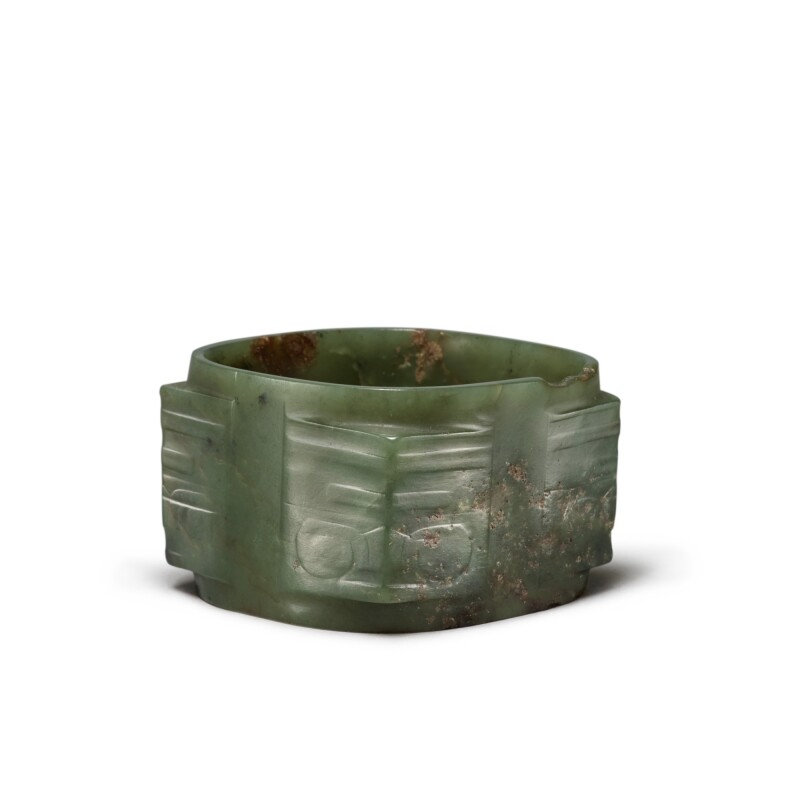 Lot 33. A green jade cong, Neolithic period, Liangzhu culture (3300–2300 BC). Diameter 2⅜ in., 5.9 cm. Estimate: 4,000 - 6,000 USD. Lot sold: 264,600 USD. © Sothebys.
Provenance:

Sotheby's London, 11th July 1967, lot 55
.
Collection of Wou Kiuan (1910-1997).
Wou Lien-Pai Museum, 1968-present, coll. no.

E.3.3

.
Note: The present lot represents one of the archetypal jade artefacts from the Liangzhu culture (c. 3300-2300 BC). Cong, typically carved with a square outer section around a circular one inside, remain among the most enigmatic objects from ancient China. Excavated in various forms and sizes from Liangzhu burials in southeast China, they appear to have served an important ritual or ceremonial purposes among the elites of this early society, who possessed enough wealth and power to command their production.
The stylized faces at the corners and the pairs of bulging eyes are characteristics of the jade cong created at the time. See a related example excavated from Daimundun site, Pinghu, Zhejiang Province and now in the Pinghu Museum, illustrated in Gu Fang, The Complete Collection of Unearthed Jades in China, vol. 8: Zhejiang, Beijing, 2005, pl. 42. See also further examples of Liangzhu cong, including a slightly taller example, excavated from Yaoshan, Yuhang, Zhejiang province, now in the Yuhang Museum, Hangzhou, included in the exhibition Liangzhu yu gudai Zhongguo: Yuqi xianshi de wuqian nian wenming / Liangzhu and Ancient China: The 5,000-Year Civilization Demonstrated by Jades, Palace Museum, Beijing, 2019, cat. no. 9; a wider one with a somewhat rough top, excavated from Tomb No. 12 at Yaoshan, also preserved in the Yuhang Museum, illustrated in Gu Fang, op cit, p. 107; and a calcified piece of slightly smaller size, excavated from Fuquanshan, Qingpu, Shanghai, now preserved in the Shanghai Museum, included in the exhibition Gems of Liangzhu Culture: From the Shanghai Museum, Hong Kong Museum of History, Hong Kong, 1992, cat. no. 55.
Sotheby's. A Journey Through China's History. The Dr Wou Kiuan Collection Part 1, New York, 22 March 2022