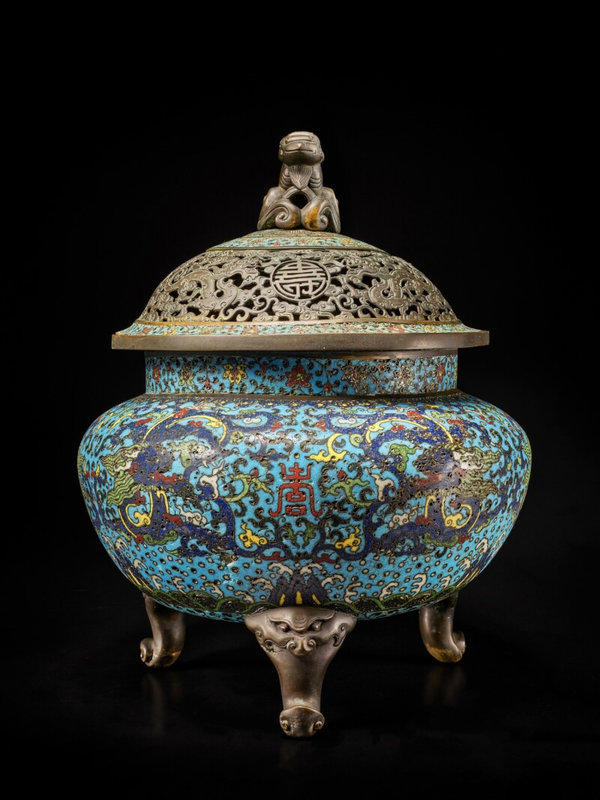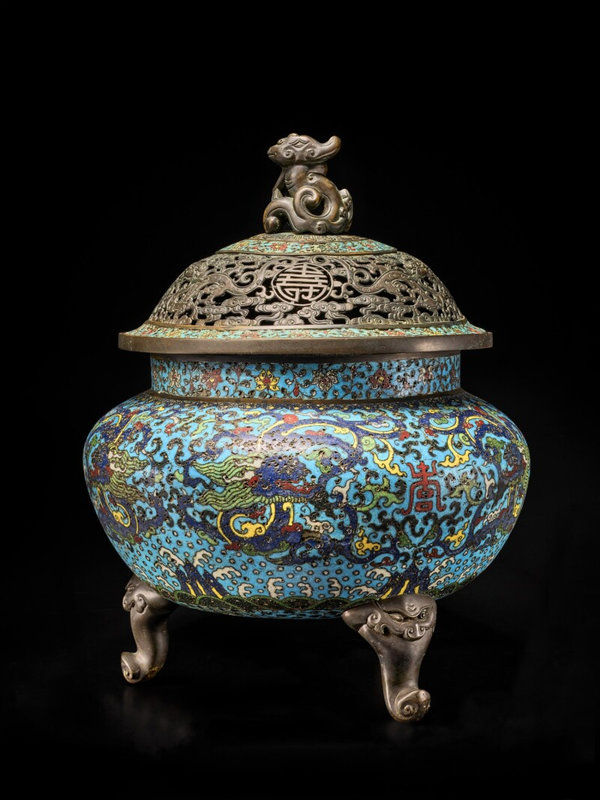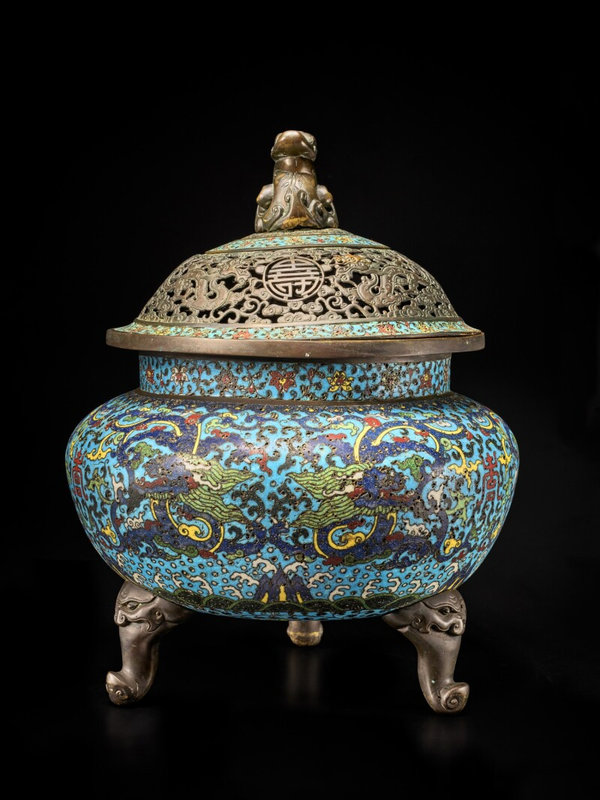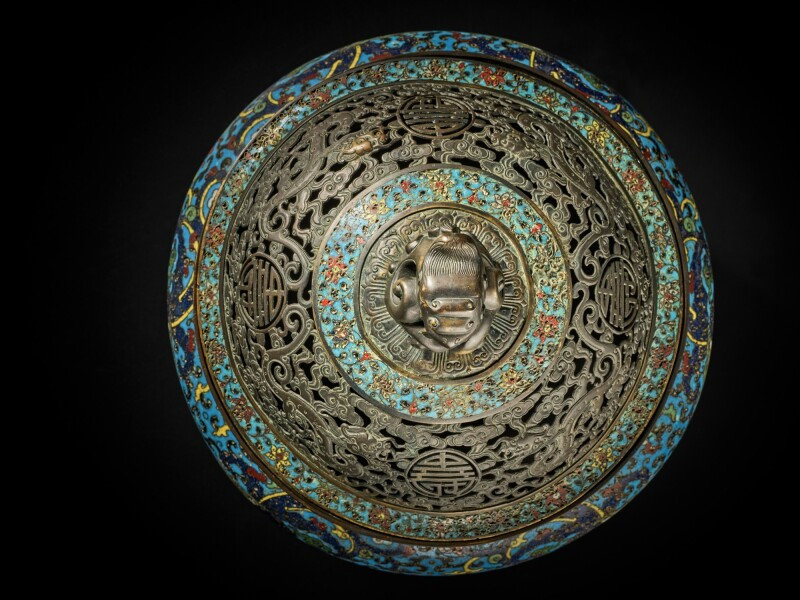 Lot 282. An extremely rare large cloisonné enamel tripod incense burner and cover, Ming dynasty, Wanli period (1573-1619). Height 16¼ in., 41.5cm. Estimate: 60,000 - 80,000 USD. © Sothebys.
the perimeter of the cover with irregularly spaced indentations (2).
Provenance: Collection of General Charles H.T. Collis (1838-1902), and thence by descent.
Note: It is extremely rare to find a late Ming cloisonné enamel incense burner of this large size and quality. The vibrant design of blue dragons confronting across a stylized red shou character is successfully rendered in brilliant cloisonné enamels.
The iconography of dragons confronting across a shou character is found on a select group of imperial Wanli reign-marked enamel incense burners of fang ding form. See an example from the McLaren collection, sold in our London rooms, 16th June 1999, lot 720, another from the collection of Sir Basil Gould, sold at Bonhams London, 5th November 2007, lot 98, and one in the collection of the Palace Museum, Beijing, illustrated in Metal-Bodied Enamel Ware: The Complete Collection of Treasures of the Palace Museum, Hong Kong, 2002, pl.51, where the original Wanli mark has been replaced by a Jingtai mark.
The precision of placement of the circular notches on the perimeter of the cover of the current incense burner appears to be deliberate, and seems to correspond closely to 14 of the 28 Lunar Mansions (xiu) of the ancient Chinese star chart (see Joseph Needham, Science and Civilisation in China, Cambridge, 1959, vol. 3, astronomy table 24). Appearing from around the late Zhou (c. 1047-256BC) or early Han (206BC-AD220) period, the 28 xiu had been used for interpreting celestial and terrestrial events for dynasties. During the Jiajing reign (1522-66), a large-scale renovation was carried out at the observatory of the Ming court, which is still standing today and is now called the Beijing Ancient Observatory. According to the Ming records, a wind pole with 28 hoops symbolizing the 28 xiu was installed there in the second year of Jiajing (1523), demonstrating the great importance of the Lunar Mansions at that time.
General Charles H.T. Collis (1838-1902) joined the 18th Pennsylvania Infantry Regiment at the start of the Civil War and later led the Zouaves d'Afrique, a special duty company of hand-picked men modeled after the elite Algerian troops of the French Army, to fight in several major battles including the Battle of Fredericksburg, for which he later received the Medal of Honor. Following the war, Collis practiced law, becoming an Assistant City Solicitor in Philadelphia. He is buried at the National Cemetery at Gettysburg, where he is honored by a monument.
Sotheby's. Important Chinese Art, New York, 23 March 2022