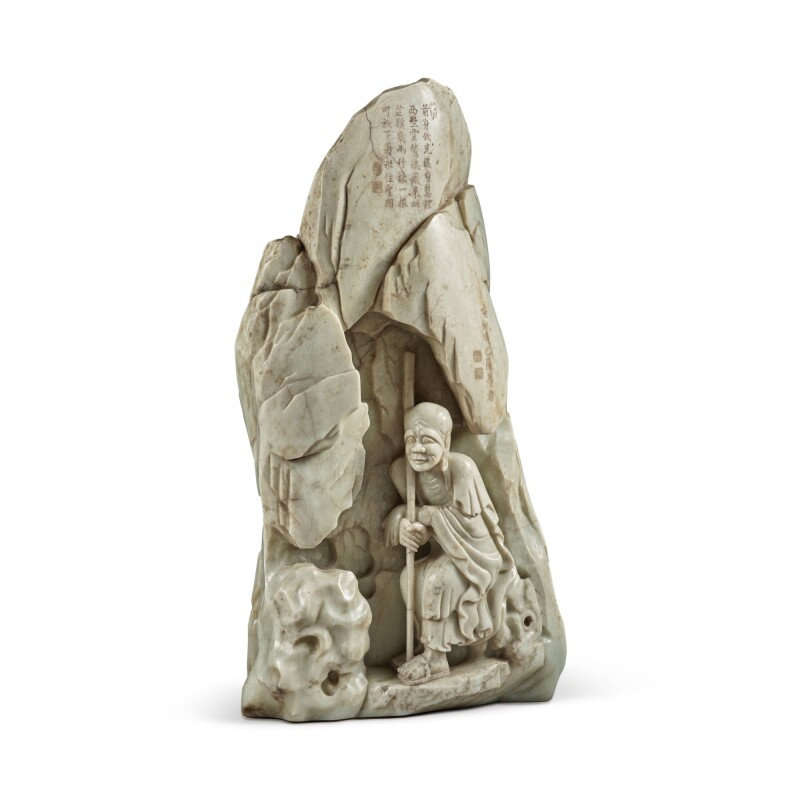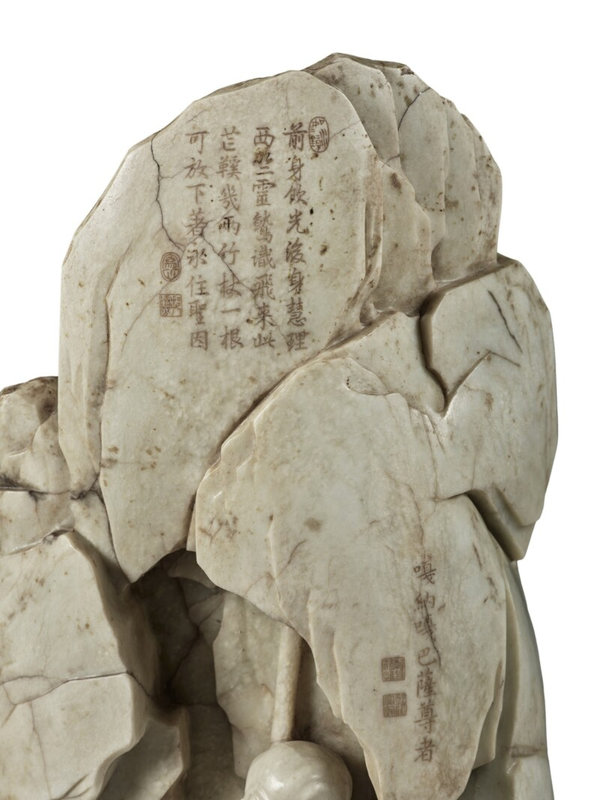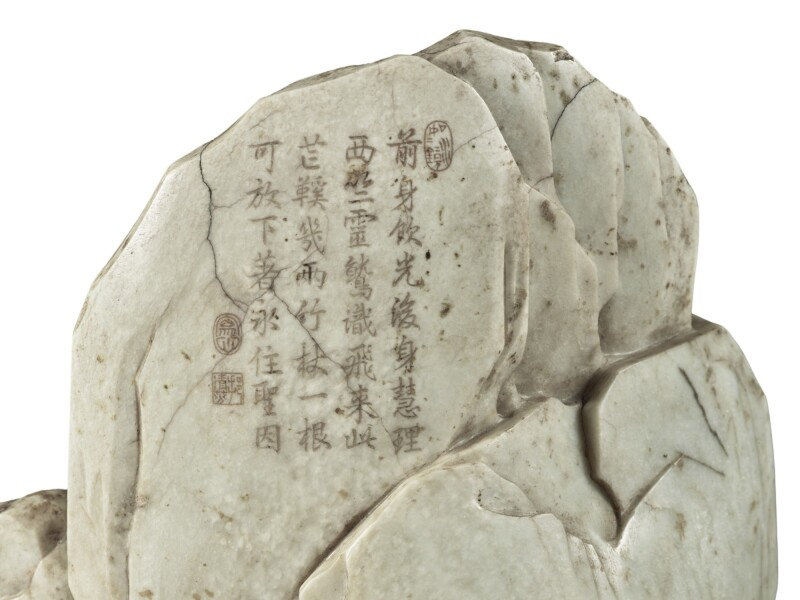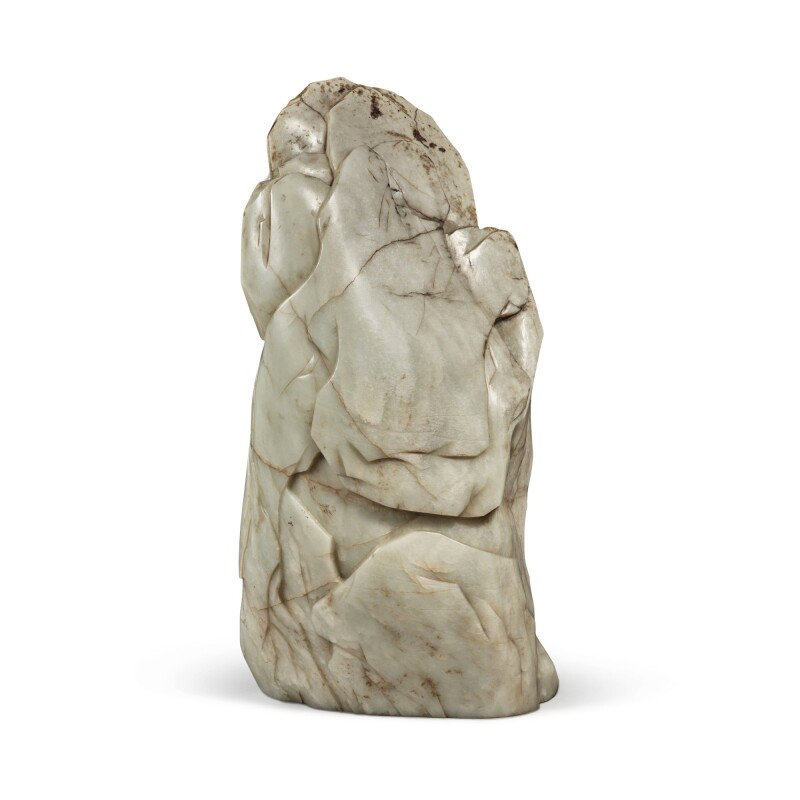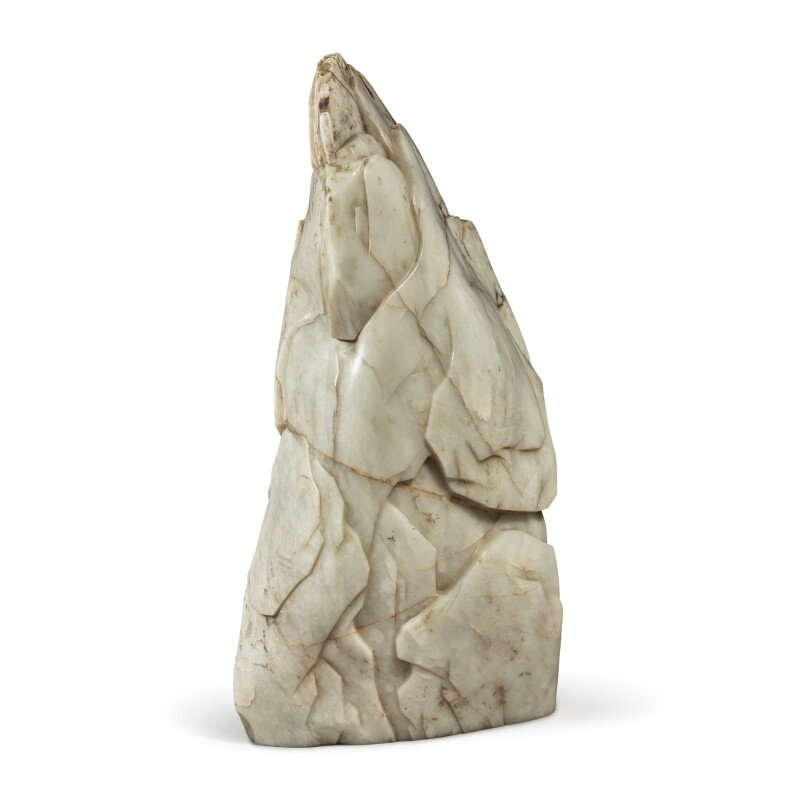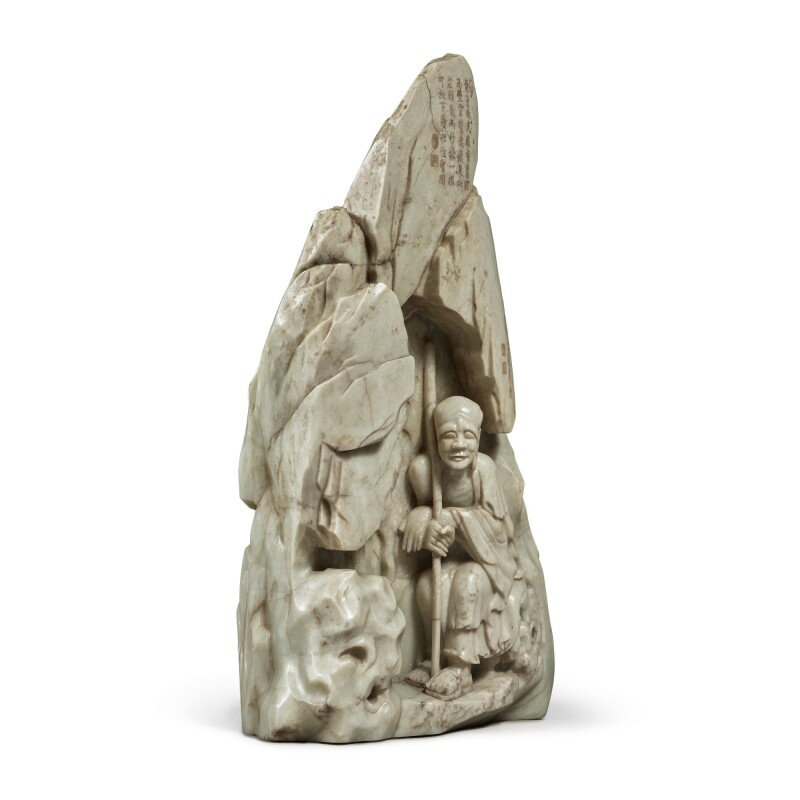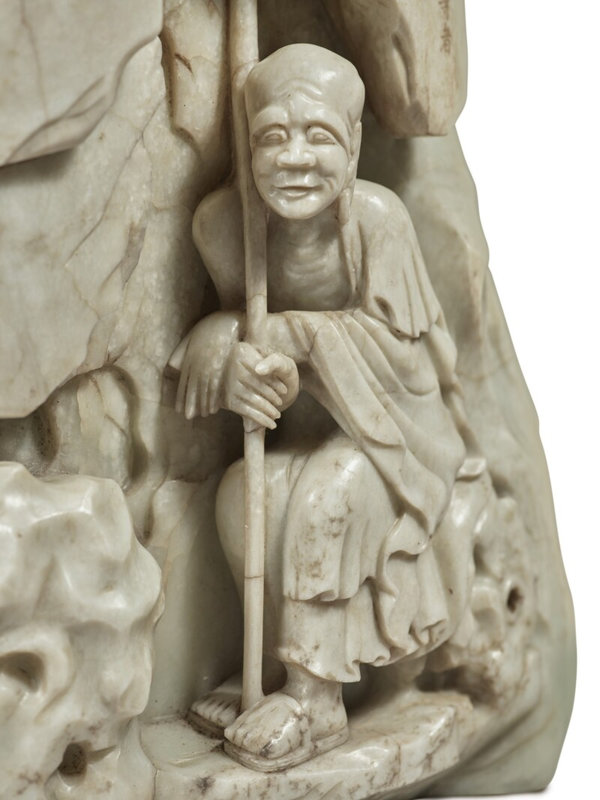 Lot 24. A large and important imperially inscribed pale green jade 'luohan' boulder, Qing dynasty, Qianlong period (1736-1795). Height 12½in., 31.9 cm. Lot sold: 1,071,000 USD (Estimate: 400,000 - 600,000 USD). © Sothebys.
Provenance: Collection of Madame Austin.
Maître Etienne Ader, Commissaire Priseur, Hôtel Drouot, Paris, 12th March 1962, lot 105.
Collection of Dr Wou Kiuan (1910-1997).
Wou Lien-Pai Museum, 1968-present, coll. no. M.7.16.
Literature: Rose Kerr et al., Chinese Antiquities from the Wou Kiuan Collection. Wou Lien-Pai Museum, Hong Kong, 2011, pl. 177.
Disciple in Stone: A Jade Portrait of Kanakavasta
This jade boulder is remarkable for its exceptional carving of the luohan dramatically set against the backdrop of a rough stone grotto, its large overall size, and of course for its imperial inscription. It represents a three-dimensional, sculptural version of a late Tang (618-907) painting which had particularly impressed the Qianlong Emperor (r. 1736-1795). In 1757, during one of his Southern inspection tours, the Qianlong Emperor visited the Shengyin Temple in Hangzhou, Zhejiang, where he saw a set of paintings depicting the Sixteen Luohan by the painter Guanxiu (832-912). He recorded that he had seen himself the masterpieces of Guanxiu and, as a devotee of Buddhism, studied their content and reordered and reattributed the paintings according to his own teacher's interpretation of their sequence. He went as far as penning colophons on each painting and commissioned reproductions of the images with their new inscriptions in various media, including stone engravings, jade carvings and textiles.
Guanxiu was a Chan monk famous for his paintings of Buddhist figures, which are known today mainly through later copies. The Shengyin Temple was destroyed and the original set of Guanxiu's Luohan paintings appears to be lost. However, we can assume that their basic style is preserved in the engravings commissioned by the Qianlong Emperor, of which rubbings exist. Guanxiu depicted the enlightened disciples of the Buddha with grotesque bodies, hunched backs, bushy eyebrows, and pronounced foreheads, as they had allegedly appeared to him in a dream. His style remained influential for depictions of Luohans throughout later dynasties.
A stone stele dated to the 8th month, 29th year of Qianlong, corresponding to 1764, closely relates to the present boulder, not only in its depiction of the Luohan, but also in its rendering of the Emperor's inscriptions and seals. The rubbing is preserved in the Fine Arts Library, Special Collections, Harvard University (fig. 1). The inscription identifies the Luohan, who is seated, supported on a staff, as the seventh Luohan, Kanakavatsa. The poem is recorded in Qing Gaozong yuzhi shiwen quanji [Anthology of Imperial Qianlong Poems and Texts], vol. 1, juan 29, p. 2 (fig. 2), and can be translated as follows:
Before your re-incarnation you were Kasyapa,
And after this life you will become Prajna.
The peak Lingjiu (Vulture Peak) of holy India,
Knowing his way and flying over here.
With only a pair of light straw sandals,
And a bamboo stick.
You could leave them behind,
And become an eternal saint.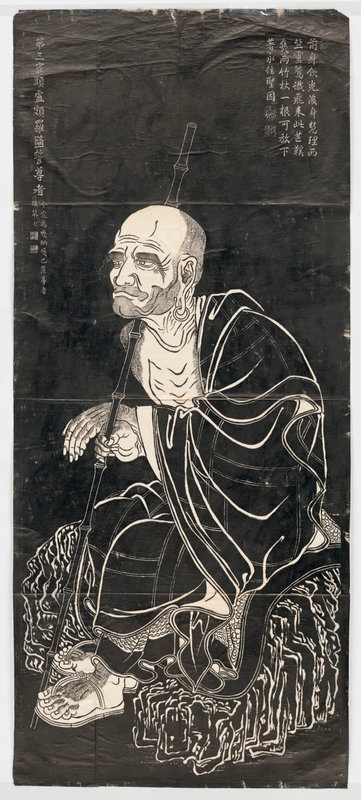 Fig. 1 Rubbing from the sixteen Luohan stone stele. Qianlong 29th year, corresponding to 1764. Harvard Library, Cambridge © 2022 President and Fellows of Harvard College.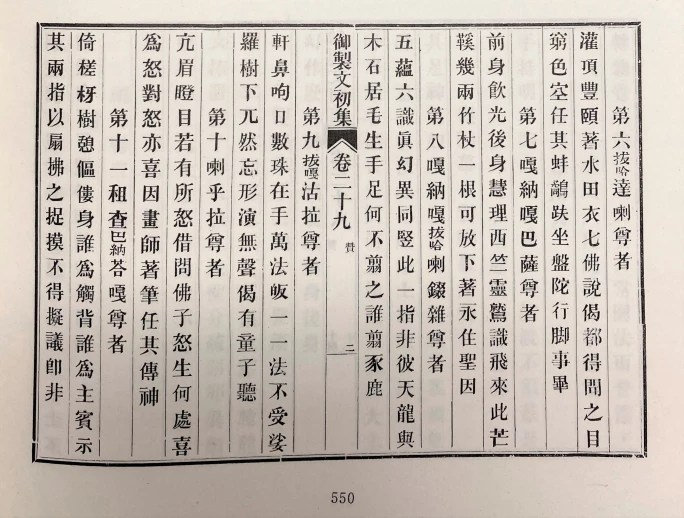 Fig. 2. The inscribed poem included in Qing Gaozong yuzhi shiwen quanji [Anthology of imperial poems and texts], Vol. 1 Juan 29, p. 2.
A seal preceding the poem reads xie xin (writing from the heart). Another two seals following read Qianlong chen han (Qianlong's Imperial calligraphy) and yi qing fen (To pour out delicate fragrance).
A closely related but smaller jade boulder depicting the sixteenth Luohan, Abheda, seated with a sutra in hand and a censer burning nearby, gifted by Florence and Herbert Irving to the Metropolitan Museum of Art, New York, and later sold in these rooms, 10th September 2019, lot 17, is published in Roger Keverne, ed., Jade, London, 1995, pl. 41. The Abheda boulder has a pale whitish-green tone like the present piece and was similarly worked in high relief with a Luohan sitting inside a rocky cave, and is similarly inscribed and bears similar seals.
Sotheby's. A Journey Through China's History. The Dr Wou Kiuan Collection Part 1, New York, 22 March 2022