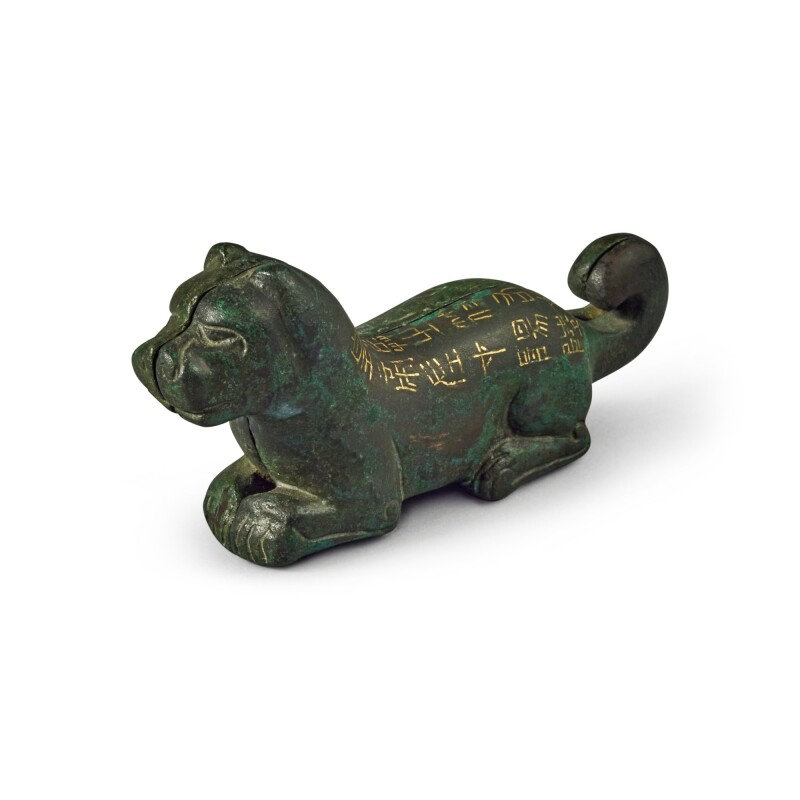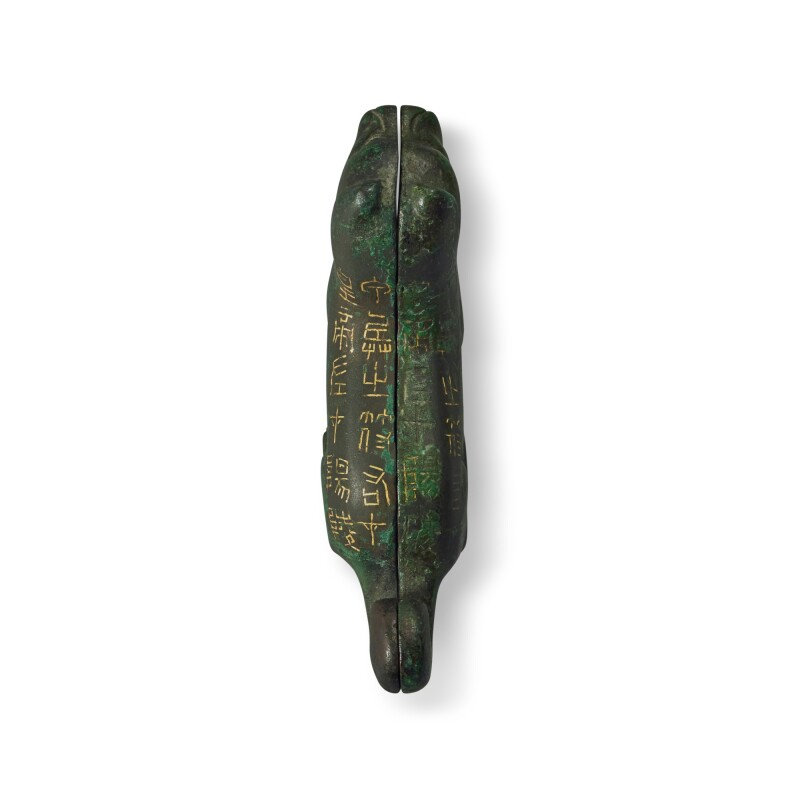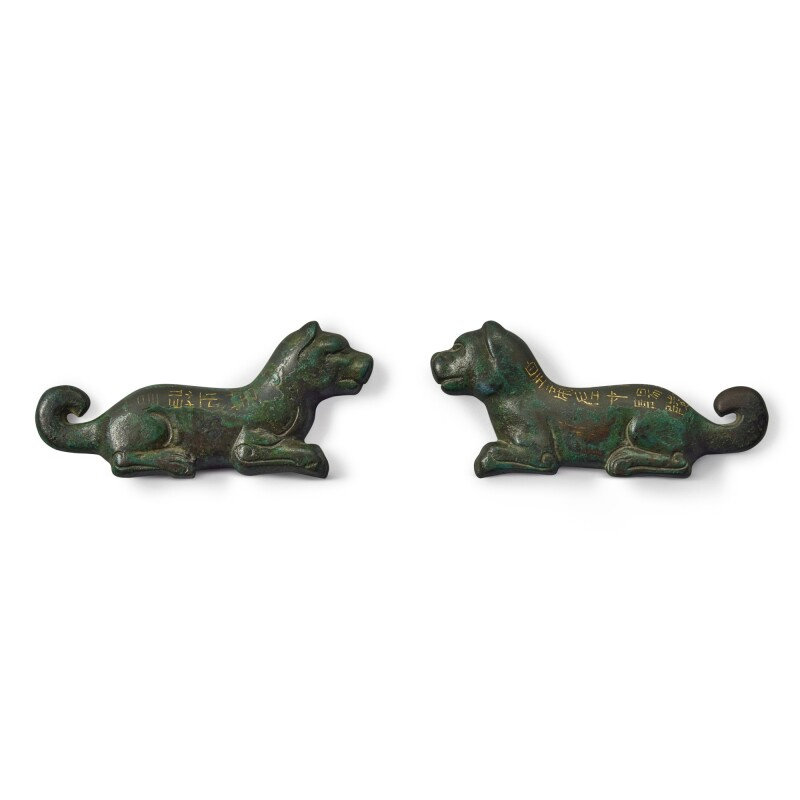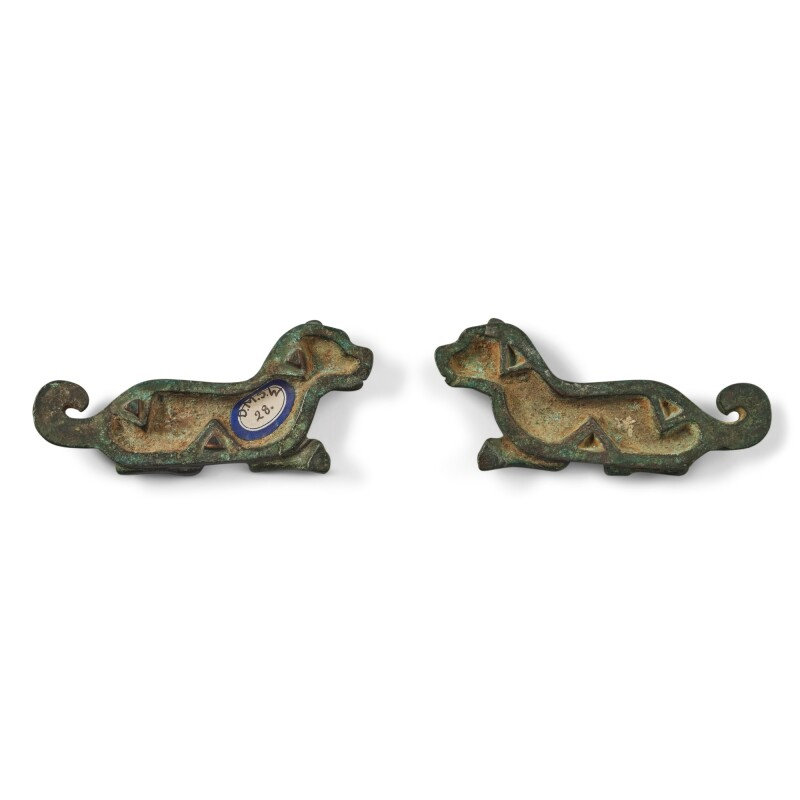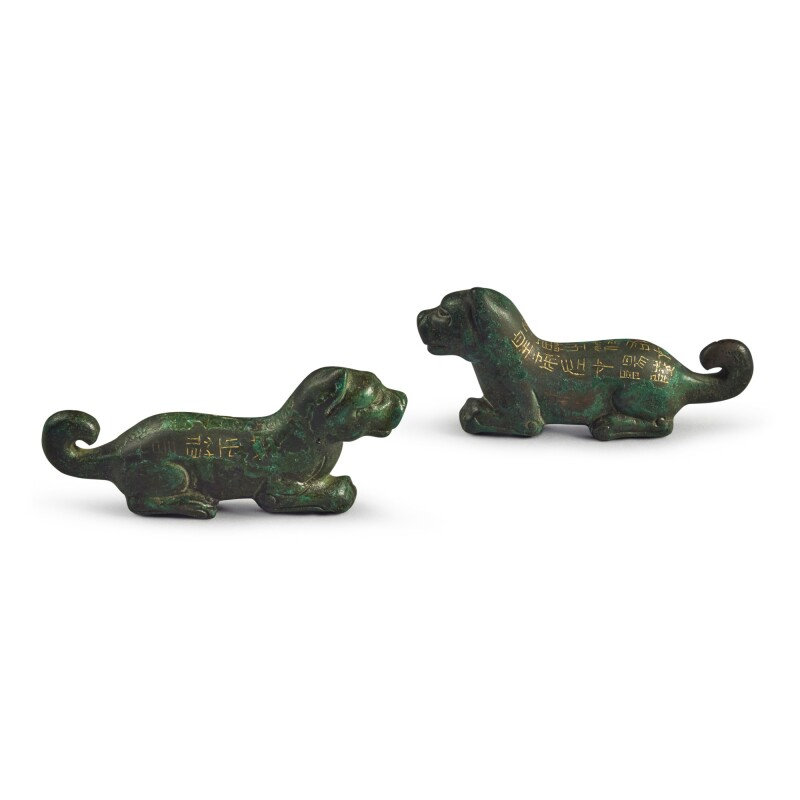 Lot 39. An inscribed gold-inlaid bronze tiger tally (Hufu), Qin dynasty or later. Length 3⅞ in., 9.8 cm. Lot sold: 869,400 USD (Estimate: 40,000 - 60,000 USD). © Sothebys.
each half inscribed with a twelve-character inscription reading jiabing zhifu youzai huangdi zuozai Yangling (tally of authority, the right to be kept by the emperor, the left to be kept at Yangling).
Provenance: Collection of Professor D.M.S. Watson (1886-1973).
Sotheby's London, 9th October 1965, lot 29.
Collection of Dr Wou Kiuan (1910-1997).
Wou Lien-Pai Museum, 1968-present, coll. no. H.2.13.
Literature: Rose Kerr et al., Chinese Antiquities from the Wou Kiuan Collection. Wou Lien-Pai Museum, Hong Kong , 2011, pl. 32.
Note: Tiger tallies (hufu) were originally produced during the Warring States and Qin dynasty to bestow Imperial authority. Composed of two equal parts, one half remained in the hand of the king whilst the other was given to his general. It was only when a messenger brought the king's half and combined the two could the authority of a general be activated.
Yielding the power of a king to whoever possessed them, tiger tallies have remained enigmatic tokens of imperial authority. A small number of inscribed tiger tallies from the period are known, such as the famous example bearing the same twelve-character inscription as the present lot, the Yangling hufu, attributed to the Qin dynasty, formerly in the collection Luo Zhenyu (1866-1940) now in the National Museum of China, illustrated in Zhonghua Wenming [Chinese Civilisation], Beijing, 2010, pl. 267. The casting of the present lot is more similar to the Dongjun hufu 東郡虎符, discovered in Shaanxi in 1953, and currently in the Zhouzhi County Cultural Relic Institution.
Sotheby's. A Journey Through China's History. The Dr Wou Kiuan Collection Part 1, New York, 22 March 2022