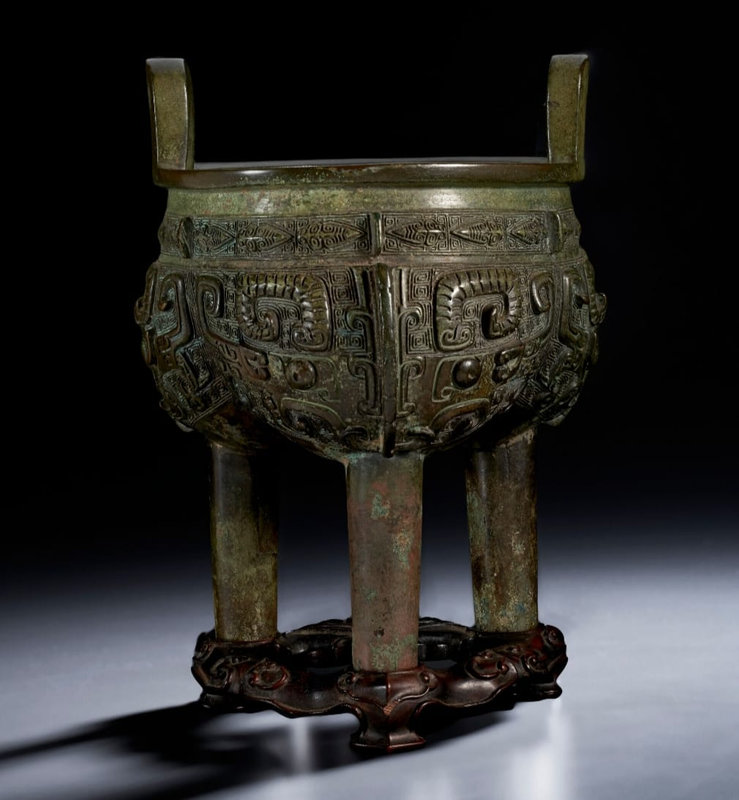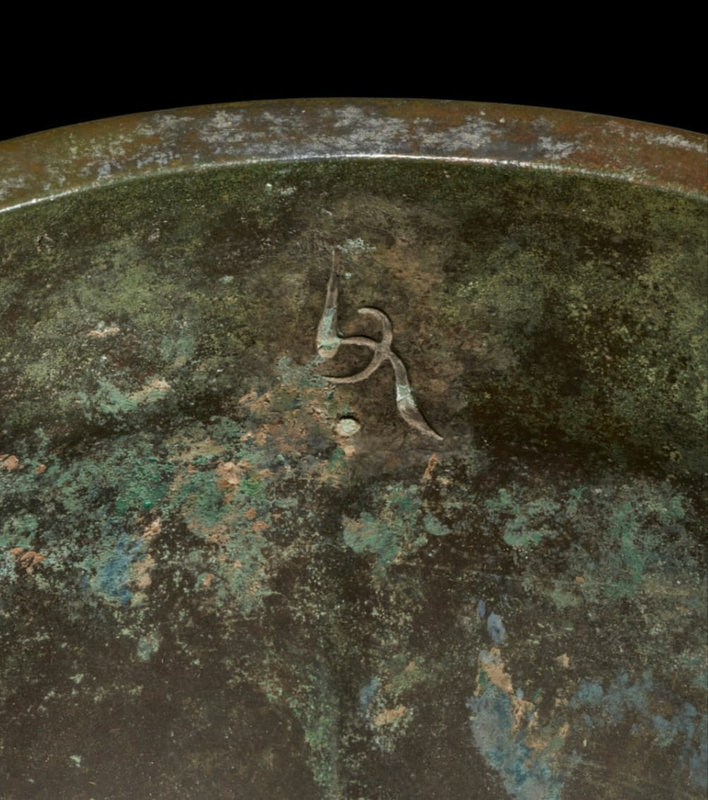 Lot 713. A superbly cast bronze ritual tripod food vessel, liding, Late Shang dynasty, 12th-11th century BC; 7 3⁄4 in. (19.7 cm.) high, hardwood stand, Japanese double wood box. Price realised USD 819,000 (Estimate USD 100,000 – USD 150,000). © Christie's 2022
The lobed body is raised on three undecorated legs and is cast in relief with three large taotie masks divided by flanges reserved on a leiwen ground, all beneath a cicada border. The interior is cast with a two-character inscription, Fu Ding, and there are areas of malachite encurstation.
Provenance: Sadajiro Kawai, Kyoto, before 1961.
Important private Japanese collection, prior to 1994, and thence by descent within the family.
Literature: Umehara Sueji, Selected Relics of Ancient Chinese Bronzes from Japan, vol. 3, Osaka, 1961, no. 182.
Ancient Chinese Art - The Origin of Japanese Art, Kagawa, 1968, Cover and A2.
Exhibited: Kagawa Prefecture, Kagawa Prefectural Cultural Hall, Ancient Chinese Art - The Origin of Japanese Art, 1968.
Note: The inscription cast on the interior of the vessel, Fu Ding, can be translated as 'Father Ding.' This is an abbreviated dedicatory inscription that means 'dedicate this vessel to Father Ding.'

Liding vessels decorated with a single frieze of large taotie first appeared at the beginning of the late Shang dynasty, circa late 13th century BC, and continued to be popular throughout the late Shang period. The robust shape and vigorous high-relief decoration of this liding represent the artistic apogee of bronze casting in the late Shang dynasty and are very similar to that of liding found in the late Shang capital Yinxu at modern day Anyang city, Henan province, such as the three illustrated in Zhongguo qingtongqi quanji (Complete Collection of Chinese Bronzes), vol. 2: Shang 2, Beijing, 1997, nos. 11, 16, and 19. See, also, similar lobed liding decorated with taotie masks beneath a frieze of cicadas is illustrated by R.W. Bagley, Shang Ritual Bronzes in the Arthur M. Sackler Collections, Arthur M. Sackler Foundation, Washington, DC,1987, pp. 484-85, no. 92.
Christie's. Important Chinese Ceramics and Works of Art, New York, 25 march 2022