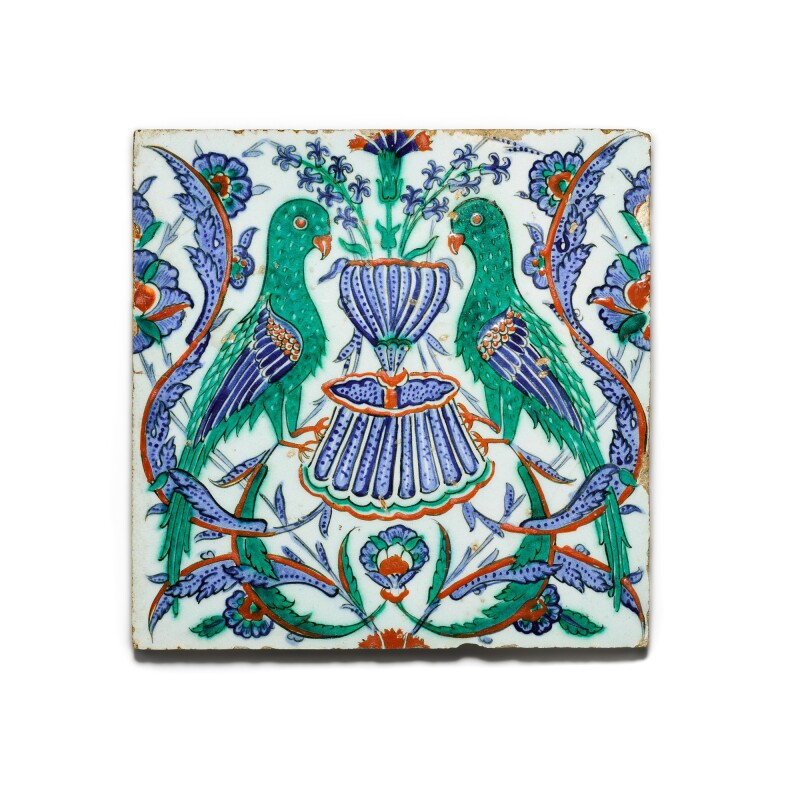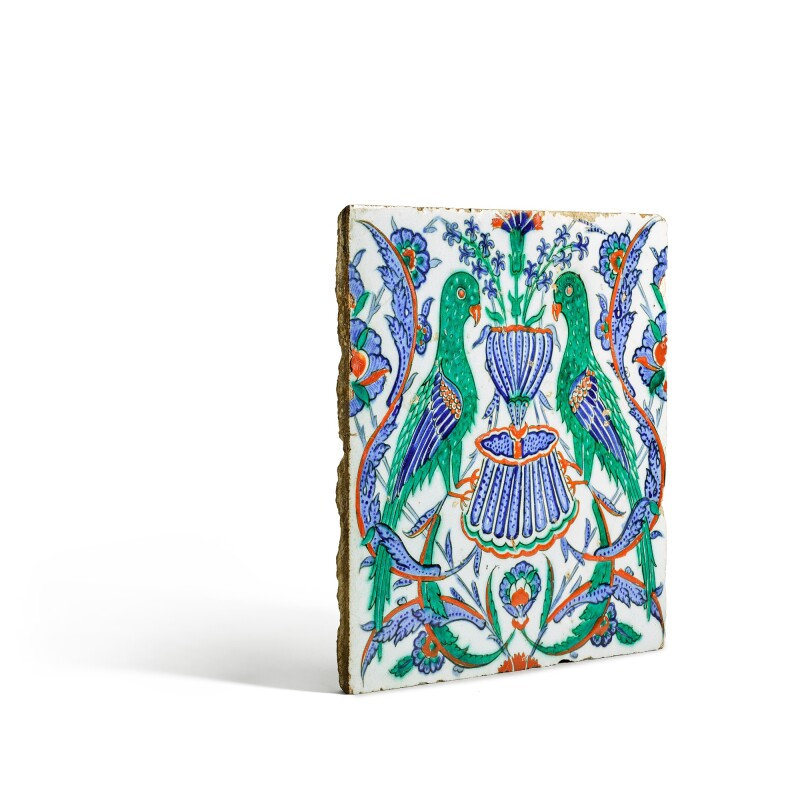 Lot 132. A highly rare polychrome Iznik tile with confronted birds, Turkey, circa 1575; 25 by 25cm. Lot sold: 655,200 GBP (Estimate: 100,000 - 150,000 GBP). © Sotheby's 2022
of square form painted in underglaze cobalt blue, green and relief red, outlined in black, decorated with two birds perched either side of a fountain dispensing a hyacinth bouquet, surrounded with arabesques of scrolling saz leaves and flowers.
Provenance: Private collection, England, first half 20th century-2015.
Acquired by the former owner's step-grandfather whilst working as a consultant mining engineer in Turkey.
Rendells, Ashburton, 16 October 2015.
Note: Figural representations on Iznik tiles are rare. Only seven other intact tiles with this iconic design of confronted birds are known, all now housed in museum collections in Europe, Turkey and the United States.
In Ottoman society, birds were ascribed many symbolic meanings. While pigeons were thought to embody the souls of departed people, peacocks were cast as birds of paradise. Given these heavenly associations, the representations of two confronting birds perched on a fountain on a dense foliage background hints strongly at the garden of Eden (Denny 2004, p.186). The birds' green colour is associated with eternal life in Islam, while the fountain may refer to the salsabil, the spring of Paradise (Clark 2010). This scene is also a popular motif in ancient Turkish iconography, making its first appearance on early Anatolian carpets before it was employed on ceramics (Denny 2004, p.186).
The birds depicted on the present tile, belonging to a well-known series of square tiles dated from the 1570s, were identified by some scholars as falcons, the heralds of royalty and of the royal hunt (Denny 2004, p.186). On the other hand, Atil (1973) suggests these are parrots, painted to decorate private dwellings rather than religious settings. While religious institutions would only commission floral motifs, inscriptions or arabesques to adorn their walls, this piece appeals to our imagination, evoking richly embellished pavilions. This densely decorated tile would have likely been employed alongside more sober ones representing blossoming plants, recreating the serene atmosphere of a garden in a private villa.
Only seven other intact tiles with this design are known:
1. The Louvre Museum, Paris, OA 3919/401, published in Denny 2004, p.186.
Carreau aux oiseaux perchés sur une fontaine, Iznik, 16e siècle. Céramique siliceuse, Hauteur : 21.7 m. Paris, musée du Louvre (OA3919/2-307). Photo (C) RMN-Grand Palais (musée du Louvre) / Gérard Blot.
2. The Fitzwilliam Museum, Cambridge, inv. no.C.139/1933, accessible at: https://data.fitzmuseum.cam.ac.uk/id/object/17585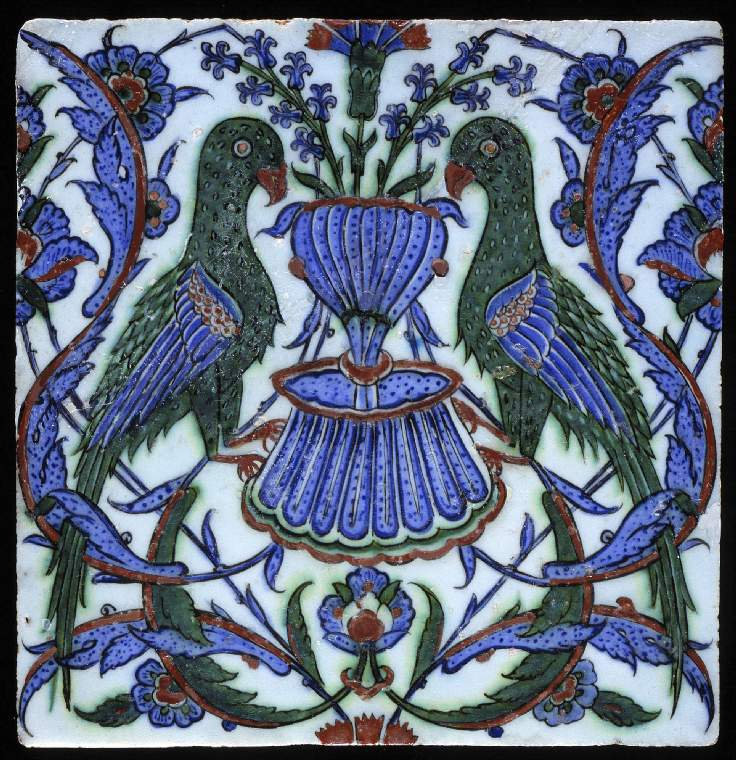 Tile, Iznik, late16th century. Fritware painted in polychrome under a colourless glaze, Height: 25.4 cm. Given by Alfred A. de Pass, inv. no.C.139/1933 © The Fitzwilliam Museum
3. The Freer Gallery of Art, Washington D.C., inv. no.F1966.12, published in Atil 1973, p.190-1, no.88; accessible at: https://asia.si.edu/object/F1966.12/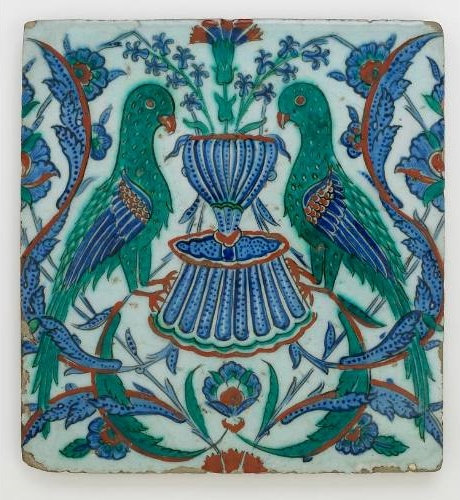 Tile, Ottoman period, early 17th century, Iznik ware. Stone-paste painted under glaze, H x W: 26 x 24 cm (10 1/4 x 9 7/16 in). Freer Gallery of Art, Purchase — Charles Lang Freer Endowment, F1966.12. © 2022 Smithsonian Institution
4. The Detroit Institute of Arts, Michigan, inv. no.25-36; published in Peck 1980, p.69-70, fig.12; accessible at: https://www.dia.org/art/collection/object/tile-49221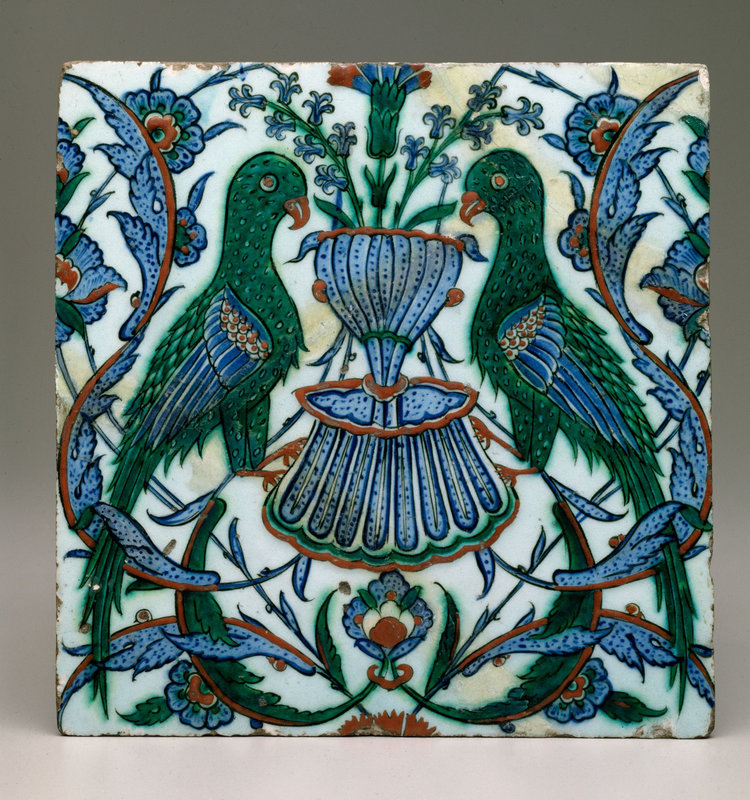 Tile, ca. 1600, Islamic, Turkish. Underglaze-painted fritware, 9 7/8 × 9 1/2 inches (25.1 × 24.1 cm), Detroit Institute of Arts, Michigan, inv. no.25-36. © 2022 Detroit Institute of Arts.
5. The Khanenko Museum, Kyiv, inv. no.17BV, published in Miller 1972; accessible at: https://islamicart.museumwnf.org/database_item.php?id=object;EPM;uc;Mus21;40;en
6. The Benaki Museum, Athens, inv. no.GE 75, published in Mouseio Benakē's exhibition catalogue, 1969, p.28; accessible at: https://www.benaki.org/index.php?option=com_collectionitems&view=collectionitem&id=117072&Itemid=&lang=el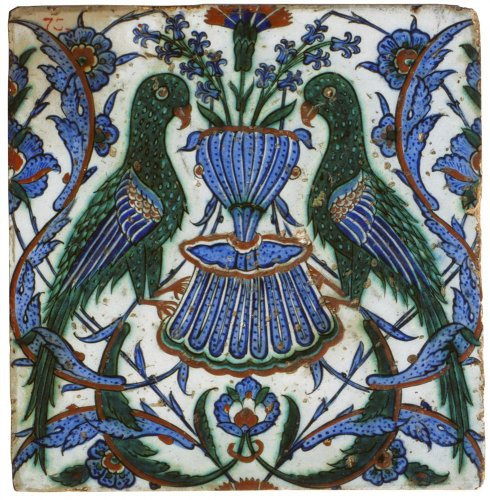 Ceramic wall tile decorated with confronted parrots framed by a dense border of flowers, Turkey, 16th c. H. 29 cm., W. 28,5 cm. Benaki Museum, Athens, inv. no.GE 75. © 2016 Benaki Museu
7. The Sadberk Hanim Museum, Istanbul, inv. no.14979-P.565, published in Bilgi 2004, p.456, no.2956 and in Bilgi 2005, p.84-85, sold in Bonhams London, 2 May 2001, lot 491.
Sotheby's. Arts of the Islamic World & India including Fine Rugs and Carpets, London, 30 March 2022