HONG KONG.- On the heels of the strong results for the Modern and Contemporary Evening sales on 27 April, the offerings from the Day Sales saw continued competition, with both auctions exceeding their high estimates. Across both days, collectors were quick to pursue a range of works by masters and rising stars from the East and the West.

"This season we were thrilled to bring to Asia a strong selection of never-before-seen works, and to see them so enthusiastically received. From Picasso to Wu Guanzhong, Chen Yifei and Le Pho, we saw clear demand for both Asian and Western masters, with multiple records set for Vietnamese artworks. It was a special moment to offer the first portrait of Dora Maar by Picasso ever to come to auction in the region - this is undoubtedly an artist who resonates with an audience the world over, but arguably nowhere more so than in Asia." -- Felix Kwok, Head of Modern Art, Sotheby's Asia

"While we are also careful to create sales that we know will cater to existing demand, this season in particular we were focused on introducing new artists to this prestigious roster, with works we felt would intrigue and excite in equal measure. As a result, we not only saw great success for established masters like Louise Bourgeois, Yoshitomo Nara and Yayoi Kusama, but also a great deal of enthusiasm for today's stars such as Anna Weyant and Louise Bonnet in their global auction debuts." --Max Moore, Head of Contemporary Art, Sotheby's Asia

OVERARCHING FACTS AND FIGURES:

• 90% sell-through rate across four sales

• Over 60% of lots sold exceed their high estimates

• 4 works achieve prices in excess of HK$100 million: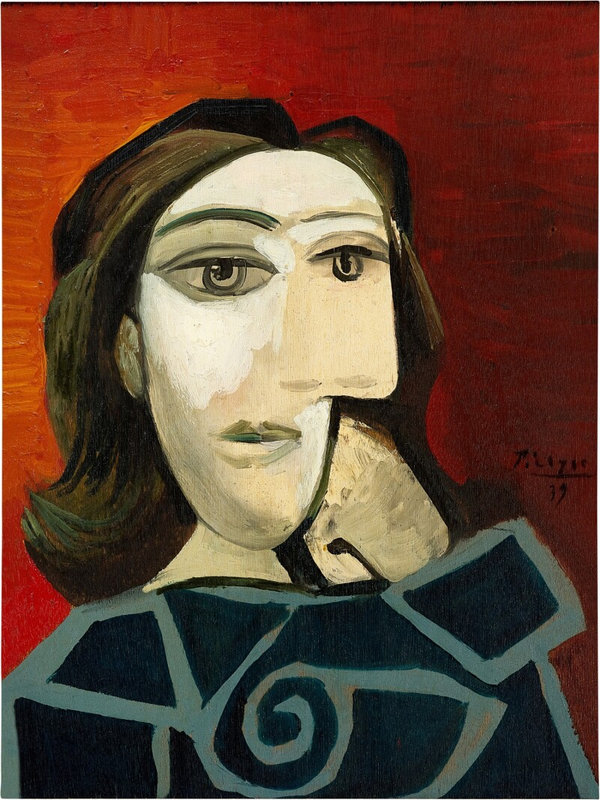 Lot 1030. Pablo Picasso (1881 - 1973), Dora Maar, oil on panel, signed Picasso and dated 39 (center right); dated 27.3.39. on the reverse; 60 by 45.5 cm; 23 ⅝ by 17 ⅞ in; painted on 27th March 1939. Lot sold: 169,420,000 HKD / 21,600,000 USD to a Japanese collector (Estimate Upon Request). Courtesy Sotheby's.
Claude Picasso has confirmed the authenticity of this work.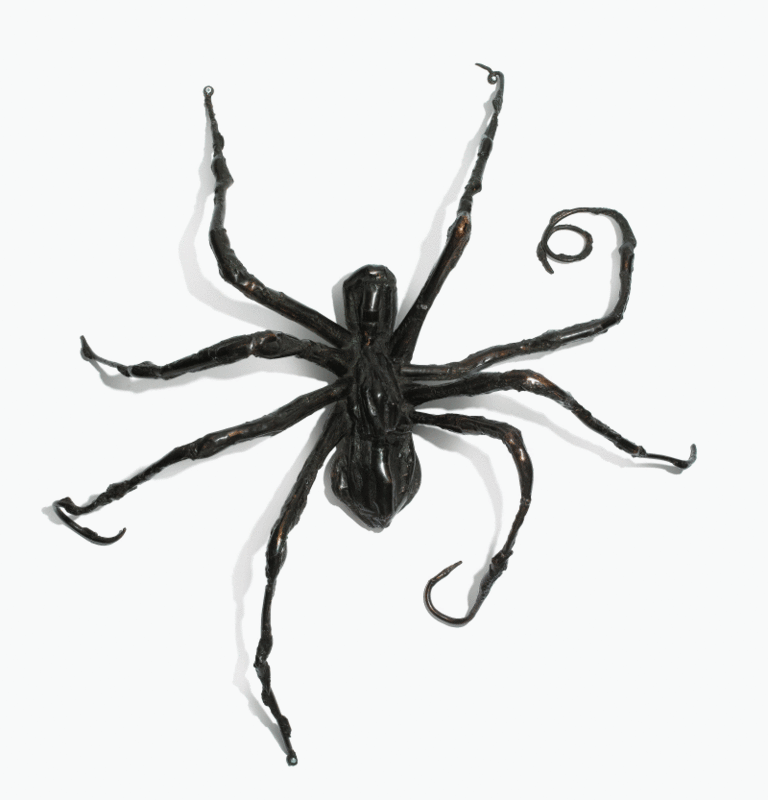 Lot 1116. Louise Bourgeois (1911 - 2010), Spider IV, bronze, impressed LB 96 and numbered 2/6 on the underside. Conceived in 1996 and casted in 1997, this work is number 2 from an edition of 6, plus 1 artist's proof; 203.2 by 180.3 by 53.3 cm. 80 by 71 by 21 in. Lot sold: 129,205,000 HKD / 16,500,000 USD (Estimate: 120,000,000 - 150,000,000 HKD). Courtesy Sotheby's.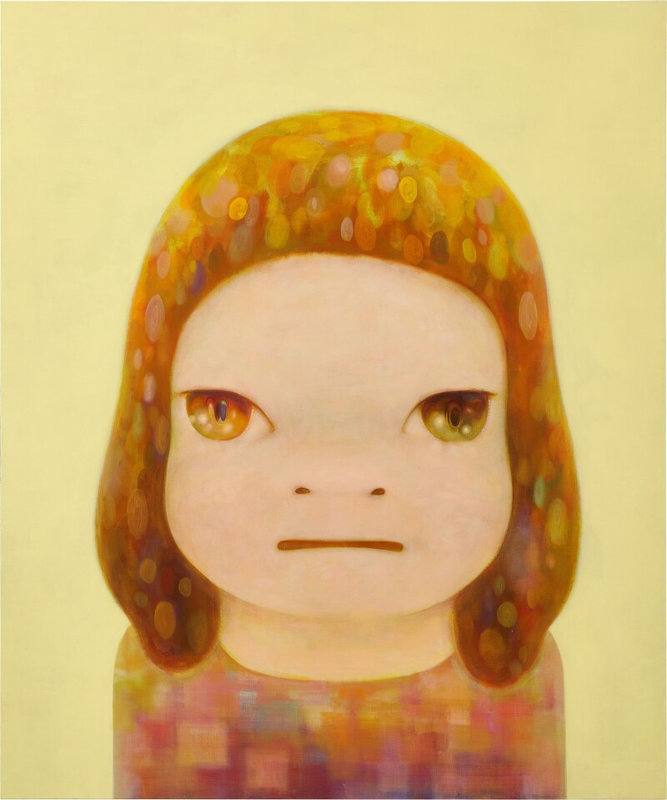 Lot 1112. Yoshitomo Nara (b. 1959), Oddly Cozy, acrylic on canvas, signed and dated 2013 on the reverse; 194 by 161.9 cm. 76⅜ by 63¾ in. Lot sold: 111,970,000 HKD / 14,300,000 USD (Estimate 80,000,000 - 120,000,000 HKD). Courtesy Sotheby's.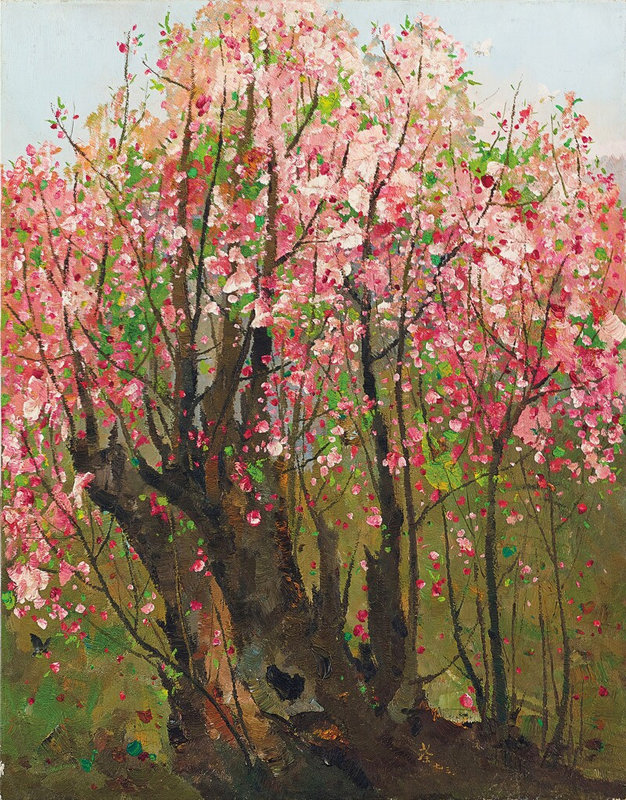 Lot 1038. Wu Guanzhong (1919 - 2010), Plum Blossoms, oil on canvas laid on board, signed and dated 73 in Chinese (lower right), painted in 1973, 89.6 by 70 cm; 35 ¼ by 27 ½ in. Lot sold 103,927,000 HKD / 13,200,000 USD (Estimate 90,000,000 - 120,000,000 HKD). Courtesy Sotheby's.
• Over 20 auction records

• Global participation from almost 40 countries, with strong activity from collectors in Hong Kong

• Almost 60% of bidders participated online
• Fresh to market works in demand, with approximately three quarters of the offerings having never before been offered at auction

• The three Evening Sales attracted over 3.4 million views across Sotheby's digital and social platforms, with audiences also tuning in across an additional eight platforms in Asia.
KEY TAKEAWAYS:

• Second highest price for Pablo Picasso in Asia (HK$169.4m / US$21.6m): Sotheby's now holds four of the top five prices for the artist in the region

• Second Most Valuable Contemporary Art Sales Series Ever Staged at Sotheby's Asia as Louise Bourgeois' Spider IV became the most valuable sculpture ever offered in the region: the (almost) seven foot spider realised HK$129.2m / US$16.5m (est. HK$120-150m). The auction also marked the first of Bourgeois' famous Spider series to come to auction in the region

• All five works from the collection of Sir Run Run Shaw sold: Banquet by Chen Yifei achieved HK$54.5m / US$7m, and a further four Southeast Asian paintings comprising works by Cheong Soo Pieng and Adrien Jean Le Mayeur de Merprès all sold above their high estimates for a combined total of HK$17.5m / US$2.2m. Overall, Southeast Asian art saw robust demand, with 96% of works sold, and 87% of the lots selling above their high estimates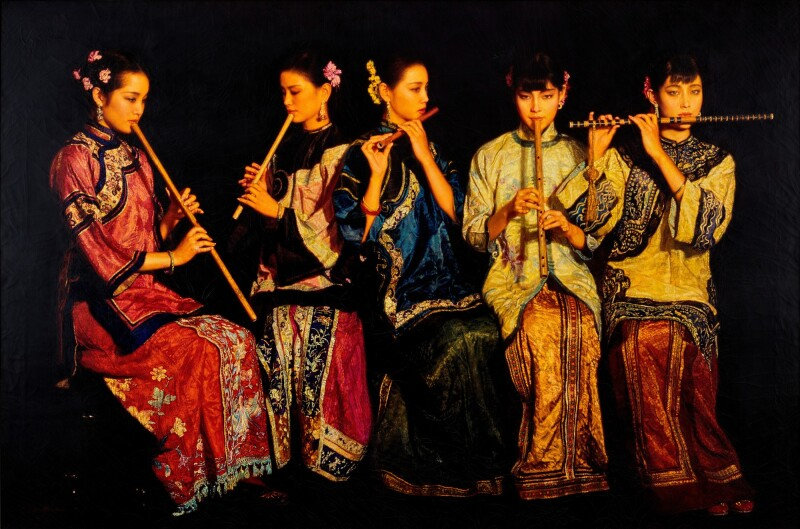 Property from the Collection of Sir Run Run Shaw. Lot 1044. Chen Yifei (1946 - 2005), Banquet, oil on canvas, signed Chen Yifei (lower left), painted in 1991 137 by 208 cm; 53 ⅞ by 81 ⅞ in. Lot sold: 54,520,000 HKD / 7,000,000 USD (Estimate Upon Request). Courtesy Sotheby's.
• Sotheby's continues to lead the market in Vietnamese art: 20 Vietnamese works sold for HK$69.9m / US$8.9m. Highlights included: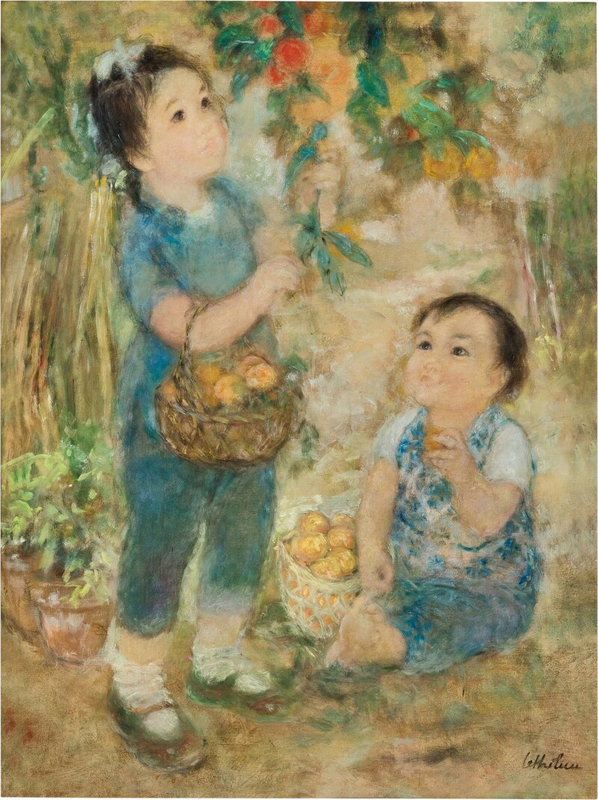 Lot 709. Lê Thị Lựu (1911 - 1988), Two children in garden, ink and gouache on silk, signed Le Thi Luu (lower right), 60 by 46 cm; 23 ½ by 18 in. Lot sold 6,300,000 HKD / 803,000 USD (Estimate 350,000 - 650,000 HKD) - eighteen times its estimate and the second highest auction record for the artist. Courtesy Sotheby's.
Lot 1028. Lê Phổ (1907 - 2001), Figures in a garden, oil on canvas laid on panels (3), signed Le Pho in English and Chinese (lower right); Each: 175 by 69.5 cm; 68 ¾ by 27 ¼ in. (3). Overall: 175 by 209.5 cm; 68 ¾ by 82 ¼ in.. Lot sold 17,920,000 HKD / 2,300,000 USD (Estimate 2,000,000 - 3,000,000 HKD) - nine times its estimate and establishing the second highest price for a Vietnamese artwork. Courtesy Sotheby's.
Sotheby's now holds the top three prices for Vietnamese artworks.
• Global demand for emerging artists: hot on the heels of the records set in last night's Contemporary evening sale, collectors pursued today's hottest stars in the day sale once more, including: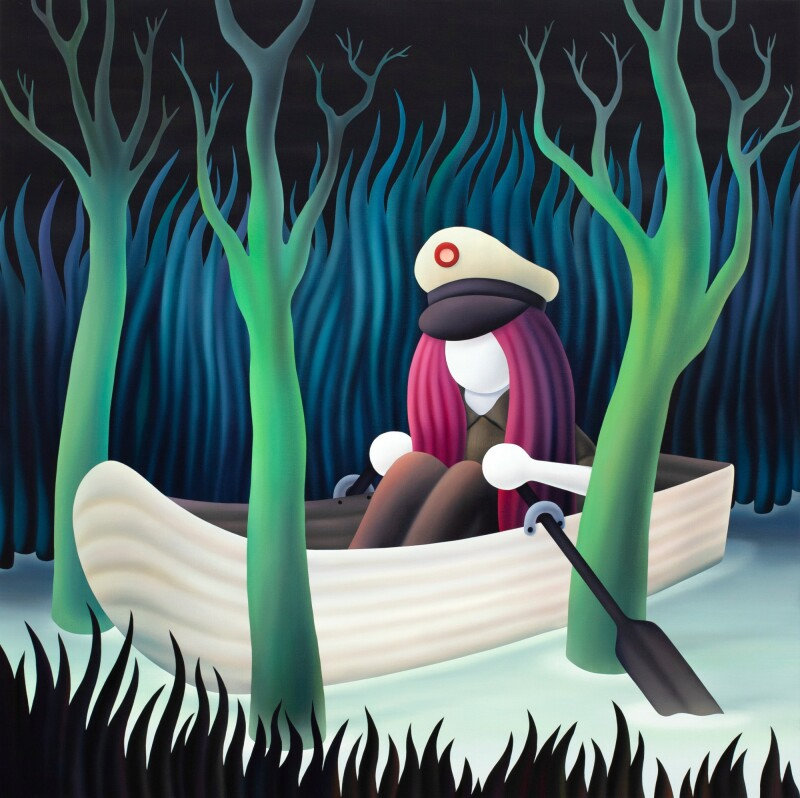 Lot 502. Jordi Ribes (b. 1972), Untitled, acrylic on canvas, signed and dated 2021 on the reverse, 180 by 180 cm. 70⅞ by 70⅞ in. Lot sold 1,386,000 HKD / 140,195 USD (Estimate 150,000-250,000 HKD) - more than 9 times its estimate. Courtesy Sotheby's.
Lot 505. En Iwamura (b. 1988), Neo-Jomon: Dreaming Girl, bronze, signed, dated 2019 and numbered 2/8 on the bottom; 40.6 by 36.8 by 38.1 cm. 16 by 14½ by 15 in. Executed in 2019, this work is number 2 from an edition of 8, plus 3 artist's proofs. Lot sold 630,000 HKD / 63,725 USD (Estimate 200,000-400,000 HKD), over 3 times its estimate, setting an auction record for the artist. Courtesy Sotheby's.
• Increasing appetite for digital art: both the Contemporary Evening and Day sales included a number of digital artworks on which crypto payment was accepted. Key results include:

Two works by Jia Aili - in collaboration with Raoul Marks and David Ariew respectively - both of which outperformed top estimate: Valley, Line & Time and The Road Ahead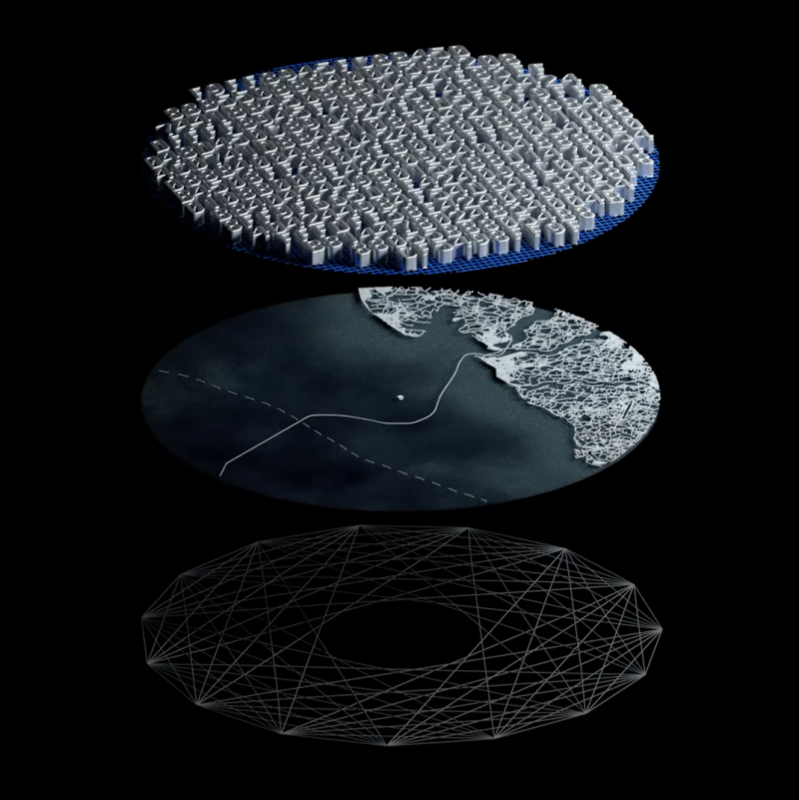 Lot 1127. Robert Alice, Block 34 (51.895167° N, 1.4805° E) from Portraits of a Mind, NFT, accompanied with 24k gold leaf, suspended pigment, graphite, aluminum paint on canvas laid down on panel, signed on the reverse, minted in April 2022, this NFT is 1-of-1, a unique 34 second looping video at 4k, and the panel is executed in 2019-2022; mint address: 0xc8dfa79fe6818ce3dbe2221179e1fba728b4cf2b/35. BTC V0.1.0 Codebase Section: 10,949,633 - 11,271,680. BTC Authenticity Address: 1KQABBUN1IIXBMCFNQM5D7VRXBCKY3YQQT. BTC Block Height at Time of Completion: 579. 227. Constellation Location: Sealand; diameter: 128.5 cm. 50⅝ in. Lot sold: 5,040,000 HKD / 642,348 USD (Estimate 4-6 million HKD / 515,000-770,000 USD). Courtesy Sotheby's.