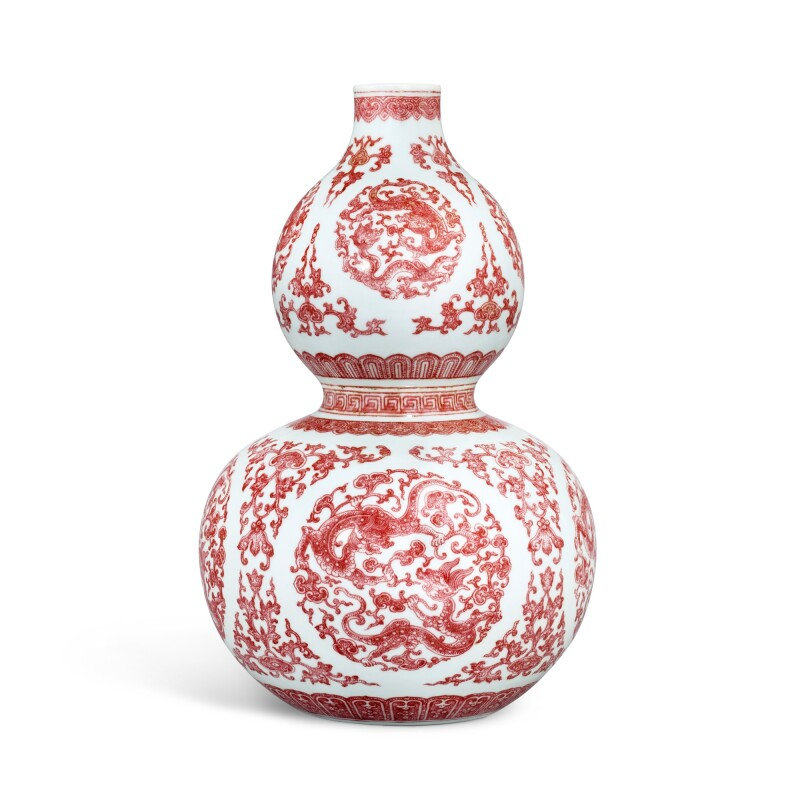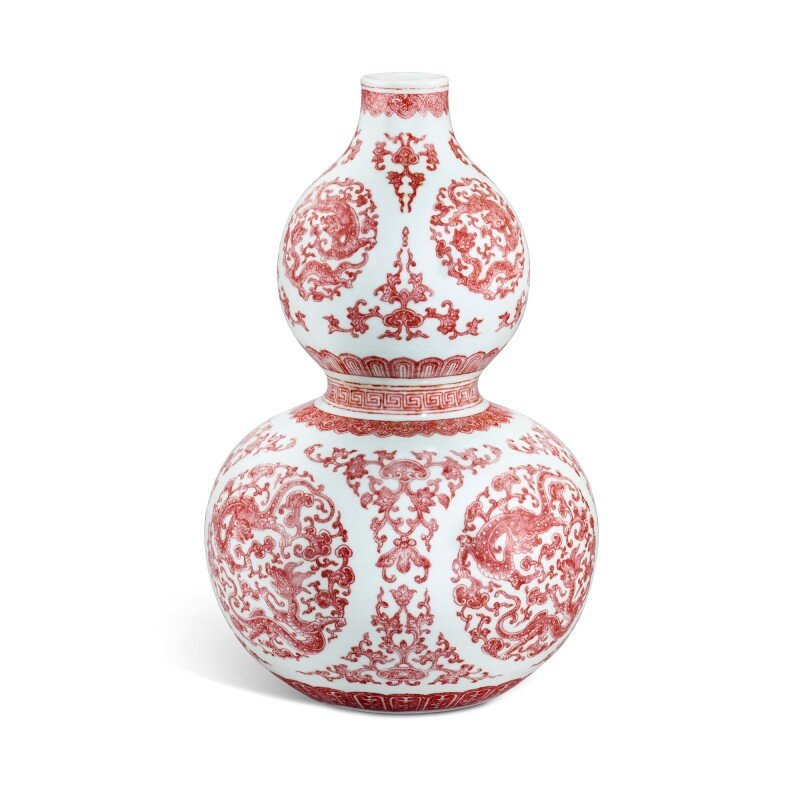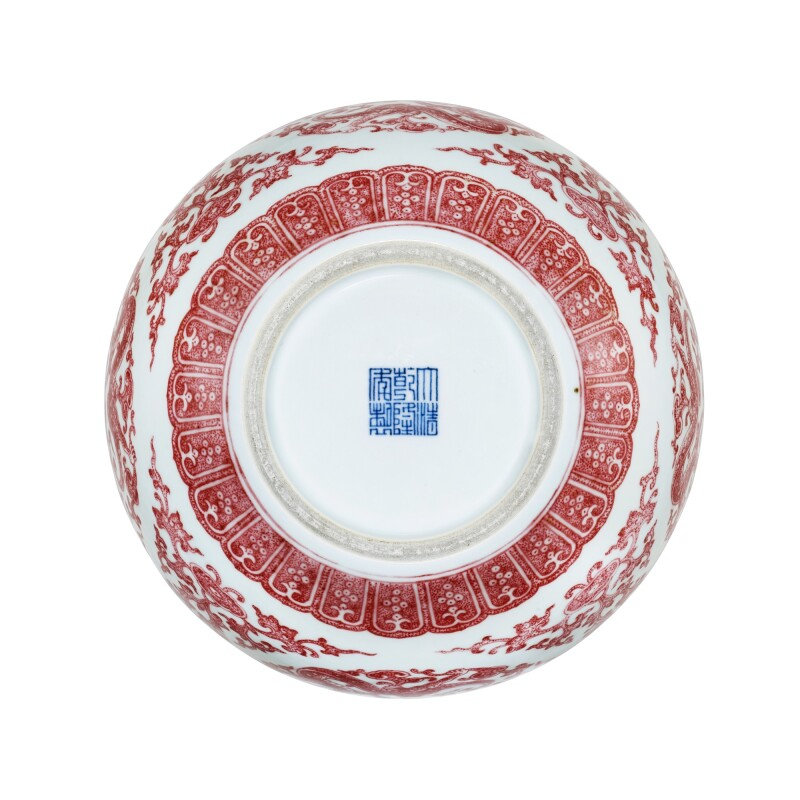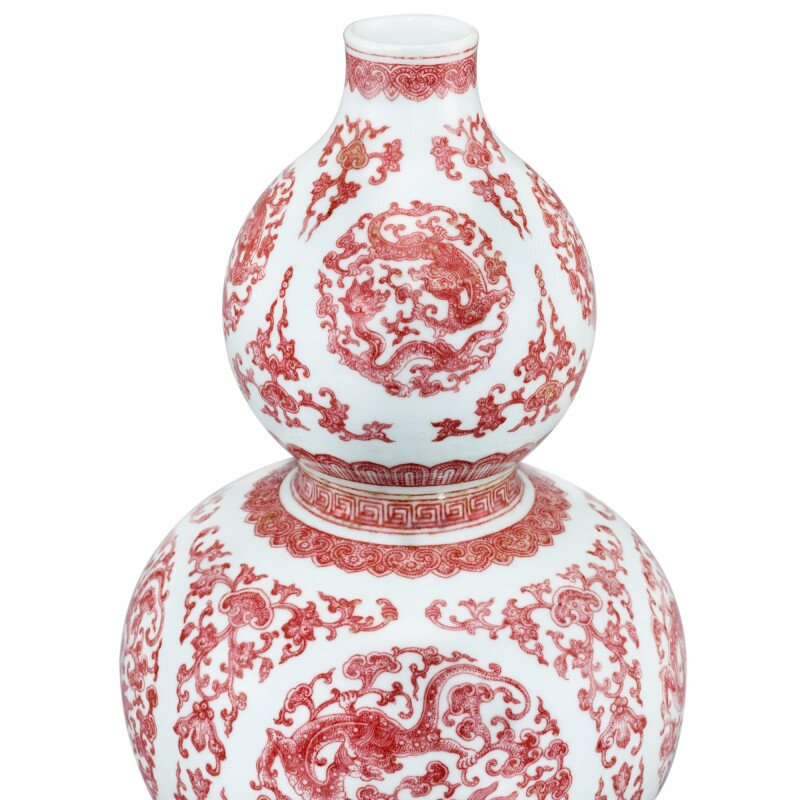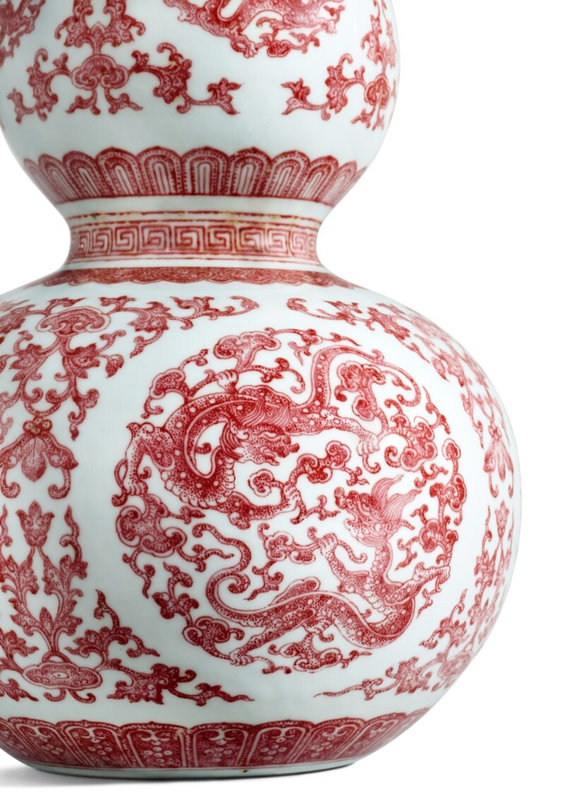 Lot 8. From the Private Collection of Joseph Lau. A very fine and rare copper-red decorated 'chilong' double-gourd vase, Seal mark and period of Qianlong (1736-1795); 29.8 cm. Lot sold: 12,475,000 HKD (Estimate: 8,000,000 - 12,000,000 HKD). © Sotheby's 2022.
skilfully potted with a larger globular bulb gracefully sweeping up to a smaller upper bulb, rising to a slender neck and flared rim, the lower bulb finely painted in copper red with four roundels of confronting chilong writhing in pairs, their meandering bodies portrayed with mottled skin and bifid trailing tails, their claws grasping scrolling lingzhi stalks gr
owing in circle to form a medallion, each wreathed and interspersed by further shaped panels of ruyi sprays, between a collar of pendent overlapping ruyi draping the shoulder and a border of petal lappets skirting the foot, the waist cinched with a key-fret frieze, the upper bulb similarly decorated with four roundels formed by chilong clutching lingzhi scrolls among sprays of ruyi, between ruyi and petal borders, the countersunk base inscribed in underglaze blue with a six-character seal mark.
Provenance: Sotheby's Hong Kong, 15th May 1990, lot 193.
Literature: Sotheby's Hong Kong – Twenty Years, 1973-1993, Hong Kong, 1993, pl. 197.
Sotheby's. Thirty Years in Hong Kong, Hong Kong, 2003, pl. 294
.
Note: It is rare to find porcelains of the Qianlong period painted entirely in copper red and the present piece is even more unusual for its auspicious double-gourd form and for the attractive chi dragon roundel design on the main body. Only a few similar examples are known; such as the pair on display in the Suianshi (Room of Finding Peace) in the Yangxindian (Hall of Cultivating Mind) in the Forbidden City, Beijing, where the emperor is said to have rested during fasting periods, illustrated in situ in Qingdai gongting shenghuo/Life in the Forbidden City, Hong Kong, 1985, pl. 177. Another closely related piece was sold at Christie's 28th July 1975, lot 213. A further vase of this form and decoration and resting on a short foot, but of slightly smaller dimensions was sold in these rooms, 29th November 1976, lot 499.
Qianlong mark and period double-gourd form vases painted with dragons amongst clouds in copper red are another version of this type. See one from the collection of T.Y. Chao included in the exhibition Ming and Ch'ing Porcelain from the Collection of the T.Y. Chao Family Foundation, Hong Kong Museum of Art, Hong Kong, 1978, cat. no. 781, and sold thrice in these rooms, 17th November 1975, lot 222, 18th November 1986, lot 71, and again 2nd April 2018, lot 3203. Another was sold in our London rooms, 20th June 2001, lot 23, and again in these rooms, 9th October 2007, lot 1216.
Vases of this form can also be found painted with a continuous lotus scroll motif, such as the piece from the collections of Julius David Ichenhausern (1858-1910), New York, and Sir William Cornelius Van Horne (1843-1915), sold at Christie's New York, 16th September 2011, lot 1564; and another Qianlong vase from the Daae collection included in the exhibition Daae Samlingen, Kunstindustrimuseet, Oslo, 1989, p. 37.
Underglaze red decoration, much favoured during the early Ming dynasty but virtually abandoned after the Xuande period due to the very high failure rate during firing, was revived and mastered in the early Qing dynasty, around the 1670s of the Kangxi period. It became a standard practice although successful firing of the copper pigment remained particularly difficult hence wares decorated in this manner continued to be made in small quantities.
Sotheby's. Gems of Imperial Porcelain from the Private Collection of Joseph Lau, Hong Kong, 29 April 2022